David Barry: I think we got back to who we are.
Brooke's Note: It's advice we have all received over the course of our lives and that we are strangely reluctant to accept: Be yourself. And yet when we follow it, things seem to work out well, or as Mick Jagger intoned, we get what we need. Well, the advice applies as well in business. Here is a case of perhaps the oddest (said with affection) of the custodians (from its bank-like name to its ski-resort-pedigreed staffers and ownership) that tried to hang with the cool kids, saw its meteoric growth stop in its tracks before resuming after hiring a semi-eclectic (again with love) CEO who stopped by our office in Mill Valley and sparked this article.
In March 2009, Horter Investment Management LLC advised fewer than $100 million of assets under the care of 40 IARs. Today those assets stand at a fast-rising $800 million serviced by 240 Horter investment advisor representatives.
The leap in assets can be traced to a decision made by the RIA's principal, Drew Horter, to improve the firm's use of a multitude of rotating outside managers. Horter's plan was to take his model-portfolio approach up a notch by including multiple managers and trading them with relatively high frequency. He looked for a new RIA custodian to help make that happen for his Cincinnati-based firm. At the time his custodian was Pershing Advisor Solutions.
Horter was attracted to his eventual, unconventional, choice of Trust Company of America when a manager he held in high regard told him that he would only be interested in working with Horter if the firm used Trust. The Centennial, Colo.-based firm agreed to charge Horter a single fee for technology, custody and trades of multiple managers. The fee fluctuates only based on assets in custody. Trust declined to disclose what it charges as a custody fee.
"We told Pershing to match the [Trust Company of America] package and they said: we can't match what they're doing."
Horter interviewed Schwab Advisor Services and Fidelity Institutional Wealth Services, too, he says, and the salespeople at those big custodians gave responses similar to Pershing's. "They had limitations on funds," he says.
Traction regained
Firms like Horter's, which use RIAs with multiple reps in a turnkey asset-management program, are prototypical success stories at Trust Company of America.
Trust is using that narrative to demonstrate that it is getting past a period of stagnated growth that occurred at the same time as it tried to implement elements of mainstream RIA custody through a series of hires of former Schwab Advisor Services personnel. See: Trust Company of America's hiring blitz nets a veteran sales team.
That strategy certainly seemed to make sense considering that the size of the conventional-RIA pie is massively higher than the one-stop-shop TAMPs that Trust serves as its core customer. But since getting back to its old TAMP-focused ways under chief executive David Barry, Trust seems to have regained traction. Its assets rose 30% in 2013 and now stand at more than $12 billion. The firm currently serves 186 RIA firms, including 50 that provide turnkey asset management programs that represent 50% of the assets in custody. Seventy-five percent of the custodian's assets are produced by TAMPs.
Some of Trust's better-known enterprise-sized clients include Scottsdale, Ariz.-based United Planners Financial Services and Glastonbury, Conn.-based Symmetry Partners LLC See: Advisor Spotlight: Two small Dean Witter breakaways are now Symmetry, a big DFA TAMP.
The company's RIA assets in custody are unremarkable in the sense that Trust had $9.5 billion of RIA assets as of Dec. 1, 2009, according to numbers cited by the company for this RIABiz article. At the time, $9.5 billion was a triumphant total after starting 2009 at $7.1 billion. The company's total RIA assets in custody at the end of the first quarter of 2005 were just $2.3 billion. That means that Trust enjoyed a 35.7% compounded annual growth rate for four years, despite the market collapse in late 2008.
Then, however, followed four or five years of drifting sideways in terms of assets, a period marked by Trust's high-profile hires of two ex-Schwab talents: Frank Maiorano as chief executive and president in 2010 and Bob Oros as its head of national sales in 2011. Oros previously held an executive sales position at Schwab, a position with LPL Financial, and has since moved over to Fidelity. See: How Bob Oros landed at Trust Company of America. Oros, in turn, hired other ex-Schwab sales directors.
None of those Schwab hires are still on board — one signal that Trust is pursuing a new approach.
"I look for people rather than a star from another company with the idea that they'll bring their book over by some miracle. I'm not a big believer in that."
Mojo working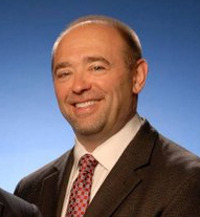 David Connolly: They helped us refine
our process without any request of
us sending them more business.
David Connelly, co-founder and principal of one of Trust's largest clients, Symmetry Partners, which manages $7.5 billion of assets, $2.9 billion of which it keeps at Trust, has noticed that Trust is getting its old mojo back.
As an example, Connelly cites a situation less than a month ago when the custodian suggested a meeting with Symmetry.
"We said: We think that we're OK and they pushed us," he says. The meeting happened. The subject: getting higher-quality IARs on board as reps for the asset management of Symmetry, a manager of DFA products that also uses funds from Vanguard, AQR and various ETFs to build portfolios. The challenge for Symmetry is that it has about 500 IARs at any given time but only about 200 that are truly active. And of those 200, only about 100 are active year in and year out. So there is a premium on identifying the types of people who are in that top 100 IARs — something addressed head on and unconditionally by the meeting. See: Advisor Spotlight: Two small Dean Witter breakaways are now Symmetry, a big DFA TAMP.
It turned out to be one of the best meetings Symmetry staff had ever had with a vendor, Connelly says. "They helped us refine our process without any request of us sending them more business."
The difference between Trust and its competitors is that it sees the world in the three dimensions of TAMP-RIA, advisor and client, Connelly says, adding that too many custodians just see the RIA and the client. Indeed, the company is able to serve an exceptional number of small end clients with its fee structure, IARs and technology
Symmetry also uses a combination of Schwab and TD Ameritrade for an additional $700 million of assets that it manages for outside RIAs who use those custodians for custody. The other $4 billion of its $7.5 billion of assets is mostly held at National Financial Services and gets distributed by IBD reps. See: National Financial Services records some wins to ease the pain of Bank of America loss.
Up from the slopes
Barry declined to name any specific actions he's taken to grow the company. In general, he says assuring excellent service levels and pressing to provide improved technology are high on the firm's agenda.
Barry's business philosophy stems largely from his experience as an executive in the ski resort industry. He recalls a case of one resort taking a half hour to rent a set of skis and boots and another taking 10 minutes and how that was addressed. In fact, Barry met chairman and principal of Trust, Steve Finn, when Barry was running a $60-million-in-revenues ski resort. The two men got to know each other in a study group of hospitality execs who met for a day each month. In 2004, Finn asked Barry to join the board of Trust. Barry then stepped in as interim leader after Maiorano left. After an extensive search for a permanent chief executive, Finn asked Barry to remain as CEO.
Trust has a nine-person executive team and 187 employees in total.
---
---
Mentioned in this article:
---
---
---
Chris
They seem to have been passed by over by the last 5 years of innovation when it comes to offering a best-in-class technology platform in the rapidly changing custodial industry that is both institutionally robust and integrated with simple and intuitive front end capabilities. Catching up to industry parity is roughly a 5+ year endeavor where the firm will continue to see broad industry trends unfold like high client turn over and may not have the right people in management to see a once proud American franchise refine its way.