At TD event Mitt Romney ressurrects his Massachusetts stance on global warming and throws cold water at Obama
The former presidential candidate pushed the reset button on his acerbic tone and now sounds more Al Gore than Bain Capital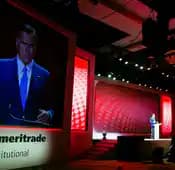 Mitt Romney: It's not just America. There needs to be a global understanding and a real global effort.
---
Psalmon
February 19, 2014 — 8:26 PM
How about as one of the first bipartisan acts of the next administration, we have a Congress led conference, meaning under oath, to understand the temperature record data everyone is looking at, including understanding the raw, measured data on land and by satellites, and the different versions of the data sets over time, including any adjustments that have been made to them.
That seems like a reasonable place to start, how much warming has there really been and when.
Brooke Southall
February 19, 2014 — 8:35 PM
It seems like a good idea. Nobody seems clear on this stuff.
Still, people need to do some soul searching. People only believe what numbers they want to
see and interpret the way they want to interpret. The whole brain needs to get involved.
A blood alcohol content of 0.10 (0.10% or one tenth of one percent) means that there are 0.10 g of alcohol for every dL of blood. You're drunk at .05%. It doesn't sound like much. But it is.
---
---
Mentioned in this article:
---
---