Al Berkeley: I definitely would not have demanded payment if he had not told me someone else had [filed a demand].
Brooke's Note: These are big happenings at a very small company in Portland, Ore. What is intriguing is that the company's principal, Darwin Abrahamson, has managed to create a technology that allows 401(k) plans to manage ETFs. If this sounds familiar, it's because Schwab just announced a similar technology that took several years, untold millions and the attention of its top brass to develop. See: Technical challenges may push Schwab's ETF-only 401(k) plan schedule into 2014 — deferring an intriguing financial clinical trial. The bad news for Schwab is that its new technology has no takers. The good news is that it seems to be light-years ahead of the competition. But if this bankruptcy spins Darwin's technology loose, a big player could pull even with — or ahead of — Schwab in short order. That seems a little too unbelievable to be true, but we'll keep an eye out.
Invest N Retire LLC has filed for Chapter 11 bankruptcy after a private investor called in a loan that used the patents and technology of the ETF 401(k) provider as collateral. See: RIAs are starting to create their own 401(k) companies as alternatives to John Hancock and The Principal.
The Portland, Ore.-based company, founded in 2003, took the legal measure after Al Berkeley, former Alex. Brown partner and former chief executive of Nasdaq, called in a note for $500,000. Berkeley is chairman of Princeton Capital Management and vice chairman of Gentag Inc., a developer of near field communication technology. Berkeley has yet to respond to a request for comment placed by phone and e-mail, though he says he will when he gets freed up.
Demand letter
"I had 15 days and I knew I couldn't come up with half-a-million dollars," says Darwin Abrahamson, the founder and managing principal of Invest N Retire.
Berkeley says he only filed the demand letter because of after a smaller creditor force a sheriff's auction of Invest n Retire's hard assets and he wanted, from a technical standpoint, to protect his investment. He said he expected that Abrahamson would get in touch with him to work something out — or have his attorneys talk.Berkeley believed that Abrahamson could come up with enough cash to cover the far lesser claim of the other creditor.
"I definitely would not have demanded payment if he had not told me someone else had [filed a demand]," he says.
This other creditor is presumably the one mentioned in a press account by 401kWire, which first broke this story (subscription required to read this link) that reported the 401(k) technology firm sought the court's protection after Eric Schroeder, president of The Payroll Company, triggered a judicial execution sale of the company's assets.
"It was a shock. It was a shock with very little notice," says Abrahamson of the demand letter that he received from Berkeley last Friday.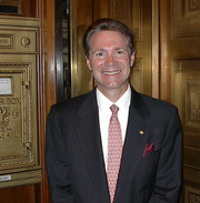 Darwin Abrahamson: It's a bump in
the road.
Not licked yet
Despite this setback, Abrahmson says he plans to continue in business with the support of backers who are keeping him going. "I have other investors who are putting up the capital."
First, he plans to sell his company's technology that is backed by two patents, including one that was granted on Jan. 28. After selling the 401(k) technology, Abrahmson plans to pursue other technologies related to financial services.
"It's a bump in the road," he says. The "absolute genius" behind designing his software is Calyan Gansan, who has been with the firm since 2006 and who holds a stake in the firm, according to Abrahmson.
Berkeley says he vetted the technology himself and with the help of two former employees from top 401(k) recordkeepers and found it to be "tight code."
Hot ETFs
Abrahamson has been trying to sell his technology unsuccessfully for about a year but interest has shot up lately — something he believes is connected to Schwab's entrance into the business of administering 401(k) plans that use ETFs as a primary investment vehicle. See: Schwab fesses up to Wall Street just how hard winning plan sponsors to its 401(k) ETF platform will be.
The Charles Schwab Corp. has been working to bring a 401(k) plan utilizing ETFs to market for years now but only last week did it announce its plans to bring aboard its first customers. See: What to make of yesterday's Wall Street Journal report on Schwab's 401(k) 'bet'.
"The Schwab announcement made buyers more interested [in our technology]" Abrahamson says. "...My phone has been ringing off the hook. This bad thing may turn in to a good thing."401(k) market. These technologies include ones that "unzip" 401(k) plans to help discover what fees adn investmetnts are buried within and means for companies serving as advisors to communicate better with participants.
Berkeley expressed some surprise at this comment saying he never saw Invest n Retire as an investment in a technology incubator but rather as an operating company. He adds that he has invested in a series of small companies with technologies that address the 401(k) market — all made for his personal account.
He declined to say who, or what company, is bidding other than to say that there are some major firms — big players in the 401(k) market — sniffing around. Abrahamson says that his technology and the one Schwab just released have their differences.
"Each one is a big competitor to Schwab," he says.
Corporate bona fides
That effort was short lived. See: After a short engagement, Gus Fleites splits from his CEO spot with an Oregon 401(k) platform provider.
Invest N Retire liabilities stand in the neighborhood of $5 million and Schroeder is owed $193,560, Invest N Retire's bankruptcy attorney, Robert Vanden Bos of Portland, Ore.-based Vanden Bos & Chapman LLP, told 401kWire.
'Proven system'
Customers will not suffer any business interruption as a result of the bankruptcy, Abrahamson says, because he merely sells software. End clients, i.e. 401(k) participants, deal with his customers including payroll companies, third-party administrators, investment managers, custodians and the like. Those clients will not be cut off and the buyer of the technology will take over servicing those accounts, he adds.
Abrahamson is comforted that a bigger company with better resources can take his technology to a broader market. And he believes his software has a major advantage over the new technology released by Schwab.
"Ours is a proven system that works."
Still, Abrahamson sings the prideful lament of many an entrepreneur before him.
"I was very ahead of my time in terms of my vision."
Berkeley has some laudatory words for Abrahamson.
"I think he's a smart and advanced thinker and a good industry participant."
---
Related Moves
November 12, 2020 – 4:43 AM
---
---
---