Abby Salemeh: There is a 35% increase in click-through rates for websites and bloggers who have a professional headshot on their sites.
Brooke's Note: Warren Buffett likes to say that he never invests in anything that he can't understand. Hence, the famed value investor never bought any shares in technology companies (until lately). At RIABiz we try not to write about social media matters that confuse us. Abby Salameh's column has instructions and Graham & Dodd-level value we understand — and we think that Warren Buffett and a GEICO owl might, too.
I cannot tell you how many times I've sat down with an advisor to review or develop a marketing plan and spot a real momentum killer: Either said advisor has no photographic evidence of their existence or an image that is so unprofessional and unpalatable that I find myself searching for a diplomatic way to express its non-starter status to my client.
Feeling like an oncologist explaining to a patient why smoking is bad for you, I note in my best neutral voice that the firm's website, the advisor's social networking sites and press kit (if one exists) are all devoid of the mitochondria of marketing.
I tell the client that pictures taken on their last vacation to the Caribbean or, even worse, a 20-year-old photo that now looks nothing like them now — is not "who you are." I tell them that a photo that was inorganically, i.e. deliberately, taken for the purpose of bridging the gap between you and your online audience is not optional— it is imperative. See: The marketing naughty and nice list.
Inspiring trust
Here's the thing: First impressions matter. You are asking your clients and prospects to trust you with their financial futures. In the past it was all about the referral, the handshake and the first impression you made in person. Now that we've entered the era of social networking, virtual business and online personal branding, a well-done photograph can be as important as your firm grip on a handshake. More often than not, your physical presence, depicted digitally, is your agent of first impressions. See: 10 advisors explain how they build sales without getting 'salesy'.
So, why are advisors reluctant to get a professional headshot? I decided to ask a few advisors in my office. I'm the chief marketing officer for Private Advisor Group LLC and have been helping the advisors in our office in Morristown, NJ get a new website designed. We are also offering free headshot photos at our next conference to help advisors outside of our headquarter office.
I digress a moment to say that headshot might be a misnomer in today's world as many firms have effectively used what may more accurately be called a "torso" shot in which you not only see the person's face, but can also get a sense of body language and attitude of the subject. It is more interesting and appealing for viewers. Also, the days of having a gray or white satanically corporate background may have passed. So-called "atmospheric" shots with indoor or outdoor backdrops can energize the viewer and tell them something about the local essence of the photo subject.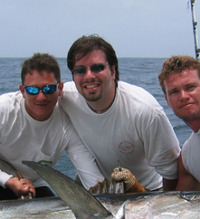 This is not the first photo
you want people to find of
you on the Internet. But nice
fish.
Excuses, excuses
Here's what the advisors I canvassed said when confronted with this most elemental, technologically undemanding marketing element:
"It never seemed to be high on the priority scale for me. Most of my clients come from referrals and they want to meet me in person so having a headshot taken was just not high up on the totem pole."
While this may be true, most advisors now receive their new clients from existing clients so it is important to remember that the first action anyone takes when receiving a referral is to go online and Google that firm or person to see what comes up. Think about it: If you received a referral for a new doctor, wouldn't you go to the website to check the website and see any reviews? It is naive to think your clients' referrals would not do the same.
"We don't do enough marketing with social networking or our website to warrant getting headshots taken, although now that I have one, it has inspired me to do something with it. I know we need to do more of this."
I cannot stress enough the importance of having a professional headshot for your web presence. Consider this: According to Google, there is a 35% increase in click-through rates for websites and bloggers who have a professional headshot on their sites. Imagine how long it would take to gain that momentum by sharing things socially or e-mailing folks to try to get them to engage on your site. Search engine optimization experts all recommend a professional photo on your website as one of the first priorities of optimization. See: Gathering assets with long tails: Exactly how RIAs of any size can market with the big boys with 'Google Love'.
"I always thought about it but just never knew where to go to get one done. And when I would think about it, I wasn't sure it would be the best use of one hour (and a few hundred dollars) to go get one taken."
It is quite easy to find a professional photographer. If you Google "photographer" and your hometown a slew of options should come up. Even photographers who do wedding pictures may be quite capable and experienced in taking headshots. Most photographers should provide you with at least an hour-long session with a minimum of five digital images and two retouches for no more than $300. It's an investment well worth the time and money. See: How RIAs can maximize their web marketing with nary a 'friend-ing' or tweet.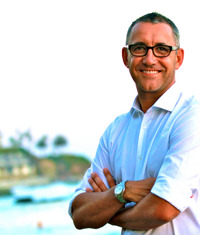 Joe Duran may not take a
bad picture but this one is
exceptionally good at projecting his image
as a successful LA-based entrepreneur.
Accept no selfies
Now you may be thinking, "Can't I just have my wife (husband, boyfriend, girlfriend, son, daughter) take my picture on my new IiPhone 5? The answer, simply put, is no. The pictures taken on your phone are not professional quality and will not transfer well to the web. Not to get too technical, but professional digital cameras handle the light through pentaprisms and mirrors that reflect back to capture a perfect image and eliminate the noise/grain from the pictures. And, the photographer will touch up your pictures to make them perfect.
A carefully chosen headshot is a key part of publicly representing yourself and your brand. As with all first impressions, your headshot should set the tone for who you are and what you're about.
Ready for your close-up
Here are some tips for putting your best face forward:
Men: Wear clothing that is comfortable and makes you feel good. Business casual can be just fine with a jacket and button-down shirt with no tie. If you are more casual than that in your office then you can wear a collared shirt and khakis. Dress the way you would in the office.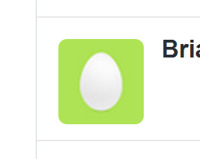 Twitter [appropriately] gives a goose egg
to members with no photo.
Women: Don't dress inappropriately. No low-cut shirts, sleeveless dresses or ruffles. Choose a neckline that is flattering — it affects how your face looks. A rule of thumb in this department: turtlenecks are always a bad idea.
Dress the way you would if you were meeting with clients.
Avoid any patterns and large lines or stripes.
Makeup is a good idea. You should at least wear translucent powder to even out your skin and tone down any shine. Conversely, stay away from frosty or very shiny makeup.
Jewelry, if any, should be simple. See: Sallie Krawcheck talks tough — and with disarming openness — online about the glass ceiling and lip gloss.
Men and women: Smile!
Be remembered
Bottom line: If you are promoting yourself, you need a great headshot. More than just a flattering photograph, a great headshot is a powerful tool for making people remember you. It is very much to your advantage to provide a headshot that people can identify with and remember you by.
And remember: Say cheese!
Abby Salameh is chief marketing officer for Private Advisor Group LLC Morristown, N.J. Before that, she worked for Fusion Advisor Network. Abby has 20 years' experience working directly with independent advisors. Having started her career at Sanford C. Bernstein & Co. Inc. in 1992, Abby went on to help launch InvestmentNews for Crain Communications Inc. In 2002, she joined TD Ameritrade to head the marketing efforts for its institutional services. Abby has provided strategic and tactical marketing consulting for leading industry firms, including large broker-dealers and independent advisors.
---
---
http://jandjbigyard.com/location.php
Experts as an example Dr. William H. Sheldon states our organs as well as system type play a sizable function inside our training of preference. Health practitioner states that "Soma species" incorporates 3 principal bodily composition that anyone has to think about for being capable to figure out just what the outcomes on the practice. The most typical incorporate Mesomorph and Ectomorph species. The 3rd form is Endomorph.
Kevin Dinino
February 14, 2014 — 7:36 PM
Well said Abby, your first paragraph sums up many of my experiences working with RIAs as well. Having to explain that the tailgate photo with Miller Lite in hand might not be a good LinkedIn photo choice is a painful conversation to say the least (and yes, it happened). To any advisor who balks at the cost for a session with a professional photographer, ask if they are open to a trade of services. Many are open to that approach as well.
Maria Marsala
February 25, 2014 — 8:43 AM
Enjoyed reading your article Abby. People do business with people. The About Us page is the 2nd most popular page on a website. Let people see you. Same thing goes on LinkedIn and other social networking tools.
Thomas R. Livergood, CEO
February 14, 2014 — 7:18 PM
We just had our Senior Management Team of The Family Wealth Alliance sit through a professional session with Brian A Briggs, who does the Merrill Lynch PBIG Teams accross the U.S. We were quite pleased at the result and it gave our website and professional bios a lift to a whole new level. I agree with this ariticle and encourage you to consider what a real pro could do for you and your organization!
http://hahatati.ru/user/kopetpdoiw/
It is factual to state that by all measure the Apple iPad is excellent, for it makes existence as simple as it purports to complete even though, it doesn't arrive to be a substitute with the computer system but to be a enhance. Even if that you are far from the pc, you remain able to do some responsibilities that you just only would which has a computer system prior to its introduction. Apple iPad hence will come being a relieve to quite a few a person.
Loic Jeanjean
February 14, 2014 — 6:03 PM
So true, yet so sad. I have been provided pictures by advisor clients showing them holding a riffle in front of a dead carcass, and they wanted us to display that on their website…