Greg Friedman and Neesha Hathi may symbolize how companies like his Junxure and her Schwab are getting close, but not too close.
Brooke's Note: If the big companies mentioned at the top of this article declined to support the only major technology conference in the RIA business, it would be cause for a few caustic remarks. On the other hand, that they have given this event a giant bear hug in the form of presence and sponsorship dollars is, in its own way, a cause for comment. RIAs are all about fierce independence and there was a time when T3 was dominated by like-minded smaller technology companies. There was excitement in that — a sense of advancement and dazzling differentiation and possibility. There's still excitement but there also seems to be a passing of a torch toward something more mature and predictable. Tim Welsh has done a great job condensing three full-on days in Anaheim into a readable, incisive and viewable (he took the photos) article. As the saying goes, second prize is six days in Anaheim.
This year's T3 conference at the Hilton Anheim in Disney territory was notable for the presence of the industry's heavyweight independent broker-dealers and TAMPs such as Raymond James Financial Inc., LPL Financial, SEI Advisor Network and Envestnet Inc. that dominated the agenda and the exhibit hall.
These firms all purchased top sponsorships to showcase their platforms and show themselves up to the task of muscling in on some of the RIA growth traditionally captured by the big-four oligopoly held by Schwab Advisor Services, Fidelity Institutional Wealth Services , TD Ameritrade and Pershing Advisor Solutions.
Because the custodians are providers and integrators with much of the industry's technology, T3 producer Joel Bruckenstein likes to bring them together to share the latest developments in a general session panel discussion. Tech leaders Neesha Hathi of Schwab, Ed O'Brien of Fidelity, Jon Patullo of TD Ameritrade and Patrick Yip of Pershing held court in a popular general session.
While the crowd was hoping for some fireworks and controversy, the panelists were very complementary of each other and collegial. Top issues they are all working together on are security risks and fighting fraud. See: Schwab CEO issues 'sincere' apology, reassures on data security and calls attacks a 'fact of life' after website goes down.
Mahna from Salesforce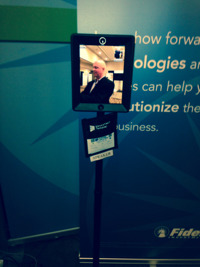 Fidelity robot FaceTime making conversation with
correspondent Tim Welsh.
After taking a back seat at recent custodian conferences, notably at November's Schwab IMPACT, Salesforce made a big statement with a top sponsorship that gave it multiple breakout sessions and a keynote address to tell their "Internet of customers" story.
Rohit Mahna, the new face of wealth management for Salesforce, provided a look at how connectivity will transform the client experience and even coined a new term, the "digitally connected conscious client" or DC3. See: How one RIA's faith in Salesforce's sophistication led to cut-and-paste hell and a major rethinking.
First-timers
Despite the presence of the big companies, T3 maintained some of its small town feel, enabling emerging technology firms and newcomers to the industry to showcase their wares.
"We have over a dozen first-time companies here at the conference and that number continues to grow each year," said David Drucker, co-founder of the event. Firms such as Wealthbox, RixTrema, YHLSoft, and RetireUp caught some attention and conference buzz. See: VC-backed RIA CRM firm bursts onto the T3 scene looking to knock off Redtail, Salesforce etc.. Snuggled right next door to Disneyland, the 9th annual Technology Tools for Today, Advisor's Edition, better known as T3 in the industry parlance, wrapped up earlier this week at the Anaheim Hilton in warm and sunny southern California.
This year, the conference drew over 600 attendees and 87 exhibiting companies for 2-1/2 days of non-stop tech. Advisors (about 180 of them) , vendors and industry consultants gathered to learn about the latest developments in the technology platforms, systems and software that is powering the growth of the RIA industry.
Cubicle farm put out to pasture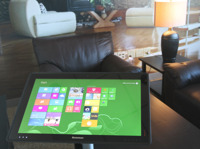 Fidelity's office of the future involves
Ethan Allen, Best Buy and Frank
Lloyd Wright.
Once again Fidelity came armed with mobile gadget bling, interactive robots and a very cool vision for what the "office of the future" for advisors will look like. Fidelity has constructed a building in Smithfield, RI with various physical spaces that are adapted to the delivery of financial advice, including a kitchen.
"Advisors will work in more collaborative spaces than a typical office environment, said Ed O'Brien, senior vice president of platform technology for Fidelity Institutional. "Cubicles are not the wave of future."
Featured in Fidelity's cubicle, er, booth was a video display showing the various work spaces and floor plans, providing attendees with a view of how they may work in the future, very similar to how real estate developers showcase their properties in screening rooms in model homes.
"Particularly with the rise of mobile capabilities, the 'anywhere' advisor will need a different experience, such as being able to work in an airport lounge or in a living room environment that has touch-screen tables and iPad sharing," says O'Brien. See: Schwab IMPACT 2013 is another great bash but picketers and Fidelity siphoned off some precious RIA attention.
RJ's Advisor Access
One of the more popular booths was content-marketing and lead-generation platform Vestorly, Inc.. Newly minted industry consultant, Marion Asnes, president of the Idea Refinery LLC and former CMO for Envestnet, provided a compelling demonstration of how advisors can harness the power of Vestorly's social media and digital content marketing system to automate and generate new business in a compliance-safe manner. See: Envestnet goes back to its un-marketing marketing approach as Marion Asnes (mostly) leaves and her CMO spot gets deleted.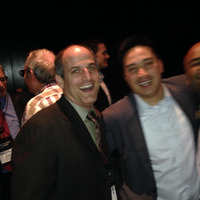 Brian Shenson and Khoi Bui of
Schwab at Black Diamond party.
Because T3 is really the only advisor-focused technology conference in the industry, technology companies, custodians and TAMPs take advantage of the venue to launch new products, make partnership announcements and re-launch their platforms.
Wealth magnet
A good example of this was Raymond James. After a focused development effort for the past 24 months on enhancing their RIA technology platform, Advisor Access. RJ was a first-time sponsor of the conference.
"We want to be seen as a viable custodian from a technology standpoint," said Patrick O'Connor, senior vice president of wealth management solutions, describing new features set of its RIA platform that has a focus on integrated financial planning software, complemented by regional high-net-worth consultants aimed to help advisors better attract and retain the super wealthy. According to O'Connor, "We now have over 100 advisors on the platform, representing $10 billion in assets with the average relationship at RJ doubling in the last five years." See: The story behind how Raymond James won two big teams from LPL and Wells Fargo in the past couple of weeks.
O'Connor added that his firm now has more than 100 RIA practices on the platform, representing $10 billion in assets with the average relationship at RJ doubling in the last five years.
Integration automation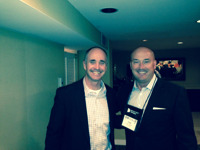 Dan Seivert of ECHELON and Tom
Lydon of ETF Trends at Junxure
party.
SEI also used T3 to reintroduce itself to the advisor community, launching a major initiative to develop an integrated workflow platform designed to bring efficiencies and automation to many of the day-to-day tasks that bog down advisory firms. Joining with Redtail Technology CRM, MoneyGuidePro and industry consultant ActiFi, Inc., SEI is taking a page out of the technology integration playbook, overlaying it with workflow automation. See: Financial advisors need to look at client onboarding in a whole new light.
Standing room only
While the integration of various systems was clearly an underlying theme of the conference, the top focus of many exhibiting firms was to highlight workflow automation to streamline various processes.
Eavesdropping on the Tiburon CEO Summit: A cross-advisory channel power crowd converges on Wall Street Ritz-Carlton
BYO fun
T3 has always been a bare-bones affair. Bruckenstien and Drucker provide the framework, agenda and venue for vendors and advisors to connect, however typical conference fun and networking are left up to the attendees. See: Joel Bruckenstein convenes a wholesale version of T3 for IBD execs who choose software for thousands of reps.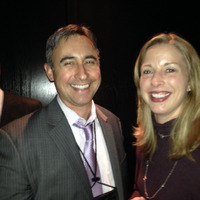 Steve Mooney of Salesforce and Martine
Weinhold COO of SBSB at Black
Diamond reception.
As a result, T3 evenings are a dueling and grueling series of cocktail parties and dinners scattered throughout the Anaheim and Disney resort areas. In the contest for advisor attention, Junxure pulled off the biggest win with a widely attended party in celebration of the release of its new cloud platform Junxure Cloud. CEO Greg Friedman welcomed attendees with Junxure Cloud hats, appetizers and a crowded bar.
Black Diamond
Laserfiche
Bandwidth blast
But clearly, the hottest spot throughout the conference was the hotel lobby bar. Executives, advisors and consultants were frequently seen in conversation late into the night, making deals, collaborations, new partnerships and liaisons.
In an ironic twist, the hotel's Internet wireless service blew up — literally! — due to the heavy bandwidth usage by the T3 crowd. So much so, that the transponder provided by AT&T couldn't handle the load and went offline.
Even so, Bruckenstein remarked with some pride that this bandwidth banquet was a harbinger of the success and growth of technology that is transforming how advisors will run their businesses going forward. The industry is becoming more and more tech savvy, so much so that existing systems will need to expand to accommodate the growth of RIA tech.
To learn more about what went on at T3, check out the many tweets under the #T32014 hash tag on Twitter.
Timothy D. Welsh, CFP® is President and founder of Nexus Strategy, LLC, a leading consulting firm to the wealth management industry, and can be reached at tim@nexus-strategy.com or on Twitter @NexusStrategy.
---
---
Mentioned in this article:
---
---
---