John Rourke: I've never seen a more wide-open industry.
Brooke's Note: Sometimes it seems like if you tossed a rock in any direction, you'd hit a company that could sell you customer relationship management software. But John Rourke doesn't see it that way at all. He founded Gotham Tech Labs because he sees a bunch of companies selling CRM products that are way too complicated or way too simple. Having succeeded with CRM in other industries, Rourke is betting that from a cold start he can hit the right note with RIAs and gain market share in a hurry. Competitors express doubts.
Last year, Jason Wenk's two RIA firms — Retirement Wealth Advisors, Inc and FormulaFolio Investments — grew from a total of $140 million to $300 million in assets, he says, with Wenk adding clients and employees and a whole new set of needs for those employees to serve the clients. See: How a 33 year-old advisor ditched the Midwest for California and used mad blogging and SEO skills to hijack annuity-bound web traffic to propel giant growth.
By the end of 2013, Wenk, founder and president of the Grand Rapids, Mich.-based RIA was ready to leave Redtail Technology, which he had long used for CRM, because "we just kind of outgrew it." It was time to move into the big leagues and sign on with Salesforce, an idea that made particular sense because Retirement Wealth Advisors uses TD Ameritrade as its primary RIA custodian and TD and Salesforce have worked hard to make their software compatible. See: How one RIA's faith in Salesforce's sophistication led to cut-and-paste hell and a major rethinking.
So, Wenk and his employees "test drove" Salesforce for two months with high hopes and hype. Salesforce can do a lot of stuff: "It's almost limitless in what you can do with it," says Wenk. But it also meant that even simple things, like scheduling a task, took many, many steps.
Bottom line for Wenk: The interface was just too complicated and too confusing. "We have 25 users and I feared 20 of them would never get it. And, it's not like they're dummies."
RIABiz e-mailed Salesforce's press officers Molly Ford, Katie Duffy and Daylan Burlison, but got no response.
Like an iPhone
So Wenk went back to Redtail and tried to work things out, but there were things it just couldn't do. For example, Wenk didn't want every advisor in his firm to be able to see other advisors' clients and data but he did want the administrative employees to be have access to everything. Despite some workarounds, achieving that end "cannot be done with Redtail" without undue contortions, he says. "We need something simple, but it also has to be robust."

Jason Wenk: We have 25 users
and I feared 20 of them
would never get [Salesforce].
Redtail CEO Brian McLaughlin says Wenk's complaint is inaccurate. "Redtail has since May 2012 supported a feature called Permissioning which specifically allows advisors to restrict access to clients and client data within the CRM," he says.
Instead, Wenk asked John Prendergast, chief executive at Blueleaf, his portfolio accounting and data aggregation provider whose simplicity he values — for CRM recommendations. See: How Blueleaf sees itself taming the RIA's two betes noire — and how it is being challenged on that.
Prendergast had been working closely with a new CRM platform and suggested Wenk check it out. That's what led Wenk to a company that is officially launching its CRM today at the T3 conference in Anaheim, Calif.: Gotham Tech Lab's Wealthbox CRM, which proved a better fit for his firm than either Redtail or Salesforce.
Wenk's biggest compliment about Wealthbox? "It's just incredibly simple." Instead of a multi-day session and paying $10,000 to $20,000 for installation and training — something he was upset he'd have to do if he signed on for a full contract with Salesforce — Wenk simply got a login to Wealthbox and spent some time checking out the site. Everything, he says, was intuitive for him and his employees. "It reminds me of when I got my iPhone."
A new name with an old history
Wealthbox is the first product from New York-based Gotham Tech Labs, which was founded a year-and-a-half ago and has since raised $1.5 million in seed capital to get off the ground. Despite the company's relative newness, chief executive John Rourke says he doesn't feel like a rookie because he has launched CRM companies in other industries — even a failed one for financial advisors.
In 2007, Rourke formed Upswing CRM, a web-based CRM for financial advisors that's still around but which hasn't acquired a large following. After a decade of building apps for different Internet companies, Rourke wanted to move into what he saw as an open market: client management for the financial industry. With four co-founders, he raised $1 million and got the attention of a handful of broker-dealers, including LPL, he says. But in 2008 the markets crashed and it seemed like a bad time to be launching Upswing into the financial world. There are a handful of clients who still use Upswing and who will be converted to Wealthbox later this year. At the time, though, Rourke and his partners decided to change direction to "an entirely new company and an entirely new product."
That product, Bantam Live, launched in mid-2009, was, he says, the first social CRM.
But, what is a social CRM? According to Rourke, it's a CRM that has an internal social network of sorts. Employees can message each other to coordinate projects and tasks without having to get up, walk down the hall and talk about every little thing. It also pulls in online social activity — LinkedIn updates and Twitter feeds — from clients. Think Salesforce Chatter or Yammer, but this was nine months before Salesforce launched Chatter, says Rourke.
Then, in 2011, Constant Contact bought Bantam Live for $15 million and Rourke and his co-founders moved on. Rourke returned to developing the idea of apps and Internet tools for financial advisors, especially a CRM.
All new code
Wealthbox has been in private beta for the last year and currently has about 40 clients from ten different advisory firms, of which Wenk is one. Rourke adds that its doing about two demos every day for prospective advisors and for custodians and broker-dealers with whom he's trying to establish relationships and get on approved product lists. Now that Wealthbox is officially launched, he says, there are at least 100 potential clients in the pipeline and "we expect many customers to sign up right away."
Those clients pay $29 per month per user, which Rourke is calling introductory pricing. There are no minimums in terms of months, users or accounts.
Getting up and running on Wealthbox involves a simple process of importing data by pressing a button — once you have the data. Wenk says it took him just 30 minutes to get started. "The hardest part was getting the data from Redtail," he says. See: Review: How Redtail got hot fast among RIAs and how it plans to leapfrog itself.
The whole thing has been built from the ground-up, meaning that Wealthbox isn't a customized version of an out-of-the-box CRM. "It's entirely new code," says Rourke. The company has eight employees in an office in Manhattan, which isn't cheap real estate, and has plans for a series of financial advisor apps and products. The next one, which will come out in mid-2014, is an online question and answer lead-generation system called Wealthbase.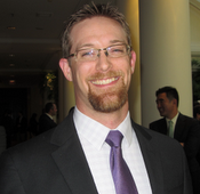 Bill Winterberg: It's not for everyone
and no CRM is for everyone.

Wide-open spaces
Rourke believes that even though there is a new CRM company launching every month and plenty of old guard firms who are doing just fine, none of them are really serving financial advisors. "I've never seen a more wide open industry," he says. The current CRM isn't cutting it, he believes, and he sees Gotham as some kind of revolutionary going against the slow-moving Goliaths of the industry.
"When so many advisors still use their Outlook email client or Excel as their de facto CRM to manage contacts; when the very first thing that happens when you enter a new contact name in a free-trial of Salesforce ends up with an error message; when the first page you land on when signing up to Redtail CRM beckons you to attend a 9-hour "University" training class held at some bland Marriott that you'll pay hundreds of dollars for; when Junxure CRM has tried for three years to launch of web version of a very old desktop product, well, we think it's a good cause," says Rourke.
"It's easy for a competitor to take a shot at an established player in a market they don't know," says Greg Friedman, CEO and co-founder of Junxure. Junxure, he says, is currently rolling out its internet version, which is fully integrated with social media and "will speak for itself," he says. Junxure has about 11,000 users from 1,400 firms.
"We understand no CRM is perfect for every advisor out there, but we put a lot of effort into development and training to make Redtail the best CRM we can," said McLaughlin, of Redtail, who had no comment about Gotham Tech Labs. Redtail currently has about 77,000 users.
The thing that most differentiates Wealthbox's from other CRM systems is its "activity stream." Wenk says he uses it, for example, to make his calendar visible in his stream or on his profile. Other advisors can then see an appointment and comment on it, visible to everyone else in that group. Wenk can respond, a task can be assigned, discussion can happen and workflows can be marked as complete in an efficient way.
"You have this private platform to check in instead of having to get out of your chair and walk down the hall 44 times a day," says Bill Winterberg, the principal of FPPad.com, who observed a demo of the platform.
This is particularly advantageous to Wenk, since he lives in California and his main office is in Michigan. But, he says, the workflows can help any firm. For example, it can automatically send an e-mail whenever someone adds you to their LinkedIn network, which is integrated with the CRM, allowing you to see recent changes. You can then set it to automatically remind you two weeks later to follow up. People who are referenced in the system are tagged, like on Facebook or in Twitter, which allows you to click on their name and see all their activity and updates. See: Addepar means to be the only technology platform RIAs will ever need — and has MIT minds and PayPal money to back it up.
From clerk to Facebook user
Additionally, says Winterberg, there are compliance features that some advisors might find helpful, such as automatically archiving and logging phone calls and linking to a client's profile. See: As advisors flunk social media 101, CRM makers are starting to pick up the slack.
All these features are part of Rourke's claim that he's building a CRM starting with what advisors want and need. "It's everything that most CRMs aren't," he says, arguing that many interfaces simply make advisors feel like "a data-entry clerk." Instead, he's going to make them feel like a Facebook user. See: Why compliance experts are apt to dislike Facebook.
In fact, Wenk says that the beauty of Wealthbox is that if you can use Facebook — and even his grandmother uses Facebook — then you can use Wealthbox.
"We believe we've cracked the usability code," says Rourke.
Mind the gap
That may appeal to some advisors, certainly to tech-savvy advisors, says Winterberg, but with advisors being picky about what specifically they want in a CRM it isn't going to become a universal solution. "It's not for everyone and no CRM is for everyone," says Winterberg. Yet, there are some compelling things that Wealthbox can do, and some advisors will find it particularly useful whose needs weren't being met by existing CRMs. "It fills a gap."
Those advisors who are already using Salesforce Chatter, Yammer, Jive or other third-party apps to create internal social platforms for collaboration across the firm will appreciate Wealthbox. There are also those, like Wenk, who appreciate the simplicity — particularly compared to CRM standards like Salesforce.
But, with that simplicity also comes a lack of integrations, notes Winterberg. While Wealthbox is integrated with a handful of programs like Blueleaf, Albridge Solutions and Twitter, it doesn't have as many integrations as advisors might be used to. Even Rourke admits that 2014 will be focused on working with custodians and more technology companies to get them integrated into Wealthbox. While Wenk is happy with what Wealthbox can do now — and even hopes the improvements won't change things too much or make it too cluttered — he may have to expect some changes. Rourke is referring to this, jokingly, as "version one."
"It isn't quite going to be there on Day One," says Winterberg. But, he says, it's still worth checking out.
---
Related Moves
---
February 6, 2021 – 2:39 AM
---
October 5, 2018 – 6:05 PM
---
---
Mentioned in this article:
---
---
---
Kim
February 12, 2014 — 8:27 PM
The article states, "Last year, Jason Wenk's Retirement Wealth Advisors Inc. grew from $140 million to $300 million in assets…"
The growth and unique business model intrigued me so I went to the SEC website and looked up the January 2014 ADV… This firm has no where near $300M in AUM.
Kelly
February 12, 2014 — 8:59 PM
Kim —
Jason did say that he heads up two RIA firms and the total assets are for those firms combined and that the growth all happened last year, so it's not in the updated ADV yet, so I updated the story to make that more clear. We did write about Jason's growth before here: http://www.riabiz.com/a/25263001/how-a-33-year-old-advisor-ditched-the-midwest-for-california-and-used-mad-blogging-and-seo-skills-to-hijack-annuity-bound-web-traffic-to-propel-giant-growth
Hope that helps
Jason W
February 12, 2014 — 8:40 PM
@ Kim – ADV hasn't been updated for through end of 2013 yet. And our AUM is for two RIA firms under common ownership. I mentioned that when interviewed, but we can't control what gets published.
-jw
Jason W
February 12, 2014 — 8:38 PM
In fairness to Redtail – they've been a great resource for us the last few years. The issue with permissions though, is it's simply too complicated. Same for Calendar sharing. We tried the help desk about 20 times and there just wasn't a simple way to keep my calendar private. For that matter, many of our advisors didn't want to see 25 other users with a checkbox next to their name for calendar functions.
Redtail has an awesome sweet spot in the industry. Before we started working with dozens of IARs and dozens of home office employees – it worked perfectly. Since they have a large and loyal user base, there wasn't a lot of value in customizing features for just our firm. Hopefully they continue to get better, make the CRM easier and the UI better.
With Wealthbox, the little things that make team collaboration are both easy and powerful. Integrations are more than adequate for us even at launch, and will continue to get better. Being able to help shape something new is also very exciting as our voice is considered important.
I wish nothing but the best for Redtail, Salesforce, and others. Hope my interview didn't make it sound otherwise. At this moment though, for us, Wealthbox is an awesome solution and I'm confident it will be really helpful for many others too.
-jw
James
February 12, 2014 — 8:46 PM
The design of wealthbox seems very similar to Facebook… Almost identical? Aren't you running into any intellectual property issues for stealing their design?
Allen
February 12, 2014 — 9:34 PM
Interesting.
@ James… I thought the same thing. It looks extremely familiar. It's actually almost identical to another program called Podio that's owned by tech-giant Citrix. I'm sure they won't care if it's knocked off either. The interfaces mirror each other.
Jason W
February 13, 2014 — 12:35 AM
Activity streams are in most web apps you see these days. Facebook, Twitter, Linkedin, Basecamp, Podio, Chatter, etc. The reason is largely because it works. People understand the UI. It's one of the many cool things I like about Wealthbox. If you or your staff uses any of those many applications – they basically will be able to use Wealtbox from jump street. If a technology is unusual to a user it's really hard to adapt and get value from it.
I'll let Dan and the Wealthbox team tackle the whole intellectual property convo ;)
jw
Jason W
February 12, 2014 — 9:07 PM
Thanks Kelly!! Transparency is always good ;)
-jw
Gotham Tech Labs
February 13, 2014 — 1:55 AM
@ RIABiz & Kelly O'Mara: Thank you for the coverage. It's much appreciated.
@ James & Jim: My team and I were and continue to be pioneers in "activity stream" web-based CRM software. My last company's web-based app debuted at the "Real-Time Stream Crunchup" hosted by TechCruch, in July of 2009. The very name of the event illustrated the emergence of "activity streams" in business productivity software and our presentation was back-to-back against Salesforce, who didn't show an activity stream at all at this event, but we did show one in our social CRM app debut onstage. It wasn't until nine months later that Salesforce launched their activity stream in the form of "Chatter." (This isn't to suggest they copied us; it's merely that we were ahead of them in applying social collaboration to CRM.) Activity streams are everywhere now, in consumer and business software, such as LinkedIn, Yammer, Twitter, Jive, Google+, etc. Indeed, "activity stream" has its own Wikipedia entry. This leads to my answer to your question related to Facebook's design: We certainly didn't "steal" their design in my latest venture as we simply created and applied our own plans and designs around CRM activity stream for financial advisors; I'm aware of no claims they have for activity streams, especially in business productivity software. And no one owns Lucida Grande, the typeface. To be sure, we've tried to style Wealthbox around the hyper-simple, familiar tools that we as consumers are using each day (like LinkedIn and its stream, for instance) and to this end we allow Wealthbox customers to customize their Wealthbox account with a color scheme, of blue (what you've seen), light blue, black, or green. (If you saw these 3 other colors applied, it's vastly different looking, by the way.) Lastly, I dare say that at a glance that "activity streams" in general can obviously make you think of familiar Facebook or LinkedIn, but once you start using Wealthbox, with all its unique icons for various CRM-centric activities that cascade in the stream (new contacts, tasks, event, opportunities, etc.) and attendant workflows, you'll see and feel a completely different visual vibe beyond the glance. With respect to Podio, I haven't looked at them since my last venture that was sold 3 years ago, after which they were acquired by Citrix (who I know quite well), who also saw that activity streams are great for business collaboration. ...Hope this helps. Respectfully, John Rourke