Tom Bradley pollinates TD Ameritrade branches and RIAs get sweet referrals in return
Bradley is teaching retail advisors to spend more time with clients -- and local RIAs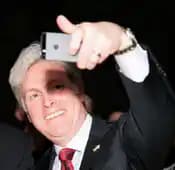 Tom Bradley, seen here snapping a selfie at TD's national conference Orlando: I'm incredibly proud of these numbers.
---
Jeff Spears
February 11, 2014 — 11:17 PM
The Glengarry leads I've been looking for are here!
http://anekdotof.com/user/carpinteyroiwh/
In terms of Bluetooth the LG KU990 is way better than the iphone. Although apple iphone 3G has the option of Bluetooth, it can only be used for synchronization purposes. iphone cannot transfer information via Bluetooth and since it does not have A2DP, stereo Bluetooth headsets cannot be used using the cell phone. The KU990 on the other hand can use all the options of Bluetooth with out any problem. The telephone may also be connected to a stereo Bluetooth headset.
http://thescripter.com/getting_around1.htm
Little major and wider inside the sides ?one's body sort of a pear a far more compact midsection as opposed to sides. As Determine apple, opt for a singular neck-line that can draw the attention from the huge sides. The top selection using this type of physique is de facto a type of gowns / dresses princess.
---
---
Mentioned in this article:
---
---