News, Vision & Voice for the Advisory Community
Despite detaining for three hours the just-arrived-in-Las Vegas crowd way past feeding time, Robbins won hearts, if not heads
December 9, 2014 — 9:34 PM UTC by Lisa Shidler
Brooke's Note: Woody Allen is quoted saying that 80% of life is showing up. Tony Robbins, under a bit of cloud, slightly defensive, showed up and made the sun shine — for most. He had the crowd at 90 minutes but kept rolling. Under Robbins' contact with MarketCounsel, the media was not allowed to cover his event — just attend. However, advisors and other reporters posted hundreds of Tweets about his speech. So in much the same way that Iranians report election results (or lack of one) in their country the 2009 by using Twitter, Lisa Shidler gives a Twitter-derived account of Robbins' self-censored speech from the post-game tweets and conversations she had with RIAs later that night and this morning.
It was a sober, jet-lagged troop of about 500 of the RIA business's finest who filed into an airless Las Vegas room with barely a fresh calorie or lubricating cocktail to draw upon. But Tony Robbins soon had them jumping up and down as he shouted his way through a three-hour presentation — after being scheduled for one hour that was then upped to two. See: Tony Robbins is set to crash the RIA party with two hours of testosterone.
In the end, Tony used his Franken-sized body, mind, spirit, his congenital inability to be shy and encyclopedic knowledge of sales wisdom to get the crowd thumping in spite of itself.
Scott Hanson who was, at Robbins' behest, jumping up and down and shouting "I own you" with many other RIAs in attendance, said he was more energized than he's been in years.
"Twenty years ago, were the fun days. I remember jumping up and down in the office but I haven't done that in years, said Hanson, founding principal of the Hanson McClain Group of Sacramento, Calif. "I thought this was going to be all rah-rah and it was, but it worked and I loved it." See: 9 ways that Tony Robbins impressed the 'jaded' journalists at RIABiz.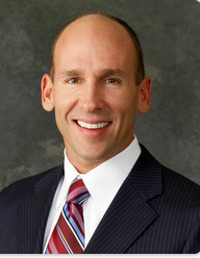 Scott Hanson: "I thought this was
going to be all rah-rah and
it was, but it worked and
I loved it.
Hanson was so enthused that he's thinking of attending a weekend session for advisors Robbins offered up at the conference.
Working the crowd
Many in the room were wise to MarketCounsel's last-minute announcement that reporters were not allowed to report on anything that happened during Robbins' session. See: Tony Robbins prohibits reporters from covering his two-hour MarketCounsel speech.
Robbins addressed criticism that he's something of a carpetbagger on the RIA scene. He pointed out he's no newcomer and has been working with advisors for years.
Some RIAs, off the record, said Robbins spoke too long and that the talk was long on glitz and energy and short on meat and potatoes guidance and insights.
Marty Bicknell of Mariner Wealth Advisors came down somewhere in the middle. He was impressed with the first 90 minutes of Robbins' speech and his overall impression was favorable.
"I heard from several people that they were disappointed he didn't spend his time discussing the industry more. However I do believe they are in the minority. If you looked around the room he had everyone's attention. I think people expected a different speech (more industry focused) and not a motivational, self improvement talk," said Bicknell, whose firm manages close to $40 billion of assets.
"I will tell you is he is very engaging and does know a decent amount about our business. From my perspective, I think having him use his stage to help educate the consumer about what a fiduciary is can only help. The negative attention he is getting from RIAs is a little odd to me. Who cares if he has it exactly right or not? That's our job not his job. I truly believe that any attention he can give us with the public will serve us well."
Robbins was quite impressive, agrees Mindy Diamond, of Diamond Consultants. "I have a lot of respect for his motivation for agreeing to speak to us last night," she said, meaning an audience much smaller he is used to. "He has a strong belief in the fiduciary standard and wanting to educate the public. I think the audience was hungry for actionable items. My favorite [line] was: "As a leader, you must bring 100% of yourself to your business every day …. The leader's state of mind impacts the energy of the whole organization and that success without fulfillment is failure."
Dangerous drinking game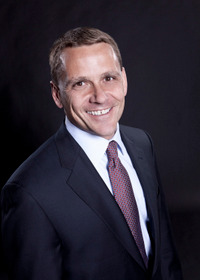 Marty Bicknell: I truly believe that
any attention he can give us
with the public will serve us
well.
Going by the numerous tweets tweeted after Robbins' talk, the enthusiasm was catching. Many remarked upon Robbins successfully urging normally stuffy advisors to Shout, "I own you!" to their neighbors.
One of the most popular phrases that was tweeted by Robbins was, "Who's with me?"
InvestmentNews editor Fred Gabriel tweeted: "Thank God I don't have to throw back a shot every time Tony Robbins says, "Who is with me on this."
Twitter posts told of Robbins trying to convince advisors that they can grow their business by some simple changes.
David DeVoe of DeVoe & Co. quoted Robbins as saying, 'One step to breaking through your business is changing your story'.
RIAs are wondering what Robbins' mission in the RIA arena will actually be. Tim Welsh of Nexus Strategy quoted Robbins as saying, "I did not come to the wealth management industry to compete with advisors, rather to send people your way." See: How Tony Robbins co-opted Elliot Weissbluth (and HighTower data) and vice-versa.
No haters!
The morning after, advisors were still buzzing and tweeting about Robbins' speech.
Bill Winterberg, founder of Atlanta-based FPPad.com, who wasn't at the speech, shared that he's not a huge fan, but Ryan Shanks, of Finetooth Consulting, was quick to defend Robbins on Twitter. "We are jacked up on Tony Robbins this morning! No room for hates!" Shanks says.
Still, Shanks told me that he understands the concern that Robbins' might be edging onto RIA territory. "He seems to really support RIA's but also seems like he's creating a competitor to them. Awesome energy and advice. Great voice for fiduciaries as he connects with Main Street."
Or, as Shanks tweeted: "Financial Services earthquake in Vegas."
John Furey, principal of Advisor Growth Strategies, LLC, was pro-Robbins and tweeted, "Some big takeaways: 'The people that surround you is the person you become.'"
FI360 tweeted some of Robbins' comments about fiduciary. "The government won't pass any fiduciary laws. So how do we ensure investors get what they need?" See: What Tony Robbins should remember when he talks 'fiduciary'.
---
Mentioned in this article:
---
---
Share your thoughts and opinions with the author or other readers.
Teresa Vollenweider said:
December 9, 2014 — 10:04 PM UTC
If he, Tony Robbins, adds to the confusion in this information asymmetric industry, it will be the kiss of death for the unsuspecting, inexperienced investors—the HNW muppets, the women, the successful, harried small business owner, those who have retired and those nearing retirement—the most coveted investors.
Jeff Spears said:
December 10, 2014 — 1:37 PM UTC
Our sleepy industry needs to wake up! Tony Robbins has made a career awakening people.
Listen don't hate.
Maria Marsala said:
December 14, 2014 — 6:27 AM UTC
Jeff… I'm with you!
Awaken the RIA's!
---
---