Howard Present resigned -- but not before the SEC scrutinized his company.
Brooke's Note: When ETF managers burst on the scene a few years ago, they were like the second coming. This type of portfolio gave people who didn't want to do it themselves a way to use ETFs. But it also quenched a second thirst — the need for hyper-diversification to blunt the effect of downturns. The world was unquenched after the 2008 debacle. For a few years, assets flowed into the funds of the pioneers in this field in torrents. The F-Squared situation may have its own set of circumstances. But it also raises the question of whether the tide is ebbing on ETF managers. Some investors and advisors may be starting to see them as just an expensive way to invest in ETFs, especially as the robo-advisors come along and manage ETFs far more cheaply.
F-Squared, which manages a hefty $28.2 billion slice of the roughly $100 billion ETF portfolio market pie, announced that chief executive Howard Present was resigning from the company, to be replaced by Laura Dagan. See: How Howard Present parlayed an intern's algorithm into a small fortune — and when the SEC says he knew of a mega-disconnect.
The Wellesley, Mass.-based company made headlines in December 2013 when The Wall Street Journal reported that the Securities and Exchange Commission was investigating the way F-Square stated historical performance of the company's ETF strategies. At the time, Present told clients to disregard key parts of previous marketing materials, and, in a May 2014 letter, told F-Squared clients that the performance of his firm's flagship strategy had been "clearly overstated."
F-Squared received a Wells notice from the SEC in August. The SEC sends these notices to companies it plans to file civil charges against and is intended to give the company a chance to provide mitigating information. F-Squared is cooperating with the SEC investigation. See: Charles Goldman speaks from the CEO Summit hotel about what he didn't see coming at AssetMark and how it changed his life.
Fail-Squared
"I believe it is in the best interests of our firm and our clients that I step down," said Present, 54, in a Nov. 14 statement announcing the switch. A spokesman confirmed that the resignation was related to the investigation. Present is ceding his voting rights but will retain a minority interest in the firm.
Present founded F-Squared in May 2006 but the company didn't begin managing client money until February 2009. Nevertheless, F-Squared sold prospective clients on the back-tested track record of its strategies and implied others had successfully managed money with them.
Of course, it was all too good to be true. Present told clients in a May 2014 letter that contrary to F-Squared's marketing materials, assets had not been tied to firm's signature AlphaSector U.S. equity index between April 2001 and September 2008. Furthermore, F-squared had incorrectly translated these third-party buy and sell signals, leading to the inflation of the index's overall historical performance. See: Why target date funds fail in the one area they're supposed to succeed — downside protection.
Bull market blues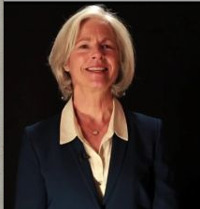 Laura Dagan: It is a privilege
to lead such an impressive company
into the next stage of growth.

A typical F-Squared strategy will rebalance a portfolio of about 10 equity sector ETFs each week, adding or subtracting ETFs depending on the firm's quantitative projections for the short to intermediate term. A short-term treasury ETF is thrown into the mix in heavy doses when market projections turn bearish. See: One killer Roth conversion strategy in seeking a single-digit tax return.
The company began managing client assets at almost exactly the same time as the market hit rock bottom in the 2008-'09 crash. It was easy in this risk-averse environment to sell investors on a preservation-predicated index portfolio—even one that didn't claim to crush the S&P 500 at the same time. Other ETF managers experienced similar stellar growth with that confluence of factors at play, including Windhaven Investment Management Inc., which The Charles Schwab Corp. wisely snatched up in 2010. See: A look inside Schwab's big deal with a small asset manager.
F-Squared led the way as the managed ETF portfolio industry began to boom. The company had $1.3 billion in its products by the end of 2010; $10 billion by 2012. F-Squared currently oversees $28.2 billion in assets and is the largest model ETF portfolio manager in the country.
But with the bull market rebounding to new highs, F-Squared products lacked the kind of market environment in which they flourish. Four of the five mutual funds F-Squared manages for Hartford, Conn.-based Virtus Investment Products Inc. are old enough to have earned ratings from Morningstar. Two of these funds earn two stars (with three stars for the no-load version), while the other two, including the flagship $6.9-billion Premium AlphaSector fund, earn one star (two for the no-load version). See: Morningstar explains its new forward-looking rating system — and tosses in some hot fund picks for good measure.
Founding stake
With Dagan's hire, F-Squared is elevating a buttoned-down, experienced executive to replace the more entrepreneurial Present to guide the firm through its current crisis. Her involvement with the ETF portfolio manager stretches back over five years. Dagan was an early investor in the company's products and the company itself, with a stake of less than 5%. Dagan has served on the board of F-Squared since 2011.
Previously, she worked for over 22 years at Dwight Asset Management, a Burlington, Vt.-based RIA that provided stable value and fixed-income management for institutional clients, retiring in 2010 as chairman and CEO of the firm.
Dagan left Dwight Asset Management near its peak. When she stepped down, the firm had $68 billion under management, and its first quarter 2010 IARD report shows AUM of $76.8 billion.
Capsized
Thereafter, Dwight hit a series of icebergs and went down like the Titanic. The insurance infrastructure that underlies the perceived safety of stable value funds was damaged by the market crash and Dwight saw continuous, major withdrawals as clients converted to money markets or low-duration bond funds elsewhere. And in the months prior to February 2012 when parent company, London-based Old Mutual Plc, sold Dwight to Goldman Sachs, the insurance company pulled nearly $17 billion of its own money from the RIA, according to sources who requested anonymity.
MarketWatch reported at the time that Dwight had just $33.2 billion under management on Sept. 30, 2011—a stunning $43.6 billion decline in less than two years. According to its most recent ADV, Dwight Asset Management —now marketed as GSAM Stable Value — currently has $33.35 billion under management. Current employees of the old Dwight declined to comment, citing Goldman Sachs' speak-not policy.
Heightened vigilance
Dagan spent much of her first weeks as CEO meeting with clients, and F-Squared claims she has garnered "a positive reception" at these meetings.
This should be welcome news to investors: According to a Wall Street Journal report from September, RBC Wealth Management and Raymond James Financial Inc. are now putting a cap on how much new money advisors can place with F-Squared. Wells Fargo Advisors is also warning its advisors about the company, according to the Journal report.
But not every company is waving advisors away from the firm. AssetMark, the Concord, Calif.-based turnkey asset management provider, will continue to allow advisors to invest as much as they want. See: 'AssetMark' rides again as a $20-billion TAMP with a receding Genworth hangover.
"AssetMark's due diligence team contemplated a number of scenarios including CEO resignation in relation to the SEC inquiry," says an AssetMark spokesperson. "The recent CEO departure has not changed our view of their status on the platform. We continue to keep F-Squared on heightened due diligence but have not restricted investment into the strategy." See: Can advisors keep their dirty compliance laundry in the closet thanks to lack of NASAA, SEC and FINRA coordination?.
This seems to be the larger market's stance as well. So far, the firm's compliance issues haven't visibly slowed a stampede of new money piling into F-Squared's products. According to Morningstar's third-quarter report on ETF model portfolios, F-Squared had each of the top eight ETF portfolio strategies with the most asset inflows between September 2013 and September 2014 and 13 of the top 25.
The firm's assets increased by more than $5 billion during this time as opposed to Windhaven Investment Management, the second-largest ETF manager, which lost $800 million, and Chicago-based Good Harbor Financial, the third-largest, which lost almost $4.4 billion.
---
---
Mentioned in this article:
---
---
---
Teresa Vollenweider
December 4, 2014 — 10:53 PM
Do advisors/ers (or brokers masquerading as advisors/ers) get kickbacks from F-Squared for putting muppets' money into their fund(s)?