April Rudin: One year during our Chanukah party my son began a conversation with our non-Jewish guests about how Santa did not exist...
Brooke's Note: This piece by April Rudin is part column, part literature and quintessentially American. I am very grateful for it both for its holiday spirit, its incredible honesty and its signature Rudin humor. Trying to pull off this article, we had April on the cell phone and her boys telling her to get off it as they trundled down some Rt. 66 towards the Grand Canyon. Most recently April wrote about her visit to Jon Stein at Betterment.
My growing up years were spent in Southfield, Mich. (which is just north of Eight Mile Road, home to Eminem, and a little bit south of Madonna's roots). Although Southfield was a pretty racially/religiously diverse community, my side of town was mostly Irish/Italian Catholics.
As a Jewish girl, I sometimes felt like a bagel in a doughnut shop. I went to catechism with friends and learned that the ashes from Ash Wednesday are from the palms of the previous year's Palm Sunday, etc. But I was Jewish, one of just a couple of kids. In my public elementary school, we sang, for example, "Away in the Manger" in music class and I would skip the word "Jesus" but I am not sure why!
I even remember caroling with friends in the snow and cold many different Christmases (Michigan has a very mean winter…). My neighborhood would be decked out in Christmas lights and reindeer on the rooftops (this was years before those hideous blow-ups.) I remember enjoying the wonderful houses with twinkling lights and preferring those that were single-colored like gold, silver or blue. Ours was the only house with a cardboard "Happy Chanukah" sign. And, it certainly had no lights!
As a young girl, I would bake Christmas cookies with my friends and we would would decorate batches and batches of cookies with the red and green symbols of Christmas. I knew the "Twelve Days of Christmas," the difference between a cross and a crucifix and could discuss the components of a nativity scene with absolute certainty.
As I moved from junior high school to high school, there were an increasing number of Jews but we were still in the vast minority in suburban Detroit circa 1978. Every year I dreamt of and received a "White Christmas" as it snowed virtually every day of the winter while I was growing up. And speaking of snow, as a young girl, we went tobogganing, rode our magic saucers (they are the orange circle sleds), went ice skating on ponds, made snow angels in my front yard, skied every week, and even went ice fishing regularly! We had snowmobiles and snowblowers to make way for Santa. Although we were Jewish, we put up stockings on our fireplace and we left cookies for Santa when my sister and I were very small. Winter and snow and Christmas lights and hot chocolate…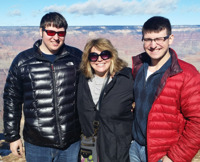 Cell phone calls aside, the intrepid
New Yorkers made it to Arizona.

Now I am a mother of two boys and living in metropolitan NYC. It is around 30% to 40% percent (or more) Jewish in some neighborhoods around where we live. My boys have attended Jewish school since preschool and they are currently in a more liberal Jewish high school in New York City. Although they played sports in our town for many years and have some friends of different religions, by far the lion's share of their friends, acquaintances and social/learning has been in a Jewish environment.
Maids a-milking?
My kids have no idea about "...the maids a-milking" or what is in the manger, or even what a manger is, for that matter. I initially enrolled them in school as I felt that it would provide a terrific sense of belonging and community to attend that type of school. It was never really about the religious part, and I was right about the social and community aspect. My kids and I made some wonderful lifelong friends, have been included in Jewish holiday celebrations with many families and so forth, and did not feel isolated come Jewish holiday time.
To compensate, I made efforts to include non-Jewish friends for my kids during Jewish holidays. Each year we had a Chanukah party and invited some of our non-Jewish friends over for latkes, jelly donuts and dreidel lessons. I remembered that my younger son referred to them as the "Christmas" people instead of the Christian people! One year during our Chanukah party when the kids were maybe 5 and 7 years old, my son began a conversation with our non-Jewish guests about how Santa did not exist and how ridiculous the whole idea was. Needless to say, our little guests had a meltdown at the news while my son was clueless about the damage that he had done!
My older son once asked me casually, "What's that Jesus 'scene' all about?" Through further questioning, he didn't mean in general, but the nativity scene! He had no idea. Another time we were invited to a communion and I needed to explain to my kids the significance of the ceremony. I told them about the wafer/cookie that represented Jesus's body. One of my boys asked if that wafer looked like the gingerbread man! LOL Jesus's body!
This makes me question the milieu that I have raised my own kids in. Though unintentional, I have reversed the growing up experience which I had. I grew up as a relative minority; my kids were raised as the absolute majority. They have no bias or prejudice, but have a healthy curiosity for all things beyond Judaism in which they have little knowledge. Tonight is Christmas Eve. I am wondering now whether my kids have ever been to a Christmas dinner, decorated a tree, or baked Christmas cookies. I think I know the answer to this. How different from my own upbringing! I consider my parenting experience to be a giant and long-term social experiment. What the results of my parenting and decisions which I have made are still in the future.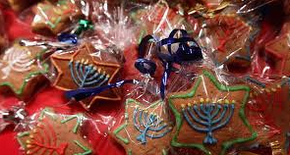 Each year we had a Chanukah
party and invited some of our
non-Jewish friends over for latkes, jelly
donuts and dreidel lessons.
This phenomenon exists for kids in Catholic, Armenian, Japanese schools and so on. The microcosm of this type of education does not represent real life. And, interestingly enough, the Jewish school which my kids attended was "diverse" in its Jewish population with students of South African, Argentinian, Israeli or even British descent. It was much more heterogenous than expected. All of these kids can have the same type of "isolation" which I am speaking of. Luckily, for my kids, they are attending high school in New York City which itself is a melting pot and a virtual classroom. Thankfully, my kids have been "assimilating" excitedly.
Diverse climates
Now what about a NYC Christmas? We do have "The" tree in Rockefeller Center and the skating rink there. There are beautiful lights on Fifth Avenue and other parts of the city. But here it is Christmas Eve in NYC and there is no snow. I am not sure that I remember many years with snow here for Christmas. In the beginning, I bought baby snowsuits and gloves which had the string connecting them and we awaited snow which never arrived. My kids do not even have the winter experience which I so fondly remember of wearing a winter coat for the arctic zap and tumble of snow anybody in Detroit knows.
So, I will keep my eye on my social experiment called "parenting" and wait to see what things my children take from their growing up experiences, and what they retain or abandon. I will have had no one to teach the sheer joy of dropping backwards and getting snow down your back and into your boots while making spontaneous snow angels as we strolled around our icy neighborhood, And now that my eldest son is choosing a college, we discuss the weather and the diversity because of the important of both. He wants a diverse school in a temperate climate which is the best of all worlds!
As i sit here and write this on Christmas Eve, I wish all of my readers a "Merry Little Christmas, Now."
April J. Rudin is the founder of The Rudin Group, a wealth marketing solutions firm specializing in UHNW/HNW client acquisition. strategies. It is the mash-up of wealth marketing, digital/social media and next gen. The Rudin Group represents the sum effort of April's experience, relationships and know-how in creating effective, visible campaigns.
---
Mentioned in this article:
---
---
---