The deer don't mind the un-white Christmas of Maine.
Brooke's Note: Season's greetings everyone. I was going to spare you my Christmas-time personal words this year but a handful (very small) told me they look forward to it. I like that a publication that reports the business of the advice business can get away with an article that isn't so businesslike for a sliver of a moment. My holiday gift was everyone's 2014 participation in RIABiz at all its levels of readership, sourcing, writing, commenting, editing, advertising, yelling at the founder and the occasional personal visit. May there be more of all that though I'll do my best to limit the need to yell.
I knew I was in Maine the moment I reached Gate 21 in the C-concourse of Philadelphia International Airport.
There was at first just the archly understated way that the waiting passengers were attired, with no sign of a primary color and no clothing looking like it had jumped off the pages of a catalogue. There was also the non-voluble nature of the crowd until I heard one husband, visibly pained in moving his lips, ask his wife: 'Is John pawking the cah in Pwartland?"
Home sweet home.
The sense of my impending arrival in Freeport, where my mother lives, only increased as I explained to my seatmate from Bath, Maine that my Christmas gift search included finding something good for 12 year-old triplets.
Three degrees of separation
A man in a necktie in the seat ahead of me poked his head over the neck rest and peered down to say: "Are you a Southall?"
"I am," I said.
"When I heard 12 year-old triplets, I thought to myself: How many 12 year-old triplets can there be in Maine?" he explained.
He was the father of a boy who is friends with my sister's children — and I felt an early hug from the state of Maine where I grew up.
Escape from the monsoon

This was a bike path in
Sausalito before it was a fishery.

Maine has a way of wrapping you in its embrace, typically aided by the soft edges of piling-up snow by December. This year I emerged from the Portland International Jetport to an exposed landscape to a tundra of salty pavement, dirty snow banks and frozen lawns like summer's bad hair day sprayed permanently in place.
Still, it boosted my spirits for its dryness, a far cry from the vengeful rains pelting California after its longest drought in years. We had seen about 13 inches fall in as many days.
In Sausalito and Mill Valley where I work and live, our monsoon season had the effect of preventing the tides from functioning in the Bay. Low tides are like high tides and high tides are like what Noah was famous for saving pairs of animals from. Fortunately I live on a houseboat that serves as my personal ark. See: Merry Christmas: A nor'easter makes life interesting as RIABiz heads up to Maine.
New dog in town
Water in Maine, unless moving rapidly or salty, is frozen, so we made our way to a local pond, donned skates and staked out our shoes as goalposts. One stray puck sailed into reeds at the side of the pond and a nephew saw the ice around him sink and he was snatched from disaster. He could hardly see why saving his life was worth wasting a puck. We got the puck back, too.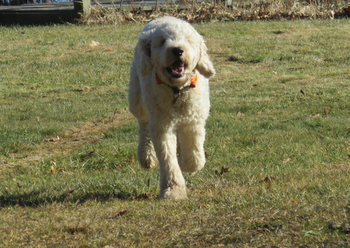 See Remmie run.
This just in: The angel long used to top the family Christmas tree may be supplanted. A woman who runs a crafts fair in Pownal made an angel quite beautifully out of old cloth napkins. I think the old one came from W.T. Grant circa the 1960s.
But the headliner of Freeport 2014 is a new dog, Remmie, short for Remington but everyone around here believes he was named after the famous Red Sox second baseman, Jerry Remy. After Simba died last winter, it took some time to accept the idea of a new dog. But the time came this summer and the labradoodle that came aboard is now running the place the way dogs do, especially when all the family is around. See: Christmas comes early in Maine and a veterinarian reminds our family of the highest professional conduct.
Remmie was born to run and his oddly greyhound-like frame sent him over the frozen lawn like a giant white snowshoe hare. Simba would appreciate his sheer joy in being aloft on his own paws, which hardly seem to touch down.
Christmas forecast
What else is new here? We went to hear the Portland Symphony Orchestra, painful in that it conflicted with the New England Patriots game, do its Christmas concert. It featured a repurposed Miss Maine who had found her calling: belting out Christmas songs like O Holy Night and the song from "Frozen": "Let It Go."
Things are essentially as they should be here now except for one thing:
Let it snow.
---
---
Coach Maria Marsala
December 29, 2014 — 9:30 PM
I agree! Let it snow…
After purchasing new boots in Washington State for the snow or slush I expected in NY, 6 pairs of heavy cotton socks, and getting on the ladder to take down the remnants of my heavy NY cloths , I do hope that I get to wear them in the next week or so!
(did we pass each other Philly Airport)?
Kevin Cimring
December 23, 2014 — 8:02 PM
Brooke – wishing you a Merry Xmas and a wonderful 2015!
Skip Schweiss
December 23, 2014 — 7:36 PM
Love the personal insights, Brooke! May it snow and enhance what I hope is a very Merry Christmas!