Stuart DePina: It's not an inexpensive proposition.
Envestnet | Tamarac has landed another major client — and this one is as close to a crown jewel as it gets in the business.
Evensky & Katz/Foldes Financial Wealth Management, the Coral Gables, Fla.-based RIA founded by legendary advisor Harold Evensky, announced last month it had chosen to switch to Tamarac Advisor View from Schwab PortfolioCenter for portfolio management, reporting, billing and client communications. See: Schwab bluntly reviews PortfolioCenter to coax thin-skinned software vendors to its Zagat-like forum.
Lane Jones, chief investment officer of the firm, explained in a press release why it was time to move on from purely Schwab's portfolio accounting software to Schwab as a portfolio accounting ingredient of AdvisorView.
"In today's wealth management marketplace, it is not enough for RIAs to simply maintain a website and e-mail reports to clients—they need to facilitate frequent interaction with clients," he said. "We are confident we can seamlessly grow and enhance our practice with the relationship-strengthening benefits of Advisor View."
In June, Harold Evensky's firm successfully merged with an RIA run by former employee and protégé, Steve Foldes. The resulting firm, Evensky & Katz/Foldes Financial, became one of the largest RIAs in South Florida. According to its most recent ADV, the combined firm has about 800 clients and about $1.5 billion in assets under management. See: How Steve Foldes merged his $600-million RIA with mentor (and former advisor) Harold Evensky creating a $1.5 billion Florida behemoth
Radar Love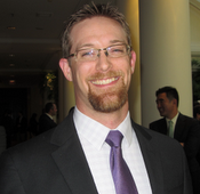 Bill Winterberg: Operating in a multi-custodial
environment is inherently inefficient, because the
process of opening an account is
not systematized across multiple custodians.
Meanwhile in Seattle, on the fourteenth floor of Columbia Center, the shakeup in South Florida looked like a big opportunity.
"Evensky had been on our radar for several years," says Stuart DePina, chief executive of Tamarac.
One change at Evensky was that he and Foldes integrated their two teams and tried to scale the combined business and both ran on Schwab PortfolioCenter making Tamarac a natural choice because employees were accustomed to the system.
Many Schwab clients have waited years for the Schwab PortfolioCenter rewrite to hit the market but completion has proven elusive for Schwab. Neesha Hashi, head of RIA technology is speaking at the T3 conference in February and there is speculation she may give more definite details about its readiness for market. See: Bernie Clark promises Schwab is getting there on its PortfolioCenter rewrite but competitors say the clock is ticking.
"Operating in a multi-custodial environment is inherently inefficient, because the process of opening an account is not systematized across multiple custodians," says Bill Winterberg, principal of FPPad.com. "Add in the complexities of portfolio management, order management, trading and reconciliation and you begin to have challenges meeting the unique requirements of each custodian." Evensky keeps a hunk of its assets with custodian Fidelity Institutional Wealth Services and the bulk with Schwab Advisor Services but says that workflows have never been cumbersome as a result.
With 4,100 accounts at Evensky & Katz/Foldes, these inefficiencies add up fast.
On boarding the big boys
But this kind of problem is right up Tamarac's alley, says Winterberg, as 95% of Tamarac's advisors have multiple custodians. With this kind of "middleware," these advisors don't have to perform duplicative work in different portals for each custodian. See: Tamarac doubles down on Microsoft to be more like Salesforce.
Evensky & Katz chief executive Harold Evensky says he has never had a difficult time operating with multiple custodians with Schwab PortfolioCenter.
Tamarac's customers are a "pretty self-selective group of advisors," says DePina.
Tamarac has been collecting plenty of scalps of mega-RIAs in 2014. In September alone, Beacon Pointe Advisors, the Newport Beach, Calif.-based RIA with over $7 billion AUM; Convergent Wealth Advisors, the Los Angeles-based advisor with $8.5 billion AUM; CliftonAllenLarson Wealth Advisors, the $3.9 billion AUM subsidiary of the more well-known accountancy firm; and $3.1 billion AUM Freestone Capital Management of Seattle, all signed on.
And in March, the firm won the business of William Blair & Co., the Chicago-based investment bank and wealth manager. See: Envestnet | Tamarac wins four more RIAS with an average of $5 Billion AUM by selling a vision
Perhaps, but there are market forces at play too.
"It's not an inexpensive proposition," DePina says, and many of those signing up in recent days have been truly deep-pocketed. According to DePina, over 130 of Tamarac's 750-plus clients have $1 billion dollars or more under management. The firm's clients have a combined AUM of over $400 billion.
'Show stopper'
The good news should keep coming for Tamarac in 2015. DePina says the firm's pipeline is full for at least the next twelve months.
So how does DePina & Co. continue to win these huge deals? Winterberg says you have to look to the legacy software many of these billion-dollar firms are using.
For many advisors shopping for new software, including Evensky himself, Winterberg says this facet can be a "show stopper."
Because Tamarac is built right on top of Schwab's PortfolioCenter, advisors previously using this software don't have to suffer through an annoying, costly, time-consuming data conversion.
Correction: An earlier version of this article said that Evensky moved his business from Schwab to Tamarac because of software "problems" that cropped up because of an earlier merger. Harold Evensky says no such problems ever occurred. An earlier version of this article said that Evensky made this move so it could manage multiple custodians, including Fidelity, more easily. Evensky says he has never had issues with managing Schwab and Fidelity using Schwab PortfolioCenter and that it did not play into his decision to switch. He added that his firm's recent merger with Foldes also did not play in and that "efficiency" per se also did not play in. Rather it was simply the "relationship-strengthening benefits of Advisor View" that determined the new software course taken by his firm.
---
---
Mentioned in this article:
FPPad.com
Consulting Firm
Top Executive: Bill Winterberg
Envestnet | Tamarac
Portfolio Management System, CRM Software, Trading/Rebalancing
Top Executive: Stuart DePina
---
---
---
Harold Evensky
December 22, 2014 — 11:28 PM
As I believe the article headline is significantly misleading I wish to make clear, Evensky & Katz/Foldes Financial DID NOT "DROP" Schwab Portfolio Center. As one of the earliest users of Centerpiece (the predecessor to Portfolio Center) and a long time user of Portfolio Center, we have been extremely pleased with the software. We were particularly pleased when it became part of the Schwab family. As the very last line in the article notes, Portfolio Center is the underlying engine for Tamarac. In making our decision to work with Tamarac we believe we have the win-win benefit of BOTH Portfolio Center and Tamarac.