Adam Nash: We thought we were launching a product, but it turned out we were launching a category.
Brooke's Note: This article's genesis was a trip by Sanders and me to Wealthfront's new office in downtown Palo Alto. We were properly wowed by the Romper Room-meets-trading-floor atmosphere. But our eyes grew much wider as the macro implications of its nerdy-sounding, direct-investing product came into focus in a discussion with Andy Nash.
A Palo Alto, Calif.-based automated financial advisor has responded to the threat of Charles Schwab & Co. invading its space by returning the favor.
Wealthfront, a leader among the pack of robo-advisors, is making a radical pivot upmarket from a focus on mass-market investors to more fully encompassing high-net-worth investors. And much of it is happening by way of an expansion of its proprietary "direct index" investing program that chops out the underlying expenses associated with owning ETFs.
In other words, while Schwab is threatening to give away portfolio management for free in Schwab Intelligent Portfolios, Wealthfront is making a virtual freebie of the asset management in the products that form the building blocks for portfolios — at least for big accounts. See: Can Schwab, six years late to the robo party, 'freeze the market', catch up and blow doors?.
End of the beginning
Adam Nash, chief executive of Wealthfront, is building his own de facto tax-loss harvesting ETFs on behalf of customers who agree to place $100,000 or more in the home-cooked products. This offering looks like a jab at Schwab, which is advertising free portfolio management but with one proviso: It will build its asset-allocated portfolios from proprietary ETFs, with their fees, as well as ETFs that sit on its OneSource platform.
On OneSource, third-party mutual fund companies charge fees to investors then kick back a portion of it to Schwab. See: Why ETF sponsors are ponying up big fees to get on Schwab's ETF OneSource in a bid for access to ticket-averse RIAs.
The significance of the move is not lost on analysts who follow the rise of online financial advice.
"We're coming to the end of automated investing 1.0," says Will Trout, senior analyst in the wealth management group at Celent, an international research and consulting firm. "I think the next phase of the battle is firms like Wealthfront going head-to-head with firms like Schwab." See: Wealthfront responds with force to Schwab CEO's robo announcement.
Silicon Valley rich
Nash says that if his firm's introduction of product-like portfolios is a strategic counterpunch, it is delivered cold and not based on Schwab's promise to move into the market. Driving the Wealthfront move is driven by its experience in the market. It is, somewhat surprisingly to the company itself, winning accounts of $1 million or more. The firm has gained $1.1 billion in the past year, and at $90,000 the average Wealthfront account is nearly four times larger than any robo-competitor. Of Wealthfront's $1.7 billion of AUM, nearly a third is in its pilot "direct investing" product, the Wealthfront 500, which requires a minimum deposit of $500,000. Wealthfront has one account that is more than $10 million.
Robo 2.0 seems to be arriving ahead of schedule.
"They've dispelled the notion that robo-advisors are for young people with no money," says Dennis Clark, a former Schwab executive who founded a direct indexing separately managed accounts company. He is now managing director of Shelton Capital Management in San Francisco. Most Wealthfront clients live in the firm's Silicon Valley neighborhood and Google employees are known to be heavy users. See: Wealthfront's advice is now an employee benefit for Google employees' non-401(k) savings. Officially Silicon Valley is Santa Clara County. It runs from San Jose to Palo Alto, although Menlo Park and Redwood City generally get included.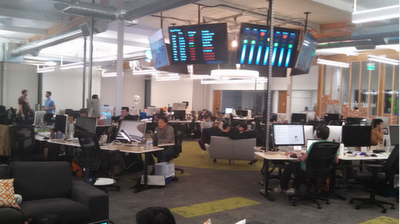 Inside the new Wealthfront office in
Palo Alto
Action, reaction
Wealthfront will continue charging 25 basis points for its direct indexing service, as it does for all other portfolios, and investors will see an additional product cost of around 2 basis points. Schwab's all-in fee for its own robo-offering may be difficult to pin down because different portfolios will contain a range of products with differing internal fees. Schwab promises its pricing will be "transparent." See: A charged-up Walt Bettinger slams all non-Schwab robos at IMPACT 2014 with an energy appreciated by RIAs.
Still, Schwab's offering has power that Wealthfront had little choice but react to, according to Tim Welsh, president of Nexus Strategy of Larkspur, Calif. Welsh is an ex-Schwab executive.
"Wealthfront's basic offering is probably not suitable long term — not with Schwab's robo — so you need to pivot again." See: Wealthfront responds with force to Schwab CEO's robo announcement.
New territory
In addition, Wealthfront's direct index products will have tax advantages that go beyond what ETFs can offer because, like SMAs, they will be direct investments into stocks — a feature valued deeply by wealthy, sophisticated investors. It enables both tax-loss harvesting at the individual security level and the ability to purge an index of stocks where an investor already owns a concentrated position. See: Criticism of ETFs is based on fear more than factual basis: columnist.
Clark confirms that Wealthfront is going after a Holy Grail.
"If you can add tax alpha you're out-Bogleing [Jack] Bogle," says Clark, who previously founded his own direct index investing SMA company. Bogle is the founder and retired chief executive of The Vanguard Group of Malvern, Pa.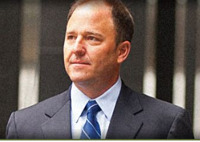 Dennis Clark: If you can add
tax alpha you're out-Bogleing Bogle.
In fact, Wealthfront's bid for upmarket investors has not only taken it into Schwab's high-net-worth territory, but into the ultrahigh-net-worth and institutional territory of companies like Parametric and Aperio. Bill Winterberg, principal of FPPad.com, told viewers of his Bits and Bytes weekly report last Friday he thinks Wealthfront's direct indexing, though aimed at retail investors, "could very well put pricing pressure on many of the SMA providers."
We were here first
Though Schwab declined to comment for this article, executives at Parametric and Aperio brushed off the young start-up's claims to superiority — and even product parity.
A representative from the dominant tax-managed SMA provider, Seattle-based Parametric Portfolio Associates, was quick to downplay the revolutionary aspect of Wealthfront's direct indexing.
"It's a nice thing to say," says Kurt Galley, managing director of marketing and client service. "But we've been doing this since '92."
He went on to assert that his firm has the institutional experience to do this kind of complex work better, as evidenced by its portfolio's much smaller tracking error and customization capabilities. Parametric currently has $48 billion of its $138.9 billion under management in tax-loss harvesting strategies. While fees and account minimums vary across providers and strategies, the firm charges at least 35 basis points for its tax-managed accounts and clients must have a minimum of $250,000, and usually more, for these products.
Paul Solli, partner at Aperio Group, was surprised when told the scope of Wealthfront's upward ambitions. "They're not a competitor to us," he says. "At least not right now."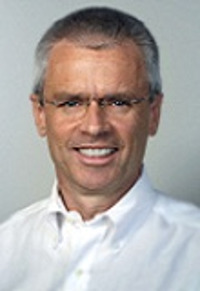 Paul Solli: They're not a competitor
to us, at least not right
now.
Aperio is a Sausalito, Calif.-based SMA provider has $1 million account minimums and $10 billion under management, with a substantial chunk of that in its active tax-indexing strategy. Solli is thrilled, he says, that Wealthfront is spreading the tax-aware indexing gospel, but doubts the robo-advisor can currently deliver the level of customization wealthier clients need.
Clark chimed in on this point by saying that it is easy, for instance, to remove Apple shares from an indexed portfolio on behalf of an Apple employee. But it is more difficult, and more important, to remove all shares that have Apple correlation.
Solli adds that he is shocked at the margin of tracking error — 1.73% — of Wealthfront's direct indexing effort. In any given year, this means Wealthfront's direct index has a 33% chance of being more than 1.73% away from its benchmark, and a 5% chance of more than 3.5% away. Calling that tracking error "very high," Solli says a strategy that erratic is technically outside the traditional definition of an index.
That "error" could pose challenges to Wealthfront.
"Hugging tight to the benchmark is worthwhile because people are going to react emotionally to underperformance," Solli says.
Aperio Group's accounts generally have tracking error of between .25% and 1%.
Wise gamble
In a white paper on direct indexing, Wealthfront asserts that risking a tracking error of 1.73% for the opportunity to increase average after-tax returns by about 2.5% is "a tradeoff well worth making."
These statistics are based on Wealthfront's extensive back-testing of its two largest product portfolios. The robo-advisor claims that over the six ten-year periods between 2000 and 2014, the minimum incremental internal rate of return was 1.24% for the Wealthfront 500 in the period ending in 2014, while the maximum IRR was about 2.42% between 2000 and 2009 for the Wealthfront 500 and 1000. The average annual IRR for the Wealthfront 500 and 1000 was 1.88% and 2.03% respectively.
Assuming the typical client resides in high-tax California (not unreasonable given Wealthfront's current client profile), and tax savings are reinvested, Wealthfront says its direct indexing service could lead to an incremental annual after-tax return of 2.46% over owning the S&P 500.
Wealthfront's white paper on its direct indexing service can be found here
'Next trillion-dollar category'
The robo-advisor isn't being coy about the potential impact of its direct indexing service. In a blog post published on the company's website last Wednesday, Nash argues that direct indexing is the Next Big Thing.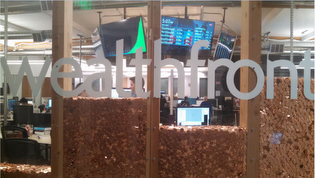 Wealthfront: Pinching pennies for clients….and fees
from ETF companies
"We thought we were launching a product, but it turned out we were launching a category," he writes.
Nash went on to discuss the history of index funds. In 1975, Burt Malkiel (Wealthfront's chief investment officer) published the seminal work, A Random Walk Down Wall Street, and two years later worked with Jack Bogle and Vanguard to create the world's first index fund. Sixteen years after that, in 1993, State Street created the first ETF when it launched the S&P 500 tradable index, SPY.
Now, Wealthfront's believes Malkiel has come full circle to launch the next trillion-dollar category for passive investors. See: Fidelity Investments soon to jack up commissions on DFA and Vanguard Group mutual fund trades.
Moving on up
If direct indexing works as well as Wealthfront claims, it will put the robo-advisor in an excellent position to pursue ultrahigh-net-worth clients and even institutions — something Adam Nash is coy about but doesn't deny.
"I don't think there's any obvious limit to the account sizes," he says.
Accounts at Wealthfront currently range from the company minimum of $5,000 to as large as $10 million. And the robo-advisor doesn't appear to be having difficulty scooping up the affluent as clients. Nash says that new customers "regularly open up multi-million-dollar accounts" with the firm.
When asked directly over e-mail about Wealthfront's plans to attract institutional investors, Nash writes, "Wealthfront is 100% focused on our direct client relationship. We believe it's our focus on the millennial investor and the trust they place in their relationship to Wealthfront that is the reason for our phenomenal growth."
How it works
With the just-announced upgrade, Wealthfront both drops the account minimum for the service and begins to cater to millionaire clients. Clients with just $100,000 will be eligible for direct indexing in 2015, and one new tier is now available for clients with over a $1 million in assets. Those who opt into the service purchase between 100 and 1,000 stocks (depending on their account size) and put about 20% of their total assets into a completion index like Vanguard's Extended Market ETF (VXF), or Vanguard's Small-Cap ETF (VB). This creates a portfolio that replicates Vanguard's Total Stock Market index without actually owning it.
When a stock in the portfolio drops while the broader market rises, Wealthfront's computers calculate if the expected tax- harvest gains are greater than the transaction costs of replacing it. If so, the stock is automatically sold and another stock with the same general profile and risk attributes is bought. The classic industry example is selling Coca-Cola after a bad earnings report and buying Pepsi-Co. The losses on Coke are harvested and used to offset taxes on gains elsewhere. Portfolios are scanned daily for tax-loss harvesting opportunities, and Wealthfront says the typical direct indexing portfolio saw about 1,000 trades last year at "negligible cost" to the firm.
The more money a client holds in Wealthfront's direct-indexing service, the greater the number of stocks they'll own and thus the greater their potential tax savings. Because ETFs and index funds can't distribute tax losses to shareholder, direct indexing has an inherent advantage over these vehicles, especially in down years.
Oedipus Schwab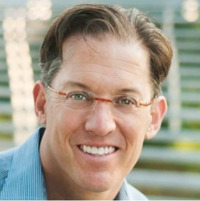 Will Trout: I think the next
phase of the battle is firms
like Wealthfront going head-to-head with firms
like Schwab.
Wealthfront's founder Andy Rachleff is fond of telling how Chuck Schwab once said to him that Wealthfront reminded him of the early days of Charles Schwab & Co. Rachleff and the rest of Wealthfront's young management team had no idea what Chuck was talking about, of course, and set out to research the discount brokerage's history. See: What's up with Schwab getting into the robo style online advice business, and is Windhaven the linchpin?
They came away deeply impressed. It's clear in discussions with Nash and Rachleff that Wealthfront still, for the record, looks up to Schwab's legacy as the original market disruptor, and sees the San Francisco company as the undisputed industry champion. But the two firms' neat and tidy divvying up of the robo market is getting messier as Wealthfront presses forward impatiently on its mission to earn ROI on $130 billion-plus of venture capital..
In July, Schwab woke up to the robo-revolution and announced it would soon be rolling out an automated advisor of its own, a decision Will Trout calls a "me-too move" and a "defensive move."
Nash isn't concerned about Schwab's entrance to the market. He thinks Wealthfront will stay at least one "pivot" ahead of Schwab, which he says is now following the crowd instead of leading it.
"I believe Schwab investors should have an automated investor service," says Nash, "but I'm very confident they wouldn't be rolling these out if Wealthfront hadn't done the same thing."
---
---
Mentioned in this article:
Wealthfront
Portfolio Management System
Top Executive: Andy Rachleff
---
---
---
Grant Barger
December 19, 2014 — 10:53 PM
Nice report. Probably a pretty good strategy for wealth front to focus on HNW clients seeing as ROI (especially in indexed products) has little to do with the creation of wealth. That being stated, we all know that the rich are not content in maintaining wealth…they want to get richer. And without going into detail about the flaws in Fama-French folklore (just Google it) offering discounted,tax-efficient, marginal performing portfolios does not sound like a win-win.
In this industry, which is paradoxical by nature, when solutions are offered freely in such broad strokes it should beg more than a few questions: What type of indexing (specifically) are we talking about? What are the flaws associated with the presentation of indexing as being a cure-all? How is indexing supposed to handle the dynamic fluctuations of the multitude of risks associated with investing? What are the real risks associated with indexed structured products?
Chuck versus wealth front is of noise in the bushes scenario that bodes well for both companies…as long as you spell their names right. The serious advisor understands the folly of engaging with digital noise makers… A big part of their job now is to make sure their clients understand that folly as well. Thanks for sharing, Brooke. Keep tearing down that wall.
brooke southall
December 22, 2014 — 11:27 PM
Good catch, Paul. I recall when you did that quite effectively on articles where your clients were involved. you have a good eye.
Grant. I'll keep at it on walls but I may need to go to my greener self.
Incredible Hulk
Paul Damon
December 22, 2014 — 9:04 PM
Does Wealthfront really have > $130 billion in financing? ("earn ROI on $130 billion-plus of venture capital.")
I'd imagine that "B" should be an 'M' (per below CNBC article), though that type of 'Jack Ma money' is a pleasant aspirational typo not really worth addressing for any founder.
http://www.cnbc.com/id/102127447#.