Margaret Towle's dalliance with non-national brands is over.
Brooke's Note: One person joining Merrill Lynch, even one known to have managed $1 billion of high-prestige assets as recently as four years ago when she was at Northern Trust, is not necessarily newsworthy. But Margaret Towle's tale is the kind of man-bites-dog story that journalists keep their eyes peeled for. Towle escaped the talons of Wall Street when she left Northern Trust to join HighTower Advisors. This move to Merrill Lynch reinforces what some of the wirehouse cheerleaders like Sallie Krawcheck keep telling us about Wall Street's undiminished ability to charm. See: Some notes at MarketCounsel from the pad of a skeptical Peter Giza. It's an acid test of sorts. If Dr. Towle can join a wirehouse after tasting a purer model in HighTower then you can only imagine how many advisors at Merrill would never think of leaving. Of course it could also say something about Towle herself or HighTower itself. But so far we don't fully know because Elliot Weissbluth declined comment and thus far Towle has, too. In a rare twist, Merrill Lynch was the one party to comment. Thank you Michael Maroni.
After leaving HighTower Advisors LLC nearly two years ago, Margaret Towle has just popped up at Merrill Lynch in the firm's Bainbridge Island office in Washington state. See: HighTower loses RIA with $1 billion of assets and Northern Trust street cred.
It's a rare reverse breakaway when a formerly independent advisor decides to join the wirehouse arena. See: Former Northern Trust CIO brings a cool billion and lofty credentials to HighTower.
Towle recently joined the Washington office as a managing director where she will provide financial discretionary investment advisory services for a number of endowments and ultrahigh-net-worth families. Towle will report to complex director Michael Maroni. Other advisors have left Merrill Lynch because they believed it necessary to give true institutional fiduciary care to such clients. See: A $2 billion, 69-year-old Merrill Lynch advisor passes up the gold watch in favor of breaking away
'Distinguished experience'
Towle departed from HighTower in the spring 2013 under somewhat unclear circumstances. But juggling two offices — one in Minneapolis and one in Seattle — appeared to be an factor. Towle was at HighTower Advisors as partner and managing director for just under two years.
When she joined HighTower in August 2011, she said she was bringing along fewer than 10 clients with a combined $1 billion of assets under management. The clients were all endowments, foundations and ultra-high-net worth individuals.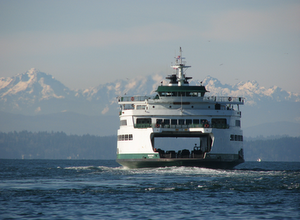 Seattle-Bainbridge Island ferry
HighTower founder and chief executive Elliot Weissbluth declined to comment for this story.
Towle did not respond to a voicemail seeking comment. A Merrill Lynch spokesperson said Towle was traveling and unable to comment at this time.
Tops in wealth
Prior to HighTower, Towle was a managing director with Greycourt & Co. from 2008 to 2011. There, she provided advisory services to ultrahigh-net-worth clients and outsourced CIO services to select endowments as well as overseeing research and development across traditional and alternative asset classes. See: A giant San Francisco RIA is poaching a Northern Trust talent to create a Chicago duchy.
Towle also served as executive vice president and chief investment officer for Northern Trust Global Advisors from 2001 to 2005.
It is unclear whether Towle maintained relationships with her HighTower clients since she departed, but she has stayed close to the industry. Since 2009, Towle has been the editor-in-chief of IMCA's Journal of Investment Consulting, a peer-reviewed academic publication focused on empirical research, including commentary from academic authorities, industry leaders, and award-winning authors. Towle is speaking at IMCA's New York conference in February and she is listed as a representative of Merrill Lynch.
Towle's career also included a stop at Russell Investments of Tacoma, Wash. After that, she worked for an ex-Goldman Sachs trader who started a hedge fund in Sun Valley, Idaho. Towle also did a stint as chairman and chief executive of Puget Sound Asset Management, a Seattle-based mimicker of hedge funds that she says was slightly ahead of its time. In the early 2000s Towle began working for Northern Trust as chief investment officer. In 2009, Bloomberg Wealth Manager named Towle one of the Top 50 Women in Wealth.
Towle holds the Certified Private Wealth Advisor designation from IMCA and earned her B.A., M.A. and Ph.D. from the University of Washington in Seattle. She completed post-graduate work in quantitative methods at the University of Michigan, as well as risk management courses in the executive education program at the University of Chicago's Booth Graduate School of Business.
---
Related Moves
February 19, 2021 – 8:58 PM
---
March 20, 2019 – 11:32 PM
---
September 13, 2018 – 2:21 PM
---
---
---
Fiduciary Advisor Advocate
December 19, 2014 — 5:03 PM
I hope this works out for all involved- but would be skeptical that it can. Brokers operate in a suitability environment and are compensated via transactions. Essentially any product sold/placed with clients does not need to be 'in the clients best interest' rather suitable for them. Advisors theoretically operate in a fiduciary environment whereby they are held to doing what is in the best interest of the client. So, I'm not sure how you act in the best interest of your client when you are not held to that standards…
That may seem like a minor point but I would suggest it is not minor particularly when advising institutional asset pools. Anyone who is involved in overseeing an asset pool which is for the benefit of someone or something else is in a fiduciary position with all the responsibility, obligation and potential liability regardless of whether that asset pool is $1M or $100B.
Let's not quibble about which service model- suitability vs fiduciary is best. But, let's also not confuse the issue for the investing public via semantics. Most importantly for the staff, investment committee, Board, Trustees etc. of an institutional asset pool- if you engage a broker and presume you are discharging your fiduciary duty…you are incorrect.
Check out www.faadvocates.com Under The Provocateur "Broker Advisor…BFF' the first paragraph is below
Broker Advisor…BFF
A number of years ago, a very bright, or perhaps a number of very bright Wall Street marketing executives made a seminal decision to change the title of "Broker" to that of "Advisor" or "Wealth Manager." A brilliant marketing move perhaps, but also a transition which has caused, and continues to cause, confusion for asset owners, investors and beneficiaries alike; "Is my advisor a broker or my broker an advisor?" More important, however, is what the difference is and how it affects the manner in which investors, asset owners and beneficiaries are serviced and charged.
Justin
December 18, 2014 — 7:32 PM
Mister RIA
December 19, 2014 — 3:28 PM
I struggle to see how this is in the best interests of her clients. Perhaps that's not the point.
Coach Maria Marsala
December 29, 2014 — 9:36 PM
Bainbridge Island is a beautiful place (right next door to where I live)
It's important for advisors to be happy, no matter where they land.