Peter Giza: My take is that changing a significant portion of a firm's technology platform without changing operational psychology is a fail.
Brooke's Note: There is a truly hilarious quote in here from Sallie Krawcheck where she says, in essence, that she was invited to Las Vegas to defend the evil of Wall Street. She says it much better and with far sharper wit. Still, I couldn't help but read into her comments that she was in fact on that unholy mission (i.e. keeping her career options open) with some women's advocacy thrown in for good measure. Our carefully watching citizen journalist here is a Peter Giza, a New Hampshire man, a subspecies of Yankee that has the DNA to see things as they are.
At the "Revenge of the Nerds" robo session on Wednesday at the MarketCounsel Summit in Las Vegas, moderated by Elliot Weissbluth, chief executive of HighTower Advisors and featuring chiefs Joe Duran, Jon Stein and Jon Michel, of United Capital, Betterment and CircleBlack the question was asked: How many here believe that robos represent a threat to their business?
After some cajoling, audience hands' reflected that at least 30% to 40% of the audience was concerned. About 15% said robos didn't represent a threat and the rest abstained. See: How the new RIA competition is akin to the cup-holder dilemma for automakers.
Some of the panelists suggested that they did not spend much time with their advisor and thought this was not a productive use of their time. My personal opinion is that it's a jaded view and doesn't reflect John Q over the long haul. In fact, I wonder what the effect a significant negative market move would have on the robo advisor model when John Q demands to speak with a human.
On the other hand, Betterment and CircleBlack made it interesting, suggesting that a firm can beat the robo at its own game by leveraging highly integrated platforms into its practice. But the rock'em-sock'em robos retorted that the irresistibly low bps pricing will win out John Q's accounts.
Disruptive Behavior
Directly following that panel was another titled "The Disrupton" moderated by Fortigent LLC's Jamie McIntyre and featuring Envestnet Inc. Jud Bergman, Eric Poirier of Addepar, and Spencer Segal of ActiFi Inc.. McIntyre provided a rocketing sled ride through 20 years of tech history. Bergman, Poirier, and Segal presented their views of the most disruptive technologies they see impacting our industry. Unsurprisingly, we were pitched pretty hard on Addepar and Envestnet as technologies fitting that bill.
Disruptive technology is great until it disrupts your business. My take is that changing a significant portion of a firm's technology platform without changing operational psychology is a FAIL. That technology has a studied 85% chance of becoming shelf-ware or worse — it will inject costly inefficiencies into your business.
What Sallie said, wicked well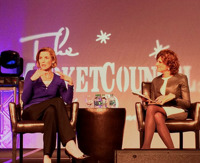 Sallie Krawcheck: I feel as though
I've been invited here as the
wicked witch representative of the wirehouses.

Mindy Diamond interviewed Sallie Krawcheck in a session called "Will the Wirehouses Strike Back?"
Sallie entered the stage focusing herself on MIndy with a seemingly grim demeanor. After 10 minutes or so Sallie turned squarely into the audience and said 'I feel as though I've been invited here as the wicked witch representative of the wire houses'. It was at that point she really captured the audience.
SIde bar: I have listened to 1000's of public speakers so I am not easily impressed. Sallie's ability to capture, command and hold an audience is top notch. There would have been significant entertainment value if she and Tony had taken the stage together. See: Tony Robbins walks past the close a bit but nonetheless delivers at MarketCounsel.
When mentioning the loss of 34 or so advisors she said the losses were offset by the gain of 26 new teams with better quality clients and higher value. Another interesting point she made was that profits had remained flat for 17 years across the products.
Yes she kept reminding the guys that we would all be worm food soon and that our dear wives would not tolerate our current choice of advisor if there wasn't a proactive move by these firms to really connect with the wives and families. Tony Robbins showed us guys how not to connect with our significant other when on a road trip. Outside of being comical there was a serious message about communicating with your audience.
If you hadn't guessed she was referring to the revenge of the wirehouses and the robo advisors. She said we're all likely to use all of these at some point in our financial life experience and perhaps many with significant overlap.
Most interesting to me was Krawcheck's "stop worrying about it" attitude about wirehouse revenge, robo advisors and other threats so-called. Basically, she said we're all going to have a combination of those and things we haven't even thought of yet at some point in our financial life's journey. See: The MarketCounsel Summit gets the RIA business out of its shell.
Krawcheck said one of her biggest concerns for firms is the shifting sands of assets from men to women — an event advisory firms are ill-prepared to stave off. She said that 78% of women will leave their spouse-chosen firm. "Everyone has a female marketing plan… that isn't enough." See: Why women just aren't buying what financial advisors are selling.
Tweet log
Here is part of my Twitter activity:
At #MSUM14 Changing tech without changing operational psychology is a FAIL. Tech will become shelf-ware or worse it will inject inefficiency
At #MSUM14 Actifi's Segal explains how to align & derive value from tech. Tech change means stepping outside your operational comfort zone.
At #MSUM14 As an advisor if you don't understand the data presented how can you communicate the material results you bring your client?
At #MSUM14 Near & dear to my heart Addepar's Eric P. discusses data. Data presentation is a key to empowering advisors tell their story.
At #MSUM14 Jamie M's summary of past 20 years in tech is a rocket sled ride through tech history. My first browser? Mosaic v1.0 25 years ago
At #MSUM14 "@Ficommpartners: @JohnCircleBlack "If [you are] a CTO at an advisory… look for a new job…" – Birth of myCTO for advisors
At #MSUM14 What is the difference between robo / bionic platforms and what custodians have under the hood and isn't being leveraged?
At #MSUM14 If imminent seachange of adoption of bionic tech, how do you move 1, 2, 3+ decades of experience and history to a new platform?
At #MSUM14 What happens to robo model when immediacy is exploited by major negative market move? John Q – "I want to talk to a human now!"
At #MSUM14 Studied effects of the unsocial nature of social media are applicable to the high value of a firm's relationships – human factor
At #MSUM14 Consider the average banking experience – complacent, unempowering, uninspiring. If firms reflect that then robos deserve to win
At #MSUM14 Follow up on "bionic advisor". Will the custodians empower firms with content, products & tools that will keep them relative?
At #MSUM14 Perhaps "bionic advisor" should be "bionic firm". A firm's relativity shouldn't hinge on a single person. Leverage talent & tech.
Peter Giza is vice president of business development at WealthSite, committed to providing state-of-the-art technology solutions to the private wealth industry.
---
---
Mentioned in this article:
---
---
---