Jon Stein: Efficiency is streamlined, but with human checks throughout the process.
Brooke's Note: I hope you like Kool-Aid — robo-flavored — because this article is a massive pitcher of it. Spoiler Alert: The MarketCounsel panel covered here even claims the high ground on holding the hands of clients. "There simply aren't enough advisors to hold everyone's hands during crisis," Jon Michel, chief of CircleBlack says (presumably) with a straight face. You don't get such a detail account of an important session without a mad note taker in the room attuned to what is important. That was David DeVoe of M&A fame. Thank you, David.
Given the hundreds of millions venture capital has bet on so-called robo-advisor companies, Las Vegas seems like the perfect venue for a discussion on the potential success of digitized wealth management. Although they only have captured only $16 billion in AUM of a multi-trillion dollar market, they are a disruptive innovation that could potentially alter the completion of wealth management over the next several years.
Joe Duran, chief executive of United Capital Financial Advisers Jon Stein, chief executive of Betterment Inc.; and Jon Michel, head of CircleBlack sat down together at the MarketCounsel Summit at the Four Seasons hotel last Wednesday in a session called "Revenge of the Nerds" to give the audience of 500 attendees a better understanding of how this new investor option may affect the traditional wealth managers.
The potential impact the innovation of online wealth management solutions on traditional wealth management is a critical question for the industry. In a world where consumers are accustomed timely data, easy access to their information and navigating their lives with a series of mouse clicks, one could argue that the wealth management world is lagging. Others will counter that trust and relationships are key to such important decisions and you simply can't replace this aspect with a technology. In either case, Joe Duran said it well: "There are a lot of bright people being given a lot of money to go build this. You can't ignore this." See: How RIAs can compete with super-RIAs, robo-RIAs and the 'phono'- and faux-RIA market of 2015 and beyond.
Elliot Weissbluth, chief executive of HighTower Advisors LLC, moderated the session and helped attendees better understand the stakes in this evolving game. A lively debate emerged about the continuum of client needs, whether technology or humans can serve needs best, and additional momentum to the concept of 'bionic-advisor.'
The threat: Evolving client experience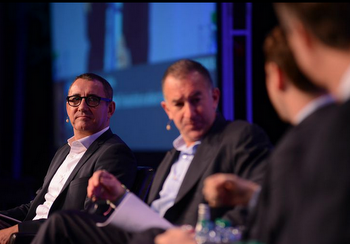 Joe Duran with Elliot Weissbluth looking
on: Innovation starts with the clients
that nobody wants and then it
turns into a game-changing event

Most advisors in the audience believed that this is a technology that can directly affect their business. When Weissbluth asked the audience if firms like Betterment, CircleBlack, Wealthfront and others pose a threat to the industry, the majority raised their hands.
In Duran's mind, the threat is real and he didn't mince words about how one or more of the emerging robo-advisors could have a profound affect on the industry.
"Expedia did this with travel. Netflix did this with movies. You don't need a video store anymore." Simply put, Duran believes that advisors who don't engage with integrating technology more deeply into their business and client service experience will likely to suffer the fate of the travel agents of old.
"You need to change," he implored the audience. "For 70% of advisors in the industry, their primary value is asset allocation. I don't think that's a sustainable business."
The passion of the aggregator is rooted in his perception of the consumer's experience and how technology can put more power in the hands of the investor. "Anytime the client experience has been digitized, the client has benefitted." Duran himself hasn't met his own financial advisor in person for over two years. His quarterly meetings are done conveniently (for both parties) via video conference. See: Joe Duran tries out novel financial planning strategy on himself and his wife. The information reviewed is minutes not weeks old and new account paperwork is done with a few clicks and no ink. It is simply a better experience for him as a consumer, and the efficiency to the advisor is not lost on him.
Tax benefits
Michel reinforced the message that advisors need to evolve and embrace technology. "If your model has getting coffee, handing a client an article or walking them through a statement in person, then you will have a problem in the future. Clients want to review their statements while waiting in line for coffee, access their information at midnight and manage their information on their own terms. They don't want to necessarily meet you in person or access a portal, they want it on their phone." See: Elliot Weissbluth will referee — with a human bias — a debate on robo-advisors starring Joe Duran, John Michel, and Jon Stein.
Stein was specific about the potential power of technology in today's wealth management world, elaborating on how the digital world can provide clients with new layers of information to help investors make better decisions. With Betterment, as investors are about to hit the final keystroke on a trade, they are automatically alerted to the tax implications.
"Sixty percent of clients don't execute their transaction after seeing the tax implications," said Stein. "This puts greater power in the hands of the consumer. And it's something that hasn't been done before." See: Betterment's bad-news play at getting in good with RIAs and investors.
From a client experience perspective, digital advisors will be able to provide investors with unprecedented access to their investing information, he adds. The massive investment in technology will yield a growing number of features and capabilities that will enable these electronically powered advisors to help their clients. Although the current group of robo-advisors primarily provide asset allocation and light financial planning, it is easy to see how quickly this technology can evolve to move deeper and deeper into more comprehensive planning.
Fee compression

Revenge of the nerds: Elliot Weissbluth
moderated the robo-panel: Joe Duran, Jon
Michel and Joe Stein.
Will these new entrants with scalable models and unending private-equity create or accelerate fee compression for the industry? With robo-advisors' fees at a fraction of a typical advisor, one can't help but wonder if this will impact that 1% of asset fees that advisors generally charge for services. Again, Duran came on strong: "No one will be 100 bps ten years from now. I see us moving toward 30 bps for investment management in the future." See: Why Joe Duran is dead wrong on 2015 marking the end of the Golden Era of the RIA.
Michel challenged the group to think differently. "How do I compete at 25 bps is wrong question. Instead, you should be asking: How do I support the future client paradigm? Support consumers who want access to information in a whole variety of different ways and on their own terms?"
However, Joe Duran sees the price compression as inevitable and healthy, and disruptive pricing ultimately "good for the consumer." He also sees the price- sensitive consumers as the springboard for greater penetration of robo-advisors into wealth management. See: Wealthfront responds with force to Schwab CEO's robo announcement.
'They aren't going after my clients'
Traditional advisors who take comfort in the fact that the typical robo-advisor client only has $100,000 in investable assets and are price-sensitive may find themselves with a rude awakening. Such advisors dismiss the robo-advisor threat, as they are going after investors who are "non-core" to their business. But it is the very nature of the "non-desirable clients" that creates a fertile ground for a game-changing business model.
"Innovation starts with the clients that nobody wants and then it turns into a game-changing event," according to Duran. Successful disruptive innovators have historically grown exponentially after provided less-desirable clients with new services, capabilities or delivery that are eventually embraced by the broader client base, leaving the incumbents with outdated business models.
Low fees and hand-holding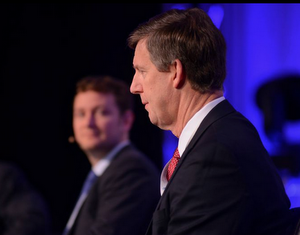 Jon Michel with Jon Stein looking
on: Investors say 'I hate advisors.'
When asked how much do
you pay, they say, 'Too much!'

Given that the core of independent value proposition is based on trust, the question becomes whether clients will engage with a digital advisor.
From Michel's perspective, the investing public is already jaded. "Eighty percent of people don't find finance interesting, so they hire an advisor. But there is a low trust of financial people. Investors say 'I hate advisors.' When asked how much do you pay, they say 'Too much!'"
A business model that relies on a digitized experience but has a relationship with someone they trust and has understanding and empathy on an as needed basis was offered as a potential winning approach. Duran observed that "clients don't only want a custom experience, they want a personalized experience" and his belief is that an advisor, supported by technology is the best way to serve this need. The need to personally "hold clients hands" during crises was top of mind for all. See: Wealthfront's advice is now an employee benefit for Google employees' non-401(k) savings.
The coming decline
Both Betterment and CircleBlack have a line of business to support advisors on this path: providing the technology infrastructure to make advisors more productive, scalable and effective with the clients they migrate to the platform.
"Cooperation between technology and humans is the ideal model," says Betterment's Stein. "Efficiency is streamlined, but with human checks throughout the process."
"If you meet with someone once and a while and then disappear, then you will lose that client. If I have 1,000 clients, I need to be able to communicate with 1,000 clients in a personal way," Michel said. "Technology can help advisors better scale themselves individually and maintain a deeper relationship with clients." See: Why Mike Sha has a 2015 goal of $1 trillion in robo-assets for SigFig and where Marissa Mayer fits in.
Michel observed that there are 75 million American investors who will likely need support during market declines. "There simply aren't enough advisors to hold everyone's hands during crisis."
Time will tell whether the digitized hand-holding will serve the investor's needs.
David DeVoe is managing partner and founder of DeVoe & Co., a financial services consulting firm committed to creating transformational change for wealth management and investment management advisors.
---
---
Mentioned in this article:
---
---
---
Stephen Wershing
December 15, 2014 — 1:50 PM
Advisors who provide financial planning advice have stronger value propositions today – tomorrow they will be the ones who survive. And to really thrive advisors will need to adopt robo-technologies for their back office. The AUM model is incredibly profitable and margins will decline because of competition from digital platforms. There are exciting times ahead for advisors who adopt new ideas and adapt their businesses and hard times for those who ignore them and stick by their old way of doing business. There is another good reference to this idea in your review of the discussion among the custodial chiefs and the reference to clients no longer wanting to sit in a meeting and review their statement – they want to review it standing on line for coffee. My additional thoughts here: http://www.theclientdrivenpractice.com/checklistblog/how-to-defeat-the-robo-advisor.html
Jeff Harrison
I wish there would be more discussion around how well these models serve clients. I expect that robos will move up-market over time and I do see them as a force that will change how we do business and a threat to the traditional model. But a very positive threat. Maybe they are showing us a better path, at least for some clients. Who are those clients? Perhaps those the traditional industry is not focused on. Or, maybe those who need a simpler solution. As the algorithms become increasingly sophisticated the robos will move upstream and hopefully change the discussion to what model will provide what client seqments with the highest quality and most appropriate advice. The robos biggest benefit may be that inform us as to the weaknesses of our current models.
We need to change the focus back to serving clients in the best possible ways. Focus on the costs and expenses of doing is important but serving clients needs to come first. If we do that I believe we will grow and become a strong industry.