April Rudin: I couldn't help but wonder about the promotional logic that led an online firm to consider using such an offline idea as outdoor advertising.
Brooke's Note: Because RIABiz is close to Silicon Valley and because we write about automated, robo-ated advisors with some frequency, I quite often receive visitors from that area who want to pick my brain (it doesn't usually take long) on the subject. They are looking to start their own robo-advisors and need to get a feel for the market. One thing that strikes me about these conversations is that they all say that creating a website where consumers can buy portfolios of ETFs is the work of a few months to get up and running. In other words, the technical challenge is far from monumental, at least to provide a basic asset allocation service. So while we think of robo-advisors as being a technology challenge, it turns out it might be more of a business and marketing challenge. April Rudin, professional marketer, parachuted into Betterment with that understanding in mind and took a look at how Jon Stein is beginning to take on marketing.
I was standing at the corner of Park Avenue and 51st (around the corner from the offices of the Blackstone Group) in a throng of people waiting to cross.
Maybe I am a pathological student of marketing but I found myself contemplating the taxis that whizzed by with their various advertisement toppers. "Flash Dancers Gentleman's Club" screeched one. "Top Man by Top Shop" barked another. "Betterment: Investing Made Better," whistled a third. Wait, what?! Betterment Inc.? A robo-advisor? My worlds of New York, marketing and the wealth management business had collided on a fume spewing yellow cab.
I was also confused. A tech firm founded by a millennial using an ancient marketing outreach device like an outdoor taxi top ad? Are you kidding me? Shouldn't it be using screen-attacking native ads, pop-ups, videos, flash-animated cartoons online? Who was running marketing at Betterment? Don Draper? (Ok, to be fair, taxi-top advertising actually stormed onto the scene in the '70s, but you get the point.) See: Betterment's bad-news play at getting in good with RIAs and investors.
While I'm not a reporter, it is part of my job to be a trend-spotter. I couldn't help but wonder about the promotional logic that led an online firm to consider using such an offline idea as outdoor advertising. Of course, I recognized that there was perhaps wisdom behind the move: the best start-up firms don't stay in their own lane—they are skilled at blending old ideas with new ones.
New Age undercover
I also wondered about the iceberg that this was clearly the tip of. A robo-advisor is presented with the greatest marketing challenge yet tossed at a segment of this marketing-challenged industry. How do you attract hundreds of millions in assets from a public that doesn't even know what a robo-advisor is and will have to undergo a behavioral change to trust in this new mode of accessing investments? Who sends a chunk of their nest egg to a robot?
I wanted to learn more. I wanted to speak with whomever had signed off on these Betterment marketing dollars and that person turned out to be Jon Stein, chief executive of the fledgling firm.
As I strolled down 23rd Street towards Betterment's offices, my mind flashed forward what their offices might look like: an open floor plan, clean lines and neutral colors of a technology enterprise. (I would be confirmed in this stereotyping. The Betterment offices are very New Economy. The building has no doorman. One of the other tenants is a yoga studio that offers classes for kids. I wondered if I could carry off a New Age persona.) See: Why a $23 billion San Fran-based RIA has doubled its square footage in NYC.
Who's schooled?

Jon Stein [with rabbit ears] and
April Rudin: The most remarkable thing
about 35-year-old Jon Stein is that
he doesn't try to be remarkable
— or is this the understated
pretense of no-pretense executed by Harvardians
in hoodies like Mark Zuckerberg?
For my visit to Betterment, I wore a hip little black dress, and tall boots—I suppose, at 50-something with two kids in college, I am something of what was known in the 80s as a Yuppie. But I imagined that to the young staff of Betterment I might just seem like Mom. Either way, I expected I would learn a lot from this "field trip." Having previously written about reverse mentoring at Pershing, I was open to being reverse-mentored myself. See: The big impression Mark Tibergien and his reverse mentor, Kayla Flaten, 25, made on me over a Manhattan lunch.
Betterment, as a standard-bearing robo, is a company that has attracted 50,000 customers after a scant three years of accepting assets — even making some financial advisors, men and women, cry when they hear of the disruption concept. Here is a company that has never placed a cold call or employed any tactics involving subterfuge to win those customers. Here is a company that is re-inventing the financial advice business and building a kind of Amazon.com of investing for millennials. At least that's the story the VCs behind these ventures will tell you with straight faces. See: After outcry, Betterment 86's (but not on purpose) a blog post inflaming advisors.
The elevator doors opened onto exactly what I expected: no receptionist at a high desk, no security, none of the pomp that tends to define high-end wealth management offices. I took off my own coat and walked over to a millennial at a long shared desk (think Durgin Park). One of the firm's 85 employees greeted me as she took out her ear buds to find out what I wanted. 'I'll get Jon,' she said, and walked over to a meeting room to summon him. He didn't make me wait, get his front people to guide me to a waiting room or conference room—none of the routines that I have become so accustomed to when visiting the offices of financial services clients. He walked up to me, stuck out his hand and said, "Hi I am Jon. Great to meet you, I follow you on Twitter and read your stuff." I am his mom – how was this possible?
Fin/tech
Jon and I (plus two Betterment staffers) awkwardly figured out how to sit on two couches in the 13,500 square foot office (on two floors). But I was still holding up my guard—how to straddle the line of being "hip" enough to engage with a millennial Harvard-trained financial services industry disruptor while maintaining my own "old skool" identity?
As an icebreaker, I suggested that we watch a new "news" video in InvestmentNews that featured life coach Tony Robbins and Elliot Weissbluth, chief executive and founder of financial advisory conglomerate HighTower, discuss how Tony Robbins was about the "save the advice industry." See: Tony Robbins walks past the close a bit but nonetheless delivers at MarketCounsel.
I was curious how these 30-somethings who were more Main Street than Wall Street would react to this testosterone throw down. They laughed as the guys on screen seemed to inhabit an entirely different slice of the wealth management world than they did. The values, offerings, and philosophy of today's fintech firm are way more "tech" and much less "fin." Seems like a good thing to me. #Estrogen.
Grandmother approved
The most remarkable thing about 35-year-old Jon Stein is that he doesn't try to be remarkable — or is this the understated pretense of no-pretense executed by Harvardians in hoodies like Mark Zuckerberg? Stein is no doubt aligned with his target client, a well-compensated 36 year-old investor who believes in passive investing and wants to be in closer to their portfolio with less people involved, he says. The cash of 54 year-old moms is not turned away. See: A New York Times article gets real on the topic of marketing to millennials.
It turns out that most Betterment clients allocate 10% to 20% of their portfolios to Betterment; Betterment has clients in all 50 states; the company's oldest client is 99 years old; and the firm has multi-generational families on its client list, including Stein's own. His grandmother has an account at Betterment. She has seen (and approved) of the taxi-top campaign.
Stein's marketing moves are informed, he says, by a recognized desire in American consumers for consistent advice based on sound analytical principles stripped of excess human emotion or bias. (Yes, he could use some marketing guidance on that mouthful.)
Of course he is marketing into the headwind of entrenched philosophical notions that "robo-advisors" toting algorithms could never replace a human since investors want someone they can trust and blame — like a human with a CFP designation. Of course, Stein is hedging his bets by teaming up with Steve Lockshin, founder of Convergent Wealth Advisors and Fortigent to form Betterment Institutional, which will build human advisors into the process. Betterment Institutional recently signed a deal with Fidelity's RIA custody division. See: Tiburon CEO Summit extrudes big news: Betterment Institutional is born.
Hail, taxis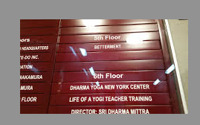 Fifth floor yoga, sixth floor Betterment.

At the individual investor level Betterment's client base is diverse, but it skews to extremes in age and location. NYC and San Francisco are the company's two biggest markets, so taxi-tops offer a way to reinforce brand that encompasses mobility and youthful urbanity. Betterment has 150 taxi tops in San Francisco and 400 more in New York City.
Although it's a pretty new ad campaign, (it started in October) according to Stein, sign-ups using mobile devices have jumped to 25% of total sign-ups from around 5% last year. Betterment is test driving other forms of mass transit/outdoor marketing including Metro North (the train between Westchester suburbs and NYC streets) and BART — the subway system linking San Francisco suburbs and the city. About 33% of new customers come through marketing (podcasts, websites, taxi top ads another third come to Betterment via PR/media/content and the final 33% sign-up as a result of referrals from other Betterment customers, Betterment says. Betterment's goal is to gather over $1 trillion in assets [not a misprint] in the next 10 years.
And why not? Well, lots of reasons but the marketing challenge itself is not all that different from the one presented to conventional wealth management firms.
Multi-purpose
RIAs are hard to describe, harder yet to reduce to marketing spoonfuls. But RIA marketing is all about planning and that includes segmenting the spending to reach parts of the spectrum your target clients. Many RIA's think that a one-trick approach works for marketing. Taking this approach is a terrible mistake. Creating a marketing plan that works is a little bit like designing an asset allocation strategy: what is the right mix for my clients? The characteristics of your ideal client should be clarified first so that your marketing messages can hit their targets. Not doing so is a common blunder. See: How RIAs can maximize their web marketing with nary a 'friend-ing' or tweet.
What can RIA's learn from Betterment's marketing initiatives? First of all don't be so blown away by the unknowables of the challenge that analysis paralysis sets in and you hoard the would-be marketing spend. You won't advance and you won't learn. Be consistent, be visible where your target clients are. And if it doesn't work, tweak away. Neither a campaign nor a website is ever "finished." And it's only one footprint in an ongoing journey to building a worthy business.
Like or dislike what robo-advisors are attempting to do for investors, their founders have guts and that is starting to show up in the way they market.
---
Related Moves
December 8, 2020 – 5:27 PM
---
January 19, 2021 – 6:32 PM
---
---
Mentioned in this article:
---
---
---
Jeff Spears
December 17, 2014 — 12:58 AM
We all should emulate April's confidence to reach out and learn about new initiatives. The Devil You Know comes to my mind and meet the new boss the same as the old boss!
Bully to you April!
Steffi C
December 17, 2014 — 12:12 PM
Interesting, well written. I never would have noticed the adverts. One question – how are they tracking the effectiveness? Presumably this is not cheap.