The MarketCounsel Summit gets the RIA business out of its shell
Sallie Krawcheck threw a cat amongst the pigeons; Tony, I-come-in-peace, Robbins, more so and Addepar's Eric Poirer emerged from his silicon cave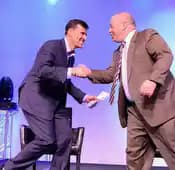 Envestnet's John Phoenix and Brian Hamburger clap hands at the high-energy confab
---
Related Moves
---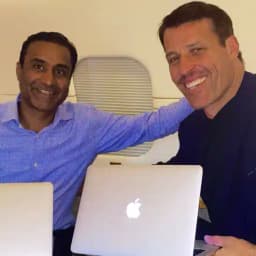 October 16, 2020 at 7:49 PM
---
---
Mentioned in this article:
---
---
---
Pete Giza
December 13, 2014 — 8:11 PM
Tim,
Somebody has to be a contrarian who better than me:-) Sallie entered the stage focusing herself on MIndy with a seemingly grim demeanor. After 10 minutes or so Sallie turned squarely into the audience and said 'I feel as though I've been invited here as the wicked witch representative of the wire houses'. It was at that point she really captured the audience.
SIde bar: I have listened to 1000's of public speakers so I am not easily impressed. Sallie's ability to capture, command and hold an audience is top notch. There would have been significant entertainment value if she and Tony had taken the stage together.
When mentioning the loss of 34 or so advisors she said the losses were offset by the gain of 26 new teams with better quality clients and higher value. Another interesting point she made was that profits had remained flat for 17 years across the products.
Yes she kept reminding the guys that we would all be worm food soon and that our dear wives would not tolerate our current choice of advisor if there wasn't a proactive move by these firms to really connect with the wives and families. Tony Robbins showed us guys how not to connect with our significant other when on a road trip. Outside of being comical there was a serious message about communicating with your audience.
Another thing I think she did with her stoic candor was to effectively say 'stop worrying about stuff you can't fix – roll with it, adapt to it'. If you hadn't guessed she was referring to the revenge of the wirehouses and the robo advisors. She said we're all likely to use all of these at some point in our financial life experience and perhaps many with significant overlap.
Rather than labeling Sallie's discussion "a downer" I believe she presented with professional candor and concern. We should all know by now that it isn't all positive and presenting things in a contrarian or from a negative logic is highly valuable to those who want to gain broad perspective.
Cheers,
Pete
Pete Giza | VP Business Dev | WealthSite Inc | www.WealthSite.com