Envestnet's John Phoenix and Brian Hamburger clap hands at the high-energy confab
Brooke's Note: Sallie Krawcheck has headed two of the greatest sales organizations on the planet — the retail units of Merrill Lynch and Smith Barney. Tony Robbins is perhaps the greatest one-man sales machine [selling his own salesiness] the planet has ever seen. Neither shooting star appears to be composed of RIA DNA, though I don't have the microscope slides to prove it. But Sallie and Tony also strike me as key materials in the building of what was undoubtedly a conference of unprecedented RIA humanity at the Marketcounsel Summit this week. RIAs are moving to a process-based advice world — with robos perhaps one-upping by stripping out all sales — and Tony and Sallie are the old guard for a sales-based one. But in the RIA business, we, too, need to get over ourselves. Tony had his RIA crowd speaking in sales attitudinal tongues. Sallie reminded that the wirehouses aren't going away. So much more happened. Read on.
No more sneaking around.
That was the out-loud message delivered by Brian Hamburger as he welcomed 500 advisors and the like to the annual MarketCounsel Summit in Las Vegas this week.
"We started in a very humble fashion seven years ago. In our beginnings, we were crafting sneaky ways to launch advisors from the wirehouses and now I believe that we have become the epicenter for the RIA community." See: MarketCounsel launches legal hyperspace button for breakaways who get fired by Merrill Lynch (and friends) before the 'go' date.
The lineup of keynote speakers and industry luminaries that took the stage at the Four Seasons gave heft to Hamburger's hyperbole. Rivaling any agenda on the conference circuit, the 2014 MarketCounsel Summit delivered the goods.
After weeks of promotion and not a little controversy, on Monday night, Hamburger proudly announced his star speaker — megawatt coach to the rich and famous, Tony Robbins.
"In our industry, everything that is interesting is happening with independent advisors," Hamburger said as he introduced Robbins.
Advisor jumpin' jive
What happened next was certainly not dull. In what has to be the only time on record that RIAs have let their conservative hair down en masse, Robbins had the suit-clad crowd jumping, screaming and pounding their chests. Although Robbins tested the patience of the dinner-and-libation-craving crowd with a marathon three-hour address, he got RIA entrepreneurs thinking about ways to nurture their energy and continue to apply it to growing their businesses. See: Tony Robbins walks past the close a bit but nonetheless delivers at MarketCounsel.
In the way of substance, Robbins had an answer for critics questioning his seeming intention of becoming the messiah for independent RIAs.
"I did not come into the wealth management industry to compete with advisors, rather to send people your way," he said. This endearing message went a long way to smoothing over the suspicions many advisors harbored that Robbins was the latest charlatan to attempt to steal their independent mojo. See: What one financial advisor discovered after plunking down $12 for Tony Robbins' 'Money' manifesto.
Lawyers and more lawyers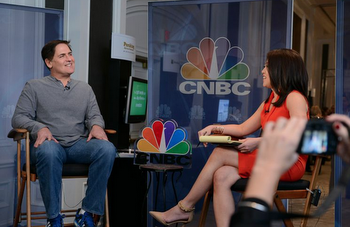 CNBC's Melissa Lee, conducts a post-panel
debrief with Mark Cuban after his
showdown with Christopher Cox.
What with the hype-machine driven by PR powerhouses Jason Lahita and Megan Carpenter of FiComm Partners, LLC in the run-up to the conference, and then with Robbins firing up the attendees on the first night, you'd think the remaining three days of the conference would be a letdown.
But you would be wrong.
Tuesday morning's showdown between billionaire and "Shark Tank" star Mark Cuban and former SEC chairman Chris Cox was by far the best session in recent memory at any conference or event. Cuban told how he spent eight years and $20 million defending himself against insider trading charges brought by the SEC. Providing unfiltered and four-letter-word descriptions of how he finally bested the SEC's lawyers, Cuban focused a spotlight on a bureaucracy that even Cox admitted had a diversity problem.
"The issue is that we have too many lawyers," he said. See: Persecuted Mark Cuban prosecutes the SEC and wins some mea culpas from Christopher Cox.
Speaking of lawyers, the summit had even more celebrity attorneys in the wings, including former New York Governor Elliot Spitzer and another former SEC chair, Harvey Pitt. That panel, moderated by the omni-present TD Ameritrade exec Skip Schweiss, had those gentlemen politicians prognosticating more political gridlock and bureaucracy impeding any real change to the securities laws and fiduciary standard.
"It will be three more years before the various agencies even get to digesting the many reforms of Dodd-Frank signed into law four years ago," Cox said with a rueful smile.
Besides regulation, the other major theme at the Summit was the impact of technology on the industry in the form of the much-debated robo-advisors.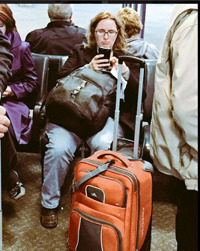 RIABiz reporter Lisa Shidler en route
to the conference.
Multiple panels and sessions offered insight into the ways advisors can leverage this new technology to more effectively and efficiently service clients. The takeaway these tech and custodian leaders delivered was that while there may be some threat to the sustainability of high-priced human advice, the real test will be in how RIAs integrate the best of these automated platforms into their own businesses to become "bionic," meaning a combination of both human and robo services.
"We are not a robo," John Michel, head of CircleBlack, the spinout of the shuttered Bloomberg Black experiment, said from the main stage, while his counterpart, John Stein, chief executive of Betterment Inc. said, "I love the term Robo. It provides us with our own category and the ability to popularize the space." See: Bill Crager: I've got your back against the attack of the killer robo-advisors.
Out of the bento box
Providing the detailed research and data to help RIAs formulate their own robo-strategies was David Canter, executive vice president of practice management at Fidelity. He cited some fascinating data from the about-to-be-released market research study Fidelity conducts with millionaire households.
"Should we care about robos?" Canter asked the packed room at the Four Seasons as the attendees lunched on bento boxes that put other conference's chicken plated lunches to shame.
"Fifty-four percent of millionaires have never even heard of robos and millennials and Gen Xers only control 4% of investable assets," Canter said. "Is this a threat for today or tomorrow?"
Canter built on his premise by providing a fascinating direct comparison of traditional RIAs and online robo platforms in terms of revenues, client levels, AUM per client, fees, number of staff and more. The key takeaway is that any advisor considering white-labeling a robo will need to develop a completely different approach that may have to be separately branded.
"One of the opportunities that robo technology provides is the ability for RIAs to go down-market and profitably service smaller accounts," Canter said citing the new, separately branded initiatives of Marty Bicknell at Mariner Wealth Advisors and Grant Rawdin at Wescott Financial Advisory Group LLC.
Custodian smack-down?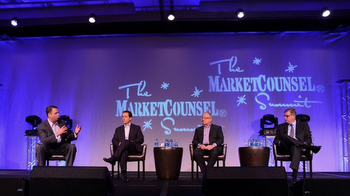 Shirl Penney emceed a custodian love
fest — albeit with a few
elbows thrown.
Continuing the disruptive theme, in a rare appearance by Addepar on the conference circuit, chief executive Eric Poirier told the story of the slow process the company went through to develop its technology. See: The face of Addepar leaves the company amid intrigue about just where it stands with the RIA market.
"It took us three years just to solve our own data problem," he said. Contrasting this approach was Jud Bergman, head of Envestnet Inc., who went with a "David and Goliath" metaphor for how RIAs can successfully compete now with the big players by leveraging technology.
Rounding out the agenda were several other high-profile panels including the much-anticipated custodian smack down, moderated by Dynasty Financial Partners chief Shirl Penney. Three of the big four custodian leaders took the stage to provide some insightful commentary of where the industry is headed. Because these leaders — Mike Durbin of Fidelity Institutional Wealth Services, Mark Tibergien of Pershing Advisor Solutions and Bernie Clark of Schwab Advisor Services — can roll up data from thousands of RIAs, they had a unique perspective.
When asked by an advisor in the audience about the lingering RIA concern of custodians competing with them through their retail businesses, only Tibergien had a good answer: "Simple — we don't have a retail presence," while Clark attempted to deflect the criticism by saying, "That is an old question."
Problem with a name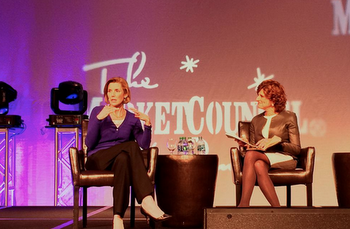 Sallie Krawcheck [with Mindy Diamond]: You
guys will all be dead and
the women will get the money
and continue on.
Wrapping up the final day, a feisty and defiant Q&A with former Merrill Lynch head Sallie Krawcheck proved an antidote to the RIA love fest that had preceded it. Krawcheck maintained that the wirehouses did not suffer any damage from the independent trend, losing only 37 advisors to independence while she was at the helm.
Krawcheck angrily denied that the wires were on the run from the emerging competition from independents, but did concede that they have taken some hits. "The brands were definitely damaged," she admitted.
Krawcheck's other mission was to try and wake up the male-dominated industry to the potential of underserved segments — like women.
"You guys will all be dead and the women will get the money and continue on," she said to the consternation of many in the crowd. "Seventy percent of women upon getting the assets after the death of their spouse fire their advisor. Now that is a problem you all need to face."
Get on the bus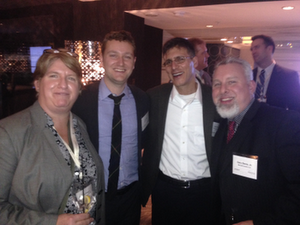 Laura Kogen and David Canter of
Fidelity, Jon Stein of Betterment and
Gary Davis of MarketCounsel at the
Fidelity reception.
Despite the downer from Krawcheck, the Las Vegas backdrop provided many opportunities for attendees, vendors and custodians to network in multiple receptions and dinners and enjoy the best of Vegas.
Fidelity, the primary underwriter of the Summit, not only had constructed an actual "living room" featuring their latest content on "being greater" in the exhibit hall area, but also hosted a packed reception at the top of the Four Seasons hotel in an elegant suite. Pershing brought a bus and drove their clients and friends to a fabulous dinner at a casino resort down the Strip.
Greg Friedman of Junxure hosted a sushi dinner that attracted industry players Dan Seivert of ECHELON Partners, Dan Skiles, president of Shareholders Service Group Inc. and Marion Asnes of the Idea Refinery. Many attendees were seen dancing into the wee hours at the Cirque de Soleil-inspired Light nightclub at the next-door Mandalay Bay resort.
Despite a great run in Vegas, the MarketCounsel Summit is taking its talents to Miami Beach next year to the rococo-kitsch Fontainebleau. It will be tough to top this one — kudos to Brian Hamburger and the MarketCounsel team for closing out the year with the industry's best conference.
To learn more about what went on at the Market Counsel Summit, check out the many tweets on the #MSUM14 hashtag on Twitter.
Disclosure: Welsh has consulted with several of the companies mentioned in this article.
Timothy D. Welsh, CFP® is President and founder of Nexus Strategy LLC, a leading consulting firm to the wealth management industry, and can be reached at tim@nexus-strategy.com or on Twitter @NexusStrategy.
---
Related Moves
---
October 16, 2020 – 7:49 PM
---
---
Mentioned in this article:
---
---
---
Pete Giza
December 13, 2014 — 8:11 PM
Tim,
Somebody has to be a contrarian who better than me:-) Sallie entered the stage focusing herself on MIndy with a seemingly grim demeanor. After 10 minutes or so Sallie turned squarely into the audience and said 'I feel as though I've been invited here as the wicked witch representative of the wire houses'. It was at that point she really captured the audience.
SIde bar: I have listened to 1000's of public speakers so I am not easily impressed. Sallie's ability to capture, command and hold an audience is top notch. There would have been significant entertainment value if she and Tony had taken the stage together.
When mentioning the loss of 34 or so advisors she said the losses were offset by the gain of 26 new teams with better quality clients and higher value. Another interesting point she made was that profits had remained flat for 17 years across the products.
Yes she kept reminding the guys that we would all be worm food soon and that our dear wives would not tolerate our current choice of advisor if there wasn't a proactive move by these firms to really connect with the wives and families. Tony Robbins showed us guys how not to connect with our significant other when on a road trip. Outside of being comical there was a serious message about communicating with your audience.
Another thing I think she did with her stoic candor was to effectively say 'stop worrying about stuff you can't fix – roll with it, adapt to it'. If you hadn't guessed she was referring to the revenge of the wirehouses and the robo advisors. She said we're all likely to use all of these at some point in our financial life experience and perhaps many with significant overlap.
Rather than labeling Sallie's discussion "a downer" I believe she presented with professional candor and concern. We should all know by now that it isn't all positive and presenting things in a contrarian or from a negative logic is highly valuable to those who want to gain broad perspective.
Cheers,
Pete
Pete Giza | VP Business Dev | WealthSite Inc | www.WealthSite.com