Shirl Penney [l.] listens to Bernie Clark (far r.) response as Mike Durbin and Mark Tibergien listen in.
Brooke's Note: The RIA custody chiefs have all stated dogmatically for years that what divides them is far surpassed by what binds them together. But talk is cheap and the custodians have essentially never lifted a finger on behalf of RIAs as a unified force. But as the quadrant of Fidelity, TD Ameritrade, Schwab and Pershing surpasses $2 trillion of assets and the RIA market shows signs of maturing, the custodians have begun a regular tour at conferences by sharing stages. This convening has been a major eye-glazer for the most part but at the MarketCounsel event this week, Shirl Penney asked at least one competitive question and finally, it turns out, these grown-up are working behind the scenes on behalf of the RIA kids as a unit. There is always a danger, I suppose, of an oligopoly becoming more like a cartel. But for the most part this seems like a promising, if long overdue, development.
The chiefs of three of the four largest RIA custodians squared off this week in Las Vegas to battle and to bond.
Mike Durbin, president of Fidelity Institutional Wealth Services, Mark Tibergien, chief executive officer of Pershing Advisor Solutions LLC, and Bernie Clark, executive vice president of Schwab Advisor Services, all spoke in a custody battle panel at MarketCounsel's conference and shared thoughts on the industry.
On the battlefront, moderator Shirl Penney, chief executive of Dynasty Financial Partners, a client of all three as the outsourcer to RIAs with tens of billions of RIA assets, challenged them each to give a two-minute pitch to a $700-million RIA prospect. See: Attack of the killer app: Dynasty targets the corner-office broker by combining Envestnet and Callan.
In doing so, each leader stayed light on specifics and pushed broad themes. Tibergien sold his company's sophistication and breadth as a unit of BNY Mellon. Durbin sold Fidelity's status as a family-owned firm with stellar defined contribution support and clearing services and Clark talked about how Schwab is built by people just like RIAs; how Schwab grew from a small firm to a giant one and how RIAs can do that too.
Meeting of minds
In what made some observers do a double-take, Clark announced that all three of them are working together on issues such as regulation, recruiting and training. It appears Clark headed the initiative and the leaders met at Schwab's headquarters at an undisclosed time earlier this year.
"The three of us have started meeting and we had our first meeting on non-competitive issues. Certainly, education and regulation. When you get under education, diversity, we think these are areas for us to advance the community," Clark told the audience of about 500 attendees gathers at the Four Seasons hotel in Las Vegas during the MarketCounsel Summit.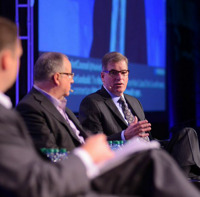 Bernie Clark has assumed leadership of
the RIA custody study group as
befitting his company's $1.1 trillion of
RIA custody assets.
TD Ameritrade RIA chief Tom Nally, who was unable to attend the MarketCounsel panel, is part of the collaboration effort and did attend the first meeting, a TD spokesman confirmed.
An abused term
The group is exploring ways to form a unified recruiting front in addition to some of the "softer" issues, Fidelity spokeswoman Erica Burke explained.
"They got together earlier this year to talk about broad issues like awareness and education. This meeting took place at Schwab's headquarters in San Francisco. The goal was to tackle issues, like recruiting, where they can collectively make more of a difference in the RIA industry. They'll likely get together at other venues in the future — again, to advance issues that broadly benefit the industry and their clients."
The RIA leaders intend to meet again, said Schwab spokeswoman Anita Fox.
"All participants are interested in finding ways to raise awareness and support the RIA industry. And, they hope to get together again in the future to continue the process," she wrote in an e-mail.
Tibergien added the three leaders have similar goals. "We jointly agreed the way we view the profession is to elevate it. The term advisor has been purloined by a segment of the business that has a bunch of people who aren't advisors. Part of our challenge is to stand up to the abuse of the term and to correct people including the press when the term is used." See: What is the value proposition of a financial advisor — and how is a budding RIA culture upping the ante?.
Friendly competition

More comity than comedy. Mark Tibergien
shakes hands with Bernie Clark as
Mike Durbin looks on.
Later, Tibergien e-mailed additional thoughts.
"We are meeting jointly to explore common areas where we can act together for the benefit in the industry. We are all friendly competitors with a passion for how RIAs conduct their business and serve their clients," Tibergien e-mailed.
Skip Schweiss, managing director and advisor advocacy and industry affairs at TD Ameritrade Institutional, said his firm intends to be part of the ad hoc custody council.
"We are pleased to have a forum to share views and ideas with peers in the industry on topics of high relevance to RIAs. Given the varying business models of custodians, there is bound to be some divergence in our respective approaches to advocacy," he said.
Dueling pitches
Although the leaders are willing to work together for the cause of common good, it's clear they'll do what it takes to win business. When Penney gave them the opportunity to pitch a prospective $700-million AUM RIA, they threw out their best shots.
Tibergien focused on his firm's services for the ultrahigh net-worth clients.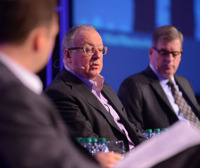 Mark Tibergien: We've merged the bank
and brokerage into one.
"It was clear that we needed to differentiate from the others. We view ourselves as working with boutique firms who serve complex lives. This has translated to everything we do a firm from very robust private banking as well as the average line of credit. We've merged the bank and brokerage into one in a very high-net-worth space. We view success as practice management." See: BNY Mellon is arming Pershing's RIA unit to the teeth with banking products for ultra high net worth clients.
Durbin was up second and began with a [much appreciated] quip about a surefire way to win the business. "I'm going to undercut Mark on price."
Then, in all seriousness he said, "We're a large scale solution. We're a private company. I like to say one of the largest family businesses."
Durbin went on to say that Fidelity can handle any type of advisor and clients because the firm has family office and clearing business. "We know a thing or two about the DC business. Like never before, we're delivering on capital markets [services]." See: Fidelity plows ahead in the RIA business with overhauls of service, technology and management.
People power
Then, it was Clark's turn. He reminded the audience of Schwab's scale.
"It sounds trite but we built our entire organization on people the same as advisory firms are built — with people. We've got the largest number of advisors and the largest number of service workers."
Clark added that his firm's average tenure for service workers is 10 years. "Everything we do is in the eye of the client," he said.
Wirehouses into independence
During the session, the three leaders hashed out topics like wirehouses pushing more into the RIA space and whether robo-advisors pose a threat or should be viewed more as potential partners.
All three leaders said the wirehouses will continue to push into the RIA sector.
Tibergien is convinced that a wirehouse will purchase an RIA within the next 10 years.
Clark added that wirehouses entering the RIA arena will face major challenges.
"It is so difficult because you have a captive workplace. Going open architecture would be extremely difficult. Merrill has tried it several different times and [the efforts] atrophied. I don't see it as being successful but I know the evolution will happen." See: How Merrill Lynch Clear looks so impressively RIA-like and what shows how deceptive looks can be.
Working with robos
When robo-advisors first appeared on the scene, it seemed RIAs were competing with them, but now that's changed, Durbin said. RIAs need to work with robos,
"I'm surprised at how quickly it went from us versus them to us and them. They're here to stay. I think they represent fantastic solutions," Durbin added.
Clark joked that someone with a Star Wars fetish coined the phrase robo-advisors. "What does that mean? Words like 'digital' mean something." See: Can Schwab, six years late to the robo party, 'freeze the market', catch up and blow doors?.
---
---
Mentioned in this article:
---
---
---
Jeffrey McClure
December 12, 2014 — 10:42 PM
I would love to see the major custodians offer a robo-adviser option to its existing RIA clients as a low-cost way we could serve the lower net worth investor. The strenuous and high standards expected of an independent RIA almost preclude being able to serve those people. If they could offer an alternative service that could be branded by the RIA, along with appropriate disclosure for the differential tier of service it would be a great boon.
It will take an or some organizations with a lot of resources to pioneer this type of operation as it would be effectively breaking new ground with the SEC and states. The custodians, by providing it as a service to be offered by their existing RIA clients would bring in a much greater asset base than by blind marketing, at least in my opinion.
Marty Morua
December 12, 2014 — 10:35 AM
Awareness and Education
Yes, it was rather nice to see the Schwab, Fidelity and Pershing custody chiefs agreeing on some things in support of the RIA community.
Marty Morua