Walter Bettinger showed bursts of emotion to the Barron's writer. (Photo: Dow Jones)
Brooke's Note: For many people in the RIA business, Walter Bettinger is an enigma. He seemingly shuns the spotlight at every opportunity and when he appears on a stage or mingles at events he sticks to a tight script that leaves little room for tea-leaf reading. (However, I just received a report from Tim Welsh that Bettinger gave a scintillating, feisty, well-received speech in Denver at Schwab IMPACT Wednesday morning.) It is tough to say just where the reticence of this father of five comes from; he may or may not see it as a survival skill. Bettinger's number one job is to please Schwab's chairman, founder and major shareholder Chuck Schwab. With Chuck's chiseled face still serving as Schwab's unofficial logo, Bettinger may be wise to keep his head down. RIAs have always scratched their heads when it comes to Bettinger. They feel like they know Bernie Clark, who heads the RIA unit, as an executive and as a person. Bettinger they know as an executive and one known to have played a part in the departures of two well-liked RIA execs Debby McWhinney and Charles Goldman. They have also watched Bettinger take Schwab from being a company that facilitated financial advice and the people who dispense it — i.e. RIAs — to being a full-on financial advisor gunning for high-net-worth investors. See: 8 takeaways from Schwab's earnings report and commentary including: We are 'full-service', dammit. Bettinger, both with his boss and with RIAs, needs to be both a partner and an indirect, friendly adversary. It would be a difficult balancing act for anybody. With that said, we are grateful that Schwab granted Barron's better access to Bettinger than any publication has received thus far and we come away knowing the Schwab CEO — and where we stand with the executive with the most potential influence on the RIA business — better. Still, the Barron's reporter did not address the elephant in the room: When, if ever, Schwab will be Bettinger's company through and through. Perhaps Bettinger flying solo on the Barron's cover should be taken as a clue that it could happen sooner rather than later.
Walter Bettinger got the star treatment in the Oct. 25 issue of Barron's.
The New York-based newsweekly was allowed access for an in-depth, no-questions-barred profile of the Schwab president and chief executive, and then splashed his image across the cover and teased the article with a rundown of his accomplishments and a blunt warning to Vanguard Group and Fidelity Investments to beware of this executive. See: The top 10 things you need to know about the new Barron's Top 100 List.
The article itself is a good read and does a great job describing Bettinger's successful early career. What emerges is something of a Horatio Alger story.
Bettinger, 53, is the youngest of four children brought up by his stay-at-home mother and chemistry professor father in a small Ohio farm town. He graduated from the top of his class at Ohio University and started The Hampton Co., his own pension service and advice company at age 22. As he worked to get this business off the ground, Bettinger spent years of fruitlessly cold-calling potential clients. Undeterred, he went to night school to become an actuary. This title in hand, Bettinger started giving free investment seminars for accountants and lawyers who ultimately began to refer their own clients to him.
Start a fire
Barron's quotes Bettinger airing his deep passion for helping everyday consumers invest better and more cheaply. Helping the industry evolve away from older, traditional Wall Street models has essentially been his life's work since founding the Hampton Co.
Barron's employs fire-breathing analogies to capture that intensity of feeling.
"Typically earnest and precise, Bettinger turns into a flamethrower when he talks about the financial-services industry," writes reporter Dyan Machan. "Raising his voice a little, he says, 'The business models of so many financial-services firms revolve around getting people to do what's worst for them.'"
And then again when discussing target date funds, which Bettinger thinks aren't prescribed with enough thought.
"Ask Bettinger about them, and he'll set your hair on fire. 'It's a fascinating product developed to capture money in proprietary funds,' he says. 'They may have been the best way at one time to get advice on a 401(k), but they're not the right answer for today.'" See: Why I use target date funds for some 401(k) clients in my RIA but with exaggerated scrutiny and care.
Now that he's atop Schwab, Bettinger's actions and words are coming into greater synchronicity each day, Barron's tells readers. Next on Bettinger's agenda is tackling 401(k) plans and providing "free" robo-advice to consumers — logical steps (in his mind at least) in the evolution towards "cheaper" and "better" advising. See: Can Schwab, six years late to the robo party, 'freeze the market', catch up and blow doors?.
Faint praise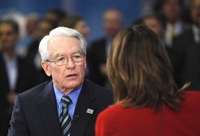 Charles Schwab is still public face
of his company despite Walt Bettinger's
status as heir apparent.
But notwithstanding the photos of a relaxed and happy Walt Bettinger or the gaudy numbers casually thrown around touting Schwab's growth under its current CEO, this article, on careful reading, is anything but a one-sided puff piece. Look closer and you'll see light thrown on some critical issues, such as how 77-year-old Chuck Schwab sees his successor apparent. Barron's cited a displeased RIA (whom we contacted to learn more, see below) and delves into the tension between Schwab's RIA business and its headlong rush to becoming a wealth manager for high-net-worth investors.
Walter Bettinger began his affiliation with Schwab in1995 when the discount brokerage started using his company, Hampton Co., as record-keeper for it's 401(k) business. Schwab bought the company a few months later.
In 2004, Bettinger was plucked out of his high-performing company and placed at the head of Schwab's retail unit. When David Pottruck was fired as chief executive later that year, Schwab returned to his role as CEO and, Barron's suggests, began laying the groundwork for Bettinger's July 2008 ascension to the CEO spot. Whereas Pottruck had brought a heavy-handed approach that included acquisitions and clever revenue enhancement with small bank-like fees, Bettinger was against such an un-Schwab-like approach. He impressed Chuck Schwab with his customer-first, fee-slashing suggestions on how to turn the business around with a manifesto he created during a long-distance plane flight. See: Charles Goldman recruits his one-time Schwab leftenant to be his right-hand woman at AssetMark.
Chucked under the bus?
But for a CEO profile, what stands out is the relative lack of glowing testimonials. Granted, being a chief executive is not a popularity contest and journalists may or may not be expected to dredge up sources with glowing praise, even about highly accomplished people. Still, aside from Charles Schwab, nobody speaks independently about Bettinger's leadership and management ability.
Charles Schwab's quotes for this article seem notably restrained, though he is not known meting out flattery much about anybody. All of his favorable comments about Bettinger are framed in the past tense and describe Bettinger before he took over the top job. Chuck Schwab says of his successor that he recognized that he "had the skill level to be my partner" and that "I needed him to be close by … but I was willing to wait."
It's not exactly a ringing endorsement, and Chuck's dependence on the past tense when he speaks favorably jumps out more each time you encounter it. "He was an entrepreneurial guy, and I liked the tempo of his personality" and "We were compatible," he tells Barron's.
No grandstander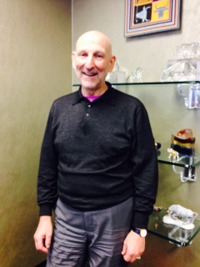 RIA Arthur Cohen, quoted in the
Barron's cover story on Bettinger, now
opens new client accounts with Pershing.

So what does Schwab have to say now that Bettinger has been in the top job for six years? The complimenting is over and there's no talk of compatibility.
"He's not a grandstander … even though grandstanding can be useful," reporter Dyan Machan quotes Schwab as saying.
Bettinger has been tapped as Chuck Schwab's successor but Chuck continues to do all the soul-subtracting work of appearing in national advertising and other chores associated with being the face of a company.
Finally, Chuck Schwab delivers the flat comment that Bettinger is responsible for the retail unit's transmogrification to providing advice to wealthy clients. "He made it happen," says Chuck.
A Charles Schwab Corp. spokesman said in an e-mail that the company's founder and Bettinger have a "very strong and collaborative relationship" and that Chuck "has great respect for Mr. Bettinger's management style." The grandstanding quote, the spokesman said, was a "light-hearted" explanation for why Schwab is still featured in the advertisements.
As for succession plans, the spokesman said, "Mr. Schwab has said often that he will stay in his role as chairman for as long as the Board of Directors supports that. As the founder, he is passionate about the company and its unique place in the investing services landscape." See: Schwab's financial plan production skyrockets in 2013 as part of 'Chuck's' upmarket push.
Competitors gain ground
Chuck's cool words are relevant because shareholders have had reason to grumble over Bettinger's tenure as the head of Schwab. Though doubling client assets in six years at the helm looks pretty impressive and is referenced multiple times in the Barron's article, there's more than one way to spin that number. After all, the S&P 500 has a total return of almost 100% since Bettinger took over in October 2008, and Schwab is benefiting from major industry tailwinds that are boosting assets at all other RIA custodians. See: Custodians defend their records in having RIA backs in battles for the fiduciary standard and against FINRA takeover.
A better way to assess Bettinger's success might be to examine Schwab's market share, which, according to Barron's, is currently 26% of the RIA market. As of 2010, the oldest publicly available data we found, Schwab's market share was 25%. Fidelity Institutional Wealth Services and TD Ameritrade declined to give historical market share data; Cerulli Associates also declined to share this information.
Schwab's share price hasn't exactly blossomed under Bettinger. From the time he took the CEO spot to date, Charles Schwab Corp. has a total return of just 19% compared to a 120% return for TD Ameritrade, 96.5% for the S&P 500, and even 56% for Morningstar, Inc.'s crisis-battered Financial Index.
'Disturbing' tactics
Schwab's increasing competitive threat to RIAs also bubbled up in the Barron's piece. Arthur Cohen, a Northbrook, Ill.-based advisor and founder of the eponymous Arthur M. Cohen & Assoc., was quoted saying the company's tactics "to lure my clients away" by offering them $2,500 to sign with Schwab is "disturbing." In the Barron's profile, Bettinger was not asked for his response to these comments (although Machan says in an e-mail that she wishes she had).
Cohen elaborated when contacted for this article. As an RIA, he runs his business according to a very strict code of ethics and he gets "pretty offended when people do things other than that."
This Schwab promotion is big reason why Cohen now opens new client accounts with Pershing Advisor Solutions instead. But beyond the issue of Schwab competing with its advisors for as-yet-unclaimed client assets, Cohen has seen a tangible effect on his current business.
"It's only come up once, but it did come up once," he says. One of his clients actually saw a Schwab ad promising $2,500 to high-net-worth clients opening up a large account and decided to make the move. The bonus cash offer does not apply to accounts managed by independent investment advisors.
Asked for a response, Schwab says this kind of switching "is almost unheard of. The kinds of clients typically served by registered investment advisors are substantively different in their needs and are not attracted by these kinds of retail offers." See: Why Schwab is embracing a franchise-like strategy to fast-forward branch growth.
Who does Schwab serve?
Whatever the case, Schwab has other ways to attract RIA clients into its fold. Schwab charges advisors almost $50 for a mutual fund trade but only $10 to individual clients for the same trade. Cohen concedes that RIAs receive all sorts of special services to compensate for the extra costs of these trades from Schwab, but advisors like Cohen who use Schwab's ancillary services sparingly ultimately lose out. The mismatched pricing gives incentive for clients to keep money individually at Schwab rather than with their advisors, and Cohen says he has seen that theoretical possibility play out at his expense. See: Why I moved my account from Schwab's RIA and what Chuck could do to improve Schwab Private Client.
Schwab has become the largest RIA in its own right, with about $60 billion managed in Schwab Private Client, and the largest RIA custodian with about $1.1 trillion of assets. It has done so by innovating on the retail side and then conferring those advantages on RIAs. Examples of that include its mutual fund supermarket, eliminating transaction and nuisance fees and lowering commissions.
But creating a RIA trust amid such corporate ambidexterity will be tested more than ever as Bettinger's career continues to unfold. As he brings Schwab Intelligent Portfolios to market, he will have more channels to manage than Comcast. But the robo-advice will not just act as a potential competitor to flesh-and-blood RIAs. It will also potentially compete with Schwab staff advisors and branch managers whose compensation is tied to assets brought in through the branches.
---
Related Moves
January 5, 2021 – 4:06 AM
---
---
---
---
Stephen Winks
November 10, 2014 — 9:47 PM
To the chagrin of its competitors, industry leadership will be based on how well a firm serves the best interests of the advisor and the investing public which they serve. This has little to do with product distribution, but points out the impediments of the brokerage business model in giving the advisor control over their value proposition, cost structure, margins and professional standing.
Two of the big four custodians are predominated by their brokerage clearing business which gives Schwab and TD Ameritrade a huge relative advantage in playing to the best interest of the advisor by advancing (a) a superior advisor value proposition, (b) lower cost structure, (c) higher advisor margins and (d) professional standing which are at cross purposes to the brokerage business model. Schwab and TDA have a most profound advantage in advancing advisory services innovation. Thus Walt Bettinger promises to be a most significant figure in advancing the best interest of the investing public and the advisor and will win massive market share from those that can not compete in kind in the consumer's and advisor's best interest.
SCW