Tony Robbins: When Ajay left UBS, his level of attention was very different and that's what drew me to him.
Brooke's Note: Early in the interview that Lisa and I had with Tony Robbins, I asked the self-help giant whether his excitement about the financial advice segment would outlive the duration of his book tour for "Money: Master the Game." He laughed and called me a 'jaded journalist' with a note of warmth in his voice. His response was appropriate but nonetheless I thought it was a natural question to ask anyone who bursts on the RIA scene at the exact time that his book is making its Amazon debut. Expressing skepticism is what journalists do in the face of a tidal wave of PR efforts and endorsements. If there is one way to sum up my criticism of Robbins' book it is that he wasn't jaded enough when he met the 30 magnates he interviewed, even acting as apologist for some like Carl Ichan. See: What one financial advisor discovered after plunking down $12 for Tony Robbins' 'Money' manifesto. It was mostly, if not all, soft toss questions. That said, Lisa and I did not come to the Robbins interview only as RIA purists but as pragmatists. On a practical level, the RIA business could use a muscular sales voice in full cry against a world of wirehouse sales pitches verging on misinformation — and Tony Robbins looks like he could be one of those voices. His interview responses revealed a host of reasons that Robbins has potential staying power as an investor/advisor advocate relating to hard-won convictions and the harder work he put in writing his book.
Here are nine reasons why Tony Robbins' headfirst dive into an RIA advocacy role could have a good outcome — and why his book should not be too easily dismissed despite having some infomercial-like qualities.
1. Robbins keeps his money with an RIA
Robbins was using the services of an RIA before firing him in favor of a UBS stockbroker.
"What I have to say is an RIA is not the whole answer. I thought my RIA did a poor job giving me alternatives and he was a good salesman," says Robbins, who did not divulge the name of that RIA firm.
Now Robbins is back with an RIA because Ajay Gupta, principal at Gupta Wealth Management in San Diego, Calif., broke away from UBS. When Robbins first started working with Gupta he was at UBS.See: Schwab wins giant UBS breakaway in San Diego.
Gupta keeps his assets with custody with Schwab Advisor Services.
Robbins is sold on the difference it made for Gupta to register with the SEC.
"When Ajay left UBS, his level of attention was very different and that's what drew me to him. We had a 3-hour conversation and that conversation changed a good portion of my portfolio," Robbins says. See: Schwab wins $740-million team as part of an RIA dolphin-swallows-wirehouse whale story near Chuck's winter home.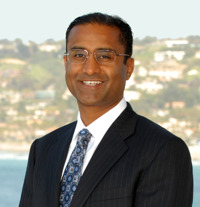 Ajay Gupta's breakaway from UBS gave
RIAs a good name with Tony
Robbins.
Robbins expressed interest about new investments including senior housing, and indeed Gupta was able to pursue those investments once he was away from the captive model.
"He's a hard-working guy. He's pitched and catched with me. We'll come up with some good options and I've gotten involved in a variety of other investments," Robbins says. "I wasn't with him just because he was an RIA. He was a damn-hard-working RIA that worked for me. He wanted to offer different things before but UBS said you can't do that."
Robbins doesn't pretend that all RIAs are perfect but he knows firsthand that investing with an RIA is much better than having a stockbroker.
"There are 10,000 RIAs and some are better than others," Robbins says. "The goal is to get the word out to many people."
2. The New 'F' word
Robbins loves what fiduciary means but hates how complex it is for investors to understand. To boil it down to consumers, Robbins calls fiduciary "the new F word." See: How 10 top groups define 'fiduciary'.
He's been interviewed more than 100 times in the past few weeks and in nearly every interview, he pushes the word "fiduciary," telling investors they need to find a one to manage their money. See: What exactly is an RIA?.
Industry leaders have tried for years to get the meaning of the term fiduciary out to the public. Robbins' determination to get past the confusion can't be bad.
"People don't know what the new F word is. I'm telling them what the new F word is. You've got to understand what a fiduciary is. It's about income and not assets. You've got to have asset allocation. I've had a chance to learn from the best on the earth and the average person can learn from them," Robbins says. "Step one is to educate the vast majority of consumers. The vast majority of people are so confused. The first thing to do is educate." See: One-Man Think Tank: What would Adam Smith say about the fiduciary standard?.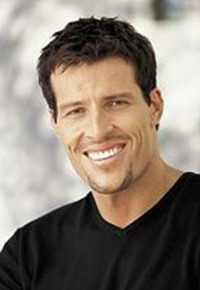 Tony Robbins: Carl Icahn really gets
it. He's been misrepresented.
3. He is a great reporter
Robbins is known for his outgoing persona, but in preparing to write his book, he did what no financial self-help book have ever done — serious reporting. He interviewed more than 30 hotshots and got some pretty interesting facts and quotes from them. He also did his research diligently before each interview, sometimes, he says, spending 18 hours preparing. See: Finally, an RIA business-of-the-business book with a journalistic soul.
But he was also able to master strong listening skills to prompt top leaders to share their own personal challenges. For instance, Charles Schwab admitted to Robbins that he still struggles with his dyslexia even now.
"My reading — even to this day, I don't read novels. I read nothing but non-fiction," Schwab is quoted as saying in the book. "I was pretty good at math. And, I was pretty good with people. I wasn't a writer, but I had people around me who were great writers." See: Charles Schwab will speak and his fellow CEOs will listen.
Schwab also shared with Robbins that he feels 98% of investors should be in index funds. "I'm a mixed investor. I invest in a lot of individual stocks. But I have the time. I have the expertise. I have the education. But 98% of people don't focus on that," Schwab is quoted saying in the book. "And, the 98% should really predominantly go into index funds, in my view."
Elliot Weissbluth, chief executive of HighTower Advisors LLC, is quite impressed with the detail with which Robbins writes.
"The level of academic rigor that has gone into the material of the book is highly impressive," Weissbluth says. "What he's doing is saying there's a lot of theory out there and some of it works very well and some of it works somewhat well and some of it is wrong."
4. He can play with the big dogs
Carl Icahn is described as one of the most feared men on Wall Street in Robbins' book.
Icahn has been described as a ruthless vulture capitalist and is known for his tweet in the summer of 2013 that Apple was undervalued. Within an hour of his tweet, the stock jumped 19 points. See: How the Eric Cantor hire is really all about Ken Moelis, an original Wall Street 'Wolf', and his $963-million non-classic RIA.
Robbins confessed that Icahn worried him by refusing to let him have a video crew or audio team during his three-hour interview.
But Icahn talked candidly with Robbins and his answers were striking. In the end, Robbins felt like Icahn's negative reputation is not deserved.
"He really gets it," Robbins says. "He's been misrepresented."
5. No 'I' in Robo
There's a lot of folks jumping on the bandwagon about the robo-advisor, but Robbins expresses concern over its obvious shortcoming: investors need to speak to real people.
"Most people need someone to hold their hand. A robo-advisor is interesting but it's not enough. You need someone to hold your hand," Robbins says. "It can't look into your eyes." See: Bill Crager: I've got your back against the attack of the killer robo-advisors.
6. He is connecting with RIA leaders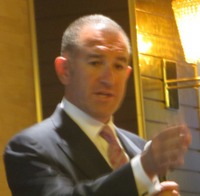 Elliot Weissbluth: The level of academic
rigor that has gone into the
material of the book is highly
impressive.
One of the best ways to learn about the RIA industry is to work with its best leaders. Robbins is speaking at the MarketCounsel conference next month and he's spending a great deal of time working with Weissbluth. See: Tony Robbins is set to crash the RIA party with two hours of testosterone.
Both Robbins and Weissbluth are wildly successful and each has a giant personality. A natural question is how can they work together seamlessly without anyone's ego getting bruised.
Weissbluth is quick with a quip: "Tony's just bigger than me."
In fact, Robbins stands at 6-foot-7-inches, a full six inches taller than Weissbluth who is 6-foot-1.
But Weissbluth and Robbins has found a common cause and they have clearly connected.
"You need to trust and respect one another," Robbins says. "If you don't trust them it doesn't happen. We've got the same motive. We're system thinkers. I don't know anyone else who has a platform built that he has. I'm blown away by that. I think Elliot has trust in me. This is what makes a good partnership. We're opting in because we want to do this. It's a nice thing to do. Neither one of us has to do this." See: How Tony Robbins co-opted Elliot Weissbluth (and HighTower data) and vice-versa.
7. He's trying to get investors to understand complicated terms like asymmetric risk/reward
In Robbins' years of researching the best investment minds of the nation, he's found some common themes.
For instance, Kyle Bass, the founder of Hayman Capital Management, is relentless about his asymmetric risk/reward process he goes through for every single investment he makes. But Robbins takes that complicated topic and explains it to readers in an easy-to-understand manner — which is actually not easy to do at all.
Robbins uses a practical example to explain the concept that that Bass won't invest a dollar unless he can make $5. Even if he's wrong, four times out of five, he's still going to succeed.
"He never risked more than six cents to make a dollar. You can be wrong 15 times and still make money," Robbins says. See: First, own all the risk.
8. Investors can learn from the best
Some might believe that talking to regular investors is important, but Robbins wanted to talk to the best investors so he could share their secrets.
"The average person thinks these old white guys are billionaires and took big risks. Here's what they did. They work furiously hard to take small risks with huge rewards," Robbins says.
For example, one top investment leader Ray Dalio, founder and co-chief investment officer of Bridgewater Associates. Bridgewater is one of the nation's largest hedge funds with close to $160 billion in assets, was remarkable to Robbins.
Robbins spent 18 hours trying to prepare his interview with Dalio.
"This will blow your mind and change your life," Robbins writes about Dalio's perspective.
9. He was raised poor
A person's relationship with money is emotional and Robbins says growing up poor has always made him want to help people with finance. Anyone who knows what it is like to not have a ton of money will never forget that experience and it will shape that person for the rest of their lives.
In fact, Robbins works closely with the non-profit Swipe-Out Starvation to provide meals to more than 100 million people a year.
"I grew up really poor. We'd go outside and find out our car was repossessed and there was no food at Thanksgiving. When 2008 hit, I got pissed off. I went crazy. I kept thinking the government would do something about it and I became obsessed to find a way to help."
---
---
---
Joseph McGarry
November 28, 2014 — 10:46 PM
I just got the book in the mail. I haven't read it yet, but I'm familiar with Tony Robbins from his Personal Power series. The key in any self-help book is to do what the author recommends.