Tony Robbins: I found out about HighTower and the only concern is they only deal with ultra-high-net worth people.
Brooke's Note: Elliot Weissbluth is the master of inorganic growth. His HighTower Advisors now manages $30 billion, a $15 billion bump from what its own ADV reads.This growth has organic elements but the big RIA has all been built on HighTower CEO's ability to swing deal after deal. Now, Weissbluth is nearly two years into adding another inorganic piece, in human form, to the puzzle — Tony Robbins. In our interview (both Lisa and I were on the phone with Tony and Elliot), it became apparent that there are a series of co-ventures that these two hard-chargers are dreaming up together. It sounds like one could be a robo-advisor of sorts based on Weissbluth's glowing comments about them that you'll see in this article. But for now, they are tipping their hands on plans for a not-for-profit venture aimed at helping smaller investors. But when you are talking about an alpha dog and a triple-alpha dog making plans for a vegan meal like the one described in this article then you have to think there's a high-protein second course or two still in the oven.
Elliot Weissbluth, founder of HighTower Advisors LLC, has teamed up with exponentially successful life coach Tony Robbins to give consumers access to HighTower's pricing data in order to find out the real cost of the financial advice they are receiving.
The gizmo that will do this has yet to be named and details about how it will work are scant. The announcement comes as Robbins extends his self-help empire to the realm of money management with the release of his new book "Money: Master the Game: 7 Simple Steps to Financial Freedom."
In the next six months, Robbins, 54, and Weissbluth, 47, chief executive for the Chicago firm, intend to show the fuller breadth of their collaboration, one already evident in Robbins' book: Weissbluth writes the forward to the 688-page tome and Robbins touts HighTower in its pages. See: Tony Robbins is set to crash the RIA party with two hours of testosterone.
The concept is nothing like the popular robo efforts and is more akin to the proactive pricing offerings of car insurance marketplaces like Progressive or CARFAX, said Weissbluth and Robbins in a phone interview this week. See: Why RIA demand for E&O insurance is booming and premium prices are [thankfully] plummeting.
"We've got complete visibility into almost every financial product when it flows across our HighTower platform," Weissbluth says. "This is a marriage to take the very front-facing platforms and plug it into HighTower, which is unique. We can see what an insurance product is paying, what are the fees and are there any dollars going back to the broker. That level of transparency is essentially obfuscated because that's how people make money."
Beautiful friendship
The fee-divining MRI is just one effort in a projected collaboration between Robbins and Weissbluth.
"We've got half a dozen good ideas and we're rolling them out in 2015," says Weissbluth. He and Robbins first talked in Spring 2013. "Tony was one of those amazing delightful surprises where we said, 'Holy Moly this is exactly what we'd hoped for in a partner and it's been a whirlwind.'"
HighTower had more than $15 billion in assets according to its most recent ADV in October 2012, but the firm's assets have now doubled to $30 billion, Weissbluth says. The firm had 10 new teams join this year.
MRIs for financial planning
If all this is ringing a bell, it should. In the financial world, the platform bears more than a passing resemblance to the kind of service performed by BrightScope, Inc. on 401(k) plans.
"Certainly, companies like BrightScope have been able to generate a lot of visibility by providing transparency on their website about the costs of 401(k) plans, says Mike Kitces, a partner at Pinnacle Advisor Solutions in Columbia, Md. "So perhaps Elliott and Tony will be able to accomplish something similar with their online tool,"
But Kitces adds a caveat: "It will really depend on exactly what is implemented; after all, consumers can look up this information online now. Just type a ticker symbol into Google and it's easy to get information on costs. So it's not clear whether and how their site will differ from information that's already publicly available." See: 401(k) industry flummoxed over Yale professor's 6,000 'threatening' letters to plan sponsors.

Elliot Weissbluth: Robos are clearly on
to something.
Not Ron Carson
Robbins also intends to give speeches to advisors including his upcoming speech in Las Vegas at the MarketCounsel conference. Robbins is passionate about helping RIAs, he says.
"I'm going to work with advisors to help them grow their businessess."
But it is not as if the RIA business doesn't have some premier coaches that Robbins will compete against if he continues to have designs on bringing his brand of training and motivational talks to financial advisors — for instance John Bowen and Ron Carson.
Where Carson, who heads up Carson Wealth Management, Peak Advisor Alliance and Carson Institutional Alliance from Omaha, Neb., has the edge is with the experience and trust he has with fellow RIAs — something that will outlive initial the excitement of Robbins' exotic appearance on the scene, according to Marie Swift, principal of Impact Communications. Swift has Carson as one of her clients.
"Tony Robbins might show up as an exciting speaker at a few industry events, and garner some positive attention from investors who read his book, but ultimately advisors will still keep turning to one of their own for motivation and advice. Someone like Ron Carson, an industry thought leader with extensive experience and tremendous success," Swift wrote in an e-mail.
Motivator du jour
Swift questions whether Robbins has staying power for RIAs in the industry.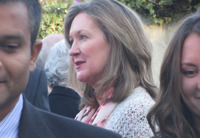 Marie Swift: Ultimately advisors will still
keep turning to one of their
own for motivation and advice —
someone like Ron Carson.
"Tony's a straight-shooter. He'll pique interest as someone who certainly gets fired-up about a topic. But Ron Carson has been fired-up about helping clients and motivating advisors for three decades. Financial planning may be Tony's hot topic of the year, but how long before he latches on to something else as a way to diversify his empire? Ron will still be in this space pushing this industry to be and do better for consumers." See: Why exactly is Ron Carson forming an RIA and why is it happening now?.
Swift, like others in the industry, is eager to learn more about Weissbluth and Robbins' partnership, which will likely expand beyond the technology piece.
Retail firm in the offing?
"Robbins and Weissbluth make an attractive pair and I am sure they will turn heads when whatever they are cooking up is revealed in 2015. And we can always use another big name and trusted persona such as Tony Robbins carrying the fiduciary flag," Swift says
It's still uncertain what other types of products and services Robbins and Weissbluth will unveil in the coming months but Swift wouldn't be surprised if Weissbluth and Robbins decide to roll out a retail advisory firm.
"If Robbins and Weissbluth roll a retail financial advisory firm at some point, I could see them competing with the Ken Fishers and the Ric Edelmans of the world — and some independent advisors may ultimately join an RIA formation with big names like this behind it," Swift says.
"But many of the more stable advisors I know will simply stick to their knitting, building good companies and serving their clients the best way according to their own philosophies. The Ron Carsons and Peter Mallouks and Marty Bicknells of the world have already built successful RIAs — they are not likely to change their stripes now. And there are other good national RIAs if smaller advisory firms determine it is time for them to roll up into or affiliate with a larger brand." See: Ken Fisher keeps expanding his $42 billion RIA empire despite UHNW head winds.
Listening tour
Robbins spent four years researching his book and interviewing industry leaders such as Carl Icahn, T. Boone Pickens, Charles Schwab, Ray Dalio, David Swensen and Jack Bogle. Robbins says he's earned the equivalent of a master's degree of sorts in the advisory business.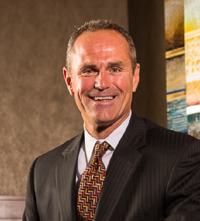 Ron Carson doesn't plan to roll
over for Tony Robbins.
Given Robbins' outsized personality, it was a surprise that the motivational speaker also had listening skills, according to Bogle, founder of The Vanguard Group Inc. See: John Bogle tells the Morningstar crowd just why Vanguard Group has a 'problem' — and it starts with his dogged criticism.
"Tony Robbins dropped by my office for a 40-minute interview appointment that lasted four hours," Bogle wrote in a blurb for the book. "It was the most provocative, probing interview of my long career."
Helping the regular Joes
The initial launch of the product slated for sometime in 2015, was funded mostly by Robbins and will be released as a standalone tool not under the Robbins or HighTower brand. The goal is to reach a broader market than the high-net-worth clients that HighTower currently serves. See: How a young, new HighTower recruit built his business to $1 billion in assets with just 30 clients.
The tool will most likely appeal to the vast majority of Americans who have less than $25,000 in assets, Robbins says.
"If someone says, wow, this is good I want to do business with HighTower than more power to them," Robbins says. "What if someone evaluates and finds out their costs are incredibly high. Maybe they want to look for an independent advisor."
On a mission
Robbins says when he learned about HighTower he was impressed, but he realized the firm focuses mostly on high-net-worth clients, and it was his goal to challenge Weissbluth to create something that would benefit the mass-market investor as opposed to HighTower's ideal client.
Most advisors have minimum asset requirements that range from the hundreds of thousands to the millions of dollars.
"When Tony reached out to me, this was the perfect fit. We've got a strong advocate …. It's been the mission we've been on for seven years," Weissbluth says to explain the true costs of brokers to investors. See: HighTower throws open its doors to non-partner firms who want service and/or brand.
Robbins is convinced that HighTower makes rich people get richer better than most.
"People in Elliott and Hightower's network grow faster," Robbins says.
The Robbins book is out in hardback and costs $28.
Can't catch everything
Even though, Robbins and Weissbluth are high on the possible fruits of collaboration, they remain realistic.
"Honestly, we can't do everything. We need to start the conversation. Now, people are starting to ask questions and new questions lead to new answers," Robbins says. "Elliott and I don't have delusions that we'll single-handedly change all of this, but we know we'll get some cracks in it."
---
---
Mentioned in this article:
---
---
---
Maria Marsala
November 28, 2014 — 3:47 AM
This, IMO, is just want the industry needs — an infusion of a well-respected thought leader. Even if what they're doing doesn't succeed (and "Tony usually has A, B, C and D plans for each venture) what he brings to the future of the industry, will be priceless.
Jeff Spears
November 25, 2014 — 9:46 PM
Don't underestimate Tony Robbins. He is a proven winner. His insights into the wealth management industry are damning and should be adopted by independent advisors as they compete against Wall Street.
My only concern is that Tony and Elliott fall into the conflicted solution of the leading "coaches" in the RIA business.
Hope to finish Ton's book over the break.