Michael P. Kelly was incensed at the letter's stark language and the fact it had already been sent to clients.
Brooke's Note: The relationship between RIAs and their custodians contains a peculiar mix of mutual trust and mission-critical symbiosis between large and small firms. It is amazing to think that Fidelity, TD Ameritrade and Schwab have staked their futures on companies that they have virtually no control over. Conversely — irony alert! — so many advisor-entrepreneurs are willing to build a business that involves partnering with a big corporation of the variety they shunned to become an RIA in the first place. But for the most part the RIA-custodian coupling has proved a fine match — a beautiful division of labor and a judicious mix of buttoned-down culture and the caring humanity of the striving small businessman. But it doesn't work in every case. While the bigger RIAs tend see eye to eye with their custodians, smaller RIAs and mammoth custodians have a wider cultural divide to span. This article is about such a match gone sour indeed. Finding closure is proving elusive for both sides.
Brooke's Extra Note: The Schwab PR team supplied a more detailed account of its legal interactions with Michael Kelly late Friday morning. Some of the information is newsworthy and we will write a follow-up story to give the reader a larger understanding of this case.
After being dropped by The Charles Schwab Corp. for what unfolded after allegedly forging a client's signature, Michael P. Kelly has waged a three-year battle to restore his own reputation and that of Airgead Clann LLC (Gaelic for "money family"), a small $18 million RIA in Thousand Oaks, Calif. During that time, the fight has become larger, and stranger and more personal than anyone could have expected. Private investigators have been hired by both sides, restraining orders have been filed, police have been summoned and one brazen RIA impersonator might have just broken the case wide open.
Now, to challenge a recent decision in favor of Schwab by the American Arbitration Association, Kelly has filed an appeal with California's 2nd District Court of Appeals to prevent this loss from becoming final.
Kelly alleges in this appeal that Bernie Clark, executive vice-president and head of Schwab Advisor Services, perjured himself in a January deposition when he claimed Schwab doesn't consider the size of advisors when judging whether or not to terminate its relationship with them. The hearing on the arbitration confirmation and other motions in the case — including one initiated by Schwab to seal the case's documents — is set for Dec. 15.
Schwab's approach to the case is not to play it softly. See: Schwab seek jail time for principal of RIA it fired
Penalized for staying small?
Kelly wants the court to acknowledge the likelihood that Schwab does indeed target its smaller, less profitable advisors for termination. This could send the case back to arbitration yet again but with new momentum on his side. To that end, Kelly has directed a wide-scale investigation to prove his point.
RIA custodians and wirehouses — and, to a lesser extent, independent broker-dealers — have long given confusing signals to advisors with less than $20 million of advised assets, tending to court them aggressively but then seeking a break-up if the small RIA stays small. Sometimes they get laid off, as was the case with Merrill Lynch cutting many of its smaller advisors in the wake of the 2008-'09 market correction. See: After Merrill Lynch allegedly 'crippled' their careers, two advisors are prepping a big counterstroke, lawyer says.
Custodians typically send the message more subtly by lessening the quality of the service or imposing fees that larger RIAs don't pay. See: Fidelity's annual $10,000 custody fee will attach to a wider swath of small RIAs.
But Schwab has a track record of serving small RIAs. Indeed, more than half of the 7,000 firms that custody at Schwab have less than $50 million in assets and the firm has a call center geared to their needs. See: Schwab Advisor Services is nearing $800 billion of RIA assets but analysts are split over whether it can continue to dominate.
And while other custodians are imposing minimum fees on small advisors, Schwab has gone the other direction. In 2013, it eliminated a quarterly service fee for advisors with less than $10 million in assets under management. Annually, 200 firms with less than $50 million of AUM join the Schwab platform, according to a spokesman.
In a response to a query from RIABiz, Schwab strenuously denies wrongdoing.
"The claims you describe below that Mr. Kelly is making in his appeal are completely baseless and have already been rejected twice, once in arbitration and then again in court," wrote a spokesman for the San Francisco company. Schwab ignored requests for comment from Clark.
A question of perjury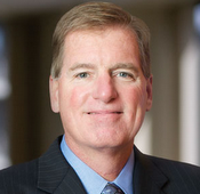 Bernie Clark: If I were to
consider any economic value of the
relationship in that decision, I would
be at fault. I do not
do that. And I am the
final signer.
Kelly has fought an uphill battle from the beginning. Schwab legal arguments have carried the day so far. "Schwab is probably the most aggressive firm on the Street," says Thomas B. Lewis, a partner at New York-based Stevens & Lee, who specializes in employment litigation in the financial services industry. See: How Schwab failed to block one broker's breakaway and what the legal battle may mean for the future.
And Schwab might also have an implicit advantage in this particular motion. In this case, Kelly must prove that Clark knew for certain that Schwab discriminated against small advisors.
"Perjury is very difficult to prove," Lewis says.
If Kelly's motion succeeds, Clark could possibly be made subject to a criminal investigation. But based on Clark's deposition taken for the AAA arbitration, the charge of perjury looks like it might be tough to definitively pin on him. Clark claims he never attended the weekly meetings in which termination recommendations were made. During a deposition, when Kelly asked Clark if he had reviewed these recommendations, Clark said simply, "I approve them."
If Kelly were to win anything, Lewis says, it is more likely the California Court of Appeal for the Second District will refer the case back to arbitration along with an opinion stating the court didn't find Clark's testimony to be credible. This middle ground, requiring a lower burden of proof, would still recognize the validity of Kelly's research. See: Can David Still Sue Goliath
No joke
Airgead Clann LLC began its life as Michael P. Kelly CPA and incorporated as a separate entity in 2010. It has used Schwab as a custodian since that time. "We are an independent registered investment adviser with separately managed accounts utilizing an active management strategy," Airgead Clann's website reads. It currently has five employees, including Kelly.

Thomas Lewis: Schwab is probably the
most aggressive firm on the Street.

The controversy kicked into high gear on Oct. 20, 2011 when Kelly received a call on his cell phone from a Schwab representative named Arden MIller. Miller, an associate general counsel at Schwab who said he was terminating Airgead Clann's investment manager services agreement.
At first, Kelly thought it was a prank. Confident of his immaculate compliance record, he laughed as Miller read through a termination statement.
Kelly's good humor vanished, however, when he arrived at his office and found a letter of termination had just been faxed to him, as well as a copy of a letter that was being sent to all of his clients. The first paragraph of this client letter read:
"We are writing to inform you that effective January 3, 2012, we are terminating the Investment Manager Service Agreement (IMSA) between Airgead Clann LLC and Charles Schwab & Co. Effective with this termination, Schwab will no longer honor any authorizations held by Airgead Clann LLC, and its principals, employees and agents with respect your [sic] Schwab account identified above."
Kelly was incensed at the letter's stark language and the fact it had already been sent to clients. He called his lawyer soon after and began to mount a counter-attack. See: RIA loses $10 million case against Raymond James the old-fashioned way.
'Chicken-scratch' signature
Over a three-year period beginning Jan. 28, 2011, Schwab terminated 119 advisors: 35 in 2011, 38 in 2012, 45 in 2013, and one in January 2014., according to information Kelly was provided in discovery and now part of his appeal. Though Schwab doesn't customarily give advisors the reason they've been terminated, Kelly was able to learn from Schwab via his initial FINRA appeal that the custodian had severed ties because of a compliance issue — namely, an alleged instance of him impersonating one of his clients over the phone.
Kelly maintains his innocence and says to a reporter that this was a misunderstanding.
Kelly offers this scenario as his version of events: A friend and client of his, John Colt, had a recurring automated clearing house transfer of funds from his trading account to his checking account. When the trading account ran out of funds, Colt signed a document so that the same amount would be transferred into the same checking account, but this time from his IRA account.
Unfortunately, Colt was in the late stages of terminal cancer. He was weak from chemotherapy when he authorized this new transfer of funds and Kelly says his signature looked like "chicken scratch."
Schwab's compliance department noticed the unorthodox-looking signature and called Airgead Clann. The RIA decided to organize a conference call between Schwab, Kelly, and Colt so that Colt could verify that it was indeed his signature on the authorization.
But Kelly says that Colt was disconnected from the conference call. Kelly says he explicitly told Schwab he was not John Colt and explained the disconnection. Colt later called Schwab back and confirmed over the phone that it was indeed his signature. On July 17, 2012, Airgead Clann posted a video interview between Kelly and John Colt that supports this version of events. Colt has since died.
Kelly alleges Schwab used this disconnection hiccup to justify its suspicion that he impersonated Colt. Schwab terminated Airgead Clann's service agreement three months later.
Fallout
Kelly says the termination letter alarmed his thirty clients.
"They were shocked, scared, and hurt," he says. Many wondered whether their assets were safe and if they could still trust Kelly after receiving the communication from Schwab. To some clients, Schwab's letter suggested a vote of no confidence. Airgead Clann lost its biggest client, an account worth $4 million — or about 30% of its AUM at the time — a short time later. Kelly also had three potential new clients decline to deposit money into already opened accounts and take their business elsewhere, he adds.
Three other advisors terminated by Schwab told RIABiz they went through a similar ordeal. The consensus among them is that they would have been perfectly fine had Schwab decided to terminate their services strictly for business reasons. They would have been disappointed, these advisors said, but understanding. But Schwab, they say, went the route of alleging a trumped-up or nonexistent compliance issues, sending clients a letter that implies impropriety and inflexibility.
The experience left a bad taste in their mouths.
"Schwab didn't have to be that nasty," says one terminated RIA, "it was totally unnecessary."
'Blessing in disguise'
Kelly says one bright spot in this dismal affair is that he's found another custodian that he likes better. Since his termination by Schwab, Kelly has been a client of Trade-PMR Inc., a Jacksonville, Fla.-based custodian, and has been happy with its service. See: Trade-PMR is elbowing its way into the RIA custody market with cheap software and expensive advertising slots.
"It was a blessing in disguise," says another small advisor terminated by Schwab in 2013 who requested anonymity. This advisor also switched to Trade-PMR and found the level of service for small advisors to be better than it was at Schwab. See: The emerging asset custodians rake in small RIAs.
In fact, a handful of custodians have been born from smaller RIAs seeking a place that specializes in clients of their size: Trade-PMR, Scottrade Advisor Services, a division of Scottrade, Inc. of St. Louis and "Shareholders Service Group Inc.:"https://riabiz.com/d/shareholders-service-group-inc of San Diego.
But in a sign of how difficult the economics of serving small RIAs can be, Scottrade recently made pricing changes to discourage smaller RIAs. See: After cutting loose its RIA chief, Scottrade is culling some RIAs and imposing an 'unpublished' $12,000 fee on others.
Seeking allies
About three months after his termination, Kelly filed a claim with Washington, D.C.-based Financial Industry Regulatory Authority Inc. a self-regulatory organization, seeking restitution for lost revenue. A year of sparring with Schwab convinced Kelly to reduce his claims but resolved nothing between the two parties. FINRA ultimately denied use of its forum to hear the matter. In August of 2013, California Superior Court of Ventura County ordered the two sides to another arbitration, this time in front of the American Arbitration Association. To help strengthen his case against Schwab, Kelly set out to try to find other advisors who got the same treatment. When he posted his story on his website, calls began to trickle in from around the country.
Kelly also took a more proactive approach, perusing SEC's Investment Advisor Registration Depository (IARD) — all 11,000 entries — in an attempt to match its RIAs with a redacted list of terminated advisors Schwab provided him via discovery. It was a mammoth task and frustrated even Kelly's stubbornness. He gave up before he finished the C's, but not before finding a few more advisors in the same boat.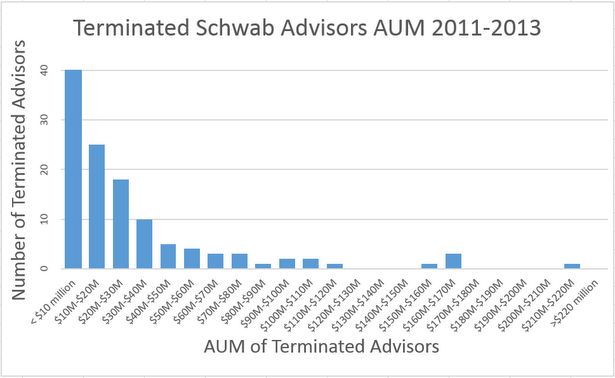 Terminated Schwab advisors' AUM
60 days to switch
One of those was Tony Orphanos, the sole employee of New York-based Blacksmith Advisors LLC with $22 million in AUM. Orphanos has worked in the wealth management business for 45 years and had a relationship with Schwab Advisor Services that stretched back more than two decades.
In Orphanos's opinion, Schwab's institutional service teams are head-and-shoulders above the competition, and its technology is best in class as well. His evangelism for Schwab's services wasn't confined to lip service either: Over his peripatetic career in wealth management Orphanos estimates he personally influenced the migration of over a billion dollars worth of assets to Schwab's custody.
His personal book of business, including about $22 million of his friends, neighbors, and family's money, was spun out of his most recent employer, New York-based Carrett Asset Management LLC in January 2012. On Nov. 7 of that year Orphanos got a phone call from Arden Miller.
Orphanos was shocked when Miller told him Schwab was terminating his IMSA. Miller refused to answer questions until he had finished reading a prepared statement, and then claimed he was unable to answer why Blacksmith Advisors was being terminated. Arden Miller and Schwab gave Orphanos a deadline of sixty days to migrate all of his clients to another custodian.
"It was a nightmare to organize," says Orphanos, who pleaded with Schwab for an extension as he set-up meetings with his clients over the winter holiday season. He wanted to meet each of his 77 clients face-to-face to reassure them that their money was safe in light of the cryptic, sinister letter from Schwab each had received.
Schwab refused to give Blacksmith Advisors an extra 30 days as Orphanos shifted assets to Millennium Trust Co., an independent custodian based in Oak Brook, Ill. See: After a wait, Schwab has a program for alternative assets.
Penny dreadful
Orphanos didn't know why he had been terminated until Kelly called him out of the blue. With his list from Schwab, Kelly was able to tell Orphanos that the internal reason given at the custodian was "penny stock concentration."
For years, Orphanos had been buying an obscure bulletin-board stock for his clients that traded below $5. By the time he had spun his advisory business out of Carrett, that stock accounted for about 10% of his clients' positions. When Oprhanos worked at Austin Investment Management Inc. in the mid-2000s, the company's compliance team had requested a signed letter from all of his clients acknowledging that they were aware of the risks and potential conflict of interest. After Austin was bought by Beck, Mack & Oliver LLC in 2009 and Orphanos moved to Carrett he had to repeat this process with all his clients.
Orphanos stuck with Schwab Advisor Services across all his transitions. He says the most Schwab did to check Orphanos' client exposure to the low-priced, illiquid stock was to prevent him from investing in private placements of the company's stock. This restriction had a simple, obvious workaround: Schwab still allowed Orphanos' clients to transfer money out of their accounts, buy the shares privately, and then transfer them back into their Orphanos-managed accounts — which they did.
According to Orphanos, Schwab never uttered a word of protest against his concentration in a small, low-priced stock when his portfolio was embedded in a $350 million account at Austin or when it was in the $2 billion managed at Carrett. After all, it was the only position in his portfolio that wasn't listed on the NYSE or NASDAQ, was never traded, and his clients had twice affirmed their knowledge and support for it. Schwab's compliance department only raised red flags when Orphanos opened his own one-man, $22 million shop. At this point it became a violation flagrant enough for instant termination.
Proof is out there
As he contacted more and more terminated advisors, Kelly became convinced Schwab's compliance department was systemically discriminating against smaller RIAs. He thought the proof was out there and could be uncovered — if he just dug a little deeper.
He did. That's when things turned vicious.
Watch for part 2 of this article.
---
Related Moves
December 10, 2019 – 2:05 AM
---
---
Mentioned in this article:
TradePMR
Asset Custodian
Top Executive: Robb Baldwin
---
---
---
Mister RIA
November 21, 2014 — 8:34 PM
I still fail to see why any RIA does business with Schwab when they are so openly hostile to us. They openly compete with is and treat folks like this with aggressive disregard for their reputation… collegues there are other fine custodians who are much more aligned with us. Make Schwab feel in the wallet.
Craig Morningstar
November 22, 2014 — 12:39 AM
To Advisors with $10 to $50 mil in AUM:
Going solo can be done. While it can and has been done by many, why put your practice, business and livelihood at risk with disadvantages of compliance, technology, experience, staff and much more, with no leverage.
With a clean compliance record, a good practice, and other positive attributes you are probably a great fit for Dynamic Wealth Advisors. Look us up and call us to learn more. You'll be glad you did.
Richard
November 21, 2014 — 5:49 PM
Keep up the good fight against these bullies Michael Kelly. I will say a prayer for you!