News, Vision & Voice for the Advisory Community
The giant IBD showed its RIA side and its ability to oversee the launching of an OSJ model
November 19, 2014 — 10:48 PM by Lisa Shidler
Brooke's Note: One thing that the LPL brand screams is that it is not a consumer brand. Not at all. Its wonky trifecta of letters is perfectly fine if you are an RIA or rep seeking to have your business supported so that you can sell your own brand to the end consumer. LPL is never more of a B-to-B firm than when it is supporting OSJs, which in turn support IARs. And its value proposition has never seemed stronger or more sought after than when it plays this very pure B-to-B role.
Word gets around.
Or in this case, an acronym — OSJ for offices of supervisory jurisdiction — involving a limited number of franchise-like opportunities that LPL Financial grants to big, capable financial advisory practices that want to move beyond a few advisors handling a few hundred clients.
LPL's OSJ model allows principals to accommodate hundreds of advisors handling ten of thousands of clients across a wide geographical swath. See: How a hybrid RIA with nearly $2 billion in assets claimed a 10,000 square-foot Smith Barney redoubt.
Big dreams
With such an opportunity involving a stretch of the Gulf Coast including New Orleans, Goss Wealth Management, which advised $530 million in assets, has dumped Wells Fargo's FiNet fearing that firm could not support its ambitious aims.
LPL, the nation's largest independent broker-dealer based in Boston, Charlotte, N.C. and San Diego now has 40 very large enterprises, or OSJs, which are advisory firms that recruit wirehouse advisors and provide compliance and back-office support for the advisors. LPL's OSJs typically have about $500 million in assets or more and set up their own RIA while also using LPL for their custody and clearing. See: Amping up recruiting efforts, giant LPL firm grew its revenue by 300% in 2011.
Initially wary that such OSJs would compete a little too well, LPL now seems to have fully embraced these OSJs. See: LPL reaches hard-won agreement to rein in bonuses to big advisors that had proved to be overly generous.
Baton Rouge, La.-based Goss Wealth Management consists of a father-son team. Jerry, 65, has been in the industry for 33 years and his son Alex, 31, joined his dad six years ago. The firm's RIA $295 million fee-based assets and the rest will be commission-based. They are expecting to move over about 96% to 98% of the $530 million in assets.
The team joined LPL in the summer and they're planning to start recruiting new advisors in January. Including Jerry and Alex, there are four advisors on the team.
The hybrid thing
Alex Goss says he and his dad wanted to set up their own RIA, but were not able to do that at FiNet. An industry source says advisors it is possible to set up a hybrid RIA at FiNet.
But FiNet spokespeople would neither confirm nor deny that RIAs can be set up by FiNet reps, speaking to a general muddiness on the mattter that recruitersc an attest to, says Ryan Shanks, chief executive of Finetooth Consulting.
"There's a lot of uncertainty around FiNet and the whole hybrid thing there. They've got a lot of different channels and if you look at what is emerging in the industry, it is the advisor who wants to establish an RIA and have brokerage component and I don't think Wells Fargo has done a really good job of making both the RIA and brokerage fluid. There's been turnover there and I'm not sure what's going on over there," Shanks says. See: What swayed me to the hybrid cause after an early indoctrination as a 'pure RIA' disciple.
FiNet sources have said in the past that FiNet is the fastest growing division for all of Wells Fargo. A spokesperon with FiNet declined to comment for this story. See: FiNet's wirehouse-lite model scores with advisors.
Singular relation
FiNet's gray area in the RIA arena coupled with LPL's robust marketing machine regarding its RIA efforts makes it sensible that LPL could win a big team like Goss,
"It's like a growth factory at LPL. I think LPL has done a good job of saying we have it all in one place" as concerns support for RIA, brokers, compliance and scale, Shanks says. "There are a lot of advisors who want to jump over the fence but they won't because they don't want to build it themselves. LPL has a real fluid plug-and-play platform." See: Why exactly LPL Financial nixed NestWise and how OSJs, once again, may be wagging the big dog.
That platform is proving a considerable threat to other hybrid-equipped firms.
"The thing about LPL is they're trying to make strides that they're a custody platform where you can plug in and function in both worlds — fee and commission — with one singular relationship. Some advisors say it simplifies their life and why wouldn't you do that other than have two separate organizations," Shanks says.
Panhandle promise
Alex Goss said the team was happy at FiNet but that the broker-dealer was non-responsive on the RIA issue.
"That got us thinking about the opportunity in that space," he says. "That's when we started looking around at where we could best set up a OSJ. We really felt LPL's offering was best — from top of the line technology and also from an RIA standpoint. LPL, the custodian, will help us with compliance and that was where we wanted to be and we've been pretty happy here." See: LPL Financial gets beyond the halfway-house model to compete with Schwab, Fidelity for advisors that are wholly RIAs.
Given the success at LPL of the OSJ model, Alex Goss felt it was best to go a place where he could learn from the best OSJs.
"I think LPL is the best place to do that. It has really refined that model. We're excited about it especially. Our plan is to grow through the Gulf and Panhandle area and we've seen the flourishing OSJ model throughout the country. There's a void here and we want to be the first to market in this region. We aren't trying to recreate the wheel but recreate the best of the OSJs. We spent two years doing our due diligence to take the best of all practices. Being first to market here makes us a differentiator."
Payout doubt
Goss declined to reveal his payout, saying only that it is competitive. See: LPL reaches hard-won agreement to rein in bonuses to big advisors that had proved to be overly generous.
"We feel the payout we can offer is as competitive if not more competitive as any wirehouse for sure," Goss says. "We spent a long time looking for the right model probably 4 1/2 to 5 years.
Shanks says in these instances the payout can be 92 to 94% but sometimes smaller advivsors joining a giant group may have a smaller payout until they build their book.
In these kinds of instances, it is typical for the recruiting firm to entice advisors with large bonuses. In this case, an LPL spokesman declined to provide any signing bonus information for competitive reasons. "Transition expenses paid by LPL Financial went to reimburse the advisors on a "dollar-for-dollar basis for routine costs incurred in connection with the transition," he added.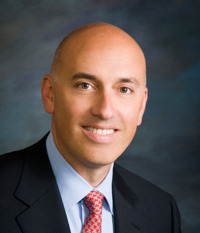 Steve Pirigyi: We're one of only
a few firms that can accommodate
large enterprises of that size.
Medium to large
Steve Pirigyi, executive vice president of business development at LPL Financial, says his firm is welcoming these large firms.
"LPL truly embraces the relationship we have with large enterprises. We're one of only a few firms that can accommodate large enterprises of that size. We've proven time and time again that we've taken medium-sized enterprises and formed relationships with them and helped them turn into larger firms."
Alex Goss says his firm is calling its model "wirehouse lite." See: LPL adds a $1-billion firm with a family-office mindset and CPA rep base to its growing list of OSJs.
"We're trying to appeal to wirehouse advisors and we're trying to re-create the best of both worlds. Being at a wirehouse, there are benefit of the back-office support having everything pre-loaded with office space, phones and payroll and not having to worry about any of that," Goss says.
"Our goal is to make the move for advisors so that it is no different than moving to another wirehouse," Goss says. "Except, they'll own 100% of the business. We want people to do holistic planning and getting to know clients and have a good type of record with no U-4 issues." See: 7 reasons why wirehouses shouldn't milk the old business model.
---
Related Moves

Lou Camacho will pursue goal of $600 million a quarter in new assets on behalf of OSJ that wants much more inorganic growth
October 5, 2018 — 7:40 PM
---
---
Mentioned in this article:
FA Match
Consulting Firm, Specialized Breakaway Service, Recruiter
Top Executive: Ryan Shanks
---
---
Share your thoughts and opinions with the author or other readers.
Joe Anthony, Gregory FCA said:
November 20, 2014 — 3:11 AM
For this "wirehouse lite" concept to pay dividends the advisors/brokers being recruited have to see the marketing, PR and brand support. It may sound self-serving coming from my perspective as a PR and marketing exec, but the reality is that there has to be a plan to help facilitate growth for the on-boarded recruits as well as the OSJ advisors. LPL touts the 100% equity, but building equity in the newly formed RIA requires institutionalizing that brand and generating growth.
---
---