Kevin Cimring: RIAs love that we are integrated with CRM tools such as Salesforce. We also have a Redtail integration in the works.
Brooke's Note: There is no marketing like technology marketing. Marketing itself employs a language of vapid, worn-out words where everyone is either thrilled or excited. Technology-speak is actually even worse (everything is either a solution or a platform and it's all very unique, robust and disruptive.) Combine the two verbal Saharas and you might as well be attending a conference where they speak Farsi. But Tim Welsh is a veteran of all this inanity and knows farces, if not Farsi, and he came away with some intelligible, even substantive, thoughts from this T3 event. Jemstep folks, visitors from planet robo, spoke some plain English that went over well and is captured here.
Joel Bruckenstein's RIA technology knowledge of software is maximal but his penchant for hyperbole is just north of the minimum requirements in a polite, promotional society. The producer of the T3 series of conferences and publisher of its newsletters is not shy about giving credit where due — even at the risk of offending legacy software makers.
"Robo-advisors are at an inflection point in the industry, bigger perhaps since the advent of the spreadsheet or the emergence of the discount broker," he told 300 technology executives, RIA principals and independent broker-dealers at the second annual Technology Tools for Today (T3) Enterprise conference held earlier this week in downtown Atlanta.
"This technology is here to stay and as a result the industry needs to up its client-experience game" See: How RIAs can compete with super-RIAs, robo-RIAs and the 'phono'- and faux-RIA market of 2015 and beyond.
All the rage
Bruckenstein's comments come, of course, a week after Schwab's Great Awakening (or, depending on how you look at it, Big Blink) on this topic trumpeted at its IMPACT conference in Denver last week.
They also come soon after Fidelity announced its collaboration with auto-advisor Betterment Inc. and just months after software provider Upside Financial LLC's uptown deal with Barry Ritholtz and Downtown Josh Brown.
Even media magnate and former New York City mayor Michael Bloomberg felt the need to reference robos, albeit more obliquely, at this week's SIFMA conference. See: Michael Bloomberg steals the SIFMA NYC show by putting his finger on a great robo shortcoming.
On auto-drive
As the only robo-RIA at the T3 conference, Jemstep Inc., founded in 2008 and backed by $15 million in capital, basked in the praise for the automated advice model, much as robo-broker Motif Investing Inc. did at the NAPFA conference a few weeks ago. Los Altos, Calif.-based Jemstep is aligning itself firmly to RIAs and RIA custodians. All its assets are gathered through RIAs and its custodian, exclusively for now, is TD Ameritrade Institutional.
Many robo-advisors are using a more scattershot approach to pursuing wealth through advisors and directly to investors and practicing something that more closely resembles self-custody (San Francisco-based FutureAdvisor is an exception and will manage funds at an existing custodian). See: Thoughts on 'robo-advisors' served cold, compliments of Kitces and Waymire.
Richards showcased how advisors can use their investment models, their strategies, their choice of investments combined with a modern web design branded under Jemstep's logo to engage prospects online.
"While technology can help, this will always be a relationship business," said Richards. "That is why we are focusing on the advisor channel."
Open sez me
Richards went on to show how prospects can link their accounts from 17,000 financial institutions, generate a quick retirement projection, calculate performance and fees and then decide if they want to open an account.
But what really made advisor eyes pop was the account-opening process. Instead of 14 forms and 14 signatures, it is fully automated, paperless and self-service, using e-signatures through TD Ameritrade. This means an account can be brought over without any ACAT bureaucracy and confusing forms. See: RIAs in the catbird seat to leverage straight through processing in 2012.
The technology sets up the possibility of the asset-gathering equivalent of pennies from heaven rather than ones dredged up from seat cushions.
"What if you could wake up each morning and check your CRM to find that you had a new client?" Richards queried the rapt room. "Financial services will always be relationship-based. What we are doing is changing the way those relationships start and are nurtured. This is just a new way to start that process and develop trust."
Richards was preaching to an appreciative choir led by Bruckenstein as choirmaster.
"While I am extremely bullish about the future of the industry, whenever there is a change of this magnitude, there are winners and there are losers," Bruckenstein said. "For the first time, the broker-dealer community is finally waking up to the disruption that the robos are bringing."
New gold standards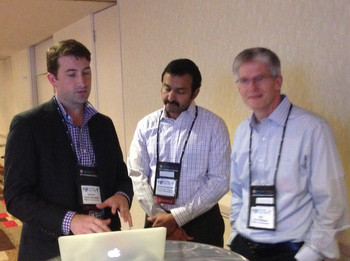 David Benskin demos Wealth Access to
Fidelity execs.
Meanwhile, Bruckenstein is doing a bit of his own disrupting. T3 Enterprise is an expansion of the traditional T3 advisor technology confabs aimed at the larger enterprises that need a broader set of technology tools to support multiple advisors. Bruckenstein produces the conferences along with his T3 co-founder David Drucker and with an assist from Bill Winterberg. See: The top 10 people to watch in the RIA business in 2012, Part 2.
This theme of bringing automation to a creaky old industry that has resisted technology played out over two days at the Atlanta Hilton hotel. Forty-five technology vendors hawked their wares, spoke in breakout sessions and provided demonstrations on a broad range of technology issues.
The client experience — consistently framed with robos as a new gold standard — was a big theme at the conference. Multiple vendors talked about how technology will continue to play a large role in how investors, particularly the next generation of investors, interact with their financial services providers.
Wealth Access Inc, a Nashville-based high-net-worth version of Mint.com for advisors, demonstrated its new platform, which offers multi-generational wealth views optimized for all mobile devices, and which now has data mining abilities, business intelligence and a fully customizable client portal.
Swan dives
Continuing this theme was Oleg Tishkevich, head of Finance Logix. Tishkevich, long known as a leading innovator in financial planning software, demonstrated his firm's new retirement platform.
"This application is aimed at the new financial advisor or broker looking to move into offering more planning advice and guidance," Tishkevich said as he demonstrated how quickly a retirement plan can be developed along with an automated, paperless account opening via a tablet device. See: Oleg Tishkevich lets loose a de facto RIA future-shock think tank in Vegas.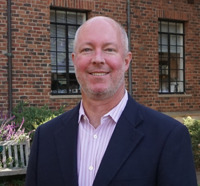 Tim Welsh cut through the blizzard
of marketing to make sense of
the important T3 event and write
this article.
"In the next few years there will be hundreds of robos and will make us all think about technology and the client experience more," he said. "I believe that they have shook the industry and advisors will need to offer more service and better differentiate themselves through financial planning."
Other vendors in on the client-facing technology game included Advent Software Black Diamond with its shiny, new and fully integrated client portal.
When the market breaks
Two other themes ran through the T3 Enterprise conference: risk management and big data. Multiple vendors were focused on providing "stress testing" applications to help clients and advisors understand what could happen to portfolios under various market and economic scenarios. Firms such as RIXtrema Inc., Hidden Levers, and PrairieSmarts LLC all hammered attendees with their ability to model black swan events and prepare advisors to take quick action when market breaks strike. See: Why the Yale endowment model has potentially calamitous pitfalls according to … Yale itself.
"You don't want to be talking about risk after a market crash," said Bruckenstein as he emphasized the importance of this emerging category of technology with markets continuing to hit historical highs.
Eyes on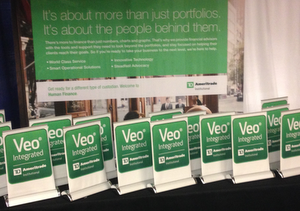 Veo Open Access signage took up
just about an entire exhibit hall
wall.
On the big data front, a broker-dealer executive, in an ironic twist, commented that they were using big data to spy on their advisors and better identify which ones were at risk of breaking away.
"We can see when they switch to fees, how they realign portfolios and other behaviors to spot those most likely to go independent RIA and try and intercept them," said one broker-dealer CTO off the record.
The big custodians were also in attendance, including Fidelity, TD Ameritrade and Pershing. Notably absent was Schwab Advisor Services, its folks likely still on sensory overload after the firm's massive IMPACT party and conference the week before. See: A charged-up Walt Bettinger slams all non-Schwab robos at IMPACT 2014 with an energy appreciated by RIAs.
TD Ameritrade's tech-meisters John Patullo and Marcel Tsai proudly displayed their Veo Open Access signage that took up just about an entire exhibit hall wall representing the many vendors that are part of TDA's Veo integration program. Fidelity and its tech leader Ed 'O'Brien brought their usual large display and army of technologists to the party, while Pershing Advisor Solutions Patrick Yip held forth on technology issues, most notably on what specifically technology could solve for advisors. See: TD Ameritrade's technology, Veo, wins high praise from advisors so RIABiz took a look.
Robo panic?
Jemstep chief executive Kevin Cimring summed up the robo-movement and the sense of urgency that surrounds it in an interview:
"Everyone is worried the robos have finally cracked the code. Advisors are concerned that if they don't act quickly they could be losing the emerging generation of assets and wealth transfer. That set the tone for much of the conference from our perspective — the urgency amongst advisors is palpable. They want a robo solution and they want it quickly. Advisors are frantically evaluating the landscape on their own but are also looking to their custodians for guidance. Many custodians at the conference acknowledged that their RIA clients are hounding them for online advice solutions, and custodians are out looking."
He added: "That said, advisors want something they can deploy quickly but doesn't break their operations. When Joel Bruckenstein of T3 told us about the conference, we knew it made a lot of sense to be there — not only to promote our offering but also to identify and meet with vendors that we should integrate onto our platform for the RIA's ultimate benefit. For example, RIA's love that we are integrated with CRM tools such as SalesForce. We also have a Redtail integration in the works and others — in addition to what we have already. We aim to become a natural and integral part of helping improve the advisor ecosystem and that's what T3 is all about."
Adapt, adopt
While T3 has historically been engineered by Bruckenstein to be a no frills, two-drink ticket affair, this year he and his conference organizers brought a bit of the fun-factor back.
The final evening included an off-site dinner and party at an Atlanta nightclub. Redtail Technology (fresh off a deal with LPL Financial) and Morningstar, Inc. (fresh off a Schwab deal) opened up their burgeoning wallets and sponsored a high-energy event that featured a live band, pool tables and dancing. Other networking events were sprinkled throughout the evening scene at the Hilton, including Scorpion Bowls at Trader Vics with Junxure, and dozens of offsite dinners with the many vendors in attendance. Attendees dodged the 30,000 other conventioneers from the welding industry to secure tables at Atlanta's emerging restaurant scene.
Marion Asnes, principal of the Idea Refinery LLC and former Envestnet CMO encapsulated the entire experience: "The industry comes to T3 to discover the applications that will disrupt them in two years. That's why you come — to look, listen, learn and then adapt and adopt."
To learn more about what went on at T3 Enterprise, check out the many Tweets on the #T32014 hashtag on Twitter.
Disclosure: Welsh has consulted with several of the companies mentioned in this article.
Timothy D. Welsh, CFP® is president and founder of Nexus Strategy LLC, a leading consulting firm to the wealth management industry, and can be reached at tim@nexus-strategy.com or on Twitter @NexusStrategy.
---
---
Mentioned in this article:
---
---
---