Michael Bloomberg: I don't believe in automation for client service.
Brooke's Note: This article may come the closest to anything I've seen by way of explaining why Bloomberg deep-sixed its robo-effort and the misgivings of its owner, Michael. Mind you, Mr. Bloomberg was not asked specifically about his company's robo-effort and its demise (the scuttlebutt until now was that Bloomberg's wealth advisory clients did not appreciate their data provider competing for assets). But clearly Bloomberg holds firm opinions that formed a bedrock for the decision. Essentially, he's asking: Why on earth would a firm automate the handling of a client when talking to that client is an option? The massively missing ingredient of auto-service is the ability to divine what more a client needs and then up-sell. Indeed, this is how commerce works. You go into Whole Foods to buy milk. You come out with fresh bread, grapes and a hunk of cheese that sells for $30 a pound. Think of all those millennial robo-clients, so theoretically allergic to a phone call, who keep $10,000 invested in auto-ETF portfolios and the other $150,000 in a Wells Fargo savings account. Conversation required! Gerri Leder captures it all well, as any decent Baltimore-dweller would.
Michael Bloomberg took some time last January after stepping down as the three-term, 108th mayor of New York City and proceeded to do exactly what most business owners do under those circumstances — get bored, according to the New York Times.
The founder, 88% owner and the once and future top executive of New York-based Bloomberg LP had originally planned to spend his time overseeing the giving away of his $38-billion fortune in a thoughtful and strategic way.
Now, he plans to retake the reins of Bloomberg LP in January.
No-'bo
That may help explain why the usually taciturn Bloomberg was all smiles and animation at the annual meeting of the Securities Industry and Financial Markets Association this week where his star power and dry wit were very much on display. See: The 8 things I learned about Lloyd Blankfein at the SIFMA confab when he was grilled by Politico.
Bloomberg's luncheon keynote evoked the most raucous response from the staid audience by offering opinions on everything from data breaches (he has 200 web security people on staff) to how Obama should lead the Congress in the last two years of his term.
"I don't believe in automation for client service," he said. "When a client calls, it is a unique opportunity for us to interface with you, find out how things are going, and sell you another product," he said to laughter from an audience that included Bloomberg Terminal subscribers.
But when the topic of Bloomberg terminal competition came up, he let it be known that he knows that there is an Internet. See: Morningstar takes a big stake in a startup gunning to be the Bloomberg for RIAs.
"If you don't disrupt yourself, you'll go the way of the dodo bird. It's not sufficient to listen to customers, listen to staff. Whenever I have a question, I think 'who do I know who can answer that question?' My assistant goes right to Google and in 30 seconds has the answer. I would eventually get to Google but it's not my first instinct." See: Online RIAs will mostly fail — and here are 10 reasons why.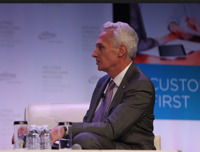 Jim Rosenthal has a transaction-based IRA
he says 'is often appropriate for
IRAs, where there is little activity
to justify the fee.'
Bloomberg was the most titanic of the titans who gathered Monday at the SIFMA annual meeting held at the Marriott Marquis in Times Square. They came to trumpet their accomplishments and air the challenges they face and to unite in opposition to regulatory actions that oppose their interests. See: New York conference: SIFMA wants members to be like RIAs — minus the same rules of accountability.
In the lunchtime keynote, Bloomberg described how he had gotten to where he was and held forth about how government should be run.
When asked what advice he had for President Obama, he replied:
"Put everything out of your mind about the last six years. Don't go to shoulda, coulda, woulda. Be as optimistic as you can. The country needs someone to lead the Congress." To win people over, Bloomberg continued, you bribe, you flatter, you cajole, threaten and explain, the same as you do with your family. "That's his job," he said.
Lobbying efforts on tap
A well-dressed traditional Wall Street audience packed into the ballroom, circled by exhibitors, financial media and related professionals. Kenneth E. Bentsen Jr., who opened the meeting following his first year as SIFMA's chief executive, said the trade group represented an industry of some 4,000 broker-dealers and 375,000 financial advisors, and approximately 80% of clients' assets under management.
Outgoing SIFMA chairman Jim Rosenthal, chief operating officer at Morgan Stanley, followed Bentsen, reporting three major areas of accomplishment during the year: leadership in cyber-readiness; opposition to a ruling that would have prevented commissioned brokers from managing their clients' IRAs; and simplifying the ordering system, access and transparency of the equity markets. See: One-Man Think Tank: When Wall Street has investors' 'best interests' at heart, watch out.
Rosenthal was particularly buoyant as he detailed the vigorous SIFMA-directed effort that prevented the Department of Labor from ruling on the uniform fiduciary standard, which has been delayed and sent to the Securities and Exchange Commission for further review. See: FINRA's regulatory white flag may be a pause before it plays white knight to SEC's cash-starved damsel.
Retirement assets sans fee
SIFMA and its member firms drove an aggressive industry lobbying effort to influence the Administration. All hands were on deck for the SIFMA opposition: employees of its member firms sent 100,000 e-mails to the administration opposing the ruling. Ultimately, DOL held back its proposal and the question of whether to implement a uniform fiduciary standard will be decided by the SEC. See: As DOL contemplates stiff fiduciary-related penalties on advisors, NAPFA and FPA find rare concord with FSI.
The campaign was counted as both an accomplishment and a looming challenge in the coming year. "We will look to mobilize our employees and clients" to address regulatory and other challenges, Rosenthal told the audience.
Rosenthal reframed the issue, calling it, "how to have retirement assets managed without paying a fee, for those who choose to pay per transaction vs. an annual fee." Rosenthal said he personally has a transaction-based IRA, "which is often appropriate for IRAs, where there is little activity to justify the fee." See: An X-ray of one affluent, educated and sophisticated investor's portfolio shows how it was chewed up by fees.
SEC ruling in offing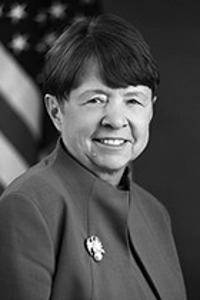 Mary Jo White is 'very, very
focused on the uniform fiduciary standard
issue.'
All eyes were on SEC chairwoman Mary Jo White in a subsequent session. The respected former prosecutor told the SIFMA audience she is still deciding her agency's position on the uniform fiduciary standard. In response to an audience question, she said she is "very, very focused on the uniform fiduciary standard issue."
White promised there will be clarity on her position soon, and that she has been working on it "quite intensively." See: After starring in New Yorker article, Mary Jo White holds SIFMA event spellbound and 'no-admit, no-deny' is still in play.
What's taking so long? There are lots of different things it can mean, White elaborated, indicating a thorough process of review and hearing all sides. Brokers argue that some investors — like Mr. Rosenthal himself — prefer to pay their advisor a commission when they make a trade. White said she wants to "be careful not to disadvantage certain investors nor drive away service providers." In her remarks, she mentioned the SEC is making its way through some 100 proposed rulemakings mandated by Dodd-Frank and the Jobs Act, a persuasive explanation for the delay in deciding important discretionary initiatives. See: New York conference: SIFMA wants members to be like RIAs — minus the same rules of accountability.
Gerri Leder is president of LederMark Communications, a Baltimore-based marketing consultant to firms in the financial services industry.
---
Mentioned in this article:
---
---
---
Stephen Winks
November 13, 2014 — 8:38 PM
Mr. Blumberg equates robo advice with advice, rather than robo advice being a tool that makes the continuous comprehensive counsel required by statute possible, in support of fiduciary duty and professional standing of the broker. Continuous comprehensive counsel is simply not possible without the necessary enabling technology (robo advice). This sort of technology is essential for advisors and aspiring brokers to be accountable for every recommendation they have made, establishing professional standing.
Mr. Rosenthal's celebration of the industry denying the retail investor of the same consumer protections afforded to all other investors might explain why the industry has lost the trust and confidence of the investing public. Wouldn't it be news that the SIFMA supports the honor and integrity of the broker by acknowledging and supporting the fiduciary duty of the broker in acting in the best interest of the investing public.
SCW
Ani Chitaley
November 13, 2014 — 10:05 PM
In my humble opinion, Mr. Bloomberg is missing an important point. Robots can be used by advisors to automatically optimize the ETF holdings in a portfolio and also automatically changing weights as necessary. The important role of the RIA advisor would be to recommend the right robot (algorithm) that best fits the financial plans and risk level designed and recommended by the advisor to the client. Once this critical value has been added by the advisor for the fees charged, the robot would do the routine work of sending trades to the broker, and maintaining the asset value report as required by compliance. If individual investors decide to use robots directly as offered by their brokers then, its their decision and their risk or reward! I don't believe that an advisor should shy away from using a robot as long as she/he knows how to add the real value, beyond what a dumb robot can do!