Tony Robbins was offered an hour but demanded two.
Brooke's Note: This isn't just about a conference snagging a speaker extraordinaire; it's about the RIA business finding someone — in the person of Tony Robbins — with the cajones to stand up for it and translate RIA-ese into talk that consumers can understand. It's not that RIAs are lacking in backbone. But many of them lack the vision, the energy, the messianic zeal and the bandwidth to take on the world of bad financial advice beyond the walls of their own offices. There is still a sense that wirehouses have a testosterone edge over their oh-so-caring upstart rivals. It's not that RIAs aren't transparent in how they charge fees and deliver advice. But they still believe in following the 1950s handbook on gentlemanly opacity when it comes to self-promotion and even self-advocacy. Robbins is not afflicted with any such shackles and very much brings a gun to the knife fight with Wall Street. Let's hope that his book, his odyssey among the superstars of moral financial advice, his speech before RIAs in Las Vegas upcoming and his outrage about what Wall Street did to consumers and his own giant portfolio, does not wear off as the market continues to hit new highs. Let's hope RIAs embrace him as the potential ally that he is and not as a freak of energetic nature. Until proven otherwise, this is very cool.
How do you sell ice cubes to the ultimate salesman?
It was a question Brian Hamburger of MarketCounsel found himself pondering when it first occurred to him that he might have an outside shot at getting motivational superstar Tony Robbins, 54, to speak at his conference, MarketCounsel Summit, of 500 people Dec. 8 though 11 in Las Vegas.
The answer to the sales puzzle was to pull every string by working fellow RIA business colleagues like Jennifer Connelly, chief executive of public relations firm JCPR Inc., and Elliot Weissbluth, and exercise patience. Connelly handles public relations for Robbins, and Weissbluth, and the chief executive of HighTower Advisors LLC wrote the introduction to Robbins' latest book. Hamburger also happens to be Robbin's lawyer as of recent months and has done work for him related to the RIA space. See: Elliot Weissbluth will referee — with a human bias — a debate on robo-advisors starring Joe Duran, John Michel, and Jon Stein.
"I had him surrounded," Hamburger says.
It's personal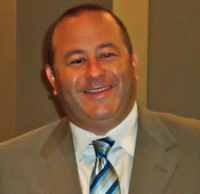 Brian Hamburger: I had him surrounded.

But once Hamburger got Robbins to the bargaining table, he got schooled. Hamburger asked for an hour. Robbins demanded two hours on the opening evening. It was a deal, despite having to rip apart an agenda and a world of logistics to accommodate the last-minute addition.
Also working in Hamburger's favor is the smoldering anger Robbins feels for what Wall Street has done to the consumer — and perhaps his own fortune of $480 million — during the 2008-'09 financial crisis. It's an anger he has channeled into a book set to be released Friday. Robbins' face is also splashed on the cover of the new Fortune magazine's Advice Issue.
"MONEY Master the Game: 7 Simple Steps to Financial Freedom" is already an Amazon bestseller ahead of its release. The 600-page book is based on interviews with Carl Icahn, T. Boone Pickens, Charles Schwab, Ray Dalio, David Swensen and Jack Bogle, among others. See: Jack Bogle steps aside as senior standards chairman at Advizent.
Robbins has since been educated in the ways of RIAs. His own former UBS stockbroker, Ajay Gupta, broke away to become an RIA. The motivational speaker has himself acquired the zeal of the converted on the subject, Hamburger says.
Higher authority
Robbins plans to bring the consumer perspective to the event but then tie RIAs in to the picture. "He's going to energize them with a call to action and tell them that they have a higher purpose in life," Hamburger says. See: What I learned at Harvard Business School that doubled my RIA assets to $3.3 billion in two years. See: What is the value proposition of a financial advisor — and how is a budding RIA culture upping the ante?.
Robbins intends to drive home the point that it's not enough for an advisor to leave Merrill Lynch with a book of business.
"He's amped up. He's excited about it," says Hamburger.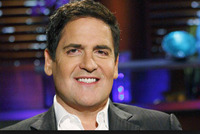 Mark Cuban has decided to hang
around for the three-day conference despite
missing a Dallas Mavericks game.
Robbins has addressed such distinguished audiences as the British Parliament, Harvard Business School, former vice president Al Gore's Putting Customers First Conference, and the World Economic Forum.
In 2006, Robbins was invited to speak at the prestigious Technology, Entertainment and Design (TED) conference, which is attended by the world's most influential thinkers and leaders. His video from that conference is among the ten most-viewed in the history of TED, with more than twelve million views.
Just when Hamburger wasn't sure he could handle any more good news, he learned that featured speaker Mark Cuban plans to hang out and learn for three days — even missing an away Dallas Mavericks game in the process. Cuban will have plenty of people to learn from: The average RIA attending the Las Vegas conference has $750 million of AUM. See: How Brian Hamburger won speaking commitments from Mark Cuban, Sallie Krawcheck and Eliot Spitzer without throwing money at the challenge.
---
---
Mentioned in this article:
---
---
---
Mike Byrnes
November 13, 2014 — 10:37 PM
Who is speaking at their 2015 conference… Oprah? (ha) — Mike Byrnes, President of Byrnes Consulting, LLC, www.byrnesconsulting.com