Eric Poirer: We have invested tremendously in our culture.
Addepar Inc. is already bidding farewell to its star president and chief operating officer, Karen White.
The Mountain View, Calif. company, attempting to leapfrog the aggregation and performance reporting softwares of the financial advisory business, hired White in 2013. The company of 20-something engineering superstars was said to be taking on the seasoned exec as an effort to bring "grown-up" management to the enterprise. See: Addepar has two new 'grown-up' leaders but the same mantra: double down, triple down then quadruple down on engineering.
White has done much of what she set out to accomplish.
"It has been a privilege to serve as president and COO of Addepar during this transformative phase of the business," she says in an Addepar statement. "We have grown the company eight-fold, raised $50 million and assembled one of the most driven and capable leadership teams in Silicon Valley in my time here with [chief executive] Eric [Poirer]."
'Doesn't compute'
But Peter Giza, vice president of business development at WealthSite, says something doesn't seem to add up about White's quick exit.
"If Addepar, as a service company, experienced eight-fold growth — assuming that the base was greater than zero — and is looking to double revenue year over year which in turn means client growth; how is it they don't need a COO? It doesn't compute."
Addepar spokesman Ekram Ahmed says he is still trying to get Addepar's chief executive Eric Poirer on the line but it had yet to happen as of Tuesday.
Scale booster
Addepar's co-founder and executive chairman of its board, Joe Lonsdale, was effusive in describing White's Addepar legacy in a recommendation post on White's LinkedIn page.
"She hired many of the most important business leaders in our company including our CFO, CMO, head of sales, head of client services, and others — super-talented people who are very hard to find in this environment and who fit in well with the top technology culture. She mentored a lot of our top talent to help them up their game and turn many parts of the organization into an A+ machine. That she is able to create an effective sales process and culture while also impressing the product and engineering organization and keeping their confidence and even inspiring many engineers in a way that fits with our top engineering culture is very rare. I don't know who else we could have found who would fit in as perfectly as Karen to transform the non-engineering part of the org and to help Addepar scale so well to the next level." See: The face of Addepar leaves the company amid intrigue about just where it stands with the RIA market.
What's the bottom line?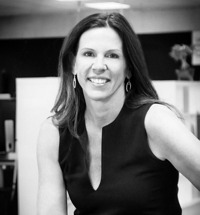 Karen White: We have grown the
company eight-fold.
White served as senior vice president at Redwood Shores, Calif.-based Oracle from 1993 to 2000, reporting to Larry Ellison. Before joining Addepar, White was most recently chief executive at Santa Clara, Calif.-based Syncplicity LLC, a cloud-based file management company that was acquired by EMC Corp. in 2012. She helped grow the company to more than 30,000 business customers in three years. Before that, she led business development at SolarWinds, joining while it was privately held, and seeing out its successful IPO in May 2009. See: The face of Addepar leaves the company amid intrigue about just where it stands with the RIA market.
Addepar has yet to respond through its spokesman to a request for an interview. One question asked via e-mail was how exactly the company measures its growth, i.e. in assets managed, clients or other criteria. Traditionally, Addepar has closely guarded its customer, asset and revenue information in what skeptics say is a way of obscuring the intensity of its burn rate and low market penetration. See: Addepar slashes prices, opens up its architecture and shows RIA custodians some love as it confronts market realities.
But Poirer suggests in a release that its culture, if not its bottom line, is steaming ahead.
"We have invested tremendously in our culture of innovation," he says.
'Truly extraordinary'
Addepar's new execs include chief marketing officer Barbara Holzapfel and vice president of client solutions Brad Compton, who come from SAP SE headquartered in Walldorf, Germany, and Xactly Corp. of San Jose, Calif. See: Why big RIAs are taking a risk on Wealthfront.
Poirer adds in the release: "This leadership team is the perfect complement to our world-class engineers, designers and investment experts….and our momentum is truly extraordinary."
Addepar has shied away from RIA events of late but had a booth at Schwab IMPACT 2014 in Denver last week. See: A charged-up Walt Bettinger slams all non-Schwab robos at IMPACT 2014 with an energy appreciated by RIAs.
"It's been an intense and rewarding experience to help drive that kind of growth and begin to realize Eric's vision for Addepar," White continues in the Addepar release. "I've done what I set out to do when I joined the company, and look forward to seeing this team take Addepar to new levels under Eric's leadership." See: The face of Addepar leaves the company amid intrigue about just where it stands with the RIA market.
Next mission
In a recommendation on White's LinkedIn page, Lonsdale writes that White's subtraction from Addepar went well after she had, in a manner of speaking, engineered herself right out of a job.
"Her transition was also handled very adeptly once she had effectively mentored and filled in the organization with the right top talent and transitioned the full leadership back to our CEO."
White is seeking a new position helping another company achieve scale, according to her LinkedIn profile.
---
Related Moves
February 23, 2022 – 12:09 AM
---
---
---
---
Mentioned in this article:
Addepar
Portfolio Management System
Top Executive: Eric Poirier
---
---
---
Battle Beast
November 12, 2014 — 5:09 AM
She was a token female exec much like Sheryl Sandberg. Unlike Marrisa Mayer, these empty pantsuits have accomplished absolutely nothing and are merely part of the feel good lib movement to empower women. Once the figures are tabulated it's clear the good press for having women in power is offset by the dead weight they bring to revenue. Good Riddance.
J L. Livermore
November 12, 2014 — 3:20 PM
Brooke,
WOW and I thought I was harsh!
JLL
J L. Livermore
November 13, 2014 — 4:14 PM
Battle Beast:
With a comment like that perhap a more appropriate mask name would be "Battle Axe".
Kindly,
JLL
PS. What happened to all the grumps, curmudgeons and scoundrels who used to while away their days here with purposeless banter.
brooke southall
November 12, 2014 — 6:17 AM
Battle Beast,
Thank you for your excellent demonstration of why we need more women in business. They don't feel the need to score cheap points by playing to people's sexual bias.
Brooke