Walt Bettinger: And by the way, we never said that it would be free, but rather that it will fund itself from the revenues of the underlying ETFs.
Brooke's Note: Schwab, the company, was always at its best when it channeled the low simmer of its founder, Chuck Schwab. There was an edginess accompanied by an entrepreneurial passion in the 1990s into the 2000s. But as Schwab got big it began to simply compete as big, mature and happy. Never was heard a discouraging or edgy word at its conferences and nobody complained. Why make waves? The party was just so dang good. So it is a sign of just how much all the buzz about robo-advisors has gotten under the Schwab corporate skin that its CEO Walt Bettinger came out firing with both barrels at Silicon Valley's challenging of Schwab's mantle as the low-fee, high integrity shop of silky technology for everyman. Whether people in Denver agreed or not with Bettinger that Schwab can take over the robo business was almost beside the point; it's that Schwab leadership is showing that it still has a pulse and that it is not merely content for IMPACT 2014 to be the theme-park version of itself. This is refreshing, long overdue and hopefully the start of a renewal for a company with a great heritage, a great conference and perhaps too great a willingness to bask in being top dog with $1.1 trillion of RIA assets.
What do you get when you combine a pugilistic Walt Bettinger, a photo-bombing campaign and a session on marijuana use?
Throw in hundreds of Schwab employees and 4,000 advisors high on the tantalizing prospect of the independent advice model approaching hegemony and you have Schwab IMPACT 2014, which took place in mile-high Denver last week.
In her first IMPACT appearance since she was appointed head of Charles Schwab Corp.'s investment committee after Stephen Cucchiaro's abrupt exit from Windhaven Investment Management in June, Liz Ann Sonders performed her accustomed role as warm-up keynote on the first evening of the gathering, providing a market update and investment outlook. See: With Stephen Cucchiaro out, Liz Ann Sonders takes the Windhaven reins.
'Five'-fold gains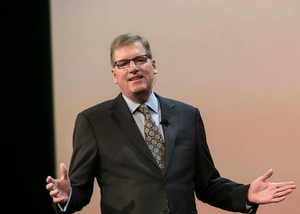 Bernie Clark, always popular, was nonetheless
upstaged a bit by his boss.

The long-term bullish Sonders sees volatility in the short term. Using a plethora of charts, graphs and historic trend statistics, she painted her accustomed rosy market outlook, but with caveats about volatility. Windhaven was built for excelling in lousy markets and so advisors are watching to see whether she can improve on its below-market returns the last five years and its recent slide in assets. See: Bill Gross and Liz Ann Sonders are Dr. Gloom and Ms. (Fairly) Optimistic before Schwab IMPACT crowd.
"In years that end in five the market is up over 30%," Sonders said, tongue in cheek. Summing up her outlook, she quoted John Templeton: "Bull markets are born on pessimism, mature on optimism and die on euphoria."
Walt steps up
The next morning, Walt Bettinger took the stage and made news as he took dead aim at the robo-advisors.
This was contrast indeed to his customarily low-profile presence at these affairs — the Charles Schwab Corp.'s chief executive and president typically makes appearances to hand out the annual IMPACT awards and otherwise keeps his head low. Advisors have returned the diffident attitude with low engagement with him. But, perhaps buoyed by the recent Barron's cover story, Bettinger showed a pugilistic and passionate side rarely seen and in so doing made advisors far more disposed to like him. See: What a close reading of Barron's cover story on Walt Bettinger reveals.
"The current crop of robo-advisors are charging basis points for technology — we've never seen that before. These firms are economically inefficient and coming on the backs of consumers paying both a management fee and underlying ETF operating fees," said Bettinger. See: Wealthfront responds with force to Schwab CEO's robo announcement.
No one said it was free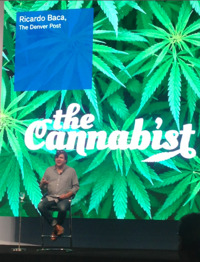 Richard Baca of the Denver Post
hosted a presentation in the exhibit
hall on the recently legalized marijuana
industry in Colorado.
But this year, Bettinger took personal ownership of the long-in-development, soon-to-premiere, Schwab robo. See: Can Schwab, six years late to the robo party, 'freeze the market', catch up and blow doors?.
He boasted that his firm's as yet un-launched robo service will win in the marketplace based on "best-in-class technologies" and its lack of portfolio management fees. See: How RIAs can compete with super-RIAs, robo-RIAs and the 'phono'- and faux-RIA market of 2015 and beyond.
"We will be completely transparent," Bettinger said, and then noted sharply: "And by the way, we never said that it would be free, but rather that it will fund itself from the revenues of the underlying ETFs."
Bettinger's remarks seemed to convince the 2,000 RIAs in attendance — the ones that I talked to anyway — that Schwab has the robo-threat under control and that its continued march into wealth-management-services territories can be managed in the time-honored Schwab way: by enabling RIAs to white label a version for themselves sometime next year. See: The documented RIA threat, 'phono-advisors' and their nearly $300 billion of assets.
No tech talk
After the pyrotechnics of Bettinger's address, Bernie Clark's talk was a bit of a letdown. The head of custodian Schwab Advisor Services delivered a rehash of previous initiatives — including 2011's "RIA Stands for You" campaign — as tools RIAs can use to emphasize their unique value-adds. See: How Schwab's RIA advertising campaign could pay quick dividends for some advisors. The closest Clark came to delivering fresh information was in discussing the "Generation Now" opportunity (i.e. investors between 30-45).
Traditionally, Clark's opening speech provides a glimpse into new platform enhancements and technology goodies that will help advisors' businesses in the coming year. But this time there were no technology announcements at all. Many in the audience wondered why. See: Peter Mallouk buys a stake in Trizic.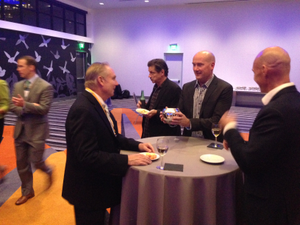 Greg Friedman, Gerald Graves, Doug Heikkenen
and Tom Lydon at Vestorly/Wealth Access
party.
Photo-bombed
On display
Showing a tech-y side, Fidelity inserted promotional tweets into the conference hashtag on Twitter. The conference hashtag on Twitter is #SchwabIMPACT, so all tweets associated with the conference that have that hashtag in them can be viewed in one continuous feed. Twitter permits companies to advertise and place their tweets wherever they want, so when advisors read the tweets from the conference on that hashtag, Fidelity's promoted tweets showed up. An effective, if sneaky, way to get Fidelity into the mix! See: How to get going on Twitter.
Also in the something-you-rarely-see-at-a-conference category was a presentation in the exhibit hall on the recently legalized marijuana industry in Colorado by the reporter on Denver Post's pot beat. Also on display in the exhibit hall was a retail clothing retail featuring Western wear, including $2,000 cowboy hats, a nod to the Denver vibe. Chalk drawers and performance artists entertained attendees with quirky displays.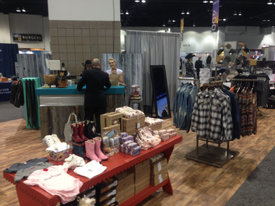 All hat: A western-themed retail store
in the exhibit hall featured $2,000
cowboy head gear.
IMPACT aggregates the industry like no other media property in the RIA industry can. Accordingly, the massive Colorado Conference Center was packed to the rafters with over 400 companies, all jostling for attendee mindshare to promote their brands, products, services and technology. See: An advertiser's-eye view of what the new-look FPA looked like in Seattle.
This year's headline speakers were former Fed chair Ben Bernanke and former president George W. Bush, along with Dr. Dambiso Mayo, a global economist, Dan Heath from Duke University and new-age philanthropist Charles Best of DonorsChoose.org. Bernanke provided insight into how he managed the financial crisis while Bush charmed the conference with his very funny and personal anecdotes of his time as president. Bush also gave a preview of his upcoming book about his father, president George H. W. Bush, and described how painting hobby has been a "life-changer." Bush was so impressive that even life-long Democrats were saying how amazing his comments were.
How to hit a billion
The rest of the conference agenda was ripe with business and practice management topics geared toward large RIAs.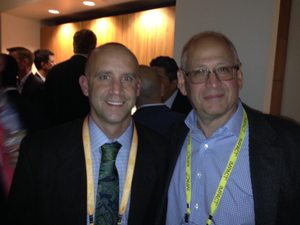 Eric Clarke and Joel Bruckenstein at
the Orion party.
A prime example was a standing-room-only session entitled, "Achieving Scale: What it Takes to Become a Billion Dollar Firm." As recent valuation multiples hit stratospheric levels for the big RIAs, it was no surprise that this session drew a large crowd. John Furey of Advisor Growth Strategies LLC and the Alliance for RIAs, shared strategies that leading firms have adopted to hit the big time.
"It is extremely rare to get to a billion-dollar firm with a single owner," Furey said, emphasizing that advisors need to step aside and bring in partners and share ownership to get that leverage and scale they need.
Furey grilled executives from Beacon Pointe Wealth Advisors, Savant Capital Management and Exencial Wealth Advisors on their approaches. "To get scale, you need to sell like crazy," said John Burns, chief executive of Exencial.
Party city
This IMPACT featured a plethora of parties, receptions, dinners and high-end events put on by the Schwab hosts and many of the vendors. Vestorly, Junxure, Wealth Access Inc and Franklin Square Capital Partners joined forces to throw a boutique event at the Curtis Hotel that attracted former Schwab execs Gerald Graves and Doug Heikennen.
In a show of the continuing power of the mutual fund industry (and the indefatigable 12(b)-1 fee), a consortium of asset managers took over Mile High Stadium hosting several hundred advisors for fine dining and more.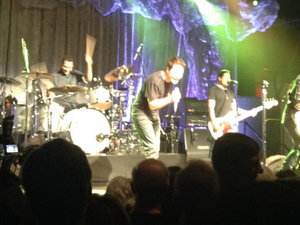 'Train' crushes it at the gala
event.
But the dream ticket was to another event organized by Orion Advisor Services, LLC. Its president, Eric Clarke, tapped into Denver connection and hosted a large gathering on the penthouse of one of Denver's tallest buildings. Complete with photo opportunities with the Denver Bronco's cheerleaders, Orion raffled off unique Bronco souvenirs and fun was had by all as we channeled our inner Peyton Manning.
The boffo event of the conference this year was the final-night gala event. Traditionally a low-key affair, this year's was over the top. Feeding off the bullish market mood, Schwab and Wells Fargo Funds, two traditionally close marketing partners, splurged to fete the 4,000 attendees with performances by Matt Nathanson and Train at an urban outdoor rustic mall with exotic food and drink.
The evening capped off with the invitation-only (and those invites were hard to come by!) ETF Party. Industry voice and ETF publisher Tom Lydon brought celebrity DJs to a top downtown Denver nightclub. Attendees imbibed and celebrated the success of their industry. See: What's up with Schwab getting into the robo-style online advice business and is Windhaven the linchpin?.
To learn more about what went on at Schwab IMPACT, check out the many Tweets on the #SchwabIMPACT hashtag on Twitter.
Timothy D. Welsh, CFP® is President and founder of Nexus Strategy, LLC, a leading consulting firm to the wealth management industry, and can be reached at tim@nexus-strategy.com or on Twitter @NexusStrategy.
---
---
Mentioned in this article:
---
---
---
Bill Winterberg
November 11, 2014 — 2:33 AM
I want to apologize publicly to Tim. I got caught up in correcting ticky tacky details (4,000 vs. 2,000 advisors attending, no tech announcements, etc.).
I make plenty of my own mistakes when I publish. I'll make my comments offline to Brooke and Tim so they have the opportunity to adjust the details.
Bill Winterberg
November 10, 2014 — 9:23 PM
And the technology updates include Schwab Advisor Portfolio Connect (formerly Project PM Squared) and Schwab Advisor Mobile Connect (formerly Schwab OpenView Mobile).
Schwab Advisor Services VP provided some highlights in this interview: <a href="http://youtu.be/MZrLjazvp8Y" rel="nofollow">http://youtu.be/MZrLjazvp8Y</a> (full disclosure: Redtail Technology supported the production costs of this video)
Bill Winterberg
November 10, 2014 — 9:12 PM
Brooke, did you drop Welsh's disclaimer about his clients that he mentions in his column?
Bill Winterberg
November 10, 2014 — 9:10 PM
4,000 advisors? Schwab said there were 3,600 attendees not including exhibitors and sponsors. http://pressroom.aboutschwab.com/press-release/schwab-advisor-services-news/firmly-focused-future-ria-industry-schwabs-bernie-clark-c