Josh Brown: We know the alternatives and we don't like them and we're really happy we have a suggestion.
Brooke's Note: If the RIA business has four things that are considered cornerstones of The Future they are online presence, automated advice, millennials and the mass affluent. Will they ever really take center stage? This Brown-Ritholtz online advice venture should provide a tantalizing indicator. Here you have an RIA, two principals with towering social media presences and a plan to serve millennials and the mass affluent convening. It's either orchestral genius or its castles in the upper stratosphere built on figments of aspiration. I really, really don't know. I do know that all the blogging and tweeting by Barry and Josh thus far has been far less to their benefit than ours. It has been a labor of love. If it turns out that they can build a profitable extension to their business leveraging the clearinghouses of ideas and information that they have established, we can only applaud and learn.
When two of the most online-savvy advisors in the business launched a traditional RIA last year, the industry reaction was: meh.
Since they opened the doors of Ritholtz Wealth Management in October 2013, Josh Brown and Barry Ritholtz, two advisors with the largest online presence in the financial services arena, have amassed a respectable — if hardly mind-blowing — $180 million in assets from 150 households. See: The 25 financial advisors with the biggest online presences — and a frank analysis of what online omnipotence does (or not) for them.
Now, the firm is segmenting its advice business by putting lower-balance accounts, often from millennials, into private-labeled accounts with automated management of ETFs. The new program, Liftoff, will use start-up technology firm Upside to manage and run all of the back office operations.
The upside for Ritholtz and Brown is that they can stop turning away accounts of the mass affluent. But the second advantage of bypassing more established platforms like Jemstep Inc. of Los Altos, Calif., New York-based Betterment Institutional or Reston, Va.-based Wealthminder, is that they own a stake in the tech startup, founded in 2012, and will have additional control: The pair now will be joining Upside's board of advisors.
"Upside is a new entrant looking to target advisors," says Kevin Cimring, chief executive of Jemstep. "Jemstep has the benefit of five years of working with advisors. We have big RIA implementations coming up."
Cash poor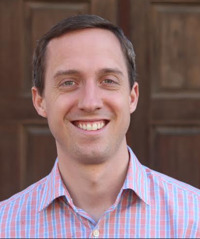 Tom Kimberly: We are an RIA
and serve as sub-advisor and take
discretion.
What makes this online advice effort stand out in a crowded field is that Brown has more than 85,000 Twitter followers under his nom de blog, Josh 'Downtown' Brown. He's been blogging since 2008 and generates 750,000 to a million page views a month. Ritholtz, has nearly 60,000 of his own Twitter followers and his blog, "The Big Picture," has a big following, too.
Liftoff will use Jersey City, N.J.-based TD Ameritrade as its asset custodian and it charges 40 basis points to clients.
"We're doing this with TD Ameritrade and because we hold all of our assets with TD and the ETFs are commission-free," says Brown. "We've driven the cost of this really low. The technology lends itself to that kind of thing which is really great." See: Thoughts on 'robo-advisors' served cold, compliments of Kitces and Waymire.
Brown and Ritholtz say that due to their RIA's $1 million minimum asset threshold they've turned away hundreds of prospective clients who don't yet have enough assets to make that nut. Now, they can turn those clients into online-only customers. See: Mystery solved: Josh Brown and Barry Ritholtz start RIA — or is that actually where the intrigue begins.
"We put this out because we have people who come to us all of the time who don't need full-blown financial planning and that's what we've based our firm around," says Brown. "They're very young and that's the single best attribute an investor can have — which is far more important than anything else. When you're 25, you've got a winning hand and all you've got to do is play it. The people tend to be tech-savvy professional people that just haven't had a chance to build up a $1 million nest egg. We know the alternatives and we don't like them and we're really happy we have a suggestion."
Still, virtually all of the automated advice offerings on the market have the same or lower pricing to Liftoff's 40 basis points and a very similar investment service — ETFs managed conservatively.
Rich Ellinger, principal of Wealthminder in Washington D.C. analyzes Upside in this way: "Their approach is probably the closest to ours [among the automated advisors], at least from a messaging perspective. They are also the hardest one for me to give you feedback on because there is less public information on them. On the pro side, they handle many aspects of the problem from an advisor perspective, everything from account opening to trading to client billing. On the con side, it's not clear they deal with held-away assets and it doesn't appear there's much of a focus on financial planning. We're focused on ensuring everyone has a reasonable plan for achieving their goals and then tying that to appropriate investment execution advice."
Brown, who has a nose for news and a willingness to speak his mind in muscular Wall Street language, will continue to put his existing RIA first and tinker with Uplift as it progresses.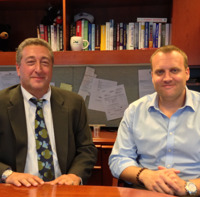 Barry Ritholtz and Josh Brown are
ready to take their highly New
York energies to a more national
audience with help from two 33
year olds in San Francisco.
"We're going to see what happens and we'll be innovative and creative. We'll put something out that we think works really well and build as technology improves and we'll make something that works better and we're not trying to take over the world. Our core business will always be working directly with clients."
Brown credits Upside founders Juney Ham, 33, and Tom Kimberly, 33, with devising the technology that enables his firm to capitalize on that platform for millennial clients.
"They've built a platform so that we can layer on investment expertise and have a fully functioning automated advisor services so someone who doesn't know much about finance and hasn't invested much can have something that is really easy to understand and very low cost and very user-intuitive," he says. See: Thoughts on 'robo-advisors' served cold, compliments of Kitces and Waymire.
Upside and the RIA have been in talks about a partnership since July, according to Ham.
Automated formula
Here's how it works. The asset allocation strategies come from Ritholtz Wealth Management. Upside executives worked closely with Brown's firm to integrate the portfolios to Upside's automated managed account platform.
During the plan creation process, the client will first take a risk tolerance questionnaire, which generates a risk score. The client then answers a few questions about their purposes for investing. Then, the client determines the desired goal, initial deposit and monthly contributions and the time horizon. See: Ric Edelman tells how he succeeds in advice's Death Valley — online investing.
"We combine the risk score and time horizon to determine which Liftoff asset allocation that was created by Ritholtz Wealth Management is selected. We then determine whether the client is on track or off track based on a comparison between the portfolio's expected return and the return required to reach the goal," Ham explains.
Total discretion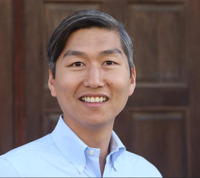 Juney Ham: E-mail or our feedback
tool is the first line of
communication.
Upside itself is also an RIA that manages about $1 million in assets and Brown's firm is its first official client.
The client is advised by Ritholtz Wealth Management through Liftoff. Ritholtz Wealth Management has discretionary responsibility and Upside is named sub-advisor.
"We don't hide the fact that our technology is running the platform," Kimberly says. "We are an RIA and serve as sub-advisor and take discretion. We can do everything without the advisor making any changes at all."
Upside creates a service agreement with advisors that governs the arrangement as well as a licensing agreement and a sub-advisory deal. Pricing is based on assets and advisors pay 10 to 25 basis points. For an advisor who has less than $10 million in assets, the cost is 25 basis points. Once you hit $10 million in assets, the cost is 20 basis points. For assets of more than $50 million, the cost slides to 15 basis points and anything over $100 million, the advisor pays 10 basis points.
So 20 years ago
The platform is available through a website and it 100% automated. Client with questions about their account send an e-mail to Upside. Upside's team provides technical support, says Ham, and will connect clients to the advisory firm for more help, if needed.
Brown says younger clients are attracted to this approach.
"Every piece of data suggests this generation doesn't need to have a phone call. That's not a priority for them and it's a generational thing. We're responding to what the marketplace wants. See: The documented RIA threat, 'phono-advisors' and their nearly $300 billion of assets.
Brown and Ritholtz's venture illustrates the dilemma of an RIA deluged with prospective clients but can't deliver upscale services because it is not cost-effective.
"Josh and Barry are a perfect example," Kimberly says. "They've been pretty disciplined about only accepting clients who meet their minimum. But because of who they are they've been turning away hundreds of clients who don't meet the minimum. At any time, they can re-engage and offer another solution to them. So, as these clients continue to build wealth, this can give them natural stepping stone to a wealth offering,"
Flexible platform
Upside, which is hoping to partner with more advisory firms, offers a customizable service. For instance, Brown intends his effort will be all online, but Ham says there may be some advisors who want to have interaction with their online clients.
For example, Upside acts as the manager of Brown's assets, but some advisors may want to hand-pick certain funds.
"Advisors who partner with Upside have flexibility on how they want to engage their clients but most prefer to have Upside field any incoming questions," Ham says. "Usually, e-mail or our feedback tool is the first line of communication for clients on our platform, although some advisors do wish to include their phone number on the site."
---
Mentioned in this article:
Upside
TAMP
Top Executive: Tom Kimberly
Wealthminder
Financial Planning Software
Top Executive: Rich Ellinger
---
---
---
brooke southall
October 6, 2014 — 8:26 PM
Teresa,
Somebody actually needs to make decisions surrounding the buying, selling, allocation and rebalancing of assets. If Vanguard does that, they will charge a fee on top of the fund fees.
But, yes, "everybody", including PIMCO is going that ETF/indexing route with Vanguard as a big beneficiary.
Brooke
Teresa Vollenweider
October 6, 2014 — 6:56 PM
Wouldn't Vanguard and Vanguard Low-Cost Index Funds be a very good option for nearly EVERYbody—mass affluent, high net worth, ultra high net worth, outrageously rich, etc.? Why not just send the mass affluent to Vanguard and Vanguard can take them from there?