Ten-foot-tall sculptures inside the Grand Hyatt's lobby lent a tone.
Brooke's Note: We are all bumpkins when we visit New York and what it contains. It's all bigger than we can get our minds around. That comes through in this piece by Dina Hampton, a New Yorker, who doesn't necessarily see it that way at all.
The Grand Hyatt hotel — that's the one just to the left of Grand Central Station — has that post-millennial look currently favored by conference-capable hotels in New York and Miami: cavernous, disconcertingly dark and with a Far Eastern vibe. Happily unexpected in the lobby, however, was the presence of "Awilda" and "Chloe," two elongated, white marble, 10-foot-tall, Easter Island-inspired heads sculpted by Jaume Plensa, gazing impassively at the tourists and businesspeople eddying around them.
Groping my way to Level B, I found some 150 advisors milling about waiting for the marquee session of Fidelity Institutional's advisor conference, "Be Greater: Why Being Good Enough is No Longer an Option." See: Fidelity and TD Ameritrade show new teeth in RIA advertising — albeit with giraffes, and children on summer porches.
It turns out New York was the last stop on the Fidelity Institutional Wealth Services annual regional conference which, with some changes to its presenter lineup, has made whistle stops around the country in the last few weeks. See: Fidelity, Goldman Sachs and Morningstar call 16 top reporters to New York to define the RIA alts problem — and to explain how their Dream Team solves it.
By the book
This particular panel was an odd hybrid of the Boston-based custodian's rallying of the RIA troops and a book launch. The book in question, "Be Greater: Why Being Good Enough is No Longer an Option" (printed on glossy, heavy paper only to be seen these days when a multi-billion-dollar corporation self-publishes) was highly touted and a copy given to each attendee. It features 20 advisors imparting their wisdom on how to create a successful and growing advisory firm and, for good measure, is dotted with motivational quotes from historical figures ranging Confucius to Carnegie.
The session was tightly scripted to align with the chapter titles of the book. The downside of such regimentation was that it left no room for crosstalk among the high-octane panelists: Michael Durbin, president of Fidelity Institutional; Marty Bicknell, chief executive officer of Mariner Wealth Advisors; Jane Williams, principal of Sand Hill Global Advisors; Russell Hill, chief executive officer of Halbert Hargrove Global Advisors; and John Augenblick, principal of Rockwood Wealth Management. And indeed, some last-stop-of-the-book-tour weariness seemed evident in their presentations.
Williams, Merrill Lynch's first woman stockbroker in Canada one of the most successful women RIAs in the industry, discussed how her firm's Silicon Valley locale lent itself to a variation on the much-discussed women's niche. See: Fidelity's new research unlocks women by fixating on — men — but elicits an 'ahem' from a big RIA client.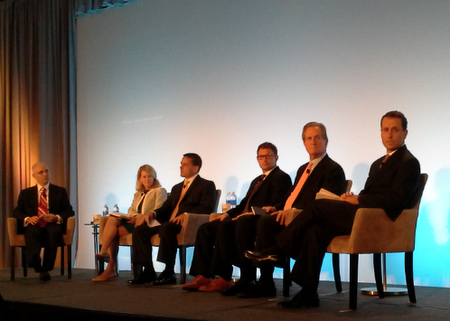 l-r: Ross Ozer, Jane Williams, Marty
Bicknell, John Augenblick, Russell Hill and
Mike Durbin
'Divorce vendors'
Observing that "great success is often followed by divorce," Williams told how the firm first identified and then wooed the divorced wives of Silicon Valley entrepreneurs as a discrete segment of its client base. Sand Hill reached out to centers of influence associated with the particular issues these women face.
"We became familiar with 'divorce vendors' and focused on money changing hands to the [financially] less sophisticated spouse," says Williams. See: United Capital looks to attract divorcees with new acquisition.
That niche became "a driver in our firm," she says.
Non-profits have become another such segment. In both cases, "We target centers of influence. We train them to see what an appropriate client is and they refer to us." Centers of influence may include accountants, estate attorney and other professionals who are known to have great expertise but few interpersonal skills or patience for extended handholding with people.
The rich and unadvised
Identifying such client segments was not only a desirable, but a necessary, step in the firm's evolution. In a target-rich environment like Silicon Valley, "every entrepreneur and VC has been targeted," Williams says. "We didn't start by building niches but it's critical by hook or crook." See: Two Silicon Valley RIAs marry their practices to lay the groundwork for succession.
Advisor John Augenblick of Rockwood Wealth Management in New Hope, Pa. in the wealth-intensive Bucks County, acknowledged that his firm, starting up in 2008, happily took on "anyone we could find." Even so, the firm has identified three "epicenter clients": self-employed doctors, Big Pharma executives and business owners. He, too, stressed the importance of using centers of influence to identify prospective clients and as educational tools.
Robo subtext
The robo theme was a scab that went largely unpicked in this session. It had been directly addressed earlier in the day and would be again on day two in breakouts sessions.
Yet Durbin gave a nod to Fidelity's just-announced partnership with digital advisor Betterment when he praised "integrations" with spanking new technology companies as opposed to the efforts of lumbering legacy firms. See: Fidelity and Betterment sign a deal with Steve Lockshin and Marty Bicknell as groomsmen at the altar.
"The rest of the incumbent advisor base — and we include ourselves in that category — does not start with a blank slate. Bigger is complex. There's no shortage of technology but the question is how to harness it. The premium is on integrations."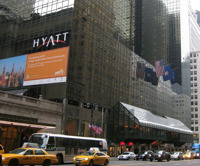 Grand Hyatt is big, grey and
adjacent to Grand Central Station.
Call it a digital platform
Prompted by Ross Ozer, marketing chief of the Fidelity custodian, Bicknell plugged FirstPoint Financial, the mass-affluent firm he launched in 2013.
But Bicknell distanced himself from the robo tag identified with most offerings of that type.
"Don't call it digital. It's a digital platform from which to give advice and there's a tremendous potential for increasing efficiency," he said. See: Marty Bicknell jumps into the mass market with no 'robo-advisors' and a missionary zeal.
Bicknell added that he uses the lack of a client minimum as an opportunity to scout out advisors. "It's a chance to get new talent onboard."
Employee score card
With Durbin acknowledging how intimidating and eye-glazing the prospect may be, organizational planning was addressed as a crucial task.
Russell Hill described his firm's pyramid graphic that outlines major areas of focus for the firm, which is then paired with a color-coded Excel spreadsheet ("very low tech") that tracks — and scores — employees' progress.
"It's always on the Internet for everyone to see so that everyone's accountable."
Hiring new advisors — in a show of hands about half the audience members indicated that they are planning to take on new personnel in the coming year — was also up for discussion and with it, the omnipresent issue of company culture.
"I'm CEO of culture," Bicknell said. "How can I create an organization that could keep me? I call it servant leadership. Each employee is a client of every other part of the organization." See: How Abby Johnson won the hearts of mega-RIA clients in advance of taking the CEO spot at Fidelity Investments.
Maybe such a high-level comment from a Kansas man who just announced he's in the process of hiring another 60 employees should be the starting place for the next NYC event.
---
---
Mentioned in this article:
Mariner Wealth Advisors
RIA Welcoming Breakaways, RIA Serving Endowments/Foundations, Advisory Firm
Top Executive: Marty Bicknell
---
---
---
Bill Winterberg
October 31, 2014 — 12:51 PM
Dina, I would have loved to connect with you at Inside Track. It sounds like you missed most of the content on day 2.
Thank you for the excellent writeup.