David Zier was a successful and beloved financial advisor.
David Zier died at his house on Lake Anna in Louisa County, Va. on Oct. 15. He was 44.
Zier was chief executive of Convergent Wealth Advisors at the time of his apparent suicide. The Barron's top advisor took the reins of his the Potomac, Md.- and Los Angeles-based RIA, which manages $8.4 billion, in 2012 when former chief executive Steve Lockshin began to pursue other ventures. See: What led to Advizent's end and why Steve Lockshin is unfazed, even energized.
Zier made regular appearances on CNBC's Closing Bell and Asia Squawk Box, as well as Fox Business News. He joined Convergent in 1998.
When pressed for hot sectors or trending companies, Zier was known to demure and counsel a more big-picture view of investing. Still, there are questions about whether this restraint extended to his personal investing based on a Barron's report
Convergent legacy
Convergent posted a few words about Zier on its website.
The Convergent family is deeply saddened to announce that CEO David R. Zier passed away on Wednesday, October 15. He was a leader, member of Convergent's executive team and a long-term employee.
Dave's passing has deeply affected all who knew him. Our thoughts and prayers are with his family after his regrettable and untimely death.
Dave's resolve for a team approach at the firm will ensure business continuity and excellence in client care. Our firm has a strong track record of client service and trust and we are absolutely committed to maintaining this integrity.
Zier's funeral was on Friday and 400 people attended. Zier has two children in middle school.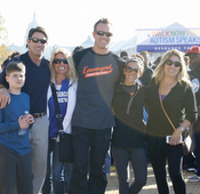 David Zier [center] was an honorary
Walk Now for Autism co-chair.
The announcement also stated that Convergent president and chief operating officer Douglas Wolford is now acting CEO of the firm.
Convergent included a link to an online guest book with an e-mail address for those who wish to send condolences to the family.
'Amazing partner and friend'
Lockshin expressed his sorrow in an e-mail.
"Dave was an amazing partner and friend. He was like a brother to me. I will miss him dearly. The day I found out about his sudden death was one of the saddest days of my life."
David Zier is survived by his fiancé, Jennifer Ann Caugh; his children, Kenna Elizabeth Zier and Cameron Fowler Zier; and their mother Tara Lowe Zier.
Colleagues who had seen Zier in recent months say he was filled with excitement about his upcoming wedding in March, in Islamorada, Fla.
Broad shoulders
David's family described him in these affectionate words:
"His closest friends knew him to be larger than life, with extremely broad shoulders and an infectious smile and laugh. Dave was committed to life-long learning and bettering himself and was especially focused on nutrition, health and fitness. He was the most amazing friend anyone could ask for, was extremely competitive, loved to wakeboard and enjoyed playing tennis and softball. He was also an incredibly accomplished corn-hole player. He had a ridiculous sense of humor, was light-hearted, never took himself too seriously and hated to wear a suit! His favorite place in the world was his home on Lake Anna where love and family abounded and life-long friendships were forged. Dave brought people together, loved with his entire body and heart and vowed to live every day to the absolute fullest. He inspired all who knew him to live life with that same passion and encouraged them to never settle for anything less."
Born in Newton, Mass. in 1970, the Maryland-based executive was an active board member of A Wider Circle, an organization devoted to ending poverty, and was an honorary Walk Now for Autism co-chair. Zier earned Bachelor of Science degrees from Virginia Polytechnic Institute and State University – Pamplin College of Business and was a member of the Pi Kappa Alpha. He had also earned his CIMA designation.
Convergent is wholly owned by City National Corp., which made the acquisition in 2007.
---
---