How Abby Johnson won the hearts of mega-RIA clients in advance of taking the CEO spot at Fidelity Investments
It wasn't what Ned Johnson's daughter said; she mostly let her ears do the talking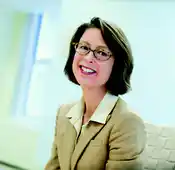 Abby Johnson's smarts and fierce work ethic are a given but some wonder if she can match her father's force of personality.
---
---
---
Mr. RIA
October 20, 2014 — 8:15 PM
Aaaah, doesn't her daddy own the company? What an accomplishment.
brooke southall
October 20, 2014 — 8:26 PM
Mr. RIA. You have yet to leave a comment that wasn't acerbic or that contained any insight. You need to up your game or I will delete your comments going forward. -Brooke
Mr. RIA
October 20, 2014 — 9:27 PM
Sorry Brooke. I can clean it up. I'm just dubious of her accomplishments (due to the potential presence of nepotism) and would like to see her really lead this company before I applaud.
Grant
October 20, 2014 — 10:47 PM
Another great article, Brooke.
Initially as I was reading, my nine-year-old daughter interrupted me several times. So, as often is the case, I decided to read to her the article to get a different perspective and to sort of multitask. She listened patiently as I read to her about all of the accomplishments of Abby Johnson. She never interrupted me once. When I finished reading I asked her if she understood all of the things that I just read to her. She said she thought so. She said she wanted to be like Abby when she grew up. I asked her if it was because she got to be the boss and tell people what to do. She said "no." Then I asked her if it was because she was wealthy. My daughter said, "no." Then I asked her if it was because she had many degrees and was very well educated. To which she said, "no." I finally asked, "why do you want to be like Abby Johnson?" She looked at me and said, "because she gets to work with her dad."
Congratulations to Abby… and to her father.
brooke southall
October 20, 2014 — 11:18 PM
Mr. RIA. I like that articulation better. I think she deserves a little applause for making it this far but being a nepotistic suspect is her cross to bear.
Grant,
That's one of the great comments alongside one of the great insights and keen readings of an RIABiz article (by your daughter)
.
Thank you so much for sharing this story and telling it so well.
Brooke
FAA
October 21, 2014 — 12:30 AM
Can't beat a private company- Fidelity, Bloomberg, Koch etc. Successful for many reason surely but one is the ability to do what they see fit, when they see fit and how they see fit without the quarterly scrutiny which publicly traded companies go through. Good for them good for her and hopefully good for the consumer!
Stephen Winks
October 21, 2014 — 1:10 PM
The fact that Abby is listening holds the promise of resolving the industry's insularity to its most significant challenges. The trust and confidence of the investing public depends upon it, Abby may be in a unique position slay outdated cultural dragons which thwart innovation.
SCW.
Mike Golaszewski
October 22, 2014 — 5:03 PM
Grant,
Your comment seriously made my day. Thanks for sharing it!
Marty Morua
October 30, 2014 — 12:26 PM
Completely agreed Mike! I'm a long time RIAbiz fan (I think you know that Brooke) & Grant's comment added a little bit of sunshine to the article. My daughter is 10, and Grant has inspired me to do a little bit more "financial related" reading with her.
Thanks all!
Marty Morua