Abby Johnson's smarts and fierce work ethic are a given but some wonder if she can match her father's force of personality.
Brooke's Note: Sometimes the biggest stories are too big to be seen with the bare eye. This tale of Abby Johnson becoming chief executive of Fidelity Investments is such a one. Yes, Papa Johnson is still around and his vocal cords are not known to be impaired or atrophying from disuse. But the financial advisory industry has not known a case of a woman attaining a role like this. Not even close. The nearest might be Sallie Krawcheck as chief of Merrill Lynch's retail unit. I'm sorry but leading a bunch of stockbrokers at a brokerage owned by a bank and more than a little tainted is not on the same level as leading a giant and complex company with 40,000 employees named Fidelity. That said, getting named to a wow leadership position is not like winning the lottery. It's not the end of anything. It is the beginning and there are plenty of questions about Abby Johnson and her ability to lead. A big reason for that: She has stayed largely in the shadows up to now. Shadow-dwelling in and of itself is neither good nor bad but it leaves prognosticators with little to go by. The good news is that RIAs doing business with Fidelity have been allowed to experience Abby at close range and they, along with some nervous anonymous contributors, were generous offering their perspectives. See: Abby Johnson wins RIA respect by articulating her bold vision for Fidelity's future at the company's Executive Forum.
If the news needle barely budged last week when Abigail Johnson was named president and chief executive of FMR LLC, the parent company of Fidelity Investments, it wasn't because something fairly remarkable hadn't just happened.
Johnson, 52, who is known to shun spotlights of any kind — but not, insiders say, because she fears them — has worked her way to the pinnacle of the Boston-based investments company without a whiff of daughter-also-rises snickering, dissent or journalistic smart-alecking.
That's mission accomplished if you're a member of the Johnson-ocracy whose oath, if it had one, might be: Do well but leave no ripples in the pond. See: Abby Johnson tells RIAs to have all employees, up and down the chain, think client thoughts at Fidelity's 2014 Executive Forum.
Earning it
Fidelity's board may have kissed a few frogs en route to choosing Johnson. Word from observers is that discreet inquiries were made to see if the services of select executives might like to be interviewed for the position.
But in the end, Abby Johnson is in and she is more than is qualified intellectually, temperamentally and experientially, observers say. That her father is the FMR chairman is no doubt helpful, though perhaps more of a hindrance as far as his daughter making her mark is concerned. She is not taking the role by default considering that, in addition to talent reviewed from outside, other able candidates have come and gone at Fidelity including Robert Pozen, Ellyn McColgan and Robert Reynolds. See: Fidelity's old 401(k) mastermind, Bob Reynolds, gets a merger, a promotion and a stronger hand to compete with his old employer.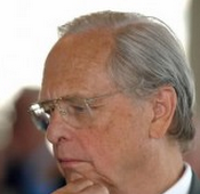 Ned Johnson, 84, announced his daughter's
ascension to CEO of FMR almost
as an afterthought.
Johnson won out, or at least outlasted them all, observers say, by simply working harder and wanting it more than her potential rivals. Those in the know point to her habit of appearing at 6 a.m. at a gymnasium and churning away on a stationary bike or elliptical machine while reading a full stack of that day's media to ensure that brain and lungs both get worked out. And while a dawn-patrol gym ethos is widespread among type-A overachievers, Johnson was noted for keeping to her same routine in 2007 when she was suffering a serious illness.
"She is not the spoiler; she earned it," says one source who requested anonymity.
X-factors
It's these X-factors of leadership that Abby Johnson's doubters and supporters alike are hoping she can demonstrate as she rises to real decision-making power.
As one observer puts it: "She's extraordinarily smart and nobody'll beat up on Abby. But she doesn't have the edge that Ned Johnson and Bob Reynolds have. It's not enough to be the smartest person in the room."
The same person went on to say that she has a low-blood-temperature personality associated with a research analyst, portfolio manager or lawyer. She thinks first and speaks later — a good quality but perhaps at the expense of timely decisions and the magnetic personality that lubricate deal-making communications and inspires executive loyalty. Postscript to the Fidelity Executive Forum article: The RIA perspective.
But Marty Bicknell, chief executive of Leawood, Kan.-based Mariner Holdings, which keeps tens of billions of RIA assets with Fidelity, says the fact that Abby Johnson runs cooler and quieter than her dad does not concern him much.
"I'm not sure that matters," he says. "The culture of Fidelity is what made them the partner for us that they are. They stay patient to see the plan play out."
Skilled listener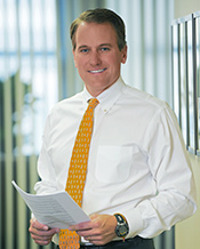 John Morris: She also has a
sense of humor but challenges herself
and people around her. She's a
fair and measured.
One tangible danger of not having muscular charisma revolves around one of the great edges that Fidelity has held for decades — its ability to hold onto great talent, says one consultant.
"People who might never have considered it might take a recruiter's phone call," says John Morris, co-founding managing partner of Boston-based Crestwood Advisors LLC, which manages about $1.2 billion. Fidelity has about 40,000 employees. See: Fidelity weighs in with breakaway results reinforcing the big-advisor trend.
But Bicknell says that hiring from outside carries potentially bigger dangers in terms of making people rethink their relationship with an institution.
Before he broke away to become an RIA and chose Fidelity as his custodian, Bicknell had been with 115 year-old A.G. Edwards for 16 years and his leader was Ben Edwards who was there for 45 years. "In 2001, the first non-Edwards CEO was appointed. the culture changed overnight. Had they chosen Ben's son, Tad, I'd still be there," he says.
RIA owners seem comfortable with Johnson's ascent to a position of ultimate oversight of their asset custodian, seeing her as possessing the right admixture of smarts and humility.
"She's a very good listener and tries to spend a lot of time trying to understand clients," says Morris. "She also has a sense of humor but challenges herself and people around her. She's fair and measured."
Indeed, Johnson is known to challenge herself. She worked through her two pregnancies and a serious illness. Her attitude was apparent even when she was younger, waiting tables one summer and answering service calls at Fidelity during another, according to a Bloomberg article.
Unfiltered thoughts
Robert J. Glovsky, vice chairman and principal of The Colony Group, an RIA in Boston, who's been a member of Fidelity's advisor council for the last three years, has begun to know Abby Johnson because she often attends the group's meetings.
Glovsky's RIA has nearly $4 billion of AUM and he holds one of the three permanent seats out of about 20 on that council.
Like Morris, Glovsky notes with approval the degree to which Johnson listens and observes rather than speaks in the group setting. Often she'll wait until she's in a one-on-one or small-group setting to express her views.
Glovsky recently asked Johnson why she came to the RIA meetings. She responded that it gives her a better context in which to understand what the executives in charge of custody want to do. See: Abby Johnson tells RIAs to have all employees, up and down the chain, think client thoughts at Fidelity's 2014 Executive Forum.
"I thought that was very telling," Glovsky said. "She wanted to hear what the client wanted, not filtered." See: Fidelity primes the referral pump for RIA clients.
Bicknell agrees. "To me, it was a breath of fresh air. Bob's right. She's engaged."
Jaw-dropper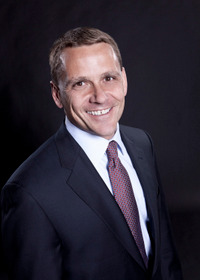 Marty Bicknell: In 2001, the first
non-A.G. Edwards CEO was appointed. The
culture changed overnight. Had they chosen
Ben's son, Tad, I'd still be
there.
Another executive, who asked not to be named, says that there are signs that Johnson is able to come to the kinds of cautiously aggressive decisions her father reached for decades. A good example is the jaw-dropper of the company putting so much faith in upstart robo-advisor Betterment Inc. in a comprehensive move of business and corporate ally-choosing. See: Fidelity and Betterment sign a deal with Steve Lockshin and Marty Bicknell as groomsmen at the altar.
And by the way…
The Johnsons' unobtrusive style was also in evidence in the inter-office memo sent by Ned formally announcing his daughter's new CEO title. Most of the full-throated communication in that memo was about the migration of Bill Byrnes to board member emeritus status after more than 40 years of distinguished service on the board of directors.
There were also some elaborate details about Gerry McGraw, president of Fidelity Institutional and Mike Wilens, president of Fidelity Enterprise Services, being elected directors of the company.
As if in an afterthought, Ned Johnson wrote:
"I am also pleased that Abby Johnson has agreed to become Chief Executive Officer of Fidelity, reflecting a further step forward in our leadership succession plan. Abby will retain her role of President and I will continue to serve as Chairman of the Board. Along with our senior team, we will work together to strengthen Fidelity's industry leadership and to innovate in ways that enhance the experience we provide to our customers."
Johnson senior continued: "In my role as Fidelity's Chairman and CEO, I have always said that our best days are ahead of us, largely due to the commitment and contributions from all our associates. I believe this has never been truer than it is today. Our clients, associates and shareholders will be well served by the leadership team that will guide our future success."
Select company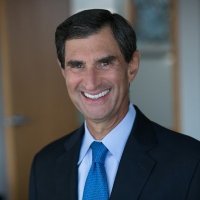 Robert Glovsky: She wanted to hear
what the client wanted, not filtered.

A daughter succeeding a father in a big corporation is fairly rare, though hardly unheard of. One famous case was Katharine Graham becoming publisher of the Washington Post after her father, and then husband, died. Another instance was the ascension of Marilyn Carlson Nelson who headed Carlson Companies. Graham made the Washington Post into a great newspaper and Carlson, who took over from her father Curt, made her company palpably more family-friendly and raised the percentage of women executives from 5% to 40%.
Abby Johnson was named president of Fidelity in September 2013. Before assuming her current role, Johnson served as president of Fidelity's retail, workplace and institutional businesses.
Johnson began her Fidelity career as an equity research analyst and so spent a number of years in the company's asset management division, including serving as its president from 2001 to 2005. During her tenure, Johnson managed a number of Fidelity mutual funds before serving as an associate director for the firm's equity division where she oversaw and coordinated the activities of the Growth and Capital Appreciation groups. Johnson also managed the company's equity investment systems, overseeing the design and implementation of technology initiatives for Fidelity's trading, portfolio construction, management, and research capabilities. See: Fidelity reorganizes its advisor business and extrudes a custody unit aimed at outsourcers, roll-ups and TAMPs.
She received a bachelor of arts degree in art history from Hobart and William Smith Colleges in 1984 and an MBA from Harvard Business School in 1988. Forbes pegs her wealth at $17 billion. As of March 2013, the Johnson family owned a 49% stake in FMR.
That Fidelity could get somebody so qualified culturally and experientially into the CEO spot — and that it could be the first woman to hold such a position in the financial advice business — earns the highest exclamation, according to Bicknell.
"It's phenomenal."
---
---
---
Grant
October 20, 2014 — 10:47 PM
Another great article, Brooke.
Initially as I was reading, my nine-year-old daughter interrupted me several times. So, as often is the case, I decided to read to her the article to get a different perspective and to sort of multitask. She listened patiently as I read to her about all of the accomplishments of Abby Johnson. She never interrupted me once. When I finished reading I asked her if she understood all of the things that I just read to her. She said she thought so. She said she wanted to be like Abby when she grew up. I asked her if it was because she got to be the boss and tell people what to do. She said "no." Then I asked her if it was because she was wealthy. My daughter said, "no." Then I asked her if it was because she had many degrees and was very well educated. To which she said, "no." I finally asked, "why do you want to be like Abby Johnson?" She looked at me and said, "because she gets to work with her dad."
Congratulations to Abby… and to her father.
Mr. RIA
October 20, 2014 — 9:27 PM
Sorry Brooke. I can clean it up. I'm just dubious of her accomplishments (due to the potential presence of nepotism) and would like to see her really lead this company before I applaud.
FAA
October 21, 2014 — 12:30 AM
Can't beat a private company- Fidelity, Bloomberg, Koch etc. Successful for many reason surely but one is the ability to do what they see fit, when they see fit and how they see fit without the quarterly scrutiny which publicly traded companies go through. Good for them good for her and hopefully good for the consumer!
Mike Golaszewski
October 22, 2014 — 5:03 PM
Grant,
Your comment seriously made my day. Thanks for sharing it!
brooke southall
October 20, 2014 — 8:26 PM
Mr. RIA. You have yet to leave a comment that wasn't acerbic or that contained any insight. You need to up your game or I will delete your comments going forward. -Brooke
Mr. RIA
October 20, 2014 — 8:15 PM
Aaaah, doesn't her daddy own the company? What an accomplishment.
Marty Morua
October 30, 2014 — 12:26 PM
Completely agreed Mike! I'm a long time RIAbiz fan (I think you know that Brooke) & Grant's comment added a little bit of sunshine to the article. My daughter is 10, and Grant has inspired me to do a little bit more "financial related" reading with her.
Thanks all!
Marty Morua
Stephen Winks
October 21, 2014 — 1:10 PM
The fact that Abby is listening holds the promise of resolving the industry's insularity to its most significant challenges. The trust and confidence of the investing public depends upon it, Abby may be in a unique position slay outdated cultural dragons which thwart innovation.
SCW.
brooke southall
October 20, 2014 — 11:18 PM
Mr. RIA. I like that articulation better. I think she deserves a little applause for making it this far but being a nepotistic suspect is her cross to bear.
Grant,
That's one of the great comments alongside one of the great insights and keen readings of an RIABiz article (by your daughter)
.
Thank you so much for sharing this story and telling it so well.
Brooke