Mitt Romney: You are business owners and I love you.
Brooke's Note: Mitt Romney doesn't really have a constituency. His poll numbers among Republicans were abysmal during the primaries, giving candidates like Herman Cain, Newt Gingrich, Donald Trump, Rick Perry and even Michelle Bachman their 15 minutes of fame. Nor is there really a political concept or idea attached to his name. (The one exception might be his contribution to designing Obamacare, an accomplishment that he is now ashamed of.) But even with all those shortcomings, Romney was considered "presidential" because of the timbre of his voice and his tall-timber frame. Romney darn well might have won. He just couldn't stop with the corporations-are-people comments and his determination to sit in an Iowa diner and be served a lump of fried dough with hole in it — and call it a pastry. Then refuse to eat it. He alienated Hispanics, women and the lowly "47%". He still could have won! Joe Anthony, a public relations executive for RIAs, writes perceptively about this complex character. He captures his re-entry into mainstream society from a La Jolla mansion with a car elevator via a TD Ameritrade conference in Orlando and extracts the lessons we can draw from this odd bit of Americana.
An hour before Mitt Romney took the stage, the 3,000-strong group in attendance at TD Ameritrade Institutional's annual conference was packing into the Grand Ballroom of he Hyatt Regency Orlando in anticipation of the day's highest-wattage keynote. See: At TD event Mitt Romney ressurrects his Massachusetts stance on global warming and throws cold water at Obama.
The conventional wisdom — that the financial services industry is a Republican crowd — seemed to be backed up by the rousing applause Romney received as he took the stage following TD managing director of product management Jim Dario's energetic introduction.
Romney acknowledged the ovation by quipping "I can tell I did well with this crowd in the election," immediately drawing laughter.
Complementary brands
As a public relations and marketing consultant to the RIA industry, I presume that TD Ameritrade felt it would support its own brand by aligning (at least for 75 minutes) with the Romney brand. Yet, it was in observing the initial politically oriented comments and crowd reaction that made me think: Would this speech end up being a PR win or a PR fail for Romney and TD? See: How TD Ameritrade is playing the logo game to spur 4,000 of its wavering RIAs to adopt its third-party hook-ups.
Romney's role as past presidential nominee and potential future candidacy loomed over the former Massachusetts governor's presentation from the outset. In fact, the first fifteen minutes of his comments led me to ponder via Twitter if the speech was his 2016 "table setting" speech.
A businesslike PowerPoint slide presentation helped drive home his points on poverty, climate change, income inequality and military spending — positioning him as an agreeable centrist in some moments and someone chafing at the failures of the current regime in others. His use of data, combined with self-deprecating humor ("I wanted to run for president in the worst way … and I did") ingratiated him with the audience.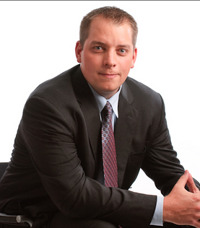 Joe Anthony: He came across as
likable, relaxed and less confused about
how he wanted to portray himself.

But all the while, very few of Romney's business career muscles were being flexed. Most of those sitting around me seemed to agree that Romney was in full campaign mode, even if his delivery might have been better than most of his televised speeches during the last campaign.
Then something funny happened.
Forty minutes into the speech, CNBC's Mandy Drury was invited to the stage for the planned Q&A portion. She immediately set to the task of addressing the elephant growing ever larger in the room.
"Are you running for president in 2016?"
Drury's question was met quickly with a sharp "I am not running for any office" response.
And, from there, Romney seemed to become more at ease and Drury felt liberated enough to broach business issues instead of the political talking points that filled the air for most of the time Romney spoke.
More love needed
Romney then turned his attention to praising the importance of free-market enterprise, discussing some of his parameters for investing in businesses (good management teams, market leadership) and telling the advisor audience that the government should be telling them that "you are business owners and I love you!"
Other topics covered included Romney's take on security at the Sochi Olympics — he would go but wouldn't leave the Olympic village — as well as a slam of Russian president Vladimir Putin ("Putin is a bully.") Romney is known for his expertise in this area
After the speech, an advisor from Washington state, who declined to be named, said that if Romney had came across as well in his campaign as well as he did in the speech, he'd have voted for him. A representative from an advisor tech firm said that she was disappointed that Romney didn't spend more time on real business advice for the audience, given his experience.
Unburdened
Despite the mixed reviews, the speech was a big win for Romney, as he came across as likable, relaxed and less confused about how he wanted to portray himself. He embodied one of the best lessons of PR: be authentic and be yourself. Unburdened from campaigning, it was easier for Romney to embrace that.
As for TD Ameritrade, the speech appealed to a large portion of the audience, which gave him a standing ovation. The combination of humor and insight was appealing and political talk was neutralized by his declared non-candidacy, which avoided the trap of polarizing partisan politics that can undermine a brand's rapport with a diverse customer base. See: Behind the PR man's curtain: how RIAs can successfully deal with the media.
Romney, for his part, reignited a connection with a portion of the business community that is largely aligned with his world view and re-established a likable persona that had given way to a stiff, sometimes fumbling, campaign character.
While some may have wanted more, the risk taken was rewarded.
Joe Anthony is senior vice president of financial PR of Gregory FCA Communications . His Twitter handle is @joeanthony.
---
---
Mentioned in this article:
---
---
---
http://www.fsienergy.com/esr.html
Tiny top rated and broader during the sides ?your entire body method of a pear a far more compact waist in contrast to sides. As Determine apple, choose a unique neck-line which is able to draw the attention from the extensive sides. The very best choice with this particular physique is actually a sort of gowns / attire princess.
http://91.121.70.164/forum/member.php?445973-carpi
The breakout box will include things like various audio inputs, like two XLR microphone inputs. You will find speculation that it will either certainly be a primary Airport Express-style white box or perhaps a full-fledged transportation handle box, but specified its value, the previous appears to be additional possible. Apple could increase new music inroads with new client oriented hardware machine.