A CPA suggested Winterberg 'e-mail me your last few years of tax returns,' which was a deal killer.
Brooke's Note: Bill Winterberg is not a geek, he just plays at being one in his profession. The ubiquitous technology guru made early birds at TD Ameritrade's national conference glad they booked the early flight with a rousing lunch speech. Instead of showing off his knowledge of GUI and NetDocuments, Winterberg instead channeled his inner story teller and conferred a message that even had a Luddite like me thinking technology-aided marketing strategy. Aaron Klein was on the spot to report and knock out a story for us.
When Bill Winterberg left Dallas last year and moved to Atlanta, he realized he had been stripped of a key ally — an accountant steeped in the intricacies of the local tax code.
The good news, the principal of FPPad.com told a TD Ameritrade conference lunch crowd of about 500 people on Wednesday, is that Winterberg knew what he was looking for: a CPA firm with up-to-date technology that wouldn't generate paper, yet had a strong commitment to security so he could keep his private data private. He also needed to deal with Georgia's state income taxes for the first time.
So Winterberg started the process by throwing out a big net — and captured a boatload of fish.
"I started with a Google search for 'Atlanta CPA' and got 3.3 million results," he said. "That wasn't going to help me make any decisions."
Plan B worked better.
"I went to Yelp, did the same search and found 140 matches. That was better, so I found a CPA with some good reviews and called," said Winterberg. See: How Google Love can put an RIA onto an equal marketing footing with BlackRock.
Credibility clues
The vetting process threw up no red flags until a CPA suggested Winterberg "e-mail me your last few years of tax returns," which was a deal killer. Any firm that suggested clients send private documents with social security numbers over e-mail clearly didn't have the commitment to good security practices that he was looking for. See: Beware: RIA privacy breaches aren't always high-tech.
Winterberg then turned to YouTube, which he terms "the second-largest search engine in the world." A search on the Google-owned video haven for cat tricks quickly turned up a two-minute introductory video that a CPA had clearly put on YouTube just to embed on his web site. Winterberg's skepticism was still in the red zone. See: Why RIA videos are especially fraught with regulatory pitfalls.
But after clicking "play," the quick tour of the CPA firm's capabilities and is offices yielded implicit and valuables credibility clues.
"Employees had dual-monitor setups with big, wide screens, indicating a practice that had embraced technology. They had scanners on their desks, indicating a commitment to working with their clients in a paperless fashion. Without them saying it explicitly, I could see this was a firm that fit my needs."
Trust in the 21st century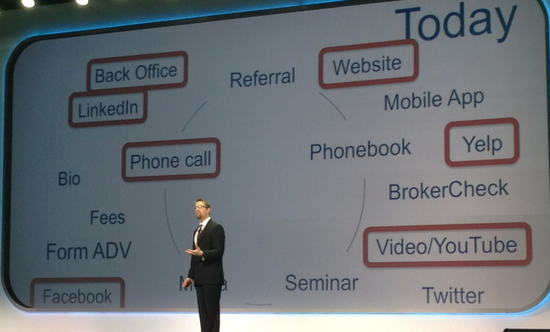 Bill Winterberg: Employees had dual-monitor setups
with big, wide screens, indicating a
practice that had embraced technology. They
had scanners on their desks.
The deal-sealer? When Winterberg went to the firm's website and was greeted by a link designed to quickly and securely upload documents for the firm's employees to review. He engaged the firm to handle his new business — and to this day hasn't met his new CPA face to face.
"Paul built so much trust with me before I even called him, it made the decision to work with his firm incredibly easy," he said.
Winterberg's anecdote riveted the 500 attendees on "pre-conference" day at TD Ameritrade Institutional national conference in Orlando, Fla. The main event, which begins tomorrow, is expected to draw 1,650 advisors from across the country. Winterberg's keynote focused on helping advisors build trust as the way to attract clients in the 21st century and how company's like YouTube are changing the process. See: Bill Winterberg outlines the potential benefits and shortcomings of the Apple iPad for advisors.
In the past, it was the service providers that had the information and control, so consumers had limited means of assessing whom to put their trust in: referrals from friends, looking up advisors in the phonebook, attending an advisor's seminar or reading an advisor's quote in the media. See: In their own words: Five top advisors' secrets for creating stronger alliances to gain more referrals.
"I'll bet you never missed an opportunity to have your local newspaper quote you in a financial news story," Winterberg told the attendees.
Digital first impressions
Today, consumers are empowered with far more information. With a Google search, a skim of the advisor's ADV or a glance through Yelp, prospective clients have far more ways to sit back on their couch and develop their perceptions of an advisor's quality, sophistication and value with a few flicks of their iPads. See: Brightscope to launch Yelp-like reviews, putting advisors under the consumer microscope.
Challenging advisors in the audience to build trust with clients, Winterberg outlined five key strategies they can tackle immediately:
- Revisiting your firm's website to move it beyond a brochure and engage prospective clients.
- Using video to help prospective clients create a positive impression of your firm and its capabilities.
- Getting active with social media to help prospective clients see that you're an active thinker about your profession.
- Giving prospective clients a way to learn more about your firm over time.
- Upgrading your firm's technology to ensure prospective clients want to work with you.
It was clear that advisors left the keynote realizing that they have far more power to shape the "digital first impressions" of their firm than they realized. The airplanes headed home from the TD Ameritrade Institutional conference will be full of advisors preparing to build trust with prospective clients by making sure all digital roads lead to a sweet online image for their firms. See: RIA Central has launched its bid to be the Facebook of RIAs.
Aaron Klein is CEO at Riskalyze , the company that helps advisors pinpoint client risk tolerance with math, engineer portfolio risk to fit their clients, generate leads and close new assets. He can be reached on Twitter at AaronKlein or akleinriskalyze.com.
---
---
Mentioned in this article:
FPPad.com
Consulting Firm
Top Executive: Bill Winterberg
Riskalyze
Tech: Other
Top Executive: Aaron Klein
---
---
---
http://www.fsienergy.com/combust.html
Plastic surgeons today employ intragastric balloon medical procedures, an invasive fat reduction solution which entails the positioning of the tender silicone/saline gastric balloon in just the stomach to induce a perception of satiety. Consequently, sufferers feel comprehensive a lot quicker and decrease their consumption of meals. This balloon mechanism stays inside for six numerous weeks mainly because the individual undergoes a diet regime program, then this balloon mechanism ought to be taken out.
Brooke Southall
February 3, 2014 — 9:54 PM
Thanks again to Aaron for writing this article and congrats to Bill for such a solid speech.
Brooke