Andy Rachleff, right, with Adam Nash: We ultimately agreed to a one-year transition where he would concentrate on building out the team and product and I would focus on external issues.
Adam Nash has succeeded Andy Rachleff as chief executive and president of Internet-based advisory platform Wealthfront. Nash, the Palo Alto-Calif.-based company's chief operating officer, with stints at LinkedIn, eBay and Apple on his resume, has moved into the online RIA's top spot at the direction of his boss. Andy Rachleff takes back CEO spot at Wealthfront at critical juncture
The move came after co-founder Rachleff, 55, realized that putting Nash, 38, into the top spot would maximize Wealthfront's chances of getting to $100 billion of assets in a few years. See: Wealthfront raises a cool $20 million from VCs to pursue a big slice of a $1 trillion market.
Nash has proven ability to engineer what Silicon Valley's elite call "product market fit," a fancy term for building the magic into a site and making it an online magnet, like Twitter or LinkedIn. Wealthfront currently has about $600 million of assets under management. See: Top 12 crucial technology happenings affecting RIAs in 2012, Part 2.
"Execution doesn't matter," says Rachleff, exaggerating to make a point in an interview. "It only matters if dogs want to eat your dog food." That makes Nash, who oversaw key LinkedIn engineers when he worked at the social media juggernaut from 2007 to 2011, the dog whisperer.
Killer job
Rachleff, who retains the position of chairman, plans to work about a third as much going forward. He allows that a stick as well as a carrot informed the new hierarchy.
"If I had known how difficult [being CEO] was going to be, I would not have done it."
The killer for Rachleff was not only working as a founder and top executive for a venture capital start-up but also continuing to carry his course load as a faculty member at Stanford University, where he teaches courses on technology entrepreneurship.
"I dang near killed myself," he says.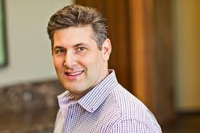 Adam Nash was mentored by entrepreneur,
start-up strategist, investor — and now
Wealthfront investor — Reid
Hoffman.
"I actually wanted Adam to join as CEO, but he felt the infrastructure we needed to build would require his full attention in the short term," Rachleff writes in his blog. "We ultimately agreed to a one-year transition where he would concentrate on building out the team and product and I would focus on external issues."
Mentored by the best
Getting start-ups out of the Earth's atmosphere is Rachleff's strength. Getting them all the way to Mars is not his department.
"Prior to co-founding Wealthfront [in 2009], I was a career venture capitalist who retired to teach entrepreneurship at Stanford Graduate School of Business," he writes in the blog. "My background prepared me to find product/market fit, but I knew I wasn't the most appropriate person to scale the business." See: Upper-crusty Napa Valley retreat brings together top family office execs, New Age VCs and top VCs — at least locationally.
Nash, on the other hand, was "tailor-made" for this new role, Rachleff says. Nash has a BA and MA in computer science from Stanford and worked as a software engineer before getting his MBA at Harvard Business School. Nash played a "critical product role in helping build two of the iconic players in the consumer Internet, eBay and LinkedIn," Rachleff adds.
He was also mentored by one of the best: entrepreneur, start-up strategist and investor Reid Hoffman — who is now a Wealthfront investor. Hoffman was LinkedIn's founding chief executive for its first four years and owns a stake in the social-media site worth an estimated $2.34 billion. He made his first fortune through the sale of PayPal, of which he owned a significant founding stake. Hoffman put that cash to use as a successful angel investor.
Talent magnet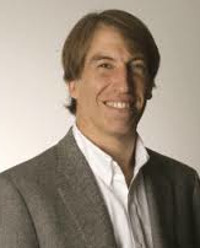 Andy Rachleff: In my new role
as chairman, I get to focus
on … serving as a sounding
board for the CEO and as
an ambassador for the company.
"Adam's combination of technical know-how, product expertise and passion for finance made him an ideal fit for Wealthfront," Rachleff writes. See: Why big RIAs are taking a risk on Wealthfront.
Two former senior execs from LinkedIn — Elliot Shmukler and Avery Moon — followed Nash to Wealthfront.
Rachleff writes: "In October, Fortune smiled on us again: Andy Johns, another top growth expert in the Valley, asked to join us because he wanted to learn from Adam and Elliot. As someone who backed a lot of successful companies during my venture capital career I can tell you this doesn't happen very often."
Rachleff believes he still has much to contribute to the firm he founded.
"In my new role as chairman, I get to focus on my greatest strengths, developed over 25 years as a venture capitalist: Serving as a sounding board for the CEO and as an ambassador for the company."
---
Related Moves
December 31, 2020 – 4:37 AM
---
August 14, 2021 – 2:20 AM
---
---
---
Mentioned in this article:
Wealthfront
Portfolio Management System
Top Executive: Andy Rachleff
---
---
---
fuk u
November 18, 2014 — 5:58 PM