Christopher Van Slyke: It's not black and white or we'd all use the cheapest custodian.
Brooke's Note: I say this with some trepidation but I believe I'm hoping that Fidelity's fee increases on DFA and Vanguard funds are successful. Why? Because we don't want a system where good funds and services lose out to less good ones that are simply more effective at disguising their fees. If Fidelity can unbundle these fees and make them stick out like sore fees and advisors can, in many cases, see value in paying them, then it shows that other fees can be made explicit, too. The big buried fees, of course, are in places like the 401(k) realm where questionable mutual funds sometimes reign because of their effective charging of 12(b)-1 fees.
Some RIA assets are taking a walk from Fidelity Institutional Wealth Services to other custodians in the wake of its decision to radically — on a percentage basis — raise fees on advisors trading funds from Dimensional Fund Advisors and Vanguard Group. See: Fidelity Investments soon to jack up commissions on DFA and Vanguard Group mutual fund trades.
But Fidelity's gamble seems to be paying off, at least thus far, with many RIA principals coming to the conclusion that a former sweetheart custody deal is still a deal — just with less sugar.
Many in the industry have been holding their collective breath since December when Fidelity Investments dropped a two-chamber bombshell when it announced that starting on Jan. 1 it was slashing its commissions on the majority of buy and sell trades of mutual funds.
No complaints there.
But, at the same time, the Boston-based giant told advisors that it was jacking up the trade fees it charges on mutual funds of DFA of Austin, Texas; Vanguard Group of Malvern, Pa.; San Francisco-based Dodge & Cox Funds; New York-based Sequoia Funds; and CGM Funds of Boston. The purchase price for those funds went from $30 to $50 but the sell price stayed at $30, making for a round trip of $80. Advisors who use fund companies other than these now pay just $60 for a round trip.
Any price change leveled by a Fidelity-sized player tends to have exaggerated psychological impact and especially with regard to DFA and Vanguard Group. Many large successful, squeaky-clear RIAs with bright prospects have built solid practices using these products as building blocks. See: A $3.4-billion DFA RIA sends his social media presence sky high with a 'Yep, I Built That' strategy.
'Ready to move'
Fidelity spokeswoman Erica Birke says feedback from RIA clients has been "overwhelmingly positive." Back in December, Fidelity framed the hikes as an equitable leveling of the playing field since the firms affected don't pay traditional shareholder fees and Fidelity is performing many services for those mutual fund companies.
Note that Birke did not say "universally" positive. Bryan Wisda, a solo advisor with Summit Wealth Management LLC in Carefree, Ariz., who manages about $48 million in assets, mostly with DFA, was prompted to move $14 million in assets from Fidelity's custodial arm, Fidelity Institutional Wealth Services, to rival TD Ameritrade, where he already housed about $30 million in assets. See: TD Ameritrade's raised its NTF fee to mutual funds and analysts believe rivals may hike theirs, too.
Wisda also keeps assets in custody with Schwab. See: Fidelity's annual $10,000 custody fee will attach to a wider swath of small RIAs.
He understands why Fidelity is making the change, but says the added costs could total $88,000 in fees for his clients. He has 88 clients and on average each of them has three accounts.

Peter Dorsey: "I'd love to tell
you that this is pennies from
heaven, but it's really too early
to tell.
"This was the final straw," Wisda says. "It's one thing to impose a fee to me and it's another thing to impose a fee on a client. From a fiduciary standpoint of serving my clients' best interests I had to communicate to clients that this additional fee is coming up. Our option is to stay at Fidelity or move to TD, which has a lower fee structure. I'm letting the clients make the choice and all we're ready to move."
Asked whether DFA is stepping in on RIAs' behalf to help advisors deal with a new layer of fees, a DFA spokesperson declined to comment.
'Because I am so cheap…'
Fee hikes aside, other advisors have chosen to stay at Fidelity. Tim Utecht, chief investment officer of Life Planning Partners Inc., an RIA that manages about $80 million in assets from Jacksonville, Fla., wrote a semi-satirical note to clients about the DFA/Vanguard fee issue to get his point across. The firm primarily uses Fidelity for custody and DFA and Vanguard mutual funds.
"As you may know, I am a frugal guy," Utecht wrote. "I work hard to keep your trading costs low, and am proud that our underlying portfolio fees are minimal. This improves your chance of better returns. Because I am so cheap, Fidelity does not make much money on the accounts we hold there for you. A number of other firms in the industry believe in our cheap philosophy, and Fidelity does not make much money from these types of relationships. Unfortunately, Fidelity has caught on to our frugality."
He explained to clients that Fidelity will be raising its transaction fees with certain fund companies and says that in some cases, the fee may increase to $50 per transaction from the current $25.
Fidelity said that the previous fee had been $40 but industry leaders say it's customary for custodians to craft fee-arrangements with RIAs. But Fidelity declines to comment about specific arrangements the firm may have with any advisors.
Fees cheaper than hidden costs

Tim Utecht: Unfortunately, Fidelity has caught
on to our frugality.
"For a parsimonious individual like me, this is not happy news," Utecht continued in his note. He explains in his newsletter to clients that Vanguard and DFA are the two fund groups that his firm uses that are impacted by the fee hike.
"Why do we pay transaction fees when other funds don't have them? The simple answer is that these transaction fee funds are generally much cheaper to own in the long-run."
Utecht explained to clients that funds that are "no-transaction fees" actually have substantially higher annual expenses and points out that those costs are still passed on to shareholders through higher internal fund expenses.
Ultimately, he wrote, it is still better for clients to pay the "nuisance transaction fees when you look at the math."
"Consider a typical fund that pays to be on the 'no-transaction fee' platform. It's free to purchase, but the expenses coming out of the fund may be 1% higher than comparable Vanguard or DFA choices, and those costs are paid over and over, every year… Our main goal is to make certain we are doing what is right for you. We know you hate seeing transaction fees, and I hate seeing them too. I'll work hard to keep it to a minimum."
Balancing act
Christopher Van Slyke, an exclusive DFA advisor who recently formed WorthPointe LLC after splitting with partner Scott Leonard, is also staying put. See: Scott Leonard's 2-1/2-year boat odyssey around the world is followed by split with his partner.
About 75% of his firm's $400 million in assets are custodied with Jersey City, NJ-based TD Ameritrade, with the rest divided between Schwab Advisor Services and Fidelity, which has $25 million of WorthPointe's assets.
"Price is one thing that we must consider in evaluating the value that custodians bring. Clearly if they raise the price, we'll have to be sure that the value is still there for our client. It's not black and white though or we'd all use the cheapest custodian," Van Slyke says. "I think TD is the most RIA-friendly of the big three. This is further evidence because they don't penalize you for using funds where fees are disclosed."
His firm, with locations in Austin and La Jolla, Calif. works with 300 families and has six advisors on staff.
Moving costs
Even though his trading costs would go down, Van Slyke doesn't want to move away from Fidelity simply to save money at TD.
"There's increased costs to moving to another custodian and we don't trade that much. We might only trade five or six times a year compared to active managers who are buying and selling millions of shares a year."
The increased trading costs on DFA and Vanguard funds at Fidelity have not diminished his respect for the funds.
"For Fidelity to draw a line in the sand like this tells you how much they're getting paid from these 12(b)1 fees. I think that DFA and Vanguard are great for our industry. They're bringing transparency to the industry. Is your client really benefiting if you own another fund? Maybe I have to pay a higher cost to trade with DFA but my fund expenses are still lower than they'd be somewhere else. The reality is Fidelity is playing that game because they want that under-the-table money. Vanguard and DFA are to ethical to do it." See: Dimensional's co-CEO tells clients at Monterey event that DFA is changing its Classic-Coke intellectual fund recipe.
Pennies from Fidelity?
As for TD Ameritrade, it is too soon to see if it will reap a windfall as a result of Fidelity's hike, says Pete Dorsey, TD's managing director for sales. TD has different fee levels ranging from $24 for on-line trades to $45 for off-line broker assisted trades.
It could take three to six months before his firm would notice any changes, Dorsey says.
Looking elsewhere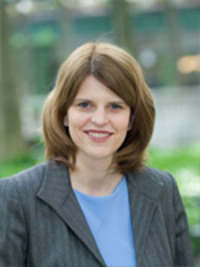 Annette Clearwaters: To increase the purchase
fee on DFA funds, which I
use extensively, is like rubbing salt
in the wound.
At least one advisor is standing pat for the present but is mulling over a change. Annette Clearwaters, president of Clarity Investments + Planning LLC in New York, has been with Fidelity since 2006 and manages about $49 million — all at Fidelity.
Clearwaters has been disappointed by service at Fidelity and that issue, on top of the increase in costs, is causing her to look elsewhere.
"I'm definitely shopping around, particularly because I have found the service has really gone downhill at Fidelity in the past year, so to increase the purchase fee on DFA funds, which I use extensively, is like rubbing salt in the wound," she says.
"TD Ameritrade is looking very attractive based on preliminary discussions. Staying at Fidelity will require some adjustments to my model portfolios to reduce the number of DFA funds I use, since the higher fee will make rebalancing more costly and I have many clients with relatively small accounts. For example, I'll probably start using the DFA Global Equity fund more often rather than individual DFA funds for U.S. and international exposure." See: Fidelity unveils latest effort to make its advisor-servicing silos work as a single unit for hybrids.
1% solution
Fidelity spokeswoman Birke says that the firm strives to deliver exceptional experience to all of its advisors. "Our client satisfaction scores have never been higher," she said in an e-mail. "We will absolutely look into this client's comments — we take all client feedback very seriously."
Clearwaters intends to move at a deliberative pace.
"I don't trade frequently — only as money comes in and out and accounts require rebalancing. We make few model portfolio changes since we're relatively passive. I'd have to sit down and quantify the cost. It is not going to happen that quickly, but as a rule we don't like to trade when the transaction cost will be over 1% of the amount."
---
---
Mentioned in this article:
---
---
---