Hundreds of CPAs looking to roll the dice on wealth management gathered at the Aria Resort and Casino this week.
Look out RIA industry, here come the accountants — in a spirit of competition more than coopetition.
As tax preparation has largely become commoditized, more and more CPAs are branching out into offering financial planning and investment management to increase revenues and provide a broader set of services.
This growing trend was on full display here in Las Vegas this week at the American Institute of Certified Public Accountants (AICPA) Personal Financial Planning (PFP) conference. See: The AICPA gets down with advisors in Vegas — well, as much as accountants can.
Over 1,250 CPAs, exhibitors and industry experts gathered for three days of non-stop tax and financial planning action at the fabulous Aria hotel and resort. What is notable about this figure is that it has been growing rapidly over the years as more and more CPAs enter the wealth management industry. It also portends a growing threat to RIAs who historically have relied on accountants to humbly collect a small bean-counting fee then let the financial advisor walk away with a more handsome take. See: Opinion: Why NAPFA's CFP-only approach is a slap in the face of many financial advisors.
Bean counters on a roll
"We've doubled the number of members attending the conference since 2009," said Lyle K. Benson, chair of the AICPA's Personal Financial Planning Division's Executive Committee and principal of L.K. Benson and Co. "This success is largely attributable to the growth of the financial planning profession among accountants."
For those not familiar with the AICPA PFP, it is a section of the mammoth 127-year-old AICPA association's 394,000 members. Currently, there are 8,800 CPAs in the PFP division, a distinct membership category that has its own financial planning designation, the PFS, that 5,100 CPAs possess. CPAs who offer investment and financial planning services typically affiliate with an independent broker-dealer or form their own independent RIA. See: How 10 top groups define 'fiduciary'.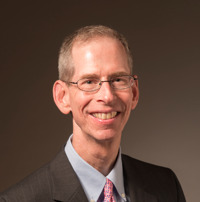 Lyle Benson: This success is largely
attributable to the growth of the
financial planning profession among accountants.
The accountants who make an appearance in Vegas is, too, a show of larger underlying growth in headcount.
"Our PFP division has been growing at 32% [over the last five years] as it is becoming more and more important to provide integrated tax and investment advice after the many recent changes to the tax laws," Benson noted.
Waxing Roth
This tax and investing integration theme flowed throughout the agenda, with many sessions focused on the technical issues involved in minimizing the tax hit for wealthy investors. See: Structuring to optimize tax-efficiency.
"The American Tax Payers Relief Act was signed into law at the end of 2012 and now we are starting to see the implications," Benson says. "For many investors, they will see a 10% to 20% increase in their taxes due to raised rates on dividend income, capital gains, and the Medicare surtax, along with others." See: What you need to know about gifting as the Bush tax cuts near their sell-by date.
Advisors can no longer do tax planning for a single year at a time, Benson argues.
"There are now multi-generational and multi-year strategies that need to be put in place in order to shift income into various years to minimize the tax hit." As an example, Benson points to Roth IRA conversions as a powerful tool to flexibly recognize income in lower-tax-rate years. See: One killer Roth conversion strategy in seeking a single-digit tax return.
Wealth-management aspirations
While CPAs may have an advantage over certain advisors when it comes to tax planning, they have much to learn in terms when it comes to operating a wealth management business. Many CPAs are still in the process of building out their advisory practices and need the technologies, operational methods and marketing approaches of the best RIAs. See: Why making partner at Deloitte Touche helped convince a CPA to join a $2 billion DFA RIA 2,300 miles away.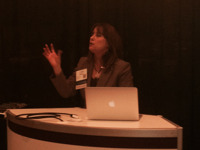 Deborah Fox took attendees on a
deep dive into the many facets
of managing a wealth management firm
during the pre-conference sessions.
As a result, the agenda also featured a healthy dose of technology, business management and marketing content. During the pre-conference sessions, attendees took a deep dive into the many facets of managing a wealth management firm, gaining insight and guidance from industry experts Deborah Fox of the Fox Financial Planning Network and technology guru Joel Bruckenstein.
"Forty-two percent of CPAs are using Microsoft Outlook as a CRM, and Outlook is not a CRM," Bruckenstein pointed out in his opening remarks during a CRM panel discussion. This well-attended panel featured Greg Friedman, chief executive of Junxure, Brian McLaughlin, CEO of Redtail and Andy Wang of TD Ameritrade.
Friedman, McLaughlin and Wang talked in detail about the many nuances of making CRM the hub of an advisor's practice that features advanced workflows for not only efficiencies, but also for profitability.
Not all CRMs created equal
"While many advisors sometimes consider CRM as a cost, CRM has been a profit driver in my firm since we started," said Friedman. See: Greg Friedman is set to finally bring Junxure to the cloud and beat back the Salesforce-ification of the industry.
Another telling session was led by Amy Mcilwain, president of Financial Social Media on how to get started in social media for advisors. This session was very popular and focused on the basics.
"Before doing any social media, the number one priority to get started is to have a professional website," said Mcilwain. This thought was echoed by comments from the crowd, such as "most CPAs have terrible websites."
Accountants test the odds
Along with the growth of the PFP conference is the growth of the exhibit hall. Over 40 technology firms, custodians Independent broker-dealers, asset managers and other professional services companies jammed into a sold-out exhibit hall in the Aria's convention center to highlight their products and services.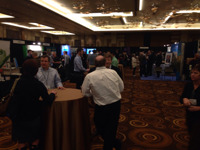 Vendors in the exhibit hall were
excited to have another growing channel
of advisors entering the independent advisor
space to market to.
The hall was very busy during the breaks and networking receptions as CPAs were eager to learn about running an efficient and profitable business and the vendors were excited to have another growing channel of advisors entering the independent advisor space to market to.
The evenings of the conference featured short cocktail receptions followed by the crowds dispersing into the many restaurants at the City Center, the new complex of hotels and shopping venues recently erected in the middle of the Las Vegas Strip. There were even sightings of CPAs energetically giving the craps and blackjack tables a go late into the night, defying the typical "shy accountant" stereotype.
As the 2014 conference season gears up with upcoming events hosted by TD Ameritrade next week in Orlando and the T3 technology conference in Anaheim a couple of weeks later, the AICPA PFP is quickly becoming a "must attend" event not only for CPA advisors but also for the broader RIA industry as well.
To learn more about what went on at the AICPA PFP conference, check out the many tweets under the #AICPAPFP hashtag on Twitter.
Timothy D. Welsh, is president and founder of Nexus Strategy , a leading consulting firm to the wealth management industry, and can be reached at tim@nexus-strategy.com or on Twitter @NexusStrategy.
---
Related Moves
---
September 10, 2019 – 10:52 PM
---
---
Mentioned in this article:
---
---
---