What happened when Fidelity Investments called 25 deal-making protagonists to its Boston sanctum for a talk about the suboptimal RIA M&A market
David Canter recounts what his company set out to do, who showed up and what the pooling of ideas yielded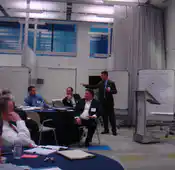 David Canter: From the session on valuation, we learned that it's more complex than most are willing to admit.
---
---
Mentioned in this article:
---
---
---
Dave Welling
October 3, 2013 — 4:47 PM
A great topic and a great group of folks to provide perspective. From my years at a major custodian which included running the practice management group and my current role working with close to 500 advisor firms I can tell you the themes have been constant over the years despite the ups/downs in # of deals. Here are a few that I see regularly…
1. Sellers often have an inflated view on the value of their business
2. Many firms still running a practice, not a business and haven't addressed risk issues (succession, dependency on 1 individual etc.) – see #1 as this is a key reason why the perceptions of value are so different.
3. A lot of the bank and other public company deals didn't work out great for the seller. Financially maybe, emotionally less so. Advisors know this. Seems like the banks know it too.
4. The more successful deals appear to be the mergers, fold ins to existing RIAs. Especially if they align to create one firm. These are hard for all the reasons you cite at the beg. of the article.
Lots of other good guidance in the article. Especially liked the met with 120 to acquire 4.
Brooke Southall
October 3, 2013 — 4:51 PM
Dave,
Thanks for lending your hard-earned perspective and writing it in terms we can get.
Brooke
http://afh.hol.es/member.php?14-carpinteyronyq
Talking about its seems to be and specifications, Apple apple iphone is able to impress the user into a good extent. One of the most interesting feature of this system is its all contact display screen interface, as well as it supports options as multi-touch input strategy, accelerometer sensor for auto-rotate and proximity sensor for auto turn-off in its TFT display that emits a spectrum of 16 million colours by means of it.
http://fsienergy.com/ConSvc.html
You will discover numerous factors to speak about in order for you to discover effects quick, nonetheless if you want for being certain you are training in your max prospective, ensure you won't ever fail to remember these 3 strategies.