Pete Hess: I think we're really going to shock some people...it gives me a great feeling.
Brooke's Note: Up until now, the Advent-Black Diamond has, ironically, been mostly just a win for the already feature-rich Black Diamond users. Advent conferred its gold-standard fixed-income capabilities and its platinum-plated Advent Custodial Data on the clients of the newcomer. Availing Black Diamond's main feature, its wide array of reports, on Advent Axys users didn't happen for the same reason that so many other integrations have not happened for the users of the legacy product: they were stuck in desktop land. Now that may all be about to change — at least some. I traveled to San Francisco on Thursday with Terence Hong, who is redesigning the RIABiz website (bio below), to talk things over with the Advent-Black Diamond leadership at Advent Connect, the company's annual conference. I knew I could bring you the gist of changes but had Terence take the lead writing on this article for deeper technical explanations and a look from fresh eyes.
Pete Hess had plenty to tell the Advent-Black Diamond faithful at last week's national conference in San Francisco, but for many RIAs, it boiled down to one point: The long-promised get-out-of-jail-free card for Axys users may finally be available.
The chief executive of Advent Software Inc. reported the news that will affect hundreds of billions of RIA assets still managed on the locally hosted software made by his company.
"With this platform, I think we're really going to shock some people. We built this so people don't have to migrate…."it gives me a great feeling. It is the right thing to do for the client — even if it could slow down migrations to Black Diamond."
Since Advent bought its upstart rival technology firm, Black Diamond, in May 2011, Axys users haven't wanted to cope with the expense, complexity, disruption and risk associated with tearing out the guts of their staid but rock-solid portfolio accounting system to switch to Black Diamond.
After the merger, the companies promised that a "button" was in the works that would transfer Axys data painlessly into the Black Diamond world. See: Advent and Black Diamond are looking like soul mates but the Axys-to-BlueSky 'Easy Button' is still on the to-do list.
Not so fast
But despite the crackle in the air over this advance, Advent Direct, the broader platform that will enable this change, still in beta. It's also unclear how much Axys customers will have to pay for Black Diamond reports. The technology being installed to translate data from Axys to Black Diamond could also facilitate migrations. Right now, a giant barrier to switching is the lengthy, painful and expensive process of converting decades of data to a new system. See: Advent founder urges advisors to steer away from 'disruptive' course of switching systems.
"We haven't figured out exactly how to charge for it," said David Welling, who heads up the Black Diamond subsidiary of Advent form Jacksonville, Fla.
More than a Band-Aid
Just how little Advent executives think of their own Axys product was illustrated at an 11 a.m. session Thursday in which Black Diamond's Blue Sky product was hyped by use of a checklist of Axys shortcomings. See: Advent Software is squandering its market leadership by keeping focus on Axys, according to a hedge fund analyst's report.
The Axys-Blue Sky conduit was the centerpiece of Hess' broader announcement of the beta for Advent Direct. "It was a big decision on our part," Hess said in an interview during AdventConnect, held at the Marriott Marquis for 1,300 attendees. "They won't have to migrate for better reporting. We see it as a way to accelerate the value. The Axys people are really happy, and in the end we'll be better off."
Advent Direct has the potential to be more than simply a Band-Aid for users of legacy products wishing to tap into the power of cloud computing. In theory, users of AD should feel little or no difference between cloud and legacy products. "Advent Direct is an abstraction layer," said Mike Golaszewski, Black Diamond's head of product development, said during an interview. See: Where RIA technology stands heading into 2013 after 2012 lost some steam.
Golaszewski was referring to a single interface for users to interact with the entire suite of Advent products through a consistent front end (i.e., colors, icons and everything else that comprises the look and feel of software).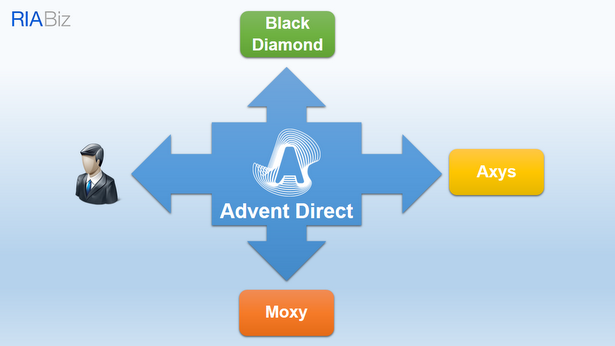 Advent Direct – Users interacting with
AD should feel little or no
difference between cloud and legacy products,
and in theory, should experience no
disruption if improvements are made to
individual cloud products.
Migrating out
Advent Direct will immediately bring a more modern, mobile-friendly user experience across all Advent products — an increasingly high priority among RIA's. Just as individual apps on your mobile phone or tablet can be updated without causing disruption to the rest of your Android or iOS device, AD users should feel little or no disruption as Advent makes improvements to individual cloud products, or completely transforms its legacy products into cloud products, in the future. See: Advent envisions a cloud-based world under stormy Las Vegas skies at the software giant's annual confab.
While Advent Direct will address a major frustration for Axys users who have no desire to switch entirely to Blue Sky, it remains to be seen whether it will help stem defections to other providers, such as Orion Advisor Services, LLC, Envestnet | Tamarac, AssetBook, Morningstar and FinFolio.
Eric Clarke, president of Orion Advisor Services LLC, expects to win Axys users at a brisk pace because most users buy his cloud-based system for reasons other than access to more-modern performance reporting.
"Simply having better reports won't allow the advisor to interact seamlessly with their data between portfolio accounting, CRM, and financial planning systems. This is a huge benefit for advisors that have cloud-based technologies," he says.
Clarke also noted that some users acquired from Advent, aware of Advent Direct's coming, switched to Orion nevertheless.
Hess and his team are aware of this reality and have made plans to start addressing it. If executed well, Advent Direct has the potential to be more than just a patch for users of legacy products wishing to tap into the power of cloud computing.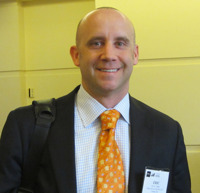 Eric Clarke: This is a huge
benefit for advisors that have cloud-based
technologies.
Progress or perish
To me, Advent Direct signals that Advent has finally committed to scaling its business via cloud products. Hess even proclaimed his company's intent to re-engineer legacy products from the ground up during our interview. I feel this is a necessary step for the company's survival, rather than an innovative leap forward.
*Do or do not, there is no try [to be innovative]," said Hess.
Along with new branding, several of the keynote speakers at this year's AdventConnect repeatedly hit on the theme of innovation. See: Advent unveils new logo at its annual San Francisco conference — after discarding one that failed to elicit a sense of the progressive from RIAs.
Acknowledging that it has been, historically, less than responsive to its customers, Advent unveiled Advent Direct Community, which will be a free, social self-help forum for Advent users. Previously, technical support was largely performed over the phone, leaving no record for other users to refer to. Since the same problems tend to dominate the majority of support tickets in any company, a public repository for all support tickets is a win for both Advent users and its support team. Social aspects like "voting up" a problem enable users to passively signal "me too" to Advent's engineering team. But this is less innovative than enterprising. StackExchange-styled forums have been the norm in consumer software for years.
What counts as innovation
In technology, "innovative" is one of the most overused words (right up there with "disruptive"). To keep their powder dry and their credibility strong, software makers should use it sparingly. Microsoft's "Start" button innovated by changing all operating systems forever, not just Windows.
Likewise, the iPod's scroll wheel and numerous other Apple technologies since then were true innovations. Simply taking the necessity of re-engineering a suite of products for the cloud does not count as innovation; it merely sows the seeds for possible innovation in the near future.
This is a good first step for Advent, but it remains to be seen whether its software can back up its marketing campaign. After all, a company is not truly innovative until its users say it is.
Reverse cultural merger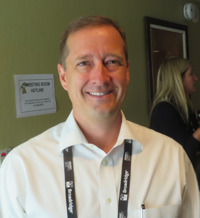 Kevin Sweet: This recognizes that I
like RedBlack. I love RedBlack.
All of this would not be possible without a major shift in the way Advent's engineering team operates. Along with its acquisition of Black Diamond, Advent has also adopted a more modern development style, including two- or four-week development cycles. See: How Black Diamond is working out — or not — as Advent's agent of deliberate cannibalization.
Eighty percent of Advent's new hires in the past year were slated to bolster the Black Diamond side of the business. This modified approach means that even big adds and bug fixes can be knocked out quicker (i.e., within two to four weeks), and in response to recent issues, such as those raised by users in the Advent Direct Community. This brings Advent closer to Black Diamond, and in turn, to modern software engineering.
Direct integration
Advent has also adopted the idea of easy integration with third parties. Take Kevin Sweet, principal of Column Capital Advisors LLC, an Indianapolis firm that manages $500 million and became a Black Diamond customer in 2007. He says that this openness has always been important to his business. For instance, despite the existence of Black Diamond's own rebalancing software, it still uses RedBlack Software for rebalancing.
"This recognizes that I like RedBlack. I love RedBlack."
Sweet says his business has grown mightily since he broke away from Ernst & Young nine years ago, but that by finally getting all his software working together — with an assist from the Schwab-Black Diamond integration — he is doing direct marketing in newspapers around Indianapolis rather than relying on referrals.
'Great move forward'
Personally, I feel that whenever a software company decides to integrate with the market leader in a related field, rather than diverting limited resources to competing, there is the potential to create synergy for the user — a plus for all parties.

Franklin Tsung: It's a great move
forward that will not only bring
Black Diamond closer to Salesforce, but
I believe, Advent closer with Black
Diamond.
Advent, for instance, will soon allow Black Diamond-using RIAs to tie directly with Salesforce for CRM. This comes in the wake of Advent's recent dealings with Schwab, which has built Intelligent Integration very closely with Salesforce. See: Schwab and Advent Software forge historic agreement — mostly for the good of Black Diamond users for now.
Previously, the only way for Advent users to integrate with Salesforce integration was by using AppCrown, LLC — advisor software built on the Salesforce platform.
Still, Franklin Tsung, a principal of AppCrown LLC, welcomes the direct integration with Salesforce as an affirmation and opportunity.
"It's a great move forward that will not only bring Black Diamond closer to Salesforce, but I believe, Advent closer with Black Diamond. Now, finally, with each vendor and market participant focusing on Salesforce.com, it is helping and radically pushing AppCrown to be able to build on these integrations and connectors without taking on the R&D costs, thus diminishing the cost of ownership for this technology for all users across the board."
Portable data
Despite being relatively new to the RIA tech world, I am well aware that the lack of data portability has been a major source of frustration for Advent users, notably users of Axys. In fact, I noticed that among the exhibitors at Advent Connect were companies based precisely on treating this troublesome issue (In tech, you know there must be a big problem at hand when an entire cottage industry springs up to the address the shortcomings of a larger company. See: How one company is making money by making Advent Axys data portable.)
Therefore, I naturally interested in knowing more about the data portability for Advent customers after they migrated to Blue Sky.
"It's the customer's data", said Golaszewski. "No extra fees or resistance."
This almost sounds too good to be true in light of Advent's past. I have not been to verify this myself. However, some industry sources have told us that there are still some hurdles to overcome when migrating Black Diamond's data to other providers.
A $15,000 difference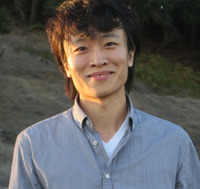 Terence Hong: Despite new branding,
Advent must still take a number
of steps to prove to us
that it is innovative.
As mentioned above, the big unknown is pricing. The pricing for Advent Direct has yet to be determined, and one challenge that lies ahead for Advent is to retain product differentiation between AD and Blue Sky, since Black Diamond reporting, which is undoubtedly the most sought-after component of Black Diamond, will be made available directly through AD. For the average RIA still using Axys, the difference in price between Axys and Blue Sky is approximately $15,000. The calculation of this amount can be seen in this article: Black Diamond divulges 'unbelievable' data about how Advent is doing, two years after its $73-million buy.
Can Advent offer Advent Direct at a price that is palatable to Axys users? After all, AD will come at an additional cost — without competing with its ultimate goal of converting users to Blue Sky. Also, if Advent Direct is priced too low, how will recent converts to Blue Sky feel, having invested the significant difference in order to switch to Blue Sky?
My conclusion
Software providers within the RIA industry have enjoyed the luxury of low customer churn rates for an unnaturally long time. If users have difficulty leaving an ecosystem — because of data portability, for instance — software companies have little incentive to work to improve the user experience. Contrast this with consumer-facing web companies, where a single bad experience, prolonged server outage or a slow mobile app can be enough for a user to start using a competitor's services instead.
Competition is good for users and the driver of continuous innovation.
Despite new branding, Advent must still take a number of steps to prove to us that it is innovative. Assigning that term to one's technological prowess is a promise to produce more than RIAs have seen thus far.
Terence Hong is a software engineer and data scientist based in Toronto. Terence began programming as a means to manipulate large data sets when he was a radiology researcher at the Hospital for Sick Children. His love for big data grew from there and he co-founded a startup, Adjuno, in 2009 that was offered venture capital funding. Currently, his programming interests include: RIABiz, big data, machine learning, and the use of d3.js for front end visualization of data.
---
---
Mentioned in this article:
AppCrown, LLC
Outsourcer, CRM Software, Tech: Other
Top Executive: Ted Tsung
---
---
---
Pete Giza
September 26, 2013 — 5:08 AM
Terence,
Nice article and it is great to see a glimpse of what Advent whispered at last year's CONNECT. The "cloud" is be bantered around a lot these days and it means vastly differing things depending on who you are talking to.
If I understand correctly for Axys users this means they get to push their report data to the cloud. That's nice since it will make reports available via any old browser that can consume HTML5 et. al. However I wonder what sort of improvements are being made to the core product? Is Advent Direct just a data conduit and web API platform or does it have computational capabilities? Will Axys users be able to get enhanced reporting like daily position level TWR or partnership level reporting?
The idea of connecting Axys and BDR data together and leveraging the combination into new reports or features sounds great. But based on what I am reading it sounds more like a data migration conduit.
It looks like Advent Axys users who are looking for a migration path to BDR may have their answer in Advent Direct. However if they are looking for enhanced reporting and other functionality such as CRM and reconciliation it looks like they will continue to be serviced by the cottage industry that has grown up around Advent.
Those companies like the company I just joined, WealthSite, we make up this cottage industry. And we enjoy helping our clients leverage their Axys investment. We do this by integrating CRM, partnership tools, alternative asset management and much much more. WealthSite as is true with many other providers make data accessibility and migration a simple task. Most important enable firms to build efficient data-driven enterprises that are agile and scalable.
Thanks again for the insight.
Regards,
Pete
Pete Giza | VP Business Dev. | WealthSite | 603 594 9912
Terence Hong
September 26, 2013 — 5:55 AM
Hi Pete,
Some brief points based on my interview:
-There are no major improvements or features that are being added to the individual product at this time as the focus has been Advent Direct.
-As I understand it, Advent Direct is simply a conduit, and computation will be done once the data arrives on Advent Direct.
-I can't be sure if enhanced reporting, such as daily position levels, will be available, but in theory this should be possible based on the info given to me at the interview. Likewise, Advent Direct could be a means to offer direct Salesforce integration, from what I was told. (Axys connected to Advent Direct, and Advent Direct connected to Salesforce). Of course, the exact Advent Direct spec may still be evolving at this time.
-In terms of data migration from Axys to Black Diamond, it should be noted that Advent has no plans to use Advent Direct as a migration path at this time. I actually mentioned this to Pete, Dave and Mike during our interview, and they had not considered that option. However, it seems like a very natural way to migrate, in my opinion, and much less intrusive than sending a team of engineers.
Pete Giza
September 26, 2013 — 12:49 PM
Terence,
You said
"-As I understand it, Advent Direct is simply a conduit, and computation will be done once the data arrives on Advent Direct."
Are you saying that Advent is planning a cloud version of it's portfolio accounting and reporting engine?
Based on the diagram you put up in the article it looks like a conduit. Any computation would be on the part of the consumer, in the case of the diagram Moxy or BDR. Neither of those represents an accounting platform and any computations made are part of their business logic. The data coming into the conduit from Axys and APX is already cooked so can you clarify your statement above?
Interesting comment on migration. And I can understand why – its just not that simple. Looking forward to hearing back.
Pete
Pete Giza | VP Business Dev. | WealthSite | 603 594 9912