Under same management, but with a new logo, Advent lowers the boom on its retired signage.
Brooke's Note: Tim Welsh covered opening day of AdventConnect and captured the macro-message from Pete Hess. Right now, Advent changes are happening very much at the macro level — not without micro challenges galore — as the Black Diamond deal becomes part of a broader transformation. Terence Hong, RIABiz's technology reviewer, and I covered the event yesterday and we are feverishly preparing our own reports to augment Tim's. Here is the first of those
The good news for Advent Software when it completed a recent survey of its RIA clientele was that they characterized it as: Reliable — Advent technology works; Stable — Advent is publicly traded and has been around for 30 years; Market leader — Advent is the standard and is the safe choice.
But while these are attributes that might make the CEO of a cement mixing company beam with pride, it had the opposite effect on Peter Hess. See: Peter Hess will take the CEO reins at Advent Software.
"We needed to reinvent Advent," said the chief executive of Advent Software on Wednesday morning to a crowd of 1,300 attendees at AdventConnect, the company's annual national convention at the Marriott Marquis — its 25th. The event is running in San Francisco, several blocks away from the company's headquarters.
Here's what stood out about this Hess statement: Advent has arguably been doing nothing but reinventing itself for the last three years. See: Black Diamond divulges 'unbelievable' data about how Advent is doing, two years after its $73-million buy.
Tear it down
There has been a growing internal recognition at Advent HQ of a disconnect with some RIAs leading to the purchase of Black Diamond, a company many people considered at the time (and many still do) on the innovative edge. With the buy, Advent even attracted the attention of hedge fund analysts, always on the lookout for a promising company stock to short. See: Advent Software is squandering its market leadership by keeping focus on Axys, according to a hedge fund analyst's report.
But clearly the Advent survey underscored that that market hadn't fully bought in to the idea that these actions had gotten Advent past its unsexy image of Old Reliable. Rebuilding was going to demand some subtraction to make way for additions.

A for adaptation: Advent's new logo.

As Advent thought through damnation-by-faint-praise survey results, Hess said that the one word sorely lacking was 'innovation.' He pointed out that in celebrating its 30th anniversary, it had an interesting and checkered past that hadn't necessarily always been what advisors had wanted, nor ultimately what Advent management had wanted. See: How Black Diamond is working out — or not — as Advent's agent of deliberate cannibalization.
"We are in challenging and changing times and we need to reinvent ourselves, tear it down and construct something better," Hess said.
He pointed out the many changes impacting the investment industry including globalization, regulation, the need for transparency, and the ability to manage operational risk, were converging in a way that that required Advent to embark on a radically different strategy, identity and approach to ensure the success of its client base. See: Peter Hess will take the CEO reins at Advent Software.
!https://www.riabiz.com/i/4599031653203968/b(Pete Hess: We needed to reinvent Advent.)
To introduce the new Advent, Hess revealed the company's new logo — a solid black, letter "A" in a shadow outline with an abstract wave pattern emanating from all sides.
Initially in the demo, the new logo in motion in the start up screen looks powerful and elegant as it boots up on a computer screen. But as a static logo, the lack of the tiny white space triangle at the top that sets up the cross bar for a normal capital A, seems a bit like a dark vortex that will swallow you up, or a 3-D illusion that the A is floating on a sea of waves. In any event, the new logo is a vast departure from the previous one and it is exciting to see the company take a risk with a new identity. The risk is that if you seem like Elmer Fudd remaking himself in Mick Jagger clothing without co-opting a new psyche, You also risk creating unease in customers who love you precisely because you have never tried to be hip.
But I'm sure the marketing brain trust at Advent (BTW — I hold them in high regard) knew the perils and promise of the logo going in, as any eye-catching logo will create an effect at the get-go, until you get used to it. See: How TD Ameritrade is playing the logo game to spur 4,000 of its wavering RIAs to adopt its third-party hook-ups.
Very big deal
While changing logos seems like a fairly straightforward matter, the reality is for a company of the size and with the scope of Advent, it is a massive and expensive undertaking. The message here: Advent is demonstrating its commitment to reinventing itself by spending millions on the makeover — and leaving itself no easy path of retreat.
This was demonstrated most poignantly by a photo of large cranes removing the old logo from company headquarters. Advent also updated the websit and changes business cards, pens, stationary, napkins, trade show booths, T-shirts — the list goes on — the scope and cost of a logo change is immense. See: Dynasty Financial Partners launches a branding and marketing subsidiary peopled by ex-Citi execs.
But to really change the brand of a company, Advent also has to provide a new and superior customer experience. Hess used his podium to introduce a new technology platform: Advent Direct, a cloud-based platform that integrates all of the Advent products on one homepage that is customizable and configurable by the individual role in the firm.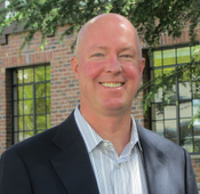 Tim Welsh: The new logo is
a vast departure from the previous
one and it is exciting to
see the company take a risk
with a new identity.
Blue skies
The homescreen used visual tiles as launching points for traders, portfolio managers, wealth advisors, compliance professionals, back office admin staff — basically every role that exists in firms — to kick off workflows and integrate systems that historically had been siloed. The fundamental calculation and data engines from all of the Advent products will feed into Advent Direct and project a unified and integrated view of the firms' data and workflows. See: Purchasing too much technology has its own dangers for RIAs.
Another compelling feature of Advent Direct incorporates social media into an information sharing and online networking application called Advent Direct Community.
"The best part of Advent is our community," said Anthony Sperling, EVP of Global Client Experience. "Events like this, Advent Connect, create unmeasurable networking and synergy for sharing the best practices and being a resource for our users to tap into. We wanted to re-imagine that into an actual online application to continue the collaboration."
Black Diamond-ized
Through Advent Direct Community, users will be able to post questions or provide answers to queries from other Advent users to find ways to solve problems, identify issues and share best practices. Similar to other internal social networks like SalesForce, Advent Direct Community will be a key resource for Advent and Black Diamond users to find answers and streamline operational issues.

The spanking new Advent Direct homepage

Along those lines, Advent has also been busy upgrading the Black Diamond product, with new rebalancing features, enhanced custodial data integrations and increased service support. See: Update on Black Diamond-Advent merger.
At the time of the Black Diamond acquisition, many in the industry worried that Black Diamond would become Advent-ized, but the reality two years later is that it is looking more and more that Advent has become Black Diamond-ized.
Clearly the Black Diamond acquisition has paid off in more dividends than any of us knew. For example, after Wednesday's announcements, the Advent shares (Nasdaq: ADVS) stock was up 2% to near $32. It's not quite a $52-week high but is strong considering that the company recently paid out $9 a share dividend.
To learn more about what went on at the Advent Connect conference, check out #AdventConnect on Twitter.
Timothy D. Welsh is president and founder of Nexus Strategy, a leading consulting firm to the wealth management industry, and can be reached at tim@nexus-strategy.com or on Twitter @NexusStrategy.
Full disclosure: Tim Welsh has been paid to do consulting work for Advent and Black Diamond in the past.
---
Related Moves
---
February 6, 2021 – 2:39 AM
---
September 10, 2019 – 10:52 PM
---
---
Mentioned in this article:
---
---
---
Larry Daoud
September 22, 2013 — 9:04 PM
A lot of talk about logo "strategy" but that often is a red herring for inept leaders to focus on shiny objects instead of real, often more difficult changes within an organization. The Advent website content is the same mostly, with just a "social media" design. The logotype is a standard typeface. Investors should be asking how much Advent paid for this thin facelift and why didn't they instead invest in building true SaaS products. Lipstick on a pig…
Brooke Southall
September 23, 2013 — 5:09 PM
Larry,
I don't know if this is right but it looks like thoughtful skepticism. Thank you.
As the official middleman of this site, however, I'd say Advent is (more to come from us in the next couple of days) investing in more SaaS, mostly through Black Diamond. And we as an industry need to come up with a better metaphor than lipstick on pigs. I'd take eye eyeliner-on-an-elephant or something else out of the barnyard.
Brooke