In WSJ article, Mark Casady issues a series of mea culpas and positions LPL as a turnaround story
In the esteemed publication, CEO Mark Casady positions his company and his attitude toward advisors as a turnaround story built on two-hour deadlines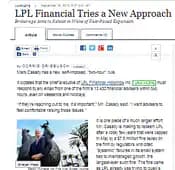 Mark Casady: Before, I was an externally focused CEO, doing acquisitions, focused on getting us public, We weren't as attentive as we could be.
---
---
Mentioned in this article:
LPL Financial
RIA-Friendly Broker-Dealer, RIA Welcoming Breakaways, Advisory Firm
Top Executive: Dan Arnold
---
---
---
Stephen Winks
September 17, 2013 — 7:49 PM
The entire industry is going through growth pains in its evolution from product focused commission sales and client focused advisory services.
The good news, is LPL is listening, while the industry's largest firms remain insular to the needs of the investing public (required by statute) and the professional standing of the advisor.
Is it conceivable that in periods of extraordinary change that conventional thinking could be more of an impediment to growth than a catalyst? LPL may have the answer based on its ability to make advice (fiduciary standing) safe, scalable, easy to execute and manage as a high margin business at the advisor level. If LPL evolves as a custodian that provides advisors control over their value proposition, cost structure, margins and professional standing, not possible in a brokerage format, it will have cracked the code on modernizing the financial services industry. In the process it will have restored the trust and confidence of the investing public by providing the enabling resources necessary to for the advisor to be accountable for their recommendations fulfilling their ongoing fiduciary duties.
The fact that LPL has achieved scale is not as important as what it does with that scale. If it listens to its advisors and the investing public it has a most profound opportunity in filling the brokerage industry's leadership vacuum with disruptive innovation in the consumer's best interest. LPL has everything to gain and nothing to lose—a very enviable and unique market position that could reorder the entire industry around the consumer rather than products.
SCW
Jeb Bashaw
September 17, 2013 — 8:23 PM
I have been an LPL advisor for 12 years and have never been prouder to be associated with them. LPL has changed my life and that of my family's. Mark and his team have consistently been willing to listen to the field. More importantly, I have never ended a call with LPL without someone saying "Thank you for your business". In a world of "what have you done for me lately?", LPL has a strong institutional memory that provides for continuity and commitment that will continue to serve them well. The financial industry is stronger because LPL is the leader.
Don Atherton
September 19, 2013 — 12:35 AM
Formed in 1989 and hardly a household name as pointed out in the WSJ article, LPL as the 4th largest broker has been an industry disrupter from the beginning. LPL has created positive industry change year after year for decades. It is not surprising that more established firms like Morgan Stanley or Bank of America find this unsettling. The industry trend is to independent investment advice with LPL as the leader in this space. The article somehow overlooked this fact.
The article was a simple hatched job attempting to place Mr. Cassidy in a poor light. Mark is a person who is confident in his vision, ability and team. Simply put – he is comfortable in his owns skin and willing to accept hard truths without excuses. He is a true leader which is hard to find today.
Growing the company was the right decision and growing pains are not uncommon. LPL is committed to their advisors' business. Who's business is Morgan Stanley or Bank of America committed to?
Strength of character is visible when people face their problems head-on and fix them. LPL's next industry disruptive act can be found in the Retirement Partners Group which is changing the retirement plan advisor model. Their Worksite Financial Solutions services will bring a paradigm shift to the 401(k) Industry creating superior retirement savings outcomes for Working Class Americans.
It is difficult to be a change agent in any industry. You are often misunderstood and unloved by your competition and industry press. However, next time I hope the WSJ can see the ball coming as LPL continues to blow past the competition at an ever increasing pace.
Stephen Winks
September 19, 2013 — 3:07 PM
There are competing and contradictory factions within the industry and LPL that must be reconciled ? It is product centricity versus client centricity. The suitability standard in the broker/dealer's best interest versus the fiduciary standard in the consumer's best interest, Commission sales versus advisory services. Brokers versus Advisors. Market leadership is determined by how these conflicting business models are managed. These considerations do not have to be mutually exclusive or contradictory.
Advice is not homogenous as today the industry offers four forms of advice: (1) commission sales or no advice established by internal b/d compliance protocol to eliminate fiduciary liability, (2) financial planning or needs based selling unless it is continuous and comprehensive essential for fiduciary standing which is not a requirement for planners, (3) investment management consulting where brokers sell advice as a product, not as an expert prudent process the advisor manages, (4) fiduciary counsel where the advisor manages investment and administrative vales on behalf of the consumer as statutorily required in the consumers best interest.
It is possible for brokers to afford all four levels of advice as determined by the consumer but it would require large scale institutionalized support for fiduciary standing built around (1) and expert authenticated prudent investment process (I) asset/liability study, (ii) investment policy, (iii) portfolio construction, monitoring and management, which makes advice safe to acknowledge, (2) advanced technology which affords (I) transparency,(ii) cost efficiency, (iii) more modern approach to portfolio construction and (iv) continuous comprehensive counsel, required for fiduciary standing, (3) worth flow management tied to a functional division of labor that makes advice (I) scalable, (ii) easy to execute and (iii) manage as a (v) high margin business at the advisor level, and (4) conflict of interest elimination not disclosure, which makes expert fiduciary counsel possible.
The brokerage format has thwarted these developments via its compliance protocol which neither acknowledges the broker renders advice nor has any ongoing fiduciary duties to protect the best interests of the investing public. Of course given a fiduciary option, what consumer would choose an advisor who is not acting in the consumer's best interests.
Thus the conundrum. Obviously the RIA wins. There has never been a case in the free market since Adam Smith's invisible hand introduced in 1776 that the best interests of the consumer has not prevailed. Will it be LPL, or an entity entirely outside a brokerage format with minimal internal conflict, that actually supports professional standing for the advisor. Making advice safe, scalable, easy to execute and manage as a high margin business is presently not possible in a brokerage format. Who ever empowers the advisor to control their value proposition, cost structure, margins and professional standing at a cost cheaper than a packaged product which compensates the advisor as much as 50% better than a broker will win.
This is the modernization of the financial services industry geared to client outcomes, not selling products. As John Bell Keeble, the father of financial planning, said over 30 years ago, "where is the service in financial services". Indeed, we are just now about to see it emerge.
SCW
http://nightlife.ya1.ru/user/z3wpxgui5/
But make sure you read their phrases and problems in advance of shopping for any used components. Check out on their own return again policy. You will end up bound because of the conditions and also the conditions for those who look at, use or download any elements from this Website,
http://earthtouchdesigns.com/page3.php
VimaX Furthermore could possibly be the key male organ accent pill, which will convey the easiest after-effects inside the beeline achievable time. You would possibly get a more than male organ aback you will be turned on. You also obtain better adeptness of acclimation and longer-lasting beastly efficiency. It really is a acclimatized accomplishment you will obtain a more admission within the beastly endurance. You will find abounding adequate opinions relating to this company.