News, Vision & Voice for the Advisory Community
With e-mail, texting, friending, linking-in and tweeting running rampant, the casualty may be the most potent social media of all: voice-to-voice contact
September 13, 2013 — 6:26 PM UTC by Guest Columnist Abby Salameh
Brooke's Note: It's perhaps a study that will never be done. But in my careers in deal-making, sales, claims adjusting (long story) and journalism, the ones who shine best are the ones who are least afraid of the telephone. See: Hou-Sear team applies Goldman Sachs marketing approach in second year as RIAs. Yet it sometimes seems that it's becoming outmoded. Abby Salameh gets that message out and makes me realize it also applies to financial advisors. Imagine if things had happened the other way around and texting came first and voice calls had only recently become available. Imagine how 'revolutionary' that would be for business. It is. Use it. And not one of those toy cell phones. A landline!
A few days ago, I went to the doctor for a routine checkup. When I left, the nurse gave me a card with a "unique dial-in number" that I was told to call in three days for my blood test results. The doctor would leave me a message on that very private and secure line that only I could access.
Really? I am going to find out if I am healthy or not by calling a dial in number where the doctor will place a recorded message? That seemed so impersonal to me. I vowed to find a new doctor. (Of course, I lost the card and had to call in to find out my unique number so I could then call the dial-in number and get my test results.)
It started me thinking about the advisory industry. Have we moved to a low-touch environment like this as well? I decided to take an informal survey. One advisor, Matt, told me that he frequently e-mails with his clients and picks up the phone only when absolutely necessary. I asked him what would necessitate a phone call. He said: "If a client had an issue, a serious question or a death in the family, I will call him or her to discuss it over the phone." Surprisingly, I had a similar response from a few other advisors I spoke to. See: How to avoid that fatal blow to client communication.
Prefab practices?
With all the new technology and resources available to advisors, have we lost the art of conversation with our clients? Personally, I have been pushing advisors to use systematized approaches to communicating with their clients, such as pre-made newsletters, standardized letters, birthday cards and anniversary cards. But in the quest for efficiency, have we lost the rapport that has always driven this business? See: 5 ways for stressed-out advisors to build a more efficient practice.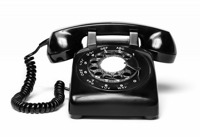 The telephone was way ahead of
its time.
I don't know the answer; however, I did notice there were two trends that surfaced:
1. Advisors make personal phone calls consistently for one purpose — prospecting for new business.
Four out of the five advisors I spoke to told me that they would likely pick up the phone and make a phone call if they received a referral from someone. Janet, an advisor in New York, told me: "I always pick up the phone and call a referral from an existing client. If they were kind enough to send someone to me, I make it a point to have a personal conversation with them." One advisor told me he would probably send an e-mail first to introduce himself and then follow it up with a phone call. See: How a suddenly wealthy, young Bay Area widow found her RIA after months of fruitless efforts.
2. The younger the advisor, the more they lean on technology.
Fear of phoning
The advisors I spoke to all agreed that e-mail was a great way to get out of speaking to someone they didn't feel like conversing with — like a vendor or an annoying client. They also agreed that things sometimes get misconstrued though an e-mail. For example, Paul was e-mailing with one of his clients, who misunderstood the message and took offense to the e-mail he sent. "He misread my message and almost left my firm because he thought I had insulted him."
I have to believe that "phone-phobia," as a recent article in The Wall Street Journal referred to it, could be extremely detrimental to the art of financial planning and wealth management. I don't think I have ever seen a successful advisor who didn't build his or her business by pounding the phones. Taking it a step further, I have never seen a successful advisory practice that did not make it a point to see, in person, their top clients at least once a year. After all, how can you possibly keep abreast of how clients are really feeling about the markets, the economy and your services if you do not see or speak to them in person? See: One advisor's strategy for growing a practice, dodging compliance issues and staying young: Kill the computer.
I know, personally, if I did not spend the time on the phone or in person with advisors and vendors (fund companies and the like), it would be extremely difficult for me to create top-line solutions that can help advisors drive their business forward.
If you lose a pulse on the market you serve, you go dead.
So, pick up the phone. Bang out those calls. Our clients want to talk to a live person when it comes to saving for their children's or grandchildren's college education, planning to buy that second home, their legacy planning and their financial futures and dreams.
Final note from Brooke: We reporters are also prone to over-e-mail_.
Abby Salameh is chief marketing officer for Private Advisor Group LLC in Morristown, N.J. See: Abby Salameh joins LPL's largest branch office. She brings 20 years' experience working directly with independent advisors. Having started her career at Sanford C. Bernstein & Co. Inc. in 1992, Abby went on to help launch InvestmentNews for Crain Communications Inc. In 2002, she joined TD Ameritrade to head the marketing efforts for its institutional services. More recently, Abby has been providing strategic and tactical marketing consulting for leading industry firms, including large broker-dealers and independent advisors. She joined Fusion Advisor Network in 2011.
---
---
Share your thoughts and opinions with the author or other readers.
http://world-2010.com/user/kopetpdwax/ said:
June 26, 2014 — 2:13 AM UTC
In case you now possess the prior 13-inch IBM thinkpad r51 battery MacBook Pro, there not lots of purpose to improve until you merely must have the newest variation of every thing. The improvements into the 13-inch lineup are generally about enhanced graphics and battery lifetime, and so they aren all of that diverse through the year beforend it to some degree tough to justify the $1499 design dependent only on its bigger harddrive and marginally speedier processor, which didn translate to much difference in our exams.
http://www.conveyormfg.com/product.html said:
June 26, 2014 — 3:44 AM UTC
You can find no location like "home", where ever you are getting enjoyment of calm solitude and solace. House is where ever the middle is. An region anywhere you can expect to sense and listen in your heart is home. What concerning all over a company journey? Could it be attainable to ever seem dwelling? Dwelling inside of a genuinely high priced building will guide you to appear that, wherever each corner talks luxury. A limited quantity retain in an expensive hostel is smart, aside through the lengthy period? It should not be terribly sensible. Whilst, likely to further viable alternate, reduce, having said that you can expect to comparable on the cost locations to remain.
---
---