Meredith Lloyd Rice: [Fee proliferation] is a trend but the RIAs are still very distinctive in their attitudes and preferences.
Brooke's Note: It's all the rage to talk about how the wirehouses, regionals and hybrid IBD reps are shutting down the RIA advantage. First there was the half-mythical recruiting drought. Now this Cogent study relating to fees. Then there's the old stand-by that "wirehouse executives are not dumb" and that it's only a matter of time before they flex their muscles and beat up on the RIA rag-tag army. (That argument reminds me of the one I've been hearing about interest rates for 10 years about how they "just can't go any lower so they have to go higher"). So I decided to look closer at this Cogent study to see if it's half the red flag that it gets credit for. It's author, Meredith, was very helpful in putting it in good perspective.
The 20-year-long trend of brokers putting client assets into fee-based baskets of assets is both at an all-time high and, perhaps, at an all-time rate of exponential growth, a new study of financial advisors by Cogent Research LLC shows.
The Cambridge, Mass.-based firm's study, Advisor Brandscape 2013, finds that 66% of all advisor assets will be "fee-based" by 2015, up from 59% currently and 56% last year. Traditionally, advisors in the wirehouse, regional, insurance and even independent-broker-dealer channels could be expected to earn the bulk of income through commissions. See: FRC report: Merrill Lynch, Morgan Stanley, UBS, Wells Fargo are undergoing a radical transformation to a brighter future.
The study surveyed 1,700 advisors with average books of business of $105 million in assets under management and a minimum of $5 million. Both the current compensation means and anticipated comp were self-reported by the advisors. Financial advisors at wirehouses count wrap accounts, managed accounts and assets in a corporate RIA as "fee-based."
The differentiator
The statistics are not surprising, and they suggest a notable change is in the works in the advisor business, according to Timothy Welsh, president of Nexus Strategy LLC of Larkspur, Calif.
"I've got to believe that wirehouse advisors are moving up the food chain," he says.
Indeed, these hard data sparked a couple of articles — by Jason Kephart, reporter for InvestmentNews, and Michael Kitces, partner and director of research for Pinnacle Advisory Group Inc., titled, respectively: "RIAs are losing competitive edge" and "Are Financial Planners Experiencing A Crisis Of Differentiation?" Kitces makes the point that a quick review of advisor websites reveals the virtually identical outline of a value proposition.
"How many advisors still use some version of the following as their differentiator: 'We provide customized, individualized financial advice to our clients, delivered from well-educated, highly-credentialed advisors who have several decades of experience.' Certainly, the wording varies from one advisor brochure to the next, but they all build around the same key points." See: Selling your value proposition.
Still, advisors charging fees don't all look alike when you dig deeper, according to Meredith Lloyd Rice, senior director of syndicated research at Cogent Research, who oversaw the study,
"[Fee-proliferation] is a trend but the RIAs are still very distinctive in their attitudes and preferences, she says. RIAs reported that 84% of their compensation comes from fees.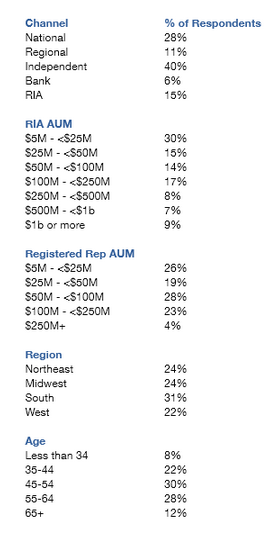 Cogent surveyed a wide range of
advisors.
Culling the herd
One measurable difference is how RIAs — unlike brokers — strive for low-cost providers and low-cost brands — often using passive investing.
"RIAs are heavy ETF users and like brands like Vanguard and DFA that deliver on low costs," says Rice. "If [advisors at broker-dealers] focus more on cost and question active management, that could be an interesting development."
The big driver of the acceleration of fee use may tie into macro trends occurring on the wirehouse side. Merrill Lynch, for instance, has very publicly culled smaller advisors and the small investors they serve and herded them in Merrill Edge. The move to the affluent client has, necessarily, resulted in a higher proportion of assets ending up in wrap products. In addition, investors are getting older and richer — with most carbon-dated at 60-plus, Rice says. "The more affluent they are, the more they expect asset-based fees" See: Veteran Merrill Lynch manager leaves seven registrations on the table to return to his pure-RIA roots.
Confusion still a factor
But even discounting these factors, wirehouse brokers are gaining real ground, according to Welsh. Advisors using fees are freed from drumming up commissions anew each year and can focus more on financial planning. This aspect of the wealth management process tends to yields better outcomes for clients related to planning, hence driving referrals and client retention. See: The prognosis for Morgan, Merrill, UBS and Wells is even grimmer than the negative hype, Cerulli report shows.
Even so, Rice points out that a separate study conducted with consumers creates some questions about consumer understanding about fees. Only 29% of consumers with $100,000 invested say they pay their advisor a percentage of assets and another 20% say the aren't sure. See: The SEC needs to clean up its semantics before accusing RIAs of inflating AUM.
"I see nothing wrong with the Cogent numbers," Kitces writes in an e-mail. "Frankly, they seem low based on my experience talking at wirehouse and B-D events. Every decently successful wirehouse advisor I see is running a pure or nearly-pure AUM business, unless they've got an unusual transactional niche (e.g., they're a 'bond guy' or they specialize in some unique alternative investment thing)." See: The 10 things Morgan, Merrill, UBS and Wells Fargo could do if they really, really wanted to stem the RIA tide.
---
Related Moves
January 12, 2022 – 3:13 AM
---
---
---
Mentioned in this article:
Kitces.com
Consulting Firm
Top Executive: Michael Kitces
---
---
---
Jamie McLaughlin
August 8, 2013 — 12:50 PM
The Cogent study is elucidative and supports the shift of brokerages to fee-based business, but the difference between RIAs and brokerage platforms remains distinctly cultural. The overarching incentives for client-facing brokers remains largely transactional; as much about gathering assets as serving and advising clients.
Brokerage industry leaders can change this through performance and compensation systems that reward more than simple revenue growth and nurture a culture that rewards truly impartial advice, transparency, and disclosure.
Public ownership of brokerages is another inhibitor as brokerage leaders are too often rewarded for short term results. Consequently, the cultural shift will take time.
Matt Bray
RIA's lost a big advantage when the industry replaced the term fee-only with fee-based, allowing potential clients to misunderstand the differences between the two. The wire houses came out with the term "Fee-based" primarily to confuse the public. In the late 90's and early 2000's, Fee-only advisors were getting great press, as were organizations like NAPFA, which requires member advisors to be fee-only not fee-based. So the fee-based description of compensation was created by insurance companies, investment banks and brokerage firms to confuse prospects regarding the difference and to directly compete with advisors who are fee-only. Fee-based leaves the door open for receiving commissions as well as AUM based fees and that is a big difference between fee-only and fee-based! Some might say it is the primary difference! Those of us that are fee-only find the proliferation and heavy marketing behind fee-based to be a product of big institutional firms (insurance companies, investment banks and brokerage firms) that want to confuse clients into doing business with them instead of a fee-only advisor. I'm not saying that fee-only advisors are better, there are good and bad advisors receiving all methods of compensation but the likelihood increases when you don't address the conflicts of interest associated with receiving commissions for selling clients investment products. Every prospect our firm has met with in the last few years has misunderstood the difference between fee-based and fee-only. That is until we educate them. Thank you. MTB
Stephen Wnks
The metric of fee compensation is certainly indicative of the move from commission sales to advisory services, but has no bearing on the debpth and breadth of counsel provided ,it just establishes how the broker or advisor is compensated.
The story line that is missing is whether expert advice is being rendered and professional standing is achieved, based on objective, non-negotiable fiduciary criteria of statute, case law, regulatory opinion letters. We know the brokerage industry's internal compliance protocol assures that the broker does not render advice nor has any ongoing fiduciary duties, as its means to mitigate fiduciary liability. This is confirmed by thousands of arbitration proceedings administered under FINRA. Thus, even though brokers at our largest firms may be compensated by fees, they have no control over their value proposition, cost structure or professional standing. Literally IARs can not provisde individualized advice necessary for fiduciary standing. The same is true for RIAs acting as IARs. A small distinct group of RIAs who are actually acting in a fiduciary capacity are building very large RIA businesses. It is from this group that the next generation of fiduciary advisors will emerge, not from our largest broker/dealers ill suited for fiduciary duty.
Brokers simply can not compete based on their broker/dealers inability to provide (a) expert authenticated prudent process necessary to make advice safe to acknowledge and execute, (b) advanced technology which facilitate (i) transaparency, (ii) continuous comprehensive counsel and (iii) more modern less expensive approaches to portfolio construction as required for fiduciary standing, (c) work flow management tied to a functional division of labor (Advisor, CAO, CIO) which makes advice scalable easy to execute and manage as a high margin business at the advisor level while enhancing advisor compensation by as much as 50%, (d) conflict of interest management.
None of the RIA advantages cited above are possible in a brokerage format, thus the next generation of brokers will be advisors not just based on the graying of the broker population but based on the aspirations of a younger advisor demographic who are better educated, more technologically astute and demand a far higher ethical standard of conduct for professional standing in the consumer's best interest.
If the brokerage industry can not adapt from a high cost low value added market position, it will be easily eclipsed by advisors providing an unprecedented level of investment and administrative counsel at a far lower cost to the consumer with a 50% increase in compensation.
This industry redefining trend toward advisory services is not explained based simply on compensation. Free market forces are literally redefining the industry. There is no question the industry is evolving towards the advisory services business model because it is in the consumer's best interest.
The unaddressed issue the industry has yet to come to grips with is the realization it is unable to acknowledge or support the fiduciary standing of its broker and its denial of the retail investor of the same consumer protections accorded to all other investrors. RIAs have a far better, less expensive value proposition that pays the RIA 50% more than the broker. This is the free market at work, whether broker/dealers like it or not. It is the brokerage industry's market leadership to lose and so far it seems the brokerage industry simply does not seem to care as it demonstrates its insularity to free market forces at work.
SCW.
Stephen Winks
Jaime,
Sad but true, public ownership of brokerages is not conducive evolving its business model, thus market share is sure to shrink—the perfect catalyst for growing the emerging advisory services industry built on professional standing.
SCW