News, Vision & Voice for the Advisory Community
CEO Walter Bettinger wants his company, long a kingpin in the discount brokerage realm, to become a 'challenger brand' again
August 6, 2013 — 2:32 AM UTC by Wayne Friedman
Brooke's Note: When you hear Chuck Schwab — in his company's new commercial spot now playing on airwaves everywhere — implying in a tone of voice that borders on annoyance that he's gotten to the point in life where he knows the difference between people out there "owning it" and those that are not, I can't help but wonder: Does he see me as a shirttail-rider, moocher, welfare case, trust fund baby, corporate leech, Communist, featherbedder or lost soul — in other words, part of the unwashed 47%? Based on what Walter Bettinger had to say on the company's most recent quarterly call to Wall Street analysts, Chuck is trying, with an intentionally challenging tone, to convey a strong message about how the company is repositioning itself. Gone is "Talk to Chuck" — a metaphor for talking to the largely do-it-yourself machinery of Schwab. Now, Chuck says you need to speak with someone — a person who knows more than you do about investing, like a financial advisor. It sounds like a finer splitting of the hairs between the functions of an RIA and a Schwab advisor. Here, Wayne Friedman, a former Advertising Age reporter, provides deep background as we gaze at the marketing tea leaves behind creation of the San Francisco giant's new media campaign.
The Charles Schwab Corp. is no longer asking investors to "Talk to Chuck." The financial service company's new advertising campaign, launched in June, has morphed into quiet two-way conversation, a soft-sell pitched at high-net-worth individuals and RIAs.
The new television commercial, called Own Your Tomorrow, talks to business executives, entrepreneurs and general investors who have done well and have a good understanding about their investments.
"I've been around long enough to recognize the people out there owning it … they're not sitting by as their life unfolds," Charles R. Schwab, 73, says in a voiceover. The TV spot doesn't actively tout the company's investment advice business to consumers and investors. See: What Chuck Schwab's talk showed about his complex relationship with RIAs.
The Schwab challenge
Schwab chief executive Walter Bettinger makes clear that "Own Your Tomorrow" is the underpinning of a message shift at Schwab, namely: "We're back in underdog mode."
"It's more than a campaign," Bettinger said to Wall Street analysts in the company's most recent quarterly call on July 17. "It's a positioning of our entire company. This is a return to our challenger brand position." See: LPL, Raymond James and TD data — and Walt Bettinger, Mike Durbin comments — reveal rotten first quarter for breakaways.
The challenger brand in advertising was epitomized by "The Pepsi Challenge" to Coca-Cola. In general, the strategy positions the firm or product as the hungry, up-and-coming underdog.
Bettinger, 52, was quick to acknowledge that San Francisco-based Schwab — long the underdog to Wall Street firms — is now actually the No. 2 player in terms of brokerage assets among publicly traded firms, with the No. 1 spot currently occupied by Morgan Stanley. See: What 'historic' deal James Gorman really closed by paying Citigroup to release its tentacles from Smith Barney?.
"Now it may seem strange for a company with over $2 trillion of client assets entrusted to it to be talking about itself as a challenger brand," Bettinger said on the call. "But that's what Charles Schwab is. Charles Schwab is the consummate challenger company, upsetting the apple cart, doing things that are unique within the industry, putting clients' interest at the forefront. And I think as you see this program evolve from its initial advertising into its ongoing presentations, both on TV and in print and on the web and with social, you'll see how it's positioning us in our rightful place as a challenger brand."
Talking to RIAs
Schwab had RIAs in mind with the new approach after being largely left out by the Talk-to-Chuck theme, Bettinger said on the call. In fact, many of those advertisements took shots at full-service brokers in a way that hit some RIAs awfully close to home.
"This advertising and brand campaign approach is … far more inclusive of our entire company," he says. "'Talk to Chuck,' albeit very successful, was a highly retail-driven program. It's very difficult to take 'Talk to Chuck' and have that tie into, for example, our RIA business, whereas 'Own Your Tomorrow' is inclusive of all parts of our company, whether it be retirement, retail or on the advisor side." See: Walt Bettinger strikes back to show that Charles Schwab won't be bested in the brewing ETF price war.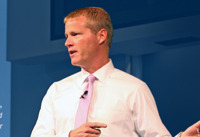 Jonathan Craig: [Investors] want an investment
professional who provides actionable guidance, but
is willing to roll up his
or her sleeves and work closely
with them.
If there's a paradox in Schwab saying that people do better by "owning it" while at the same time urging them to bring Schwab in on the decision-making process, it doesn't bother Roger Hewins, president of Hewins Financial Advisors LLC in San Mateo, Calif., which manages $2.5 billion of assets, kept mostly at Schwab.
"Schwab is a big organization, and retail and institutional are very different businesses," he says. "The background of Schwab senior management is almost entirely retail. Clearly they are struggling to understand how best to approach the market for higher-level financial planning services above retail. See: Why I moved my account from Schwab's RIA and what Chuck could do to improve Schwab Private Client.
Schwab'd Greg Gable declined to comment for this article.
The new campaign is the first under chief marketing officer Jonathan Craig, who ascended to the top post last fall. Craig, who was senior vice president of retail marketing and client acquisition at the company, presided over an ad agency review, selecting Crispin Porter + Bogusky, which took over the Schwab account in February. See: How Schwab's RIA advertising campaign could pay quick dividends for some advisors.
Closer to the RIA business for having managed its marketing, longtime marketing executive Michelle Draper departed Schwab on May 31 to take up a similar position with Silicon V"lley Bank. Draper was replaced by Mary Rosai.
One and only
Schwab's "Talk to Chuck" theme, which has been around in one form or another since 2005, is now a thing of the past. Those TV commercials, from creative agency HavasWorldwide (previously Euro RSCG), featured actors portraying real investors mulling over their future in a quasi-animated style using a production process called "Rotoscoping," which, in essence, "colors" actual video and film footage. See: What Chuck Schwab's talk showed about his complex relationship with RIAs.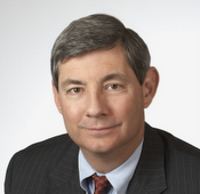 Roger Hewins: Clearly they are struggling
to understand how best to approach
the market for higher-level financial planning
services above retail.
Now, Chuck is doing the talking — because he's not somebody who has a substitute, John Clendening, executive vice president and co-leader of Schwab Investor Services, said on the quarterly call.
"There is no way that you can substitute any other founder or any other current CEO into that advertising," he said. "It just wouldn't work. It wouldn't be genuine or authentic."
There is a long history CEOs fronting for their firms, guys like Rodger Riney of Scottrade, Dave Thomas of Wendy's, chicken producer Frank Perdue and Lee Iacocca of Chrysler. Currently you have Papa John's CEO John Schnatter and Jim Koch of Samuel Adams. The CEO-as-pitchman approach seems to go in and out of favor — depending on which agency is calling the shots.
In the new Schwab TV commercial, the company's chairman and founder talks over video of executives entrepreneurs going about their business — including Schwab himself. In years' past, he also made appearances in commercials.
Changing needs
At Schwab's recent EXPLORE event for elite RIAs, Bettinger told advisors that one of his objectives in shifting the campaign was to make it easier to encompass RIAs and on the second-quarter earnings call, Bettinger suggested that owning does not mean self-directing.
"Schwab's evolution from transaction specialist to full-service investment firm reflects our deep understanding of the changing needs of investors, as well as the advisors and employers who serve them. More than ever, clients look to us for help as they take ownership [emphasis added] of their financial future," Bettinger said.
When announcing the new campaign back in June, Schwab wrote in a letter to investors: "For many years, we've encouraged investors like you to 'Talk to Chuck' so we could help you manage through the array of investing challenges and opportunities. I still encourage you to do that … "
He added: "But going forward our communications will emphasize the fundamental belief we share with you: a belief that through personal engagement, and a relationship of mutual respect, your financial goals and a better tomorrow are within reach."
Too conservative?
Back when the "Talk to Chuck" campaign started in 2005, Ben Stuart, vice president of brand strategy and advertising for Schwab, said the vivid video approach implored viewers to focus on the words. Many deemed it a clever marketing approach.
"I loved the Rotoscope stuff," says Barbara Lippert, longtime advertising reviewer for Adweek and currently columnist at MediaPost Communications. "It was a brilliant way of expressing natural, non-cliché, direct concerns of specific demos that people could relate to, yet was abstracted enough in Rotoscope to be open and far more interesting to watch than a regular interview."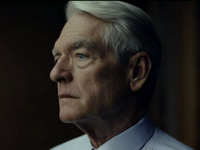 Chuck Schwab: I've been around long
enough to recognize the people out
there owning it.
But she isn't as positive about the new stuff: "They switched away from it too soon. And now, [the new message] just sounds like a lot of motivational-positivity blather that any one of its competitors could use."
An industry executive, who asked not to be named, said that the message is likely to succeed with older white males, but that it's unclear whether it will resonate as well with other demographics. Chuck Schwab is publicly and unabashedly conservative and his "ownership" message — that the country is divided between those who make things happen and those who are along for the ride — is reminiscent of comments made by former presidential candidate Mitt Romney, according to the executive.
Conservative leanings aside, Schwab is also known to have broad appeal with people across the political spectrum because of his integrity, entrepreneurship and willingness to forcefully take the side of investors in the face of Wall Street and its sales culture. See: Wall Street's big retention problem: RIA compensation is nearing parity with wirehouse brokers.
"We can't get enough Chuck," Lippert says. "That's what distinguishes his brand. So I think he's good as a voiceover, but the way he's used here doesn't make much sense. He's sending a message that he's looking for a certain kind of investor, an 'are you good enough for Wheaties?' kind of thing. I don't like it."
One West Coast creative advertising agency executive thinks the new creative works well. Joe Baratelli, executive vice president and chief creative officer of Santa Monica, Calif.-based RPA, says: "It's a good positioning as a next step beyond the advice angle they've been touting. Tapping into the emotions of making your own way. That seems to be what CS was always based on. There is a movement of recognizing the self-motivating doers of the world."
Most recently, RPA is known for its advertising on Honda but it has also done work for financial companies: American Century group of mutual funds, Farmers Insurance, and some regional banks.
Soft sell
One thing's for sure: In this broad-reaching TV commercial Schwab isn't pushing for investors to use its registered investment advisor business, Schwab Advisor Services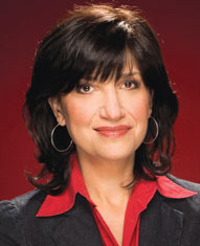 Barbara Lippert: [The new message] just
sounds like a lot of motivational-positivity
blather that any one of its
competitors could use.
Still, Schwab's narrower marketing effort, "RIA Stands for You", launched in 2011, continues to evolve. Last fall, Schwab announced that new videos touting RIAs would run on wsj.com, nytimes.com, atlantic.com, thenewyorker.com, NPR.com, theeconomist.com, Kiplinger.com and Conde Nast'straveler.com specifically to particularly target more affluent investors. See: How Schwab's RIA advertising campaign could pay quick dividends for some advisors.
But those videos do not constitute advertising in the traditional sense, Bernie Clark, head of Schwab's RIA custody business, said on the quarterly call.
"[RIAs] love for us to advertise, but we don't think that's the most effective way. So we launched "RIA Stands for You." Digital media, getting out in front of people. We started with vignettes of advisors, then vignettes of clients and advisors. We had Chuck do a video for us that talked to the meaning of what this industry potentially could be. And then they asked us as they draw that website into their website what happens when people find this information and are interested, and they asked us if we would create a directory for them."
The firm also updated its website for those investors looking for more complex financial advice and has developed an advisor directory so those affluent investors can locate RIAs in their communities.
Schwab marketing executives — and representatives of the firm's new ad agency — were unavailable to speak to RIAbiz.com about the new TV commercial and the campaign. But Craig said in a press release when the new creative started up in mid-June that the message is very much about advice from a sleeve-wearing human being:
"They want a say in what they're getting, and the ability to understand what it costs. They also want an investment professional who provides actionable guidance, but is willing to roll up his or her sleeves and work closely with them."
Character piece
U.S. advertising spending at Schwab has been fairly consistent over the past three years, according to data from Kantar Media. In 2012, the firm spent $135.8 million; a year before, it was at $149.2 million; and it was at $137.8 million in 2010.
Skewing to an older demographic of men ages 35-64, the new TV commercial has run on AMC's "Mad Men," CBS' "60 Minutes," TV news channels and on big sporting events, including the recent month-long daily coverage of the Tour de France on NBC Sports Network.
Print ads have run in The New York Times, The Economist, and The New Yorker, with the digital messaging showing up on Yahoo Finance, Bloomberg, and the WSJ tablet app. New ads will continue to appear throughout the summer and into the fall, according to Schwab.
Baratelli approves of the soft-sell approach. "Charles Schwab himself is a self-made man and is admired in the financial community for what he's created. It's a good character piece to pull on those emotional strings."
He adds, "They are tapping in on the upswing of the economy. While the message is straight, it's also true. They explain and offer sound advice — but don't 'sell.'"
Over 25 years reporting on media business and advertising, Wayne Friedman has been West Coast Editor of MediaPost Communications since 2004. Previous senior level journalism posts included positions at Advertising Age, The Hollywood Reporter, Television Week, Inside Media, and Cablevision Magazine. He has also written for The New York Times, Variety, and Broadcasting & Cable. In a previous life, he was an on-air TV correspondent for daily financial program "Business Times on ESPN" and the pre-CNBC channel, the Financial News Network.
---
---
Share your thoughts and opinions with the author or other readers.
Elmer Rich III said:
August 6, 2013 — 6:51 PM UTC
This is clearly making a "hero" of the DIY investor and the isolated, older guy decision maker. Chuck standing alone looking down from an office looking on people. Was there no one who helped him succeed?
My understanding is that investments, like all other professional responsibilities, are most successful when the investor has a good team – not going it alone. wouldn't people responding to this ad look at their advisers and say "Chuck said, "'Own it – so I'll go it along.
Showing Chuck with a good team would help model optimal behavior for older guy investors. Showing customers and the members of the team – speaking for themselves — would build empathy.
As we age we need, MORE social and professional support – not less.
But, yes, the guy paying the bills being the focus of ads is the most common ad strategy. A "Flatter the client" strategy is always easiest to get approved. I used to work at an ad agency and had my own for 5 years.
Matt Bray said:
August 7, 2013 — 8:37 PM UTC
CS wouldn't have had a chance to develop a robust retail business if it hadn't been embraced by RIA's as a preferred custodian in its early days. Those of us that were around then, operating an RIA and using them as a custodian, understand this fact. Thank you.
P.E. said:
August 8, 2013 — 3:28 PM UTC
Brooke, with all due respect, you sound quite defensive in your editorial about Charles Schwab's new campaign. When he speaks of those who are "owning it" and those who aren't, why do you seem to feel so alienated by this? I simply interpret the expression to mean there are those who take ownership of their lives by pulling themselves up by the boot straps, while there are those who look to and expect others to help shoulder that responsibility.
Regarding the article itself, I can't help but sense I'm getting a glimpse of the author's own political leanings when he takes the occasion to cite some "anonymous industry executive" (well, isn't that convenient?) to take a potshot at Schwab's so-called "conservative message" of ownership. Yet it's funny how I never see anyone in the financial media question companies like Starbucks, Ben & Jerry's, and Progressive Insurance for being unabashedly "too liberal" and alienating potentially tens of millions of consumers who don't subscribe to these corporations' political affiliations. One certainly doesn't need to seek out some "anonymous" source to bring this double-standard to light!
Elmer Rich III said:
August 8, 2013 — 7:17 PM UTC
Is there a difference between a heavily regulated company handling people's life savings and ice cream and coffee?
Elmer Rich III said:
August 8, 2013 — 7:58 PM UTC
Then there is this. Can adults "own" their childhood poverty? Are they responsible for it?
Here are some medical facts:
"Children of low socioeconomic status work harder to filter out irrelevant environmental information than those from a high-income background because of learned differences in what they pay attention to, according to new research published in the open access journal Frontiers in Human Neuroscience.
Numerous studies in the past few years have begun to reveal how poverty affects brain development and function"
Brooke Southall said:
August 8, 2013 — 11:06 PM UTC
P.E.,
Yes, I would call those comments defensive in nature, with a grain of salt thrown in.
And yes, we were not able to get anybody's thoughts about Chuck relating to politics on the record, not at all ideal.
But since it came up enough times in conversation, we weren't going to ignore it either. I presume you'd agree that it seems echo the conservative framing of humans — as consisting of useful people and people who feel entitled to feed off their strength. The word you use for entitled is "expect."
Without making a big value judgement, I will say the message doesn't make me feel entirely comfortable. That owner, non-owner seems like a very black and white parsing. As a business owner and self-directed investor I don't consider myself the bleedingest of liberals.But language with such a conservative tilt coming from a known conservative makes me feel … uneasy.
Journalists should not infuse their writings with their political leanings but they shouldn't strive either to be politically correct.
Business people, especially great ones like Chuck, are free to speak as they please. I just don't think journalists following them should feel obligated not to mention how it comes across.
thanks,
Brooke
---
---