News, Vision & Voice for the Advisory Community
Newly installed CIO and ex-Dell star Victor Fetter shows he means business at the IBD's annual conference
August 29, 2013 — 7:03 PM UTC by Guest Columnist Joan Khoury
Brooke's Note: For every branded free agent hire that works in baseball — like Curt Schilling or Manny Ramirez for the Red Sox — there's a flop of epic proportions, like the poach of Carl Crawford from the Rays, to the Sox. LPL brought aboard a Dell exec to put its technology reinvention into overdrive recently. He already appears to be making a mark — and speaking some English about it. Thank you to Joan Khoury for submitting this overview to a conference we were unable to attend.
At its annual focus13 advisor conference last week at the San Diego Convention Center, LPL addressed a range of issues affecting the industry, and unveiled several technology upgrades, including new online client account and portfolio management tools and mobile access that advisors increasingly consider critical to their business and essential for their client relationships.
This year's conference drew over 5,700 attendees, including 3,000 advisors from across the country. The buzz in the main exhibition hall related to LPL's technology and service improvements, along with myriad financial products and services and asset management strategies being showcased by third-party providers. See: LPL Financial tells its faithful in San Diego that a fuller-service, more dependent model will get corporate support.
Leading with technology foot
Technology dominated the first day of the conference. LPL's chief information officer, Victor Fetter set the stage: "I've spent my first months listening," he said "I'm not a fan of PowerPoint promises. I like my dreams to be grounded. These products are live; they are here today, and you can learn more about them throughout the conference."
Fetter, who was recruited earlier this year from Dell then demonstrated LPL's latest technology improvements, which include: better trading and rebalancing across multiple client accounts; better and easier viewing for clients and more practice management options for advisors and LPL Financial Mobile, which enables advisors to access client account information from any mobile device, on a 24-hour, seven-day-a-week, real-time basis.
"These enhancements deliver broader capabilities and make our online experience even more time-efficient and cost-effective," Fetter added.
Prior to the launch of the bundled pricing plan, core online applications including BranchNet, Account View, eSignature and iDoc (the online document depository), would have cost an advisor approximately $150 / month, assuming an average level of usage for iDoc.
As part of the Core Technology bundle, LPL will offer BranchNet, Account View, eSignature, iDoc, Remote Deposit, Compliance Workbench and email at a combined pricing of $75 / month.
The biggest improvement in efficiency — although not the only one — comes from the new trading and rebalancing software that allows advisors to more effectively manage model portfolios and client assets. In order to conduct routine rebalancing activities for clients in the past, LPL advisors had to adjust each position in each account for each client individually, which was clearly a time-intensive process.
Using the new rebalancing platform, an advisor can adjust multiple holdings for any number of accounts and any number of clients simultaneously. As a result, account management tasks that previously took hours can now be accomplished in minutes.
Another example of improved efficiency is the company's eSignature offering, which greatly cuts down on turnaround times for documents being exchanged between advisors and their clients.
Advisors reacted enthusiastically to the new capabilities, as evidenced on Twitter:
11-year itch
At the conference, Albert Cavazos, president of AC Financial in San Antonio, Texas, said, via Twitter, "The technology initiative is the big headline for me. LPL Financial is moving quickly, and they're rolling out more technology enhancements — both for advisors and for clients — than at any point in the previous 11 years I've been with the firm."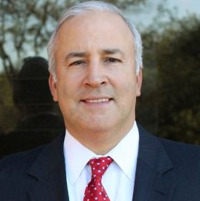 Albert Cavazos: LPL is rolling
out technology at a the fastest
rate in the last 11 years.

The second day of Focus13 opened with LPL research director Burt White's analysis of economic and market trends. White delivered a humorous but pointed assessment of the comparative efficiencies of government, the Federal Reserve, business and investors, and suggested several potential investment strategies for a rising interest rate environment.
LPL featured a compliance panel in the convention center's main auditorium on day two — and made attendance mandatory for the 3,000 advisors attending the conference. Senior leaders provided a thorough review of the current regulatory environment.
The panel members, including executives from the LPL Financial governance, regulatory & compliance and legal groups, went on to outline compliance "best practices," from taking advantage of the benefits of home office supervision, to smart document management, to paying particular attention to the needs and behavior of older clients, whose numbers are growing and whose judgment can become compromised over time.
Twitter 101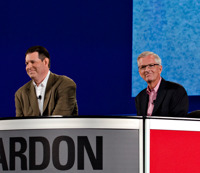 Derek Bruton and Andy Kalbaugh reprise
their well-received 'Pardon the Optimism' riff
from last year's conference.
Social media is being embraced, albeit cautiously, by the investment advisory industry, based on the high visibility given to social media channels, particularly Twitter, at LPL's conference. I used my portion of the morning on day one to urge advisors to embrace social media tools like Twitter, LinkedIn and Facebook and explained how LPL's marketing team was using these channels to promote the brand and support the advisor community. See: RIAs recount how they reap new clients using LinkedIn and Twitter, stealing a march on shackled wirehouse advisors.
I went on to point out that LPL Financial generates a steady stream of content that is approved for use with clients and has made significant investments in talent to support advisors' digital marketing efforts. Over 5,000 of our advisors are now using social media. That's a 59% increase over this time last year, and it continues to grow. That proves that our business model is built for social media, which has been a voice for independence around the world. See: LPL kicks off FOCUS 2012 talking about service for UHNW investors.
Pardon the Optimism — one more time
The general session on the first day also featured the return of a popular programming segment, "Pardon the Optimism," that was a hit at the company's Masters 2013 conference and which spoofed popular sports talk programs, featuring Derek Bruton, managing director for Independent Advisor Services, and Andy Kalbaugh, managing director for Institution Services.
On topics ranging from the company's Institution Services offerings to the rapid growth of its RIA Services offerings and the continued expansion in the retirement space, Bruton and Kalbaugh delivered a hopeful and humorous take on the bright forecast ahead for innovative and focused advisors. See: LPL shows flashes of its new image at Financial Masters 2013.
The two colleagues also continued to elaborate on the theme of simplicity. "Simplicity comes through reducing the number of forms and applications your staff has to process, and your clients have to sign. Over the last 12 months, LPL Financial has eliminated over 300 forms and applications. That's a 25% reduction," said Kalbaugh.
Prior to the formal launch of the conference, the Charitable Foundation of LPL Financial also sponsored an event for the United Service Organization (USO) of San Diego, during which advisors donated their time and expertise to help local servicemen and servicewomen prepare for their financial future and helped them answer pressing financial questions impacting them and their families. Fifty LPL Financial-affiliated advisors and executives took part in the event, which provided crucial advice to approximately 35 members of our armed forces.
Joan Khoury is LPL financial managing director and chief marketing officer.
---
Mentioned in this article:
---
---
Share your thoughts and opinions with the author or other readers.
---