News, Vision & Voice for the Advisory Community
On the heels of Schwab's 'owning it' campaign, Fidelity aims to catch (and repaper) RIAs and TD goes for the soft belly of the industry
August 28, 2013 — 7:36 PM UTC by Lisa Shidler
Brooke's Note: We are perhaps a little advertising obsessed around here. After all, we need to sell RIABiz page views to advertisers in order to survive. But that blatant conflict aside, we find it is worth taking a second look at what key RIA companies are trying to do in this realm. It helps both as a lagging and leading indicator. Lagging because it shows how people on the marketing side of the business begin to get what's happening on the business side of the business. But it also tips a company's hand in a rather public way about where it sees weaknesses that its competitors can exploit. While Schwab is busy going after the affluent investors at its superior in size — Morgan Stanley — TD and Fidelity still seem to see room to go after one of their own — Schwab and each other.
The number two and three RIA custodians are now doing what the number one custodian, Schwab, has already done — jettisoning their ad campaigns in favor of new ones and each taking their own whack at whether it's all about the humans, all about revenue growth. Or, man and money-as-God.
In two new ad campaigns debuting this week, TD Ameritrade is appealing to advisors' hearts with its campaign called "Human Finance" that focuses on the importance of people and relationships rather the numbers that typically drive the industry and Boston's Fidelity Institutional Wealth Services has mostly replaced its former independence-themed appeal with a broader pitch exhorting advisors to "Be Greater." The wording has echoes of the successful making-advisors-great theme sounded by Black Diamond Performance Reporting over the years.
For TD Ameritrade, the new marketing concept revolves around harmonizing a formerly bifurcated effort of using one set of advertisements for recruiting advisors and another set for the division's brand itself.
TD Ameritrade says this is the biggest marketing and advertising campaign ever launched by TD Ameritrade Institutional.
"Bringing in the human element reinforces something that the best advisors do already," says Kate Healy, managing director of marketing, TD Ameritrade Institutional. "This campaign also illustrates the evolution of our RIA business. TD Ameritrade Institutional has experienced tremendous growth in assets and advisors and now we want to further that growth with a bigger, more comprehensive and fully integrated marketing push. We want to talk about the importance of people and relationships. When you think about what makes advisors do what they want to do it is people."
Fight Merrill with Merrill?
Prior to joining the firm, Healy served as vice president of IRA product strategy at Merrill Lynch. She has spent more than 20 years in a variety of roles supporting the program development and marketing of financial- and estate-planning services. She took Paul Zettl's job a year ago and her duty from the start was know to hinge largely on her success in adding to her company's efforts in attracting breakaways. See: As Paul Zettl follows Tom Bradley to the retail side, Kate Healy becomes marketing chief of TD Ameritrade's RIA business.
Both Jersey-City, NJ-based TD and Fidelity are running advertisements in trade publications such as Barron's Financial Planning, InvestmentNews, RIABiz and WSJ.com. For its part, TD Ameritrade hired gyro, a New York-based advertising agency and Fidelity used its own internal advertising agency. Neither firm offered specifics on how much these campaigns cost.
Being greater
Fidelity's shift away from the independence theme is significant because it shows that the company is not just targeting breakaways, but is also hoping to do what is often considered impossible — yanking giant RIAs away from another custodian, according to Ross Ozer, senior vice president and head of marketing at Fidelity Institutional Wealth Services. In other words, Fidelity is almost surely eyeing the top 500 or 1,000 firms served by Schwab Advisor Services — something it has always done.
But the Boston giant apparently believes it can get a return on the marketing dollar with a marketing approach that plays on its strengths in technology i.e. WealthCentral, practice management as headed by former Schwabbie, David Canter and service, now in more Schwab-like service pods. Executing on this challenge to Schwab is its overseer of sales (and ex-Schwabbie Bob Oros). See: Fidelity hires Bob Oros as its new RIA sales chief.
"The conversations we have now are not just about being independent," Ozer says. "The conversations have shifted to how we can help advisors grow and get larger. These firms want to be a high-performing and that's what this campaign is focused on helping them do."
In the print campaign, Fidelity shows the most ferocious animal in the land — the lion — could have a bigger roar simply by adding a microphone and one of the tallest animals — the giraffe — is given stilts to be "greater."
How successful are these things?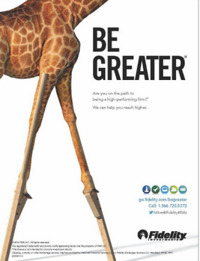 Fidelity's new campaign.
The success of these advertising campaigns can be hard to measure, says Megan Carpenter, partner of FiComm Partners, a communication firm in Los Angeles.
"I have never heard of, nor can I imagine an RIA moving assets to a custodian because of an ad campaign," she says. "Custodian brands are not like McDonalds or Burger King, in the sense that you are not going to choose TD over Schwab because their commercial made you hungry today. You choose them because you think they will help you grow and prosper in the long run — and they need to continuously prove it. We've heard many well known advisors speaking favorably of TD lately — their word of mouth effort appears to be working." See: RIA TAMP for insurance agents hits a quick $700 million AUM then opts for Orion software.
Carpenter also adds that courting an advisor can take years and the reasons the advisor ultimately makes the decision are quite complex. She says that recently she met a multi-billion dollar RIA who decided to move a significant portion of assets to a second custodian after that custodian had courted the firm for years because the custodian committed to supplying referrals. See: Advisor Spotlight: Moss Adams looks to branding for its next $2 billion of growth in RIA assets.
For clients, too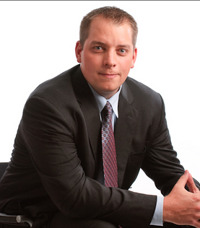 Joe Anthony: The truth is that
numbers do matter and those numbers
dictate to what extent goals are
met and dreams become a reality.

Healy says advisors like the campaign so much that some may pass on messages to clients as well. The company produced the video and content intended for advisors, but some may choose to pass it along to clients. While the campaign was launched this week, Healy says her firm has been offering glimpses of it to advisors in recent weeks.
The TD Ameritrade advertisements challenge people to look at finance differently.
"What happens when you look past portfolios to see the people behind them?" one TD print advertisement says, showing a picture of a family hanging out together on the front porch while a toddler ambles about.
TD's campaign has already gotten both rave reviews and criticism since it was launched this week. Stephanie Sammons, founder of WiredAdvisor, praised the firm Tuesday on her Twitter account. "What a brilliant campaign," she said. "Understanding the people behind the portfolios."
But Joe Anthony, senior vice president of Gregory FCA, wasn't as enamored. He says TD's campaign may be a bit confusing.
"It opens by suggesting that numbers are not what's really important and relationships are the real linchpin of the industry. But our advisor clients do see the numbers as extremely important. The truth is that numbers do matter and those numbers dictate to what extent goals are met and dreams become a reality," Anthony says. "Advisors can do well for themselves and for their clients by acknowledging that it is about the clients' money might actually be a better marketing message than this fluff piece."
Anthony thinks the campaign is trying to play to the fact that many advisors aren't satisfied in their current posts.
"But it's not the numbers that they are dissatisfied with. Rather, it's the selfish attitude that led to the crash and an industry that's all too often focused on — the what's-in-it-for-me' approach, rather than the what's-in-it for-my-clients approach. Most, if not all, of my advisor clients put their clients' interests above their own and wished that others in the industry would do the same, and wish that they be treated likewise by their custodians and business partners. If TD played to this sentiment, instead of the numbers being the problem, they would do well to gain attention and win a recruiting edge."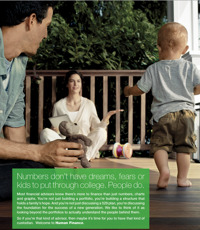 TD's new campaign.
Owning it
Earlier this month Charles Schwab Corp. announced a new massive marketing campaign for investors in June. The company replaced its popular "Talk to Chuck" marketing campaign with a quiet two-way conversation, a soft-sell pitched at high-net worth individuals and RIAs. The new television commercial, called Own Your Tomorrow, talks to business executives, entrepreneurs and general investors who have done well and have a good understanding about their investments. See: How Schwab's new 'owning it' advertisements position the firm to offer more advice — and how RIAs factored into the brand rethink.
Schwab's narrower marketing effort, "RIA Stands for You", launched in 2011, continues to evolve. See: How Schwab's new 'owning it' advertisements position the firm to offer more advice — and how RIAs factored into the brand rethink. Last fall, Schwab announced that new videos touting RIAs would run on wsj.com, nytimes.com, atlantic.com, thenewyorker.com, NPR.com, theeconomist.com, Kiplinger.com and Conde Nast's traveler.com specifically to particularly target more affluent investors. See: How Schwab's RIA advertising campaign could pay quick dividends for some advisors.
LPL has also signaled that it plans to bring a fresh marketing edge to attracting advisors with the hire of a small Kansas City marketing firm, Bernstein-Rein, that has made some big marks. See: LPL's marketing destiny got reshaped by a dark horse in a dark room.
---
Mentioned in this article:
---
---
Share your thoughts and opinions with the author or other readers.
http://www.icamtech.net said:
April 30, 2014 — 9:51 AM UTC
Blondie look like a fat shiny ass candle apple. http://www.icamtech.net
---
---