News, Vision & Voice for the Advisory Community
The overseer of Schwab RIAs explains the San Francisco giant's difficult-to-do-business-with reputation and the long rollout of SII
August 26, 2013 — 5:24 AM UTC by Brooke Southall
Brooke's Note: Elephants in the room are easy to get a bead on. But wild ones are far harder to track — moving fast, sniffing well and making effective use of cover. For all of Schwab's size in the RIA business — $900 billion including third-party administrators — the San Francisco-based company's moves and intentions are not always crystal clear. It has a crack PR staff and it is not always effusive in granting media interviews. That said, Schwab is a public company and will generally spill details and disarmingly forthright opinions when Wall Street analysts are the ones asking the questions. That was the case at Schwab's Business Update on July 26 where all the corporate officers, from CEO Walter Bettinger on down, weighed in. And — in a rarer appearance — Bernie Clark joined in to offer a fairly comprehensive update on Schwab's plans for the RIA business.
1. Schwab counts on front-runner status, organic strategy for 80% of net new assets
Schwab's top strategy as an RIA custodian is to stick to its playbook: Simply provide the best service to clients. It can bring aboard about $45 billion of assets annually in this way, according to Bernie Clark, senior vice president and head of Schwab Advisor Services, the custody division for registered investment advisors.
Not only does this strategy keep clients, but it also promotes the referrals of news ones. It's a strategy that Chip Roame, principal of Tiburon Strategic Advisors has endorsed as effective in an earlier report. See: Tiburon Strategic Advisors' report pegs RIAs as maturing market.
Schwab Advisor Services also continues to benefit from the company's retail presence.
Charles Schwab & Co. continues to push about $4 billion of assets out to its RIA from its retail business i.e. its branches. It shows that Schwab is advancing in the advice business but not at the expense of RIAs, according to Andy Gill, executive vice president and co-leader of Schwab Investor Services.
"When you look at the differences, ours is scalable advice. It's fact-based. And if you look at Bernie's business…registered investment advisors are able to provide highly customized, highly sophisticated [advice] for those more affluent clients [with more than $1 million of assets to invest]."
2. Schwab's breakaway recruiting remains on an even keel
"We have almost exactly the same number of teams that have gone independent year over year but the size of the deals that we're doing is about 30% larger this year than it was last year," says Clark. See: How Schwab failed to block one broker's breakaway and what the legal battle may mean for the future.
Walter Bettinger, president and CEO of The Charles Schwab Corp., put the role of breakaways in Schwab's growth plans in perspective during the same business update.
"Bear in mind that for a franchise our size and the advisor business at almost $1 trillion in assets that the amount of net new assets that comes from a break — from the breakaway brokers … is actually very small ….This notion that everyone was going to leave the wirehouses or leave the regionals was a nonstarter concept."
Clark adds that the percentage gained from wirehouses is in fact slipping and that the slack is being picked up by reps of IBDs who previously left wirehouses, gained confidence in being independent, and are now set to own RIAs under Schwab. See: IBD reps are new wave of breakaways to the RIA channel, say some recruiters and custodians.
Another group of legacy advisors yielding start-up RIAs are the trust banks — like Northern Trust and BNY Mellon, Clark adds. "I think you'll continue to see that shift over time." See: Mark Tibergien is making Pershing an industrial strength custodian with an RIA service touch.
In all, Schwab expects to see between 175 and 200 breakaway teams that bring assets of $12 billion to $15 billion to Schwab in 2013. Clark adds that Schwab has brought aboard seven RIAs through roll-ups. He named HighTower Advisors, United Capital Financial Advisers and Focus Financial Partners LLC as ones to watch. "The good news is that [the roll-ups have] become a client of ours," he told the Wall Street analysts….So we've done seven deals with those [roll-ups] in the first half of this year and we'll continue to make sure we're maturing that relationship."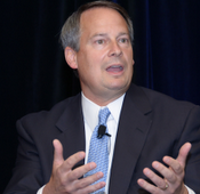 Walter Bettinger: This notion that everyone
was going to leave the wirehouses
or leave the regionals was a
nonstarter concept.
Clark added that Schwab has $30 billion of assets in its sales funnel and that two years is a typical sales cycle for these prospects.
3. Schwab rivals among RIA custodians are still not making much of a dent but Schwab remains vigilant — and even contrite — about one expressed concern
Schwab is quite aware that there are other companies — not to be named — that have sent the hounds after its RIA custody business and that a false move could make it a fox sandwich, according to Clark. See: TD celebrates its $200 billion tipping point with an exuberant, VIP-rich conference in San Diego.
"I couldn't stress enough that if we didn't do well then our competitors would be right behind us. I believe — and I've seen evidence of this — that our competitors really are chasing our custodial platform … they're trying to emulate the level of client service, protection and custodial activities that we do … we feel quite comfortable that we're outperforming what our competitors are still delivering."
Still, Clark allows that his company does receive some negative feedback from its RIA clients. "I will tell you there are detractors within there and every comment that we receive we follow up directly with the advisory [firm] and we talk about what's going on. And it becomes quite easy to understand the things that are getting in our way or the perceptions that are getting in our way."
This issue presented itself most publicly when Schwab announced it did not want to hold alternative assets, except for a handful that it vetted. See: Schwab leads effort to create industry wide solution for alternative assets.
Clark explains one hurdle. "On the client experience front, this is tricky. Regulation has gotten in our way. It is becoming more complex to do business and sometimes we can be viewed as hard to do business with while we're trying to protect assets."
Eliminating the tricky angles with better deployment of technology will be a "cornerstone of 2014," he says. E-signatures and e-authorizations in conjunction with better mobile technology will be key components of this effort. See: Schwab bluntly reviews PortfolioCenter to coax thin-skinned software vendors to its Zagat-like forum.
In the Q&A session of the presentation, an attendee bluntly asked Clark: "What did the detractors say?"
Clark's lengthy answer included: "I think hard-to-do-business is one of those things that will stand out and we have to stand in front of that one. We have to try to understand how to be better. But we don't want to be the place that's easy to do business with [and] then ends up in a mess later on, on behalf of our clients, the advisors and their clients who are our clients."
No doubt this will always be a tightrope for an RIA custodian to walk. Schwab wins assets and advisors from Merrill Lynch, UBS and Morgan Stanley all the time because advisors perceive tyrannical compliance. Schwab doesn't want to fall in to the same trap as these wirehouses but it doesn't want to end up in court either.
4. Schwab Intelligent Integration is still a core project but the word 'decade' has entered the conversation
Clark continues to frame Schwab Intelligent Integration as the big one in terms of ways that Schwab RIA services are evolving.
The slow nature SII's evolution — at least the perception of media and some advisors, experts etc. of its pace of development — bedevils Clark to some degree. He deflects the concern with some good humor. See: What Neesha Hathi has to say about Schwab's oh-so-slow-but-steady technology initiative.
"Schwab Intelligent Integration is something I've talked so much about. I'm often accused of bypassing it almost. It's a major initiative. This is really the core of our new platform, as I've said, for the next decade to come. And it all started — remember when we announced it two years ago? (Actually we first heard about it more than three years ago under the name Project C See: Schwab's Project C now has two tiers and three new names.).
"It's easy to be an open API," Clark says. "It's easy to have an open architecture platform around technology. But I don't think that's necessarily the best solution. We don't want advisors becoming dependent on technology solutions that may or may not be around or may or may not be updated to the highest standards. That's not what we're about."
Clark points to positive signs for SII's more closed API approach including that 75 RIA firms have now bought into the full bundled package. What he finds gratifying is that existing firms are going with Schwab's bundle in the same absolute numbers as breakaway brokers who are presumed to be the ones most interested in this kind of plug and play technology agglomeration. "Of the 75, half of them were existing clients who abandoned their platform. So we feel that we're kind of on the right track there."
Ed O'Brien, chief of RIA technology at Fidelity Investments, says his company has now deployed Fidelity WealthCentral to almost 3,500 RIA firms.
"Advisors were all trying to integrate for themselves so when planning WealthCentral we made the platform do it for them and get the data there in a high quality manner. In fact, over 1,000 firms currently use one or more third-party products on our open and integrated platform." See: Fidelity to play midwife to RIAs-in-the-making now that WealthCentral is firmly on its feet.
Pershing declined to comment for this article. TD Ameritrade has yet to comment.
---
Mentioned in this article:
---
---
Share your thoughts and opinions with the author or other readers.
Stephen Winks said:
August 27, 2013 — 12:25 AM UTC
Bernie gets the big picture, but as an observer , not as a participant that drives innovation, but simply a reaction to it.
Schwab is defining itself here, not as a strategic collaborator but as a vendor of services separate and distinct from the core activities of the advisor.
This is neither good or bad, just agnostic.
For advisors to thrive they may need more engaged thought leadership which is actionable, which can only come from advisors who afford scale as early adopters.
Thus the shift in industry leadership from custodians to large RIAs who will leave a legacy of advancing industry redefining innovation.
Brent Broadeski, Ron Carson, Fielding Miller as large scale RIAs who are the early adopters will leave a legacy by advancing innovation and scale as practitioners. This goes far beyond the roll-up model that just focuses on the extrapolation of the brokerage business model where IARs sell advice as a product rather than treating advice as an expert prudent process that advisors manage in the client's best interest.
This is an important distinction as the difference is professional standing and an in-depth understanding of advisory services, its processes, technology, work flow management, conflict management all of which are required for advisors to control their value proposition, cost structure, margins and professional standing.
It would be nice if Schwab were to create large scale institutionalized support for expert fiduciary standing, but it will keep its distance as that would trigger fiduciary liability by being prescriptive. Of course large scale RIAs have no fear of fiduciary duty and professional standing, thus the important leadership role they play in the industry's evolution.
SCW
Mike Byrnes said:
August 28, 2013 — 2:44 PM UTC
It is interesting to see that 80% of net new assets are coming from organic growth — Mike Byrnes, President of Byrnes Consulting, LLC, www.byrnesconsulting.com
---
---