News, Vision & Voice for the Advisory Community
Its purchase of a stake in Clarfeld Financial Advisors, Barron's No. 3, shows the Veritable deal was, indeed, a warm up
August 20, 2013 — 3:18 AM UTC by Brooke Southall
Brooke's Note: If there's one thing that is more rare than a big success in business, it's a big follow-up act to success in business. Despite having all that experience and extra resources, there may be intangibles that hold back a company entering a new market, even a related one. That's what makes AMG's foray into wealth management so interesting — and potentially important. This company north of Boston has resources and smarts to the gills. But does it have the stomach to deal with the complexities and dysfunctions of wealth management after winning in a superficially similar business? This latest deal suggests that AMG may have more of an important ingredient — will — than some might have assumed.
Affiliated Managers Group Inc. (NYSE: AMG) is affirming that it means business in the RIA business with a new deal..
The giant Beverly, Mass.-based asset manager, with $9 billion of market capitalization, has taken a minority stake in Clarfeld Financial Advisors LLC of Tarrytown, N.Y. through its Palm Beach, Fla., subsidiary, AMG Wealth Partners LP.
Last year AMG closed a deal for a majority stake in Veritable LP, which manages about $11.8 billion. See: AMG makes a dramatic entry into wealth management arena, buying majority stake in $10B Veritable.
Clarfeld manages $4 billion of assets for many high-level executives of Fortune 500 companies and particularly large international financial corporations — including wirehouses. It is currently rated No. 3 on the Barron's list (No. 1 in New York) and has been an RIA since 1991. Its principal, Robert A. Clarfeld, 61, has been in the planning business since 1981.
With an investment in Welch & Forbes LLC of Boston that happened in 2001, AMG's wealth management unit has stakes in RIAs with combined AUM of about $19 billion. Welch & Forbes has 52 employees, $3.3 billion of AUM and 800 accounts, according to its ADV.
'Permanent capital'
Clarfeld says he wasn't seeking a deal — though he says he's been in discussions with various roll-ups and strategic acquirers over the years with offers he considers pretty good — but the AMG partnership was too good to pass up.
"We really had no interest in a partnership. What we like about AMG is that they're permanent capital with a terrific reputation of being hands-off with affiliates. It's a minority investment with revenues-sharing and they have no control over expenses."
Clarfeld says that his company can make use of capital to take advantage of opportunities in the United Kingdom, where it has a branch office. The company also likes having capital on hand in case acquisition opportunities arise. The equivalent of the RIA market in England is considered even more fragmented than that in the United States. See: Schwab 2013 RIA M&A data show hope but also futility.
As part of the transaction, a broad group of Clarfeld's senior professionals have made long-term employment commitments to the firm. The terms of the transaction were not disclosed.
Lopsided?
David DeVoe, CEO of DeVoe & Co.. of San Francisco, says this deal bodes well for the industry.
"This was an important development for the RIA space because it underscores the value of the model," he says. "It's a vote for the independent model by smart investors who have demonstrated great knowledge of financial services and have an unusually good track record of acquiring companies."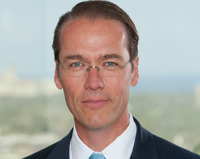 John Copeland: It's more important than
the size.
That said, sources contacted by RIABiz expressed surprise at AMG's third RIA investment — simply because purchases of wealth managers add a relatively small amount to the company's absolute size. AMG manages more than $470 billion of assets and has operating income of $640 million.
Leveraging fickleness
Admittedly, doing deals in the wealth management business is difficult, says Peter Ruhlin, partner at FallLine Strategic Advisors LLC who has been in touch with AMG principals.
But AMG will plow on because it sees the macro-trend of advisors' leaving Wall Street with its trillions of dollars of assets and wants to capture a big share. These execs are also aware that asset managers — despite often having more scale and simpler business models than RIAs with wealth management clientele — tend to have more disloyal clients. Clients of pure asset managers frequently desert asset managers if they put up poor performance but stick with wealth managers that deliver a broader-based value.
"Asset managers are in a difficult position," Ruhlin says.
AMG's asset managers include: AQR Capital Management LLC, Artemis Investment Management, Aston Asset Management LP, Essex Investment Management Co., Third Avenue Management, Tweedy Browne Co. LLC and ValueAct Capital
But Sean M. Healey, AMG's chairman and chief executive, sees big potential in Clarfeld's capabilities regardless of its smaller size.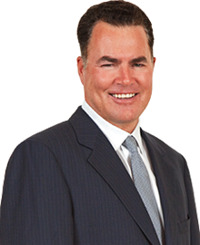 Sean Healey see attributes in Clarfeld
"typically found only at much
larger firms."
"Rob Clarfeld and his team have built a highly regarded advisory business with a loyal client following, a strong culture of risk management and a breadth of services and expertise typically found only at much larger firms," he said in a release.
Potentially large
Clarfeld says that indeed, Healey and others at AMG might wish that it had already knocked out more deals but that the firm is in a strong position for staying patient and that being part of a relatively new and small business of AMG's is fine by him.
"AMG Wealth Partners is a relatively new subsidiary of AMG, and we are their third investment. Far from concerned, I feel great about our partnership as they are extremely selective, and they have extremely deep resources — both human and capital — which can enable us to fuel our growth beyond what would be possible organically"
"It's more important than the size," he says. "We see enormous potential."
International reach
Veritable has clients that average about $50 million of assets. Clarfeld has about 400 clients with average assets of $10 million. Virtually all of the assets are managed on a non-discretionary basis.
Copeland adds that Clarfeld, which has 90 employees of which 30 are client-facing, has particular capabilities that position it for global growth.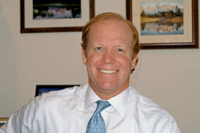 Peter Ruhlin: They're going to have
a really nice business.
Bird-dogging for prospects
Clarfeld derived about half of its revenue from asset-based fees and the remainder from a variety of other fees related to estate, financial, insurance (from a subsidiary) and tax planning. It provides substantial consulting to CEO-level executives on concentrated stock positions.
The company uses an asset allocation approach and invests using Dimensional Fund Advisors LP as its biggest asset manager It invests using separate accounts and exchange-traded funds, too. The company keeps the majority of its assets in custody at Schwab Advisor Services but also has significant assets with TD Ameritrade Institutional and Pershing Advisor Solutions. See: Dimensional's co-CEO tells clients at Monterey event that DFA is changing its Classic-Coke intellectual fund recipe.
Expect to see AMG doing more wealth management deals relatively soon, says Ruhlin. The management consultant says that he sees AMG aggressively and intelligently bird-dogging for good deal prospects out in the market.
"They're going to have a really nice business," he says.
---
Mentioned in this article:
---
---
Share your thoughts and opinions with the author or other readers.
Joe Gordon said:
August 23, 2013 — 2:46 PM UTC
This makes sense as asset management continues to get commoditized, including separate account managers, and technology continues to evolve, driving costs down. Many high net worth relationships are often controlled by RIAs so an entry by AMG over time makes sense.
---
---