Downtown Omaha is the fount of the RIA business with its critical mass of competent, cheerful people who can smile and work at an affordable rate.
Brooke's Note: New York, San Francisco and Chicago have all been promoted on the pages of RIABiz as the center of the RIA business. Each has its points. Now Eric Clarke has played his underdog card in promoting Omaha for the title. He's on to something. He's not arguing Omaha's case as a Disney World beater but as a place where the beating heart of the RIA business does and should thump. What's interesting is that Fidelity, Schwab and Ken Fisher seem to be showing Omaha-envy. Schwab is moving more and more to an edge city in Colorado; Fidelity is ditching Boston for an office park in North Carolina and Fisher largely bolted Silicon Valley for rural digs in Camas, Wash... In other words, these RIA companies see a growing importance in paying less to get more of people who can work hard, smile more and see the beauty in minor league baseball.
Though Omaha's skyline is about as interesting as a game of Pick-Up Sticks, we're just thrilled you've heard of us.
It wasn't long ago that if you said you were from this Nebraska city, many wondered if you drove a car, rode a horse or barked out a quarterback signal. We were accustomed to questions like: "Are your roads even paved?" Yes they are — most of them.
But even with tar on roads, we remain grounded and brimming with business activity that sprouts from the loam of cheap business conditions..
The Omaha Symphony doesn't rate with some as 'culture' but, in fact, many prefer our Midwest culture. We are small, but our business talent is big — and it's never delivered with a helping of attitude. And that's what's so appealing. The RIA business starts and ends with service, and Omaha people don't need to be sent to Starbucks University to be taught how to smile, listen and try to be helpful.
Emerging art and music scene
"There is a culture of community that filters into businesses like TD Ameritrade and empowers people to get involved," says Kristin Petrick, spokeswoman for TD Ameritrade. "It's a city with a lot to offer young professionals and families — from an emerging art and music scene to great schools and a low cost of living. Omaha is where we were founded 40 years ago, and it's where we want to stay."
With better-known brands such as TD Ameritrade, Securities America and Berkshire Hathaway, we've experienced an influx of tech startups (think PayPal, for example), Omaha-based financial business ventures, and coastally developed company migration. Businesses are being created in, or moved to Omaha because bottom line, it's cheap.
We lure you in with our extremely low unemployment rate (about 3.5%), low cost of living (homes cost about $150,000) and deeply rooted Fortune 500 companies such as Union Pacific, ConAgra and Kiewit that anchor our economy. We also have low tax rates and we have the rare state government with a budget surplus. Commercial space, condominiums and cornfields intermix throughout the metropolitan Omaha area, but we avoid the stench of cows, which are mostly grazing west of Lincoln, Neb.
We then keep you here once you realize you can eat a Runza (Russian fast food that is bread wrapped around bread and cheese) while perusing an orangutan forest at our nationally ranked Henry Doorly Zoo. And what could possibly be better than eating ground beef and cabbage while staring at apathetic apes? The College World Series.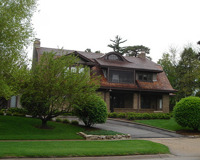 Warren Buffett's house is emblematic of
the Omaha head-down ethic.
Too good at times
In fact, full disclosure, our success can prove to be a double-edged sword. Our low unemployment rate has encouraged my company, Orion Advisor Services, LLC, to begin expanding in New York and Seattle where we get many more applicants more quickly for job openings. Still, Orion has 150 staff members in Omaha and NorthStar Financial Services Group LLC, our parent company, has 400 employees here. We occupy about 75,000 square feet of commercial space.
Alongside this greatness, and the possible reason our Lexus dealership keeps expanding, is Omaha's cultivated and thriving advisor service and insurance-based finance community. TD Ameritrade certainly has a few Lexus candidates working over there and the company has shown it knows something about profits and serving RIAs. But though it is cutting a ribbon on a swank, newly built headquarters building, it got to that point the Omaha way. For a good eight years it occupied an otherwise abandoned retail shopping mall, the Southroads Mall, in a relatively depressed area of town with the misnomer of Bellevue. The other tenant in the mall with TD was a gun store after the other retail tenants fled.
Over the past few decades, the RIA business has flourished with advisors such as Wally Weitz, Ron Carson, Stephen Frantz, Todd Feltz, and Roland Manarin, and advisory firms, including Mariner and the Foster Group, with offices in the big "O." It's no wonder that with a population of approximately 420,000, we have 16 RIA firms with more than $500 million in AUM, according to Meridian-IQ. See: Jon Foster partners with $40 billion institutional advisory firm in bid to create big RIA.
In the insurance industry, a major national footprint has been left by locals — Mutual of Omaha ('run, Marlin, run'), Physicians Mutual and Ameritas. The combination of technology, bringing the coasts closer, and a highly skilled workforce of financially educated staff, has acted as one massive booster seat that allows Omaha to sit like a big kid at the dinner table. We're matching and surpassing RIA-city giants such as San Francisco and New York. We're also home to the largest porch swing in the world, which can seat 25 adults.

After using an old shopping mall
with a gun store as a
fellow tenant, TD Ameritrade is moving
into class A, custom-made space amid
cornfields and Little League fields.
Through broadcast news and telemarketing firms in the '80s and '90s, Omaha was found to have low employee turnover, a high work ethic and dialogue with a neutral accent. The coasts also began taking notice of our numerous bright investment professionals who have since met tremendous success, quite possibly while attending the annual Woodstock for capitalists, aka the Berkshire shareholder meeting. (Yes, we'll take you by Warren Buffett's house if you come visit to marvel at how so much wealth could inhabit so little real estate.)
This business-is-fun atmosphere, mixed with our homegrown E85 ethanol fuel, has led the financial industry to embrace us, creating the now 41,000* plus jobs within this sector. People nationwide wanted to do businesses with us because, fact is, we're just plain nice. See: 10 insights an RIA software CEO gleaned from Warren Buffett at the Berkshire Hathaway shareholders' meeting.
Recipe for success
To some, the recipe for success is simple: get your business idea funded with someone else's money, build it, sell it, and retire on the beach. Not Omaha. Not only do our most-seasoned advisor professionals not leave when they find success, they buy (with the exception of Warren Buffett, who just kept his old one) houses here, build lives here and do their best to lift those up who may just be starting out.
Take Ron Carson, who built a billion-dollar-plus advisory business starting out of his dorm room at the University of Nebraska — he went on to start PEAK Advisor Alliance, helping hundreds of other advisors to leapfrog their way to success by sharing his experience. And Ron is hardly resting on his laurels as he continues to spin out new businesses by rolling up other ones. See: Ron Carson launches roll-up/TAMP-like venture with Envestnet, TD Ameritrade and Advizent as puzzle pieces.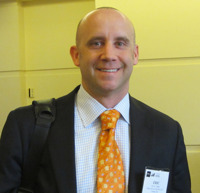 Eric Clarke: Not only do our
most-seasoned advisor professionals not leave when
they find success, they buy houses
here, build lives here, and do
their best to lift those up
who may just be starting out.

From Big Apple to fruited plains
TD Ameritrade Holding Corp. chairman Joe Moglia fell in love with Omaha and relocated here from New York. We're not sure what sold him —- we think he may just love apple farms. What we do know is that people are attracted to us because we enjoy building relationships. We believe that bootstrapping and organically building a business that's focused on the customer first, and long-term business results second, is a Midwest formula that works.
What you may also begin to notice more about Omaha firms in the RIA business is that we like each other and have begun to explore ways to better work together. See: Orion wins a $2-billion RIA account from Advent after two very long drives across the prairie. one good example of that was the joint venture recently formed by our company and Securities America. See: What Securities America and NorthStar Financial are up to with the creation of Arbor Point.
NorthStar, co-founded by my late father, features the SEC-registered RIA CLS Investments LLC, with $140 billion in assets under administration. See: A terrible loss in the RIA business of the original breakaway broker. CLS is one of the leading users of ETFs in the country, and works among other NorthStar subsidiaries such as portfolio-accounting service provider Orion Advisor Services and pooled investment solutions providers Gemini Fund Services and Northern Lights Distributors. Most recently, and progressively, NorthStar created a media division specializing in video and branding named Advisor Studios.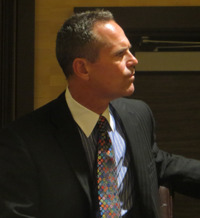 Ron Carson put Omaha on the
map and vice-versa.
OK, I now hear what you're thinking: They had better like each other because they are isolated together out there in flyover land. Yes, there is some truth to that. We have fewer direct flights to many cities because we are not an airline hub. We can fly directly to Los Angeles and New York. More and more often, people simply find reason to fly to us.
Though we don't shy away from unabashed name-dropping — and self-promotion — in the Midwest, we're not in it for the self-gain or popularity. We're the kind of people that grew up on the idea that if you never stop working hard, don't swim in the Missouri, and treat others with respect — chances are — you'll succeed. We enjoy putting the client first and we will always rise to a challenge. If we're not already number one in the RIA biz, we're so close we can taste it. And it tastes like an Omaha Steak.
https://www.bls.gov/eag/eag.ne_omaha_msa.html
Red state, green product
Here is a little more information about TD Ameritrade's big and progressive investment in Omaha.
The new , 12-story, TD Ameritrade Omaha Office Tower, is located in the Old Mill area in the heart of Omaha at 108th and Farnam streets. TD Ameritrade occupies three other Old Mill locations, all within walking distance.
The office tower is the new, centralized home for more than 2,000 TD Ameritrade associates (who were once located throughout metropolitan Omaha) The 530,000-square-foot building was built to stringent sustainability standards, making use of lighting sensors, wind turbines, rain water harvesting and other technology to reduce its impact on the environment. Through the use of sustainable construction techniques and technology, the tower is expected to use 50% less energy than buildings of similar size and age.
Special amenities for TD Ameritrade associates in the new tower include a full-service cafeteria, fitness center, game room, wellness rooms, training and development center, outdoor full-court basketball and sand volleyball areas, and adjacent access to 10 miles of walking and biking trails.
Additional sustainability features include:
· Wind turbines to power parking structure lighting.
· Glass "frit" lamination between exterior glass panels to filter sunlight and reduce heat inside the building.
· Rainwater harvesting to flush toilets and irrigate the site.
· Solar thermal arrays to heat hot water and preheat boiler water.
· Three redundant generators with capacity to power the building for three days.
· Fifty percent of building materials made from recycled materials.
· Electric-car charging stations and priority parking for low-emission vehicles.
· A "green" pavilion roof with vegetation and meeting space.
· Bike lockers for pedaling commuters.
· Fifty percent more green space than required by local zoning.
Eric Clarke is the CEO and founder of Orion Advisor Services LLC, a portfolio accounting service bureau reporting performance for more than $115 billion of assets for advisors.
---
---
Mentioned in this article:
---
---
---
Peter Giza
Brooke,
Having spent many months in Omaha in 2012 and 2013 I can vouch for it. Omaha is a great city with many wonderful sites. I spent so much time there I brought my wife and daughter with me at separate times to take in the sites. It would be hard for me to leave the ocean, but I would definitely put Omaha on my short list of places to live for a stint. The food is really great and woefully I have to admit that their seafood rivals Boston! And yes it is true – the people are amazingly polite and helpful. As a car and driving fanatic it is a drivers dream. My only regret while being out there is not having a Porsche GT to blast around in:) The road system is like Indy. All in all a great place full of great people and definitely a great place to establish a corporate presence.
Pete
Pete Giza | VP Bus Dev | WealthSite | www.wealthsite.com
WealthSite – Concierge Portfolio Accounting, Reporting, Reconciliation & Consulting
http://indijskie-films.ru/user/kopetpdmrm/
But, are Apple Bottoms Jeans really worth the hype they received over the last couple of years? Hence, for those who are surfing for review on Apple Base Jeans, you will find this article quite an interesting read. To find out extra, keep reading on the really stop.
http://www.conveyormfg.com/serv02.htm
Digestion will not occur with the stomach — it definitely begins a great deal earlier, inside the mouth. The enzymes present in saliva blend with food items whilst you chew it, and get started the entire approach of breaking it reduced prolonged just before it reaches the stomach. Inside the mouth, it is moved reduce towards the belly through the muscles through the wind pipe, which further softens the ball of food items, known like a bolus. When the bolus reaches the stomach, the tummy immediately starts mixing the bolus with liquid and digestive juices to help further the breakdown procedure. When your meals are within just the abdomen, the pancreas, liver, and digestive tract all secrete juices to guide with digestion. When your meals are sufficiently divided, this will likely enable it to be delivered for the tiny intestine, in which the nutrition and water are absorbed by means of your body prior towards the leftovers — mostly old abdomen cells and fiber — are delivered to the colon, the place they are eliminated by suggests of feces.